While many advancements in marketing technologies and social media continue to grow in popularity, email marketing remains a powerful channel through which you can directly connect with your customers.
Whether you're marketing B2B or B2C, email marketing remains a reliable tool to engage with your audience, with 87% of B2B marketers and 79% of B2C marketers using email marketing as a distribution channel.
With every dollar spent yielding an average return of $42, emails are a great return on investment. That type of value shouldn't be ignored.
But what types of email campaigns exist, and which are the most effective, you might ask? We're here to help!
No matter if you're new to the world of marketing emails or are a seasoned email marketer, getting a good overview of the different types of marketing emails you should be sending in order to get the best out of your campaigns.
Ready to find out more about the types of emails you should be sending? Then check out the different types of emails below.
Types of Email Marketing:
1. Marketing Emails
1.1 Email Newsletter
Sending out an email newsletter regularly is a great way for your business to stay top-of-mind for your subscribers. If your business already has a blog, then doing so is easy.
By repurposing your blog content for your newsletter, you save yourself the effort of creating bespoke newsletters while also driving traffic from your email subscribers back to your website. A win-win!
In the example from Wishpond below, you can see the email contains a header with the article's headline, a summary of the article, and a link to the full article.
We've also included a banner at the bottom with a call-to-action promoting our platform and service.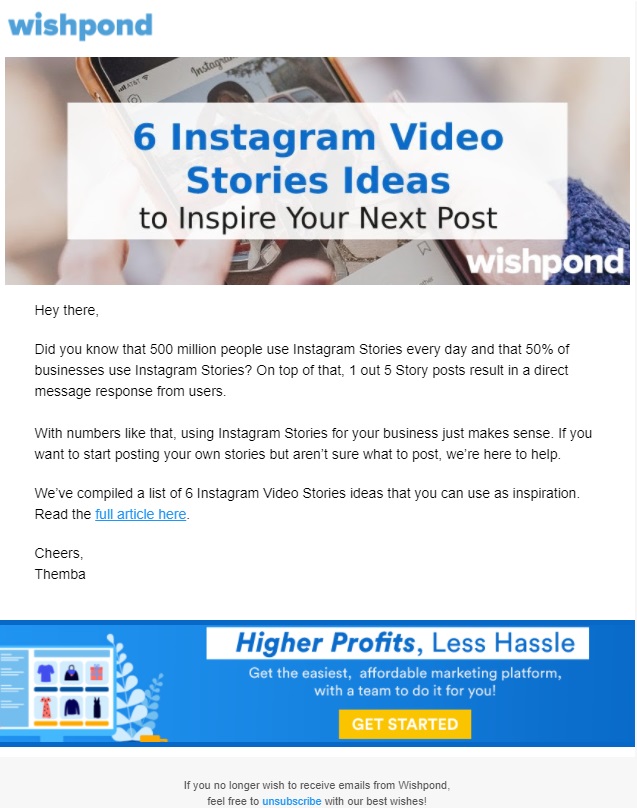 1.2 Content Announcement Emails
As the name suggests, content announcement emails are sent when you want to share news about a new piece of content such as an ebook, free trial, webinar, etc., your company is offering.
The goal here is to create interest in this singular piece of content through a clear call-to-action that directs subscribers to a dedicated landing page.
1.3 Product Update Emails
While this type of email marketing is not as engaging as some of the others listed here, product update emails are a good way for your company to share new features you have implemented with your subscribers.
Keep them simple and to the point, and your audience will appreciate both the update and its simplicity.
Another good strategy is to send a summary of your most recent product updates rather than an update with every change in order to reduce unsubscribe requests.
If the update email is about a new product, try to show its value to your subscribers while not overwhelming them with sales-heavy information about it.
1.4 Event Invite
If your company is hosting an event and you need to get the word out, inviting your subscribers is a great way of reaching an audience already interested in your industry.
In order to get the best return on this type of email campaign, your subject line and body need to convey the value your event will bring to attendees.
In the example from our SMX Growth Summit 2021 below, the first paragraph lets subscribers know event details such as time and date and what they can expect, and how it could affect their business.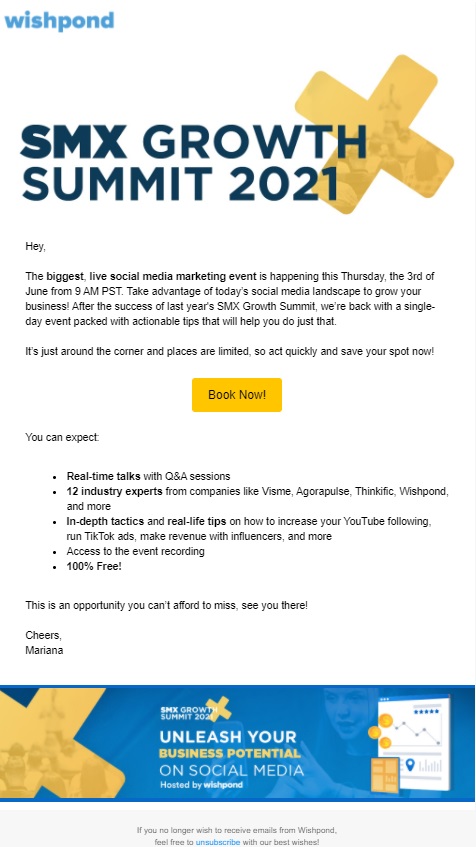 1.5 Internal Updates
Your employees are a vital part of your company. Depending on the size of your business, updating them about the latest developments via email is the easiest and most efficient way of ensuring everyone stays informed of the latest product updates, 0ffers, and events.
The idea here is to provide as much relevant information to your employees as clearly as possible.
Check out the example from our Dev team below that clearly shows which features, bugs, and improvements they've made, as well as the current state of their projects.
1.6 Promotional Emails
Promotional emails draw attention to a product or service you may have. By using a special offer, they encourage subscribers to purchase this.
Promotional emails need a clear call-to-action that drives recipients to purchase your product or service. When done correctly, these types of emails can increase customer retention and engagement, so a good design is essential.
2. Transactional Emails
Transactional emails are sent when a user completes a specific action and, in some cases, allows them to complete that action. You can send transactional emails for a number of reasons. Let's look at these below:
2.1 Subscription Confirmation Emails
This is the first email a subscriber should get. It is used to verify that a valid email address has been entered, ensuring a clean email list and less spam.
These types of emails should be short and to the point, allowing the user to finish the process simply and quickly.
Options to verify a subscriber include a link or button that you can click to finish the process, as well as a verification code that needs to be entered on your website.
2.2 Confirmation Emails
Unlike the above, confirmation emails do not require any actions by the receiver. Their purpose is simply to inform them that the action they took was completed successfully.
There are many different types of reasons to send confirmation emails that include confirmation of an online order, registration for an event, or other online transactions.
Effective confirmation emails are easy to read, with all pertinent information clearly displayed to be read at a glance.
Be sure to include relevant information in the subject line to avoid customer confusion.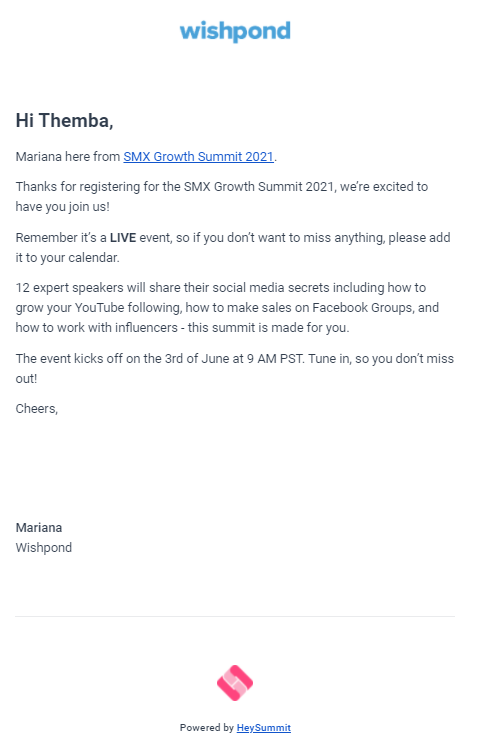 2.3 Order and Shipping Status Emails
Your customers want to be kept in the loop when it comes to their orders from your business.
Even if your website gives your customers the ability to track their orders' status, sending them these purchase updates via email as soon as something changes, you're saving them the effort of checking for changes constantly and keeping your company top of mind.
The email should include all relevant information, including tracking codes, order information, and contact details.
You can also include special offers via a call to action to encourage more customer engagement.
2.4 Welcome Email
A welcome email is your business's first introduction to a new subscriber and so getting it right is important. This is the perfect opportunity to thank them for subscribing to your newsletter, promotion, or other offers, as well as to provide them with extra information.
The contents of your welcome email will depend on your offer, but it's usually a good idea to give the subscribers an idea of what your business is all about and what they can expect from subscribing.
If they're new users of your products or services, this is a good place to show them how to get started and keep in mind.
Since it is the first communication you have with subscribers and the open rates are generally higher, a welcome email is also a great place to build a relationship with your customers rather than trying to hard-sell any of your offerings. Remember, first impressions count!
2.5 Lead Nurturing Emails
Lead nurturing emails are for subscribers in your sales funnel that haven't converted to customers yet.
This email marketing technique aims to guide leads through the sales funnel and convert them into customers by showing the advantages of your products or services.
For lead nurturing emails to be effective, the content needs to be aligned with the recipient's position in the funnel.
If, for example, you have sent a marketing email with a specific offer, a lead nurturing strategy could be to send a follow-up email with related content or an additional offer to the subscribers that open and click your offer.
The idea here is since these leads have shown interest in an aspect of your business, you can continue to build on that relationship by offering relevant content to them.
It is important to let recipients of lead nurturing emails know why they're receiving them. Let them know that you think they might be interested in more similar content because they accepted your previous offer.
With marketing automation, you can ensure that your lead nurturing campaigns are being sent to the correct segments of your leads and at the right time.
2.6 Thank-You Emails
A thank-you email should be sent whenever a user fills out an online form on your landing page in exchange for an offer.
It allows you to extend your gratitude while also sharing the promised offer with them in an easy-to-find location.
Rather than having to remember where they can download your offer, the link will live in your email, easily accessible to them at any time.
An effective email has a clear call to action that sends the user directly to your offer, such as in the example from Wishpond below.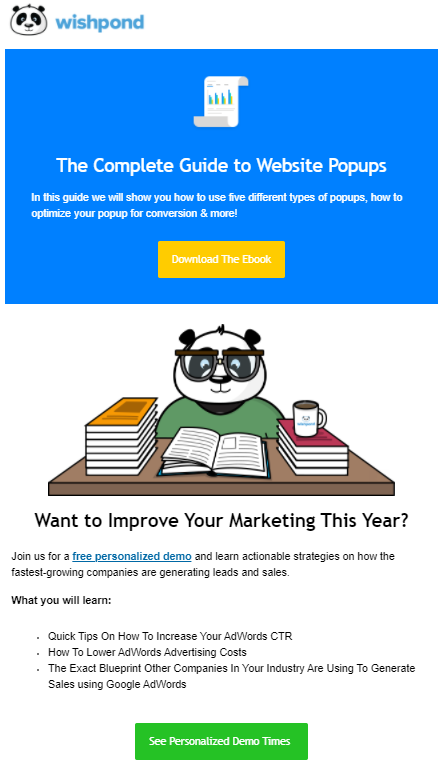 2.7 Free Trial Expiration Emails
You must inform your users before the end of a free trial if you want to retain more customers, especially if you're offering one that doesn't auto-renew.
The contents of this type of email are pretty straightforward. All you've got to do is explain to your users what the end of the free trial means, your paid options, and how to upgrade to a paid plan.
2.8 Paid Subscription Confirmation Emails
If a customer has upgraded to a paid subscription, you should send them a welcome email that explains the changes they can expect now that they are no longer a free user.
This should include the new features they have access to and how to use them, and how to get started on their new plan.
2.9 Subscription Cancellation Emails
Just because a user has decided to cancel their subscription doesn't mean that this is the end of your interaction with them.
With a subscription cancellation email, you can try to convince users to stay with your company by offering a more affordable subscription better suited to their needs through a gentle but persuasive call to action.

Related Content
Wrapping Up
As you've seen, there are many types of email campaigns you can send. From keeping subscribers informed about your industry through a newsletter to announcing new content, sending product updates or event invites, to emails dedicated to a specific group, and promotional emails aimed at boosting the sales of a product or service, there are many different types of emails to send as part of your marketing.
Similarly, transactional email campaigns such as subscription confirmation emails, order confirmation and status emails, lead nurturing and thank-you mails, as well as free trial expiration, paid subscription confirmation, and subscription cancellation emails, might not have the aim of making a profit but keep your business top-of-mind with your customers.
What different types of emails have you been sending as part of your marketing campaigns? Have I missed some types of emails? Or do you not use email and rely on social media alone? Let me know in the comments below.
themba