19 Auto Repair Shop Marketing Ideas to Increase Customers
Marketing your auto repair shop doesn't have to be complicated to get good results.
It doesn't matter if you're new to the world of auto repair marketing or a seasoned expert; the ideas listed here are easy to implement and should give you successful results if you put in the required time and effort.
So if you've been looking for some ideas for auto repair marketing, you've come to the right place.
Check out these 19 auto repair marketing strategies to increase customers below.
Auto Repair Marketing Ideas
Website & Online Presence
1. Update Your Website
When it comes to auto repair shop marketing, the first thing you should focus on is your website.
Your website is the first place people visit to find out more about your auto repair shop.
Since all your other marketing efforts are going to link back to your website, it's critical that all important information about your shop is easily available.
It should clearly show that you're an auto repair shop, your location, business hours, contact details, and which repair services you offer.
As you can see in the example Prestige Auto Repair & body shop below, a glance at their website tells you everything you need to know on one screen.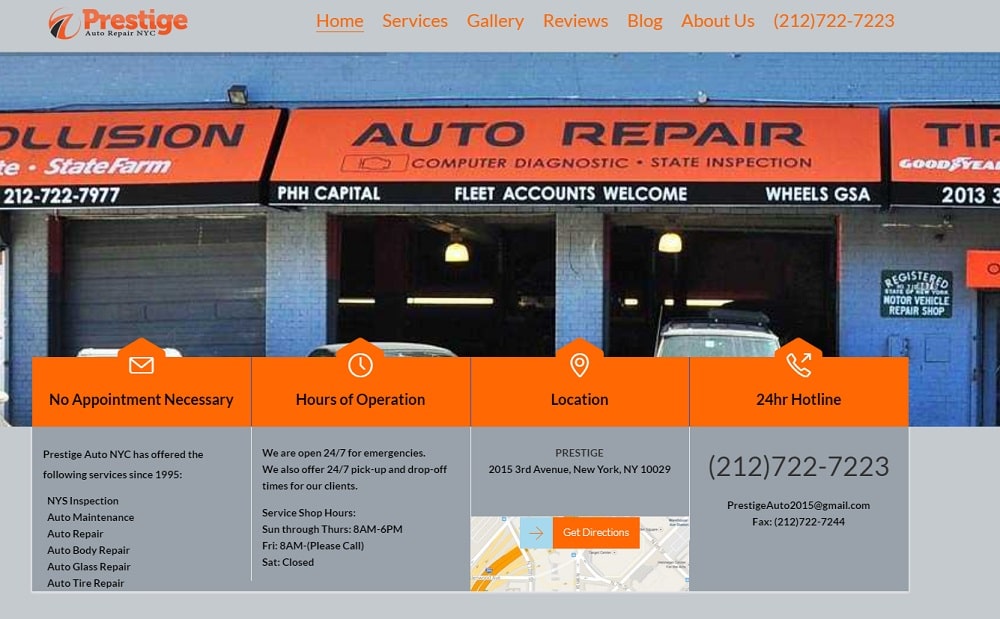 If your auto repair shop is still a small business, you'll likely want to have an online presence that looks professional but doesn't cost an arm and a leg.
While hiring designers and developers to create a website for you is an option, using a website builder such as Wix with built-in, modern templates allow you to create a sleek website quickly and easily.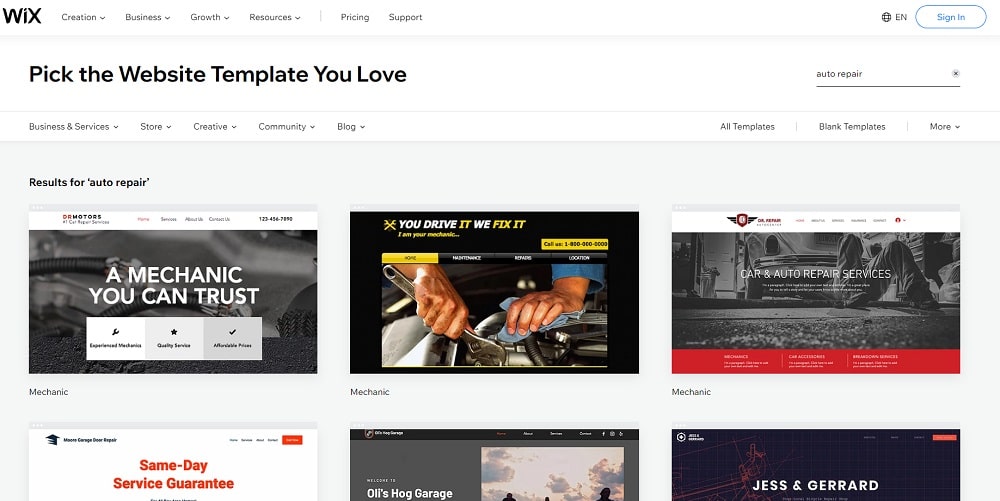 To increase your ranking in search results, you should also perform search engine optimization (SEO). One of the ways to improve the SEO of your auto repair business is to run a blog.
2. Auto Advice Blog
An auto advice blog is a simple marketing idea and a great way to connect with your customers, provide them with valuable information, and establish yourself as a trusted source in the auto repair industry.
On top of that, blogging also helps boost your SEO and increase your search rankings.
In the example of Budget Auto Repair below, you can see that the cover topics are designed to inform customers about auto maintenance and repair.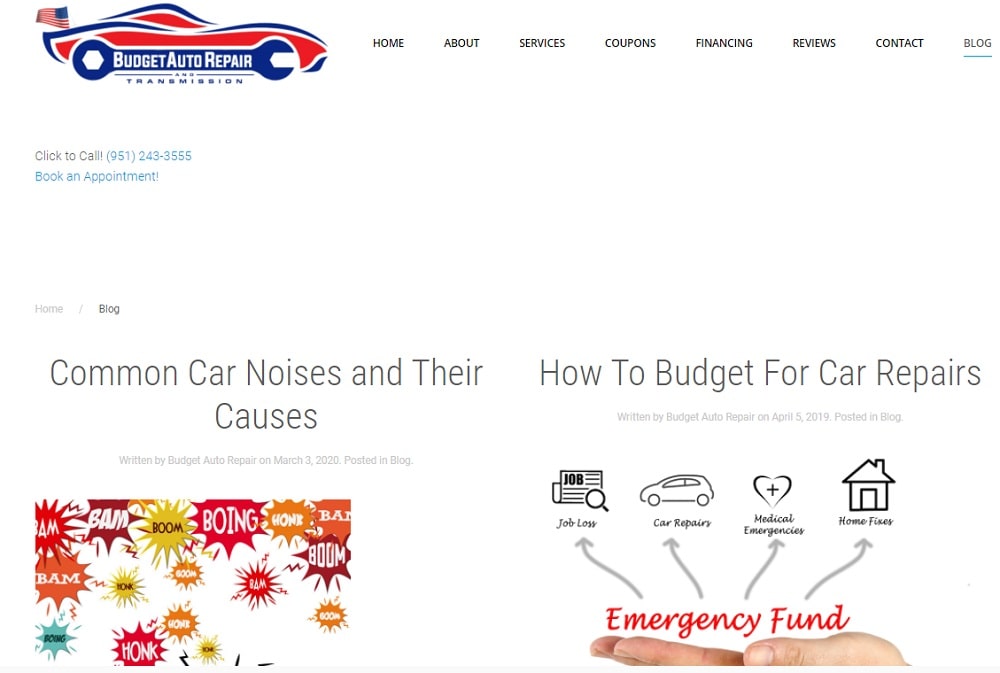 Blog content is also useful as it can serve as the basis of your email marketing strategy.
Sending newsletters to the email addresses you've collected containing an excerpt or summary of your blog posts with a call to action to read the full article on your website accomplishes two things:
You have regular content that you can send to current customers and prospects.
You have created a way to drive traffic back to your website.
3. Google My Business Account
When searching for auto repair shops, most people turn to Google and search for "Auto repair" + their location.
By creating a Google My Business account, your business will appear in Google's local search results.
For example, searching for "Auto repair New York" returns the results below, giving searchers a quick overview of highly rated auto repair shops in the search area.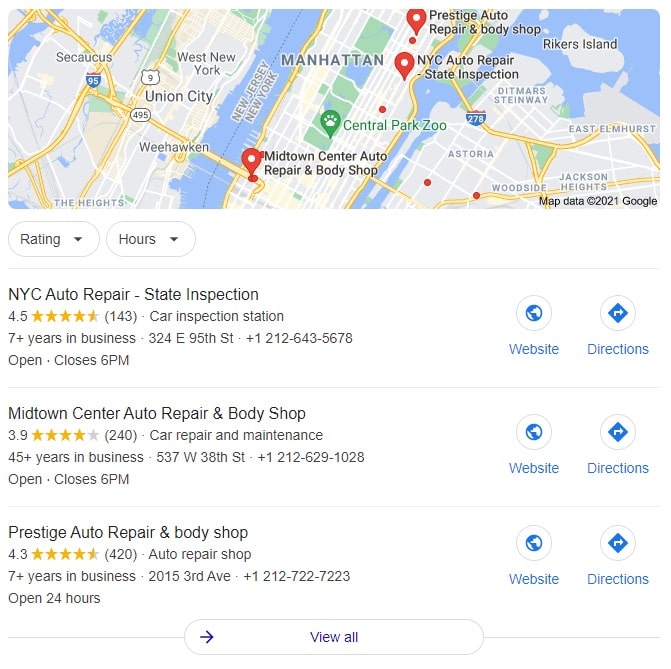 Since your Google My Business account includes the most important information about your auto repair shop, potential customers don't have to spend a lot of time trying to find relevant information about your auto shop.
As you can see in the example below, Google compiles photos of your auto repair shop, a Google Maps location, your Google rating, address, opening hours, phone number, and an estimate of how busy your repair shop is based on time and day of the week in one place.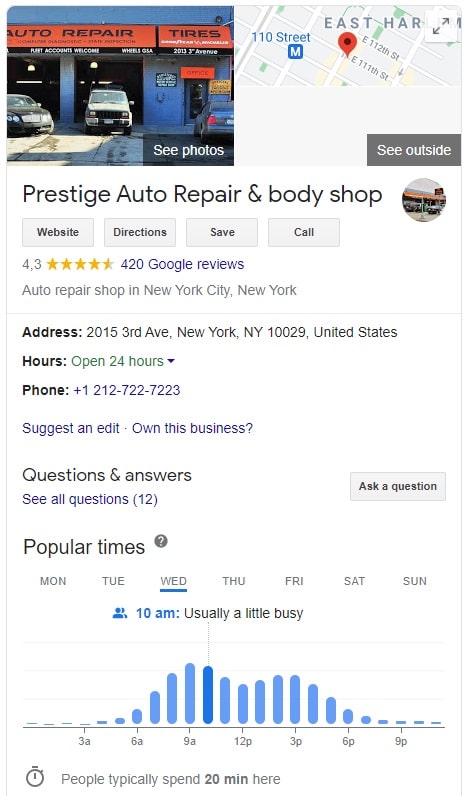 4. Claim your business pages
Although Google is usually the first source, people use when searching for reviews of auto shops, claiming your business page on other customer review sites such as Yelp!, Angie's List, and Yellow Pages should be an equally important part of your online marketing strategy.
Listing your business on these websites is a great way to reach local customers without advertising while also giving prospects the information they need to decide whether to support your business.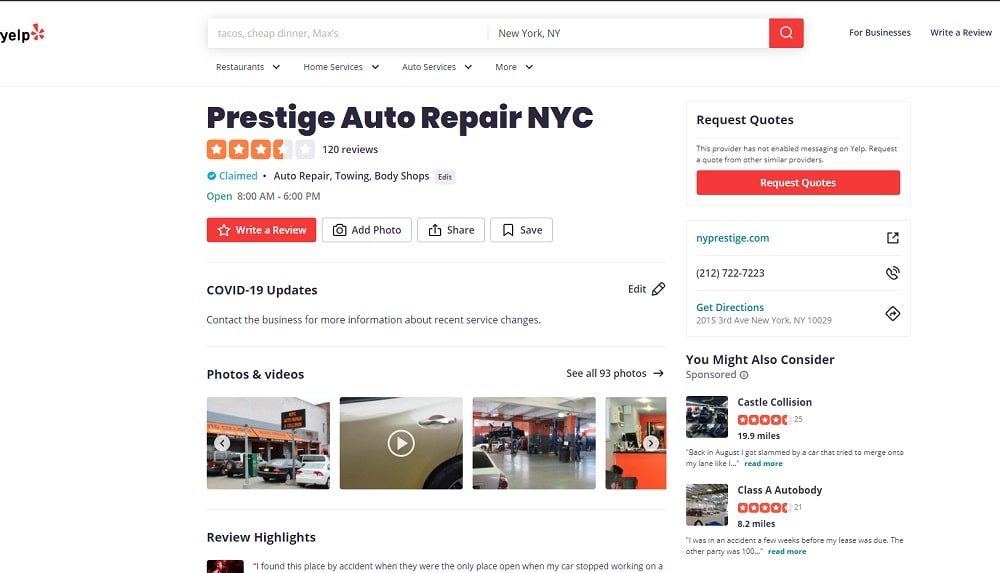 5. Bookings
Allowing your customers to make appointments is a great way for your business to accommodate customers outside of business hours.
Allowing your customer to book repair services online also simplifies the booking process as you can capture all the relevant information and get the booking added to your calendar automatically.
Wishpond's Appointments tool makes this process easy, allowing you to collect customer information and accept bookings directly from your website.
You can also use the Stripe integration to get paid in advance. There's even an option for dedicated calendars for different mechanics and other coworkers.

6. Forms
A great way to gather the email addresses of prospects is to have a free offer on your website that can be redeemed by filling out a form.
A simple but effective marketing tactic is to offer a free quotation to prospects in exchange for information such as their name, email address, and phone number.
Since most people would like to know what kind of costs they can expect before taking in their car for repairs, the willingness to share this information is higher than usual.
To create a form without needing to know how to code, you can use Wishpond's Form Builder and its' easy drag and drop editor and add the resulting code to your website.
In order to convert the prospects you uncover through this marketing strategy into customers, it is important that you respond in a timely manner.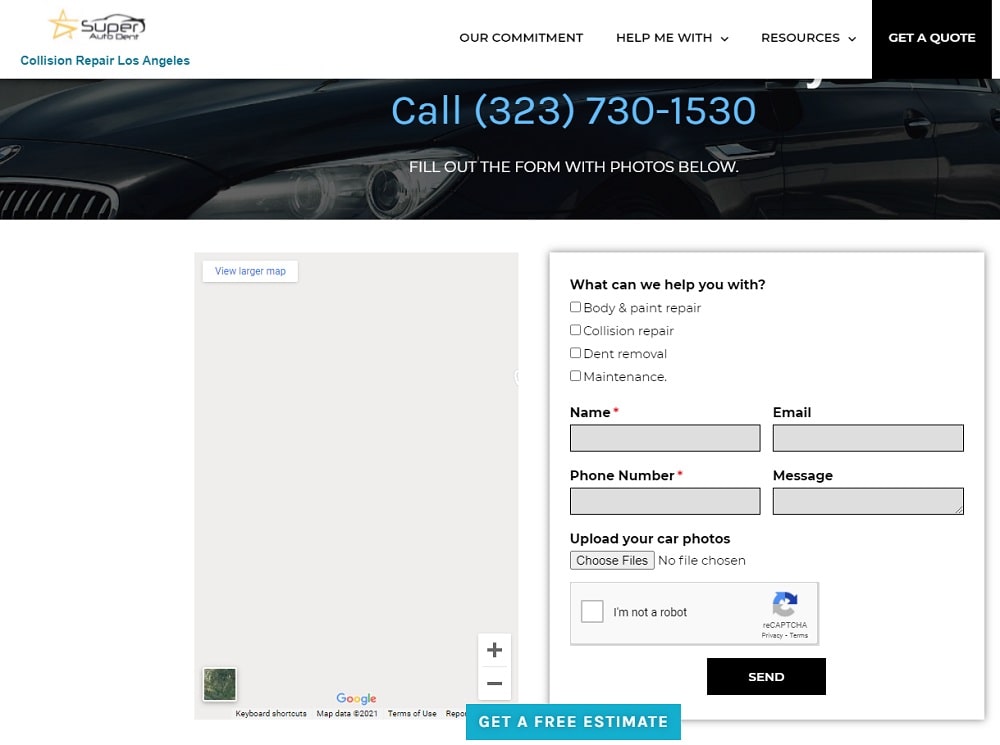 7. Reviews
Reviews, if they are positive, are a great way to build trust and attract new customers. While Google forbids the direct solicitation of reviews, your mechanics can tell your customers that they'd appreciate a review.
You can also include a link to your business page saying that you'd love to hear what they thought of your services.
Responding to reviews is vital as it shows that your business cares about its customers. Apologize to negative reviews without an excuse, rather ask them to contact you directly. A simple thank you is enough for positive reviews.
You can also embed a selection of the best reviews on your website so that visitors can get a better idea of the type of business you run.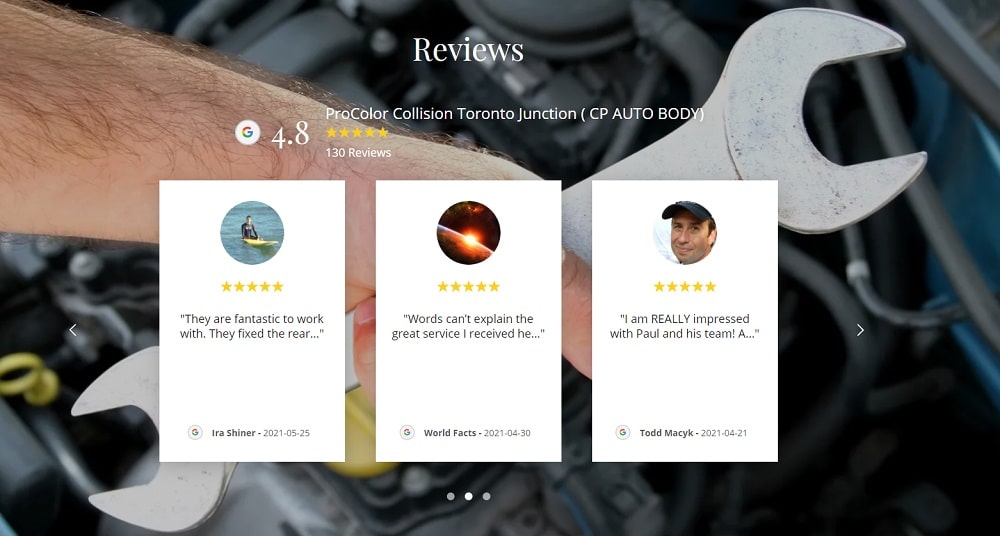 Email Marketing
8. Send service reminders and deals
Since having your car serviced is a regular occurrence, finding a way to encourage customers to return to your shop is important for repeat business.
In order to encourage customers to return to your business, you can send them service reminders via email. It is a simple way for your business to stay top of mind.
You should also send out deals as part of your auto repair marketing strategy. By offering customers discounts on your services or items from your shop, your existing customers are more likely to return.
9. Send regular emails
Keeping in regular contact with your customers is important if you want your business to stay top of mind.
Since email marketing is a practically free form of advertising and the most direct way of reaching your customers, you shouldn't ignore it.
A simple idea for regular emails is to send a newsletter.
The content of this can vary, but as noted above, if you already have a blog, then summarizing the content of a blog post and link to the full article is an easy way to send regular automotive content to your customer.
Using tools such as Wishpond's Email Marketing suite, you can quickly and easily design beautiful and professional-looking emails without having to rely on designers or coders.
10. Follow-up survey
A post-service follow-up email is an important online marketing strategy for automotive businesses.
Use this opportunity to find out how you can improve your customer services in order to boost your customer relations.
You could ask customers to respond to the mail directly with feedback, send them to a landing page with a form, or point them to a review site.
If your customer has any complaints, it's important that you contact them as soon as possible to rectify the situation.
Social Media
11. Giveaways
Hosting a giveaway is a great way to boost bookings for your shop.
It's also one of the most effective ways to grow your social media followers and grow your business.
Depending on which services you offer, consider putting one of them up as the prize.
While not free, this reduces the costs of your giveaway campaign.
Using a landing page for your giveaway is a great way to gain leads, as you can capture their names and email addresses when they enter.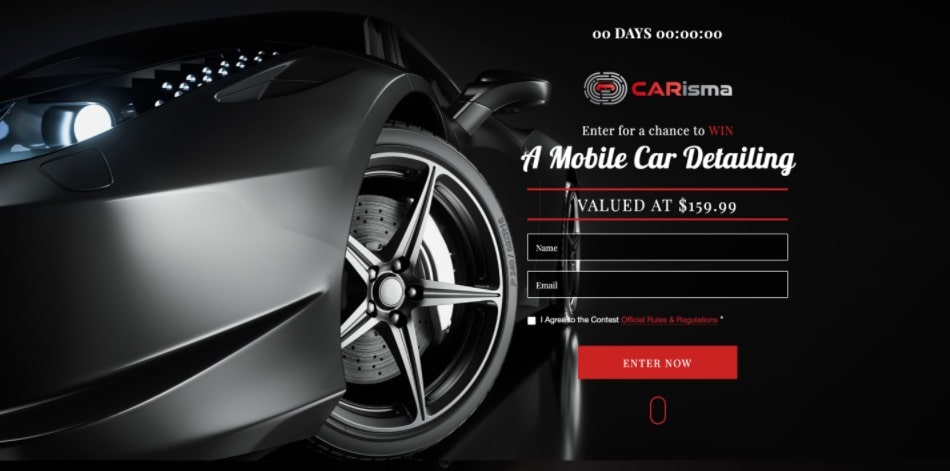 As a way to incentivize these leads to becoming new customers, you can also offer them a discount code for your services after they have entered the giveaway.
In the example for CARisma, the shop took advantage of Wishpond's Social Promotions tools to build a giveaway that not only rewarded people for entering the giveaway but also encouraged them to share the giveaway on social media by offering extra entries if they did so.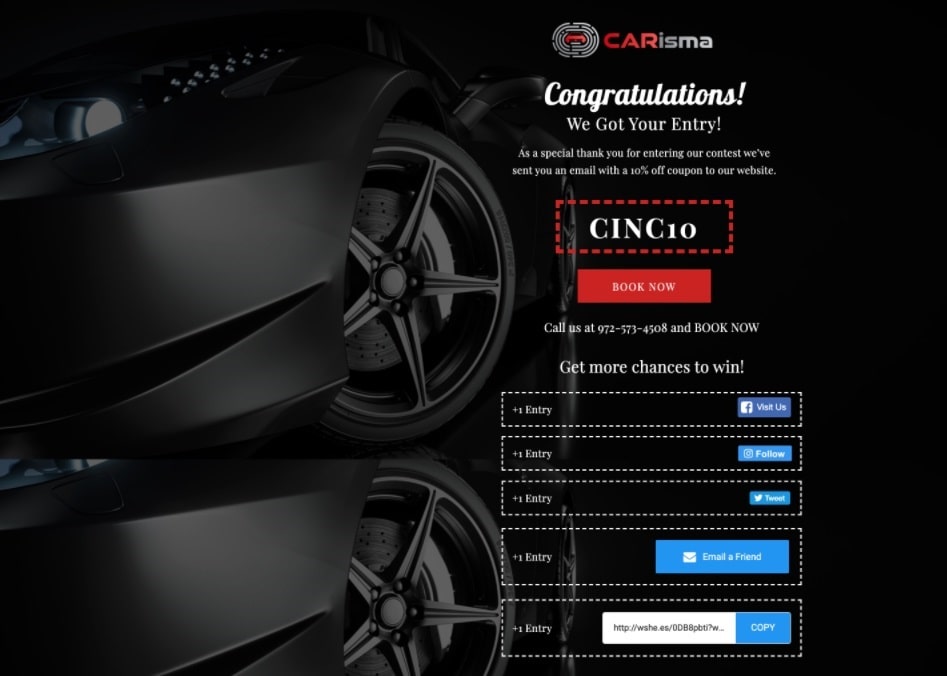 12. Facebook
Apart from being a social media platform, Facebook is also an online directory that makes it easy for local customers to find your business.
And since more than 67% of Americans are on Facebook, it's vital that your business has a presence on the platform.
When it comes to marketing strategies for Facebook, a professional tone with consistent and relevant content is key.
Facebook is a great place to showcase the quality of your work and share your other content, such as blog posts.
13. Before and After
Be it on Facebook or Instagram, one of the best pieces of social media content for auto repair shops are before and after posts that show the quality of your auto repair work.
You should also include these images on your business profiles and website.

14. YouTube
Creating informational videos for YouTube is a great way to reach potential customers and teach them about your services, as well as auto repair and maintenance in general.
You can also embed the videos in your blog posts to make to them more interactive and share them on your Facebook page or other social media platforms.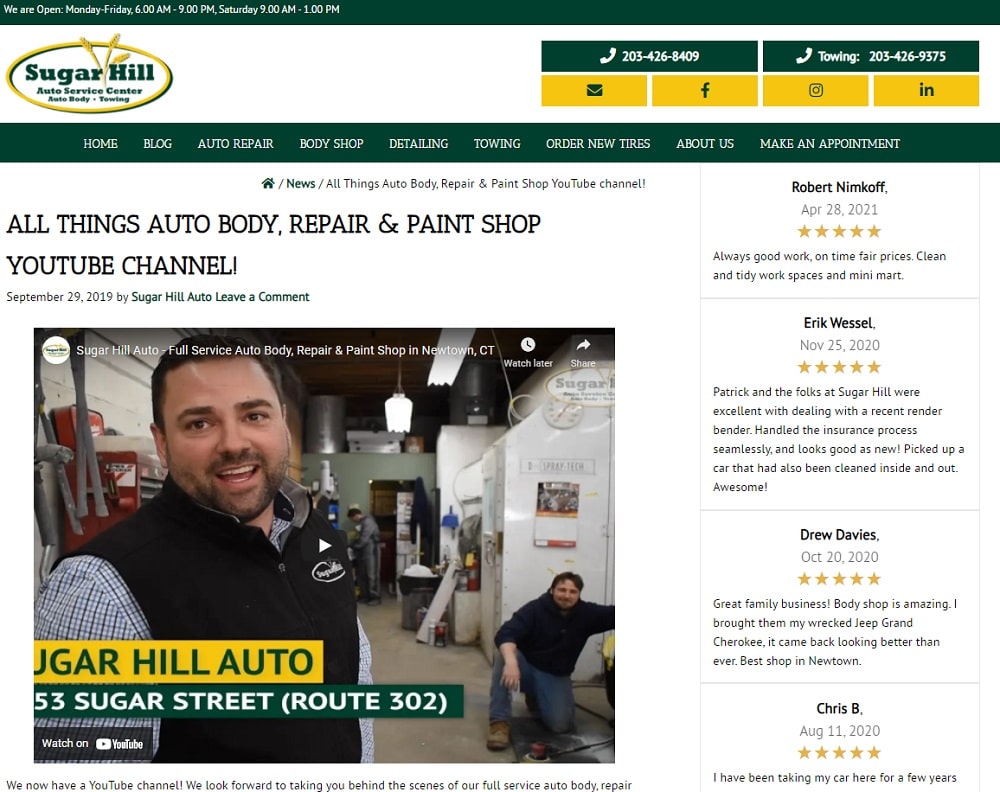 Community Marketing
15. Host events
Hosting events is a great way to let the local community know about small businesses such as yours.
By hosting events you can share knowledge and build trust amongst the local community.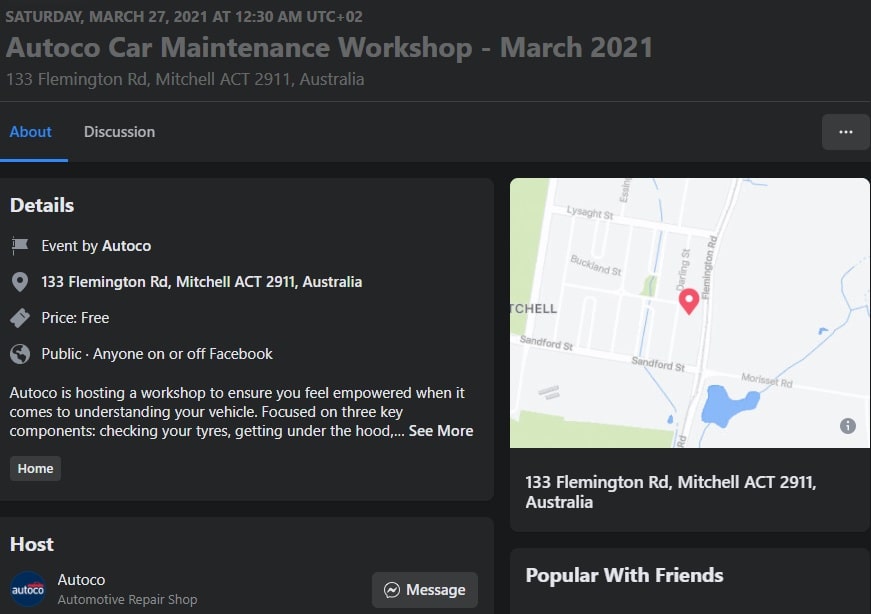 There are many different types of events that you can host, including:
Car maintenance discussions
Car enthusiast meets
Boy Scout Auto Care Merit Badge Workshops
Car care lessons
16. Partner with businesses
Another simple marketing strategy and way to get known in the local community is to partner with other, non-competing, businesses in your area.
You can bundle your services with theirs, offer discounts for using both providers, and other deals in order to attract local customers to your service.
Another option is to take this partnership to social media and asking people to follow your page and your partner's page and to tag themselves in the post in order to enter a giveaway.
17. Sponsor events
A third marketing tip to attract local customers is to sponsor local events.
These can be automotive events such as motor racing but can so be events for local charities or other community organizations.
The idea here is to let people know your business is in the area without them having to search for it and without you having to rely on advertising.
Rewards Programs
18. Loyalty Program
A loyalty program is one of those ideas for auto repair shops that just make sense.
Since your auto repair shop likely offers a number of services that customers will repeatedly need, rewarding their loyalty will encourage your current customers to return to you when this need arises.
For example, if your auto shop offers an oil change service, then rewarding customers with a free oil change after their first 5 is a simple marketing strategy that encourages repeat customers.
19. Referral Program
An easy way to get new customers without spending on advertising is to encourage existing customers to refer you to other people, such as their friends and family, by offering them a reward for doing so.
Word of mouth advertising is almost free, so you should take advantage of it.
Offering free car services in exchange for referrals is a simple but effective marketing strategy, and rewarding existing customers for referrals is a great way to grow your business amongst a new audience.
Simply put, when it comes to automotive marketing, word-of-mouth advertising is too easy to ignore.
Related Content

Wrapping Up
As you can see from the above marketing tips, auto repair marketing isn't that complicated. You just need to spend a little time on a marketing plan and then implementing it.
Your marketing plan should include updating your website, running an auto advice blog, claiming your Google My Business and other business review pages, enabling bookings, capturing leads through forms, and encouraging reviews in the website and online presence front.
Regarding social media, you need to run giveaways, maintain a presence on Facebook, share before and after images, and host YouTube videos.
When it comes to email marketing, you should be sending service reminders and deals, sending regular emails, and following up after servicing your customers.
In terms of community marketing, you need to be hosting & sponsoring events, partnering with local businesses, and offering loyalty and rewards programs.
What do you think? Have I missed any important auto shop marketing tips? Do you use any other strategies? Let me know in the comments below.