13 Best Free Graphic Design Tools to Improve Your Visual Appeal
When it comes to your website, blog, or social media accounts, the first thing visitors notice are the visuals. In fact, it takes only 0.05 seconds for users to decide whether they'll stay or leave. That means the visual appeal of your online presence is highly important.
This means you need to design something that looks good but also gets your message across. While this task often falls to full-time graphic designers, you might not have the budget to hire one if you're running a small business.
Luckily there are many different options for free graphic design software that allows anyone to create stunning designs from scratch or based on templates.
Of course, just because a tool is free doesn't mean it's suitable for any skill level, and you'll also need to decide if it matches your use case.
Ready to find out what kind of free graphic design software is out there? Let's look at 13 of the best free graphic design software tools below:
Best Free Graphic Design Software

1. Canva
Platforms: Windows, Mac, iOS, Android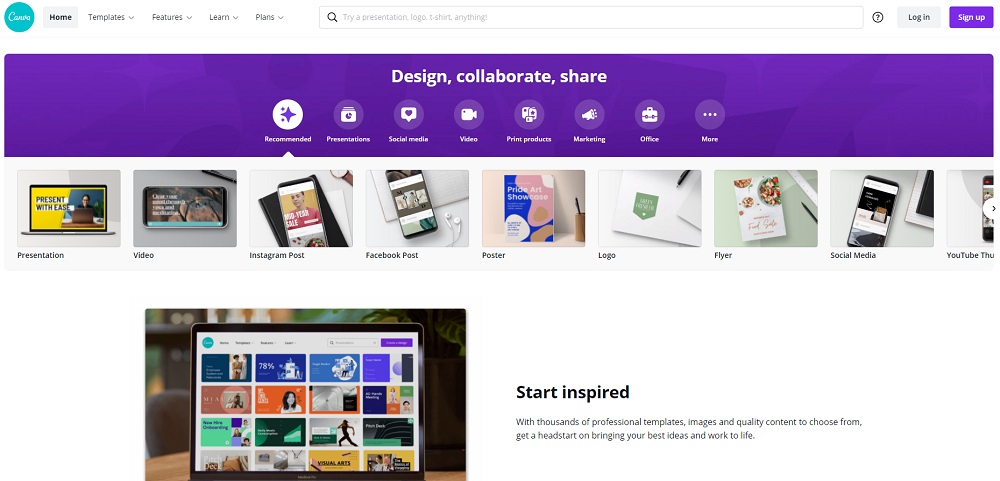 Featuring over 250 000 free templates on their Canva Free price plan, Canva is a flexible graphic design tool that allows you to design anything from business cards to Instagram posts and flyers to presentations.
The Canva Free prince plan also includes hundreds of thousands of free photos and graphics and over 100 design types such as social media posts, presentations, letters, and more. The free version even includes 5GB of cloud storage for your designs!
The best thing about Canva is that it wasn't designed for graphic designers but for anyone who needs to create graphics, meaning it is simple to use and customize designs. If you need to create more advanced designs, you may find yourself having to upgrade to Canva Pro. Luckily they offer a free trial to check if you need the added features.
2. GIMP
Platforms: Windows, Linux, Mac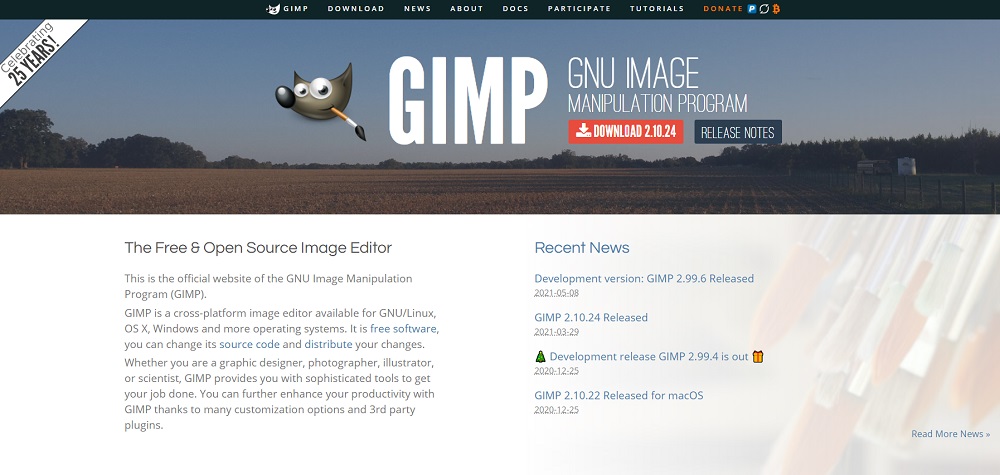 GNU Image Manipulation Program (GIMP) is a cross-platform image editor. This free, open-source software features sophisticated tools for graphic designers, photographers, illustrators, or scientists. GIMP is often compared to Photoshop as the two offer similar editing and design functionality.
With tools suitable for photo editing and graphic design, GIMP ranks highly among free graphic design software, offering support for a wide range of file formats and a highly customizable interface.
Although it is primarily a photo editor, GIMP also supports vector file formats such as SVGs created graphic design programs like Adobe Illustrator or Inkscape.
3. Inkscape
Platforms: Mac, Windows, Linux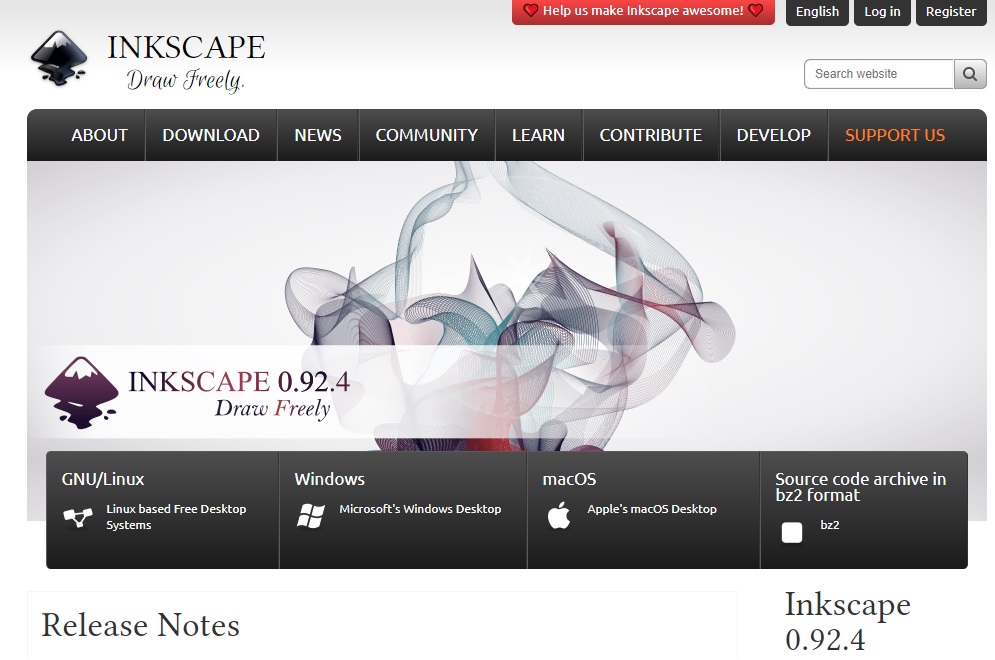 As its tagline "Draw Freely" would suggest, Inkscape is a free graphic design software tool. This free graphic design tool specializes in vector graphics and is suitable for both beginners and experts.
Compared to Illustrator, this free graphic design tool can feel a bit clunky, however, Inkscape gets the job done, and its support for a wide range of file types makes up for this shortfall. Another great feature of Inkscape is its community which gives excellent support to beginners.
4. Blender
Platforms: Mac, Windows, Linux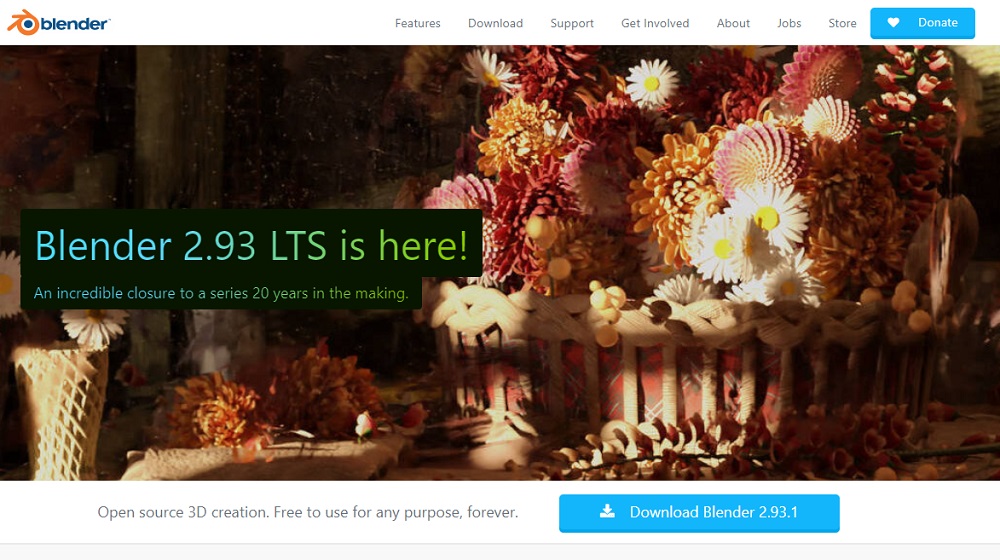 If you're looking for free tools to help with 3d creation, look no further than Blender. Available on all major platforms, including Windows, Linux, and Mac, Blender is a free, open-source 3d creation tool that offers many of the features of paid, professional tools.
Blender allows graphic designers to perform rendering, modeling, sculpting, animation & rigging, VFX work, and even simulations and create 2D animations.
While not exactly beginner-friendly, Blender is a great option for graphic designers that need powerful but free graphic design software for 3d creation.
5. Adobe Spark
Platforms: Windows, Mac, iOS, Android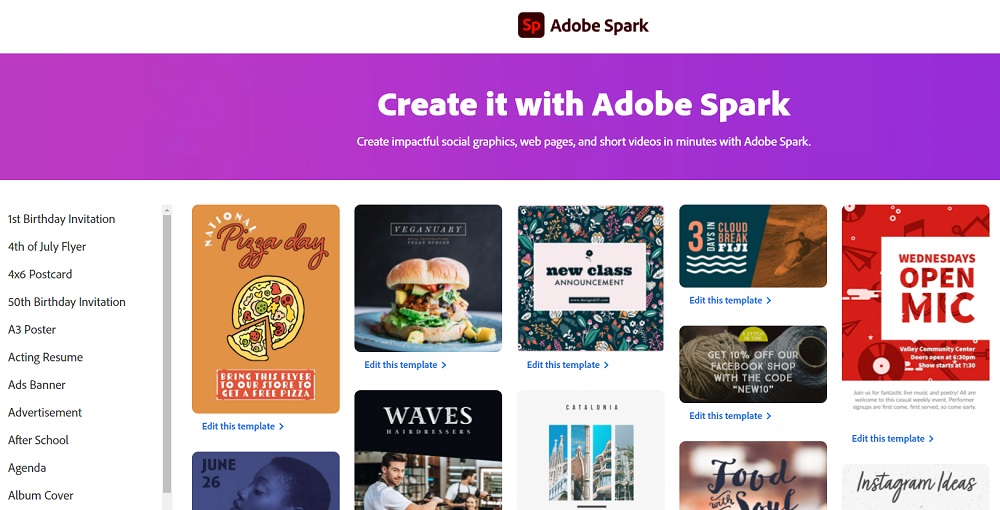 Adobe's free alternative to its fully-featured Adobe Illustrator graphic design software, Adobe Spark is easy to use. It offers a host of free templates, making it easy for beginners to create custom designs. If you need to create a simple image for social media, this free design tool is perfect.
Although it is great for beginners, this is also Adobe Spark's downfall, as it lacks more advanced features you would expect from graphic design software, but for a free version of an Adobe product aimed at non-designers, it is perfect.
A bonus of Adobe Spark is that it is available for web, meaning you can access and work on your designs from your browsers anytime and aren't limited to a specific device.
6. DesignWizard
Platforms: Windows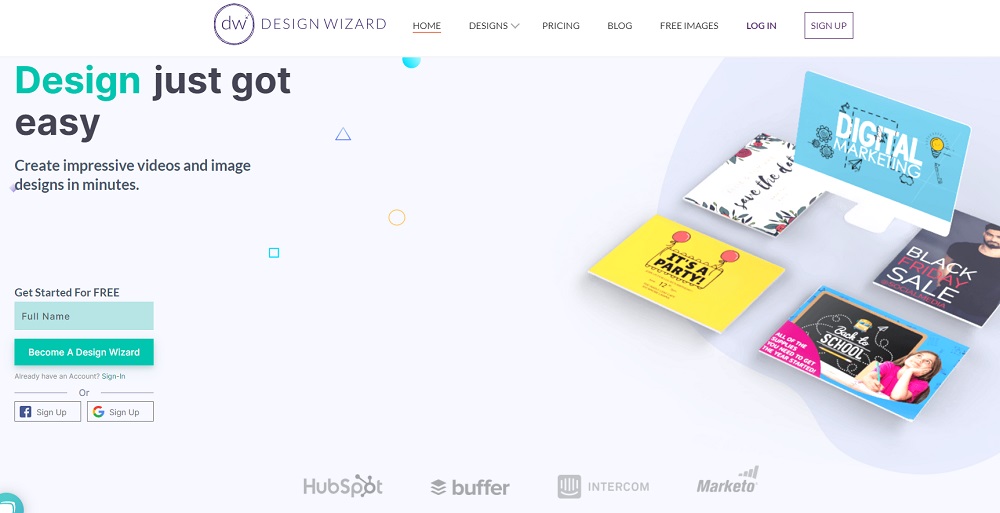 DesignWizard is among the best free graphic design software for beginners allowing you to create designs for anything from social media posts to wedding invitations. Featuring a large database of free images as well as a repository of templates, their easy-to-use photo editor uses a drag and drop interface to make it simple to create custom designs.
As free design tools come, DesignWizard offers plenty of the features you'd expect from graphic design software. However, if you are looking for more powerful tools, you may need to upgrade to the paid version.
7. Pixlr
Platforms: Web, Android, iOS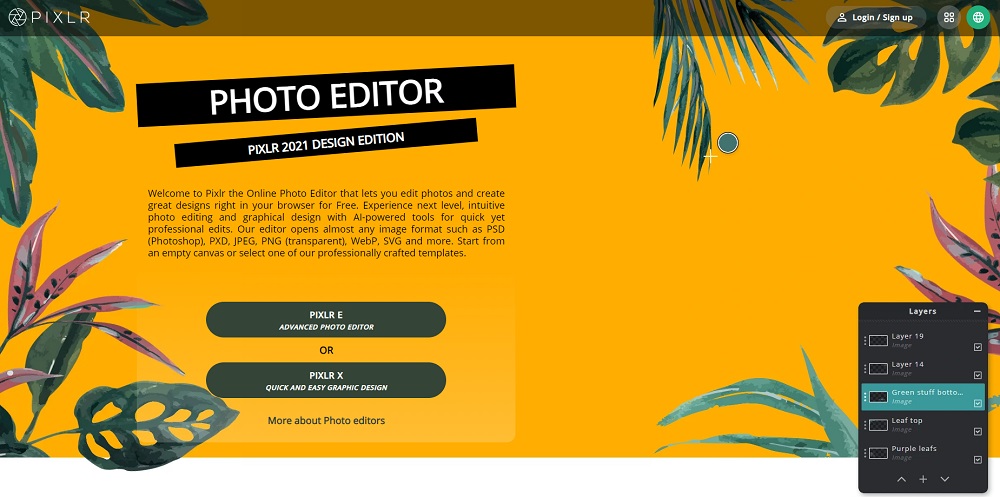 Pixlr is a free, web-based photo editing and graphic design software package offering both a beginner's and advanced version. Its photo editing capabilities are on par with Adobe Photoshop. At the same time, it also offers a host of free templates making it quick and easy for beginners to get started with designs.
Also available as an app for iOS and Android, this tool is great if you want to create designs for social media or touch up your images before uploading them to the web.
8. Photopea
Platforms: Web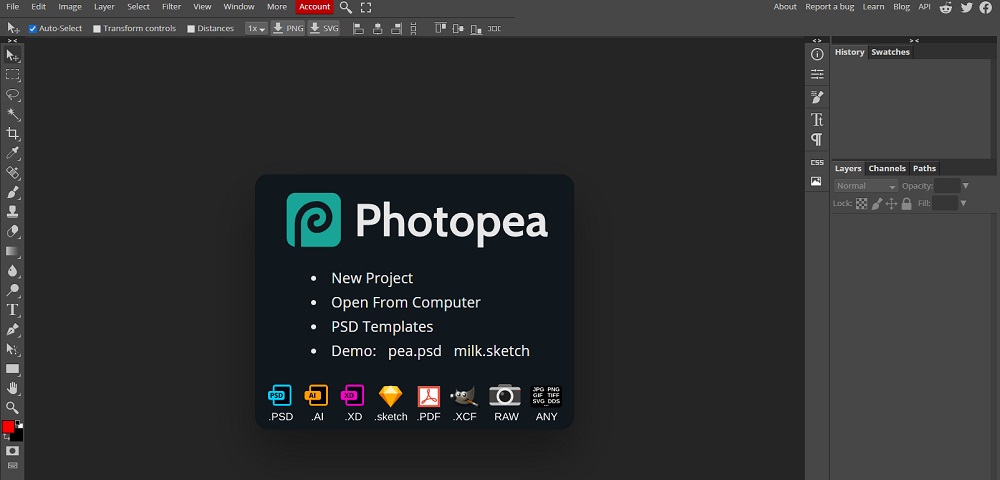 Photopea is a web-based, free version of Adobe Photoshop. Offering almost all the same features as Adobe Photoshop, Photopea also supports many file types and similar keyboard shortcuts.
Since Photopea is web-based, you're not limited to any specific platform as you are with Photoshop, meaning Linux users have a powerful alternative to GIMP if they so wish.
9. Gravit
Platforms: Mac, Chrome OS, Linux, Windows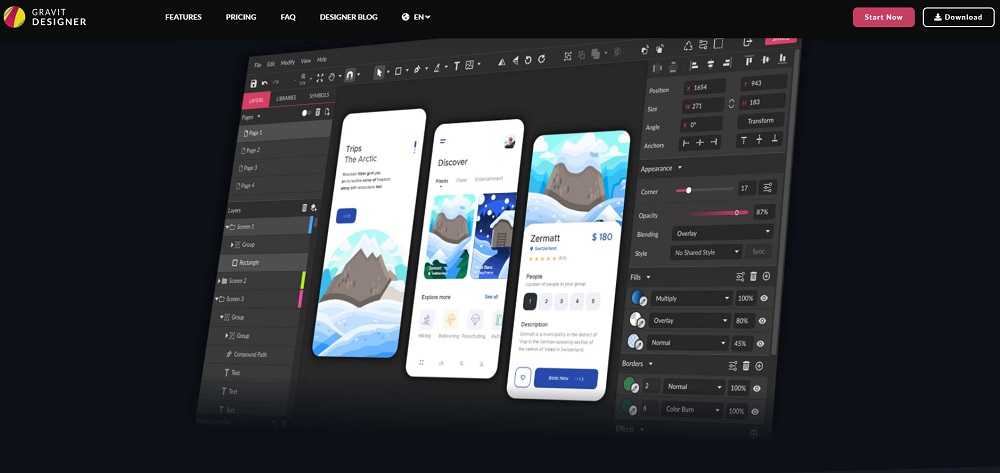 From the creators of Corel Draw comes Gravit, one of the best free graphic design tools for vector graphics. What makes Gravit special is that besides Linux, Windows, and Mac, it is also available for Chrome OS, a sometimes neglected operating system.
While the free version offers many features that make Gravit a great choice for beginners needing to work with vectors, if you would like to work offline or export in higher quality, you'll need to upgrade to the Pro version. Luckily there is a free trial that lets you test out these features first before committing.
10. SketchUp
Platforms: Web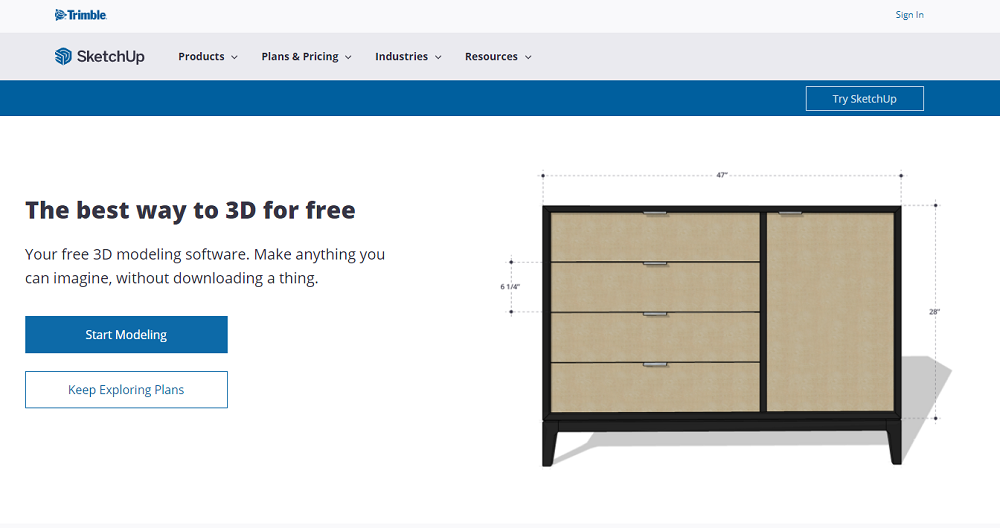 As their tagline says, SketchUp is "the best way to 3D for free," and it ranks among the best free graphic design software for 3d design. As it is web-based, it can run on any platform, making it a great choice for anyone, no matter their operating system.
Created for drafting furniture or other complex designs in 3D, SketchUp is easy to use and features great support, meaning even beginners can get started modeling quickly.
Depending on your needs, the free version may not be enough as it only offers limited storage and no interoperability with other design tools like the Pro version offers.
11. Krita
Platforms: Windows, Mac, Linux, Android

A free, open-source painting program, Krita features everything artists need to draw beautiful digital paintings. This includes over 100 professionally made brushes, brush stabilizers, brush engines, a wrap-around mode for tiling, and a resource manager to import brushes and texture packs from other artists.
With all these features, it's no surprise that Krita ranks among the best free graphic design software, but it is far from beginner-friendly and is better suited to professional artists.
12. Genially
Platforms: Windows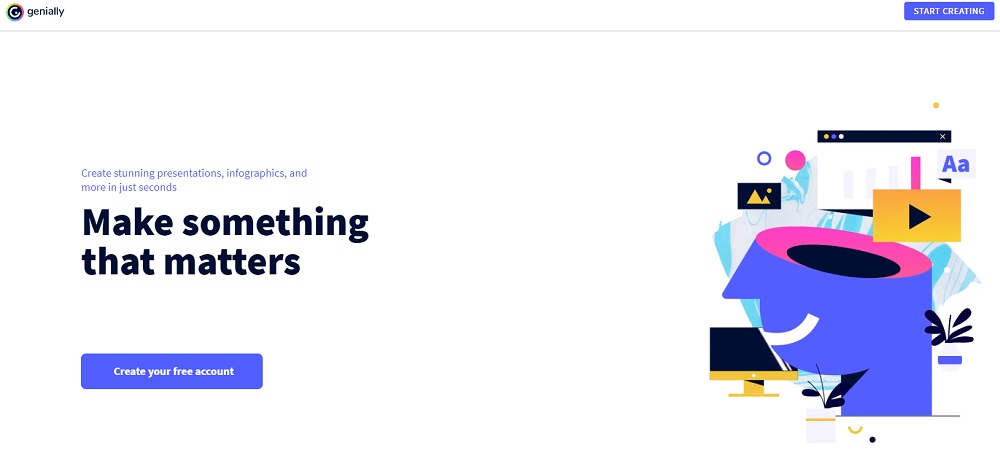 Offering a number of free templates and resources and unlimited creations and views on its free plan, Genially makes it easy to create anything from infographics to presentations and more. You can customize the templates, adding elements such as buttons, layers, and text to presentations, or start from scratch to design your graphics.
While there are quite a few features included in the free edition of Genially if you want to take advantage of features such as offline viewing, brand personalization, or removing the Genially watermark, you'll need to upgrade to a paid plan.
13. Vectr
Platforms: Windows, Linux, Chrome OS, Browser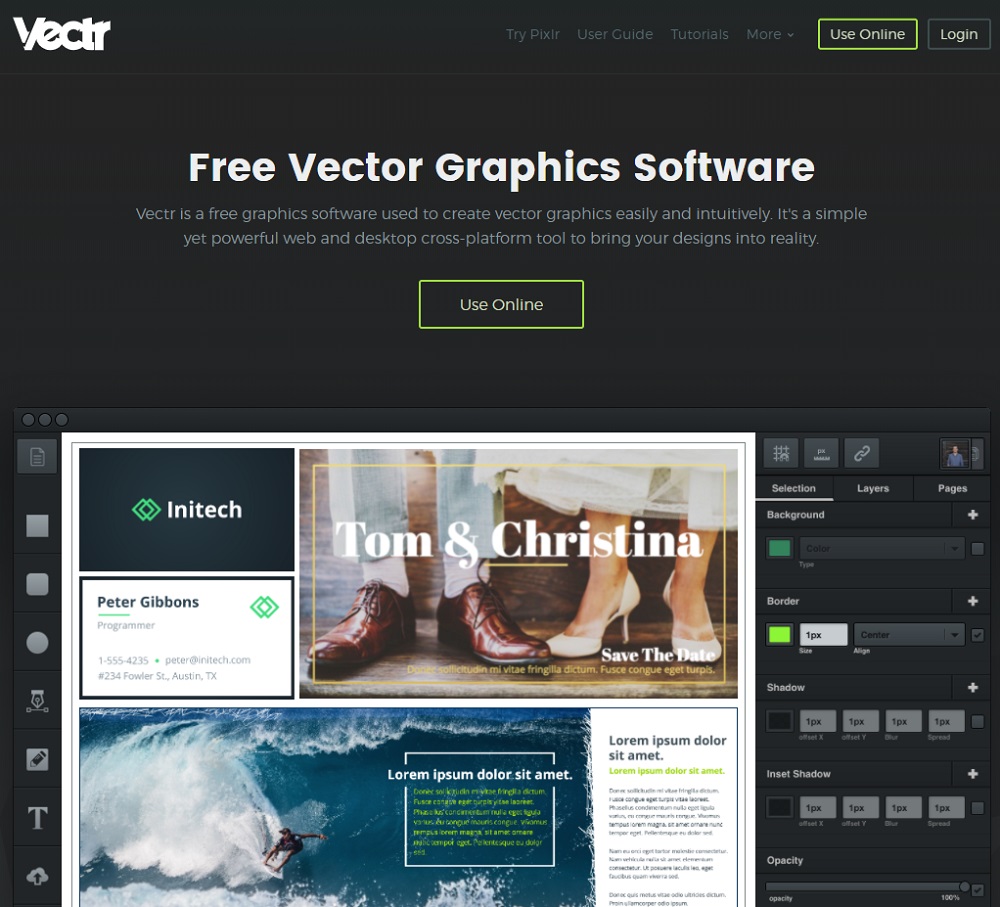 Vectr is a free vector graphics tool that makes it easy and intuitive to design various graphics. With handy tutorials as well as desktop and browser versions, Vectr ranks among the best free graphic design software for vector graphics.
It has all the features you'd expect from a vector tool, even allowing collaboration, and is a great free alternative to Adobe Illustrator, especially for simple day-to-day tasks. While it is great for most users, you'll have to look elsewhere if you're looking for professional features.
Related Posts
Wrapping Up
As you can see, there is a wide variety of free graphic design software for you to choose from. From 3d tools such as Blender and SketchUp, to vector graphic tools such as Vectr, Gravit, and Inkscape, photo tools such as Pixlr, GIMP, and Photopea, painting apps like Krita, or template-based editors such as Canva, Adobe Spark, DesignWizard, and Genially, there are many different options depending on your needs and skillset.
While finding the right tool for your needs might take some trial and error, once you've found the right free graphic design software to suit your needs, you'll be sure to improve the visual appeal of your online properties.
What do you think of the tools listed? Did I miss any other good graphic design tools that are free? Which ones do you use? Let me know in the comments below.