How to Organize a Live Summit: 11 Tips
A virtual summit is an online event featuring presentations by several different speakers on a given topic. Virtual summits or online conferences are powerful marketing tools for both established and new businesses. They are a great way for you to show your expertise in your industry and your connection to leading players in that industry.
While most virtual summits feature pre-recorded presentations to simplify the event, live summits, where the speakers present in real-time, offer their unique benefits. These include more engaging presentations, as attendees can ask questions during the talk via chat or in a live Q&A afterward, giving them access to your speakers that they otherwise wouldn't have.
While hosting a live summit can be complicated, thanks to the many moving parts, we've compiled a list of 11 tips to help you organize a live summit. Let's look at them below.
1. Building attendance
No matter what the ultimate goal of your live summit is, be it lead generation or sales, you need a well-attended summit to achieve them. To ensure that your live summit is well attended, you will need to develop a strategy to drive signups.
There are several effective ways to drive attendance to your live summit. These include using your email list, asking your speakers for help, and using paid ads. Let's take a closer look below:
1.1 Use your email list
An email list is a collection of email addresses. You can build yours through newsletter subscriptions, landing pages, or other lead-generating strategies such as popups.
If you have one, your existing database of email addresses is the perfect place to start promoting your live summit. Since your email list will contain addresses of people already familiar with your business, it simplifies the task of educating them about your summit, as you don't need to explain who you are and why they should trust you.
As a first step to promote its Social Media X Growth Summit, Wishpond sent out emails to their list of newsletter subscribers informing them of the upcoming summit and what they could expect.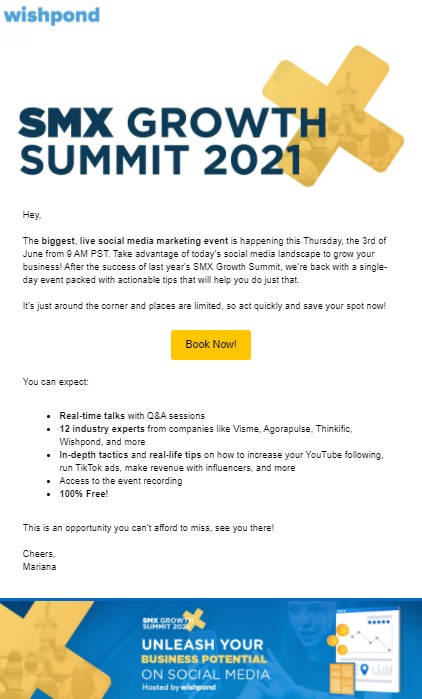 If you haven't already started collecting email addresses of people interested in your business, a good place to start is by using popups or starting a newsletter that they can subscribe to. For a more detailed guide to building an email list read our guide on how to build a qualified email list from scratch in 5 easy steps.
1.2 Get help from speakers
Tap into the reach of your live summit's speakers by asking them to share information about your event with their followers. This will expose your live summit to a wider audience than just your existing one, increasing your base for attendance.
You make it easy for the speakers to help spread the word of your live summit by preparing the copy for their social media posts for them and giving them a calendar of when to post, allowing them to simply schedule the posts alongside their regular content.
In the example below, Savannah Sanchez, one of the speakers of the SMX Growth Summit 2021, shared a tweet promoting her talk at the summit, emphasizing the live aspect and using visuals provided by the Wishpond team to her.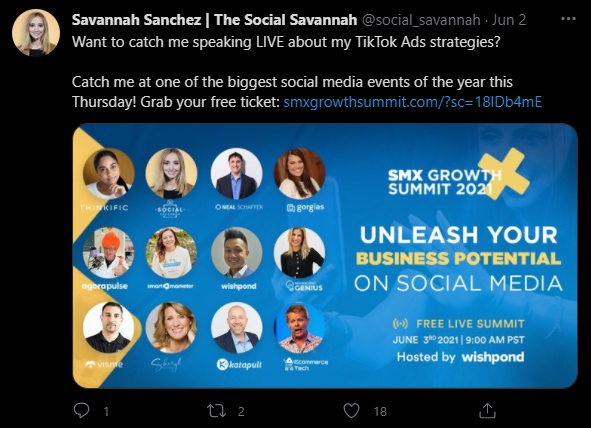 You can also ask your speakers to share your social media posts promoting your live summit to give these posts more reach.
1.3 Use Paid Ads
Paid ads, as opposed to owned or earned, are any kind of advertising that you have to pay for and include the likes of Google Ads and Facebook Ads, with additional categories of pay-per-click (PPC), pay-per-impression (PPI), and display ads.
The best way to reach a wider audience interested in the same topics as your live summit is to use paid ads. By targeting keywords related to your live summit, you'll be able to reach new audiences across search and social media and create awareness for your live summit.
Looking for ideas on how to best advertise your live summit on social media? Check out our 8 winning strategies to succeed with social media advertising.
2. Prepare your emails
Once people have signed up for your live summit, you'll want to keep in touch with them in the time leading up to the summit so you can remind them to tune in on the day and not miss any talks.
It's important for you to stay in touch with people that have registered for your live summit in the lead-up to the event, but doing so manually can get tedious. By writing and designing your emails ahead of time and using email marketing software to schedule and send these emails at specific times you not only save yourself time but also ensure that people get the right message at the right time.
There are two types of emails you'll likely be sending during your live summit's promotional period, warm-up emails and follow-up emails. Let's look at them in a bit more detail.
2.1 Warm-up Emails
The warm-up emails are designed to reintroduce yourself to your email list, explaining who you are and what you do. You should send out warm-up emails to your email list, especially if you haven't been in regular contact, such as through a newsletter.
Once you've re-established contact, you can let your email list know more about the live summit and encourage them to register for it. You should send these emails regularly in the promotional period so that your summit stays top of mind.
In the example below, you can see an email that was sent a day before Wishpond's SMX Growth Summit reminding readers of what they can expect and with a strong call to action prompting them to register for the live summit.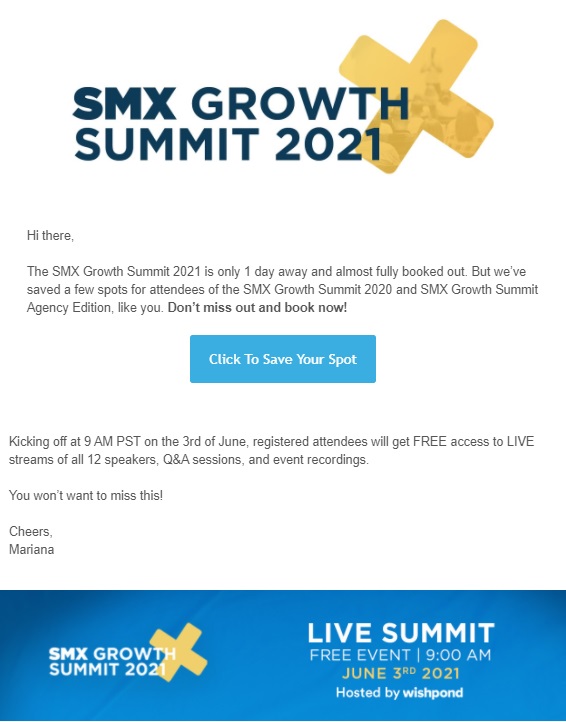 2.2 Follow-up emails
During the live summit's promotional period, you should also be sending emails to the list of people registered for the event. These follow-up emails ensure that your event stays top of mind and that they don't forget to tune in on the day of the summit.
You can use follow-up emails to update attendees about any changes to your live summit and to give them more details about what to expect. In the example below, Wishpond used the opportunity to share a schedule of their live summit, allowing attendees to better decide which talks they would like to attend.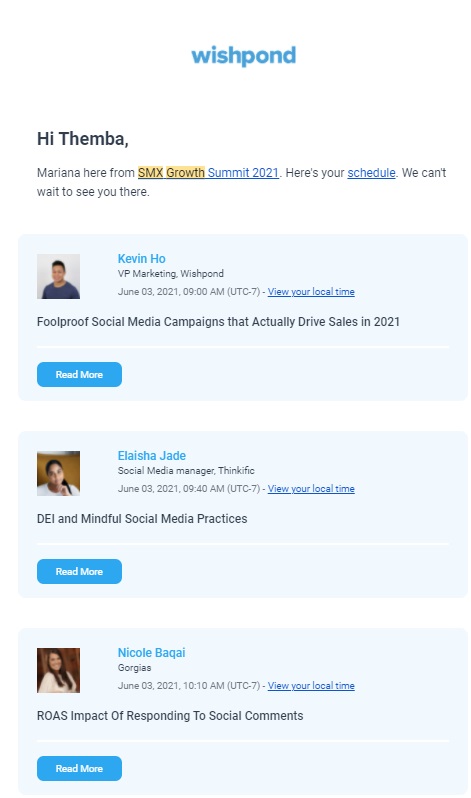 To get a better understanding of the power of email marketing automation, check out these
8 email marketing automation workflows you can use today.

3. Use the right tools
Hosting a live summit is no easy task. If you want it to go smoothly, you'll need to make it easy for people to register for the summit, have a place to manage the speakers and their topics, and a way to manage and contact people that have signed up. You'll also need to ensure the platform you're using has enough bandwidth to support streaming your summit to all attendees without problems.
There are a number of platforms that assist with hosting a live summit. This includes the likes of HeySummit that includes features such as:
Landing Pages
Speaker Dashboard
Talk Management
Reporting & Analytics
Registration & Ticketing
Marketing
Tools like HeySummit also integrate with Zoom allowing you to use the chat platform as the backend for your talks. If you want your live summit to be accessible to a wider audience outside of Zoom, you can use tools such as Restream to broadcast your event on platforms like Facebook and YouTube.
If you're looking for other options to stream your live summit check out these six top tools for live video on social media.
4. Use engaging topics
It doesn't matter how well you've marketed your live summit, if the topics aren't interesting, people aren't going to attend. The best way to ensure your topics are engaging is to ask yourself if they are helpful to your target audience.
Work with your live summit's speakers in order to determine what type of topic would best suit their expertise while also being of value to your audience. Since you're hosting a live summit, giving your audience interesting topics is a fantastic way to get them to engage with the talks and encourage them to ask questions during the Q&A.
The topics should also be relevant to your live summit. As you can see from the selection of topics presented at Wishpond's Social Media X Growth Summit, the topics are both engaging and also relate to the broader topic of social media.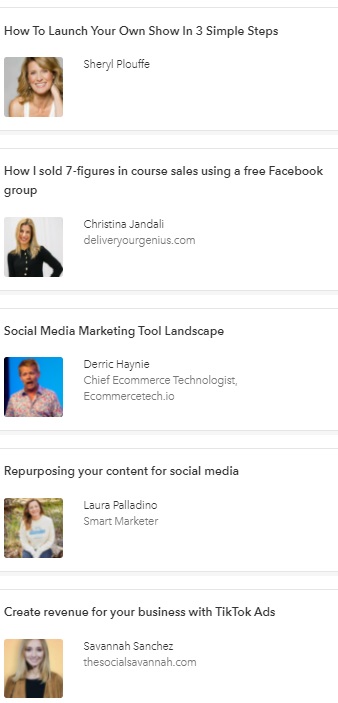 5. Assets are important
Engaging topics are only half the battle. You also need to catch people's attention in order to tell them about your live summit. The best way of doing this is to use your creativity to create eye-catching, engaging visuals to accompany your campaign.
In this example for the SMX Growth Summit 2021, the design clearly communicates that the live summit is about growing your business using social media, both visually and through text. The contrasting colors further help make this an eye-catching design that helps draw people's attention when displayed as an ad online.
Even if you don't have the budget for a graphic designer to create these visuals, there are free graphic design tools that you can use to bring your ideas to life and help you promote your live summit.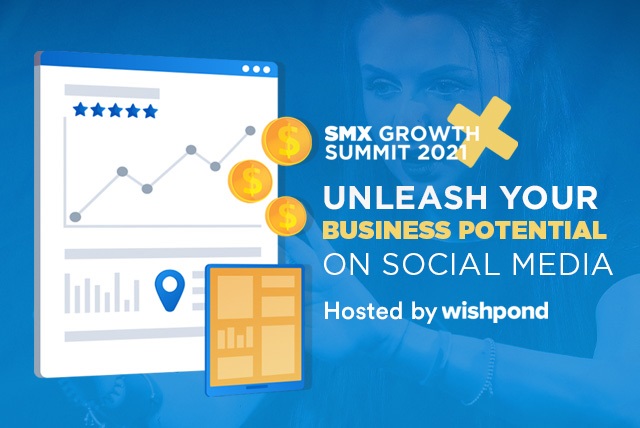 6. Use a promotional calendar
To promote your live summit as efficiently as possible, you'll need a calendar covering the promotional period from your end and the promotion period of the companies or speakers you're working with.
Ask what promotional efforts have they planned and for when? This will help you determine which avenues and timeframes you need to focus more promotional efforts on. In the example below, you can see an excerpt of the promotional calendar created for the SMX Growth Summit using Google Sheets, making it easy to collaborate with team members on the calendar.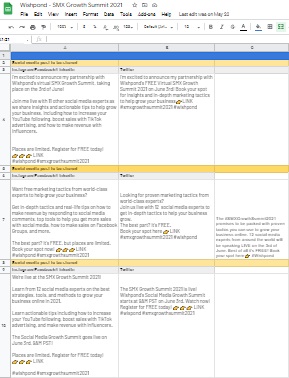 7. Take breaks
Unlike a webinar, a live summit can take anywhere from a few hours to a whole day or more! You can't expect people to watch talk after talk without giving them time to relax, so planning breaks into your live summit's schedule is essential.
You'll need to keep the number of breaks balanced in order to ensure that you don't lose too many attendees, and providing a reason to come back also helps reduce this number.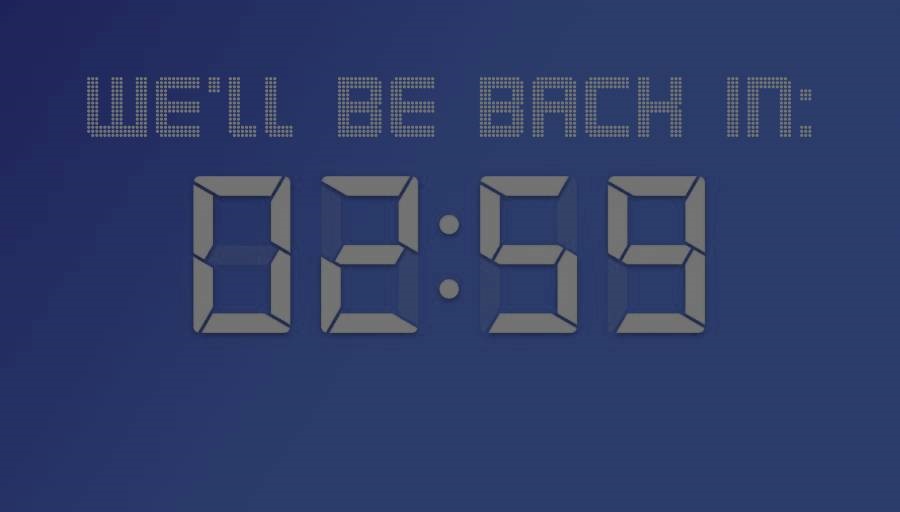 8. Keep your audience engaged
Since this is a live summit rather than a pre-recorded summit, you can take advantage of the real-time nature and create a highly engaging event for your audience. Of course, the numbers will fluctuate during your summit, but using polls, asking questions during the talk, and hosting a live Q&A afterward are great ways to keep your audience engaged, making them more likely to stay for longer.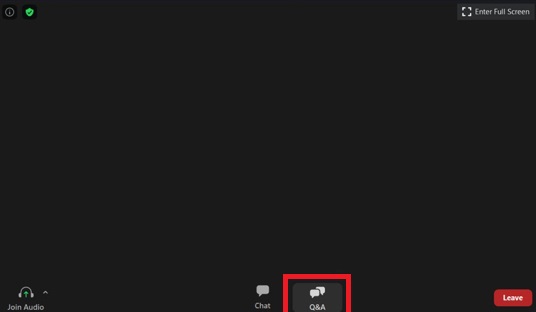 9. Have a Plan B
Of course, hosting a live summit is not without its risks, including technical issues or, even worse, a late speaker! You'll need to have a strategy in place in order to ensure that your live summit continues smoothly even if a speaker doesn't show up.
Options include playing a pre-recorded presentation or having a member of your team give a backup talk. The last thing you want to do is go offline, as attendees won't know what is going on or if your live summit will resume, leading to a huge drop in numbers.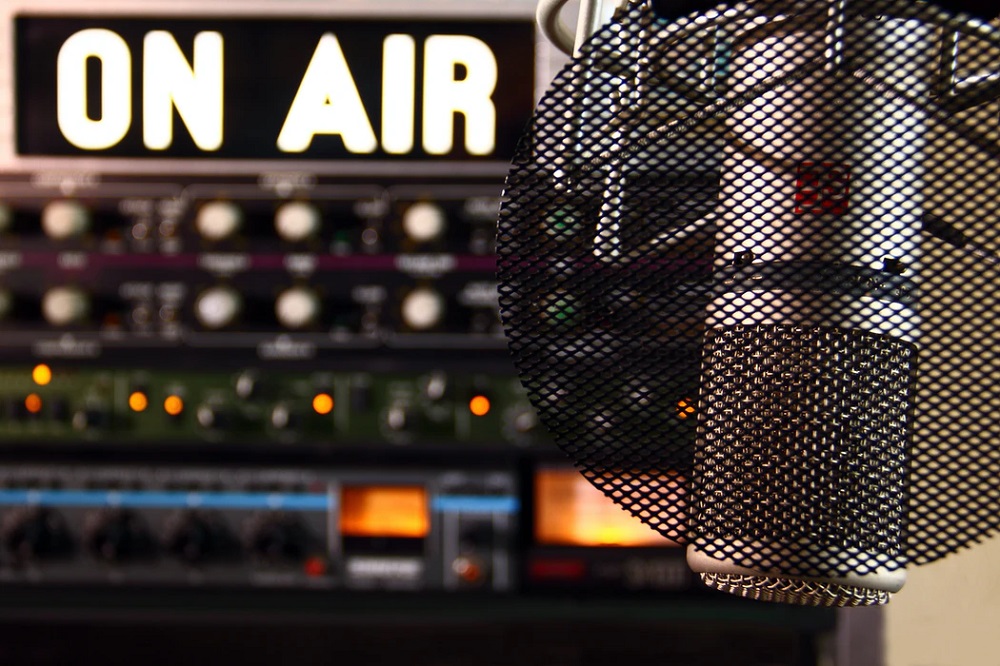 10. Prepare special offers
Rewarding people for attending your live summit with special offers is a great way of turning leads into prospects since they are now more likely to try your business' offering. In marketing, a special offer is a unique opportunity for customers to save money or receive a special benefit, product, or service.
For maximum effectiveness, you should send special offers both during the summit and immediately after it is done. The example below is an SMX Growth Summit post-summit special offer that gives access to all talks for free.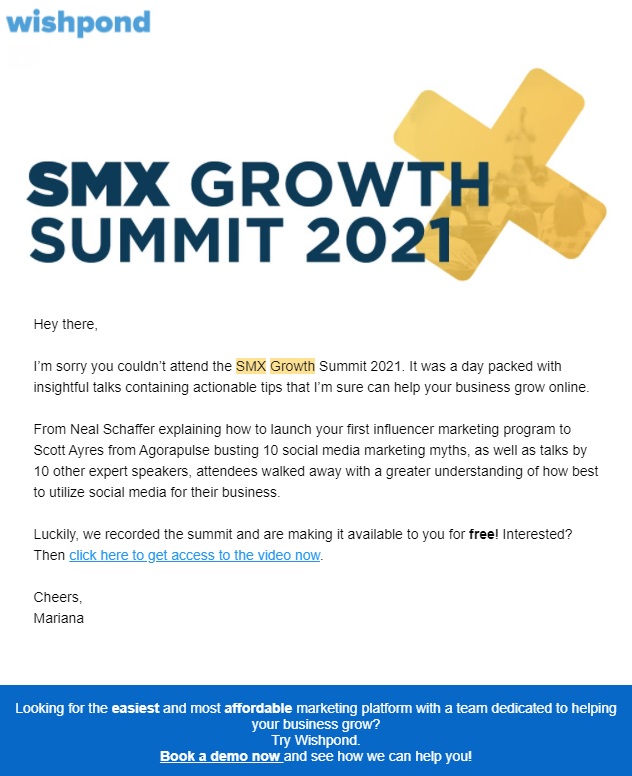 11. Analyze your results
You won't be able to tell if your live summit was a success or not unless you track and measure your results. To keep track of your various marketing campaigns for your live summit, always use UTM links.
UTM stands for "Urchin Traffic Monitor," which comes from Urchin Tracker, a web analytics tool that was the foundation for Google Analytics. A UTM code is a bit of code that you can add to the end of a URL to track where website traffic comes from and the performance of your campaigns and content.
Google Analytics has UTM support, making it easy to track your traffic, but there are also a variety of other analytics tools that you can use to track and measure the results of your marketing campaigns.
Once you've measured and tracked your results, you can analyze the data to better understand which of your campaigns worked well and which areas need to be improved for future campaigns.
Read our step-by-step guide to tracking social media success (or failure) to find out more about how you can use UTM links to measure your campaigns.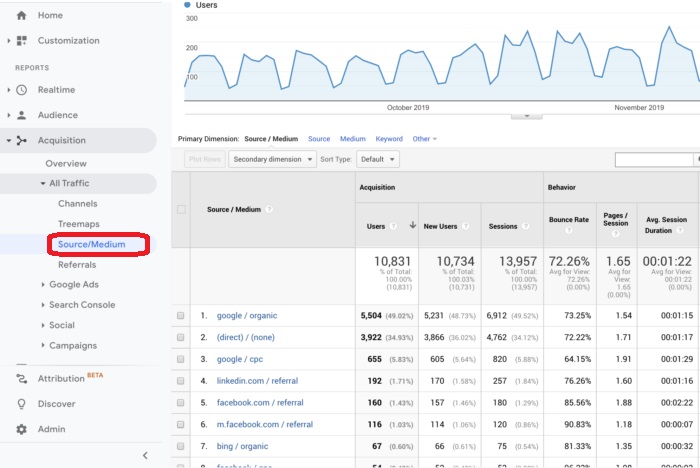 Related Content
Wrapping Up
As you can see from the above, organizing a live summit requires a lot of planning in order for it to run smoothly and be successful, but by following the tips listed, you're more likely to see positive results.
You'll need to ensure that you've built an attendance list through your own email list, your speakers, and paid ads, use email marketing to efficiently stay in touch with attendees, use the right tools to manage and stream the summit, ensure the topics are engaging and that your visual assets are eye-catching.
You'll also have to plan the promotion of your live summit on a calendar, while during the summit, you'll need to account for breaks, use Q&A sessions and other strategies to keep the audience engaged, and have a plan b in place in case a speaker isn't available.
To best take advantage of the leads you've gained through the live summit, you should also reward attendees with special offers, while it's critical that you measure and track your results in order to ensure that the live summit helped you achieve your goals.
Have you organized a live summit before? What tools and tactics did you use to ensure its success? Let me know in the comments below!