How Instacart Became a Billion-Dollar Business
If there's one industry that experienced huge growth during the pandemic, it's eCommerce. When the pandemic shut down the whole world, consumers turned to digital platforms to purchase goods and have them delivered to their door. In fact, global eCommerce sales rose to $26.7 trillion in 2020, making up 19% of all retail sales (up from 16% in 2019).
Instacart is one of these highly successful platforms that helped the US and Canadian economies shift to online shopping on a massive scale during this global crisis. So, how exactly did the pandemic supercharge Instacart's growth?
Let's find out!
What is Instacart?
Instacart is a platform that allows you to shop for your groceries online. Instacart was popular even before the pandemic because of its unique business model.
The platform isn't a grocery store itself. Instead, it allows you to shop from your local grocery stores and have things delivered to your doorstep in a timeframe of as little as two hours - which is why people found the platform so easy and convenient to use.

Instacart's business idea is simple. Imagine you want to buy something from a specific store. You place your order through the app, a personal shopper is assigned, shops for you, and then drops all your stuff to your house - without you ever needing to go to the store yourself. Pretty cool, right?

How Instacart Started and What Made it Unique
Instacart was founded in 2012 by Apoorva Mehta, a former Amazon employee, and his friends Max Mullen and Brandon Leonardo. Apoorva Mehta had tried and failed to launch 20 other startups before Instacart. These startups included specialized social networks and games, but none of them ever took off.
So, he was really taking a gamble with this one. Mehta came up with the idea of this online grocery delivery platform and submitted it to the Y Combinator - which is where he raised enough funds to launch it. Mehta coded the earliest version of the app himself and became the platform's first-ever customer as well.
In 2015, Instacart became functional in San Francisco with around 200 employees - which included the company's personal shoppers who could either work full-time or part-time.
The goal behind Instacart was to have people spend less time shopping for food and more time cooking it and enjoying it with their families. This is why, unlike most other online grocery services, Instacart focused on delivering their customers' groceries within a couple of hours - and that was a game-changer for the new company.
Instacart Business Model
As far as its business model goes, Instacart works by partnering up with grocery stores and linking their personal shoppers with their customers.
The app works like any other standard retail app where you can add items to your cart and then check them out. Customers also have the option to pay through the app, which means that they never really have to come in contact with their personal shoppers either.
As far as competition is concerned, Instacart was directly competing with platforms like Amazon, Google Shopping Express, UberEats, and Postmates. Compared to all of these, Instacart paid its shoppers more, with earnings that reached $10 to $17 an hour plus tips.


How Does Instacart Make Money?
The platform makes money through a delivery fee, which comes to $5.99 on orders over $35 and $7.99 on orders under $35.
Users can also sign up for a premium service called Instacart Express, which costs $99 per year and offers you free delivery for all orders over $35.


Instacart's Rise in Popularity
Ever since Instacart arrived on the scene, the company has been doing pretty well. It partnered up with stores like Whole Foods and Walmart, increasing its customer base in a big way. With this kind of growth, the platform was already on its way to become a 'go-to' service for American and Canadian consumers.
But, the Covid-19 pandemic really helped push things along. The business model for the platform allows you to shop for whatever you need without ever having to come in contact with anyone, right? This means it was perfectly suited for a time when all of us had to stay home to avoid spreading or catching the virus.
During the first few months of the pandemic, people also spent a lot of their time panic-shopping. Remember that fiasco where the entire country ran out of toilet paper? Back then, Instacart also became a platform for people to shop excessively from.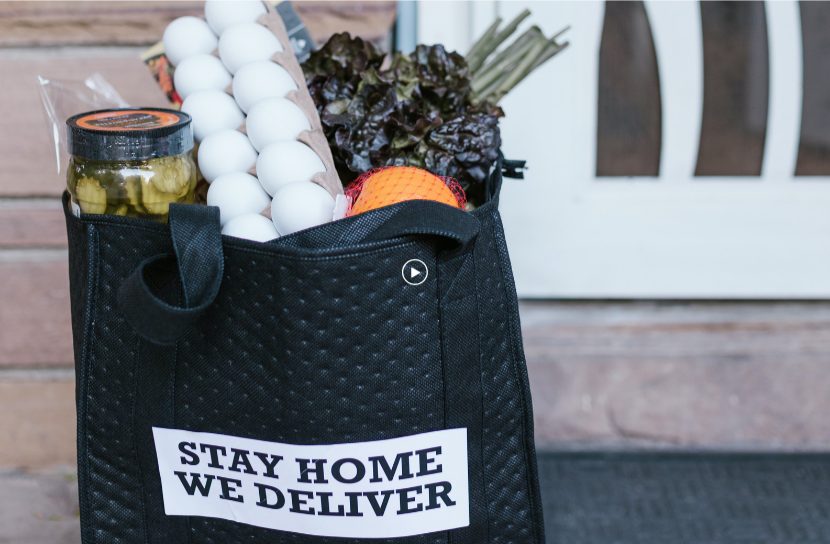 Instacart's Revenue and Rapid Growth
Instacart's revenue generation slowly saw a rise, increasing from $525 million in 2018 to $735 million in 2019. But, as soon as 2020 came around and the pandemic shut down the whole world, Instacart saw growth like no other.
Instacart reportedly generated $1.5 billion in revenue in 2020, with $35 billion worth of sales. At the same time, the company saw a rise in their personal shoppers. Because when people started losing their jobs, they saw Instacart as a great job opportunity as well as a quick way to make money.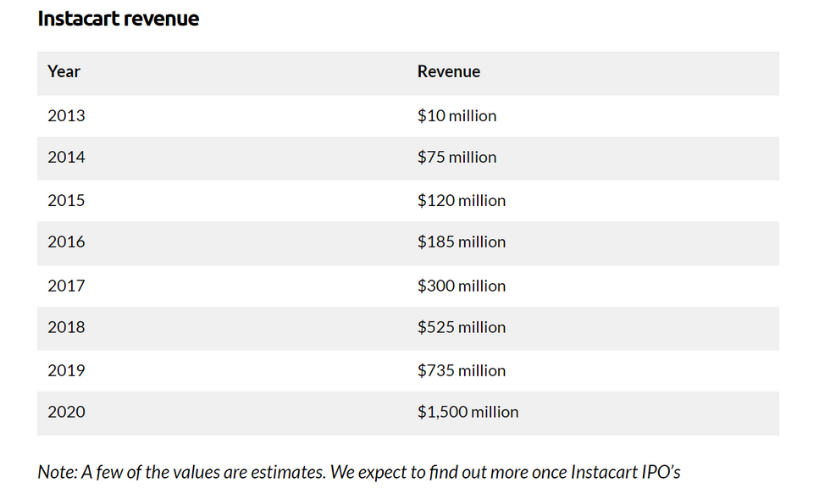 Source
The platform added around 300,000 new shoppers in only the first half of 2020, and this number is only expected to increase in the coming months. The platform was reportedly recovering from a $300 million loss in 2019 when the pandemic struck, and the company made a profit of $10 million for the first time in April.
During the pandemic, Instacart's overall share in the eCommerce market increased from only 8.9% to around 17.2% at the start of June 2020 - which once seemed like an impossible feat to achieve for a company that was as small as Instacart before the pandemic.
By October, Instacart had become the third most popular online grocery store in the US - right next to Walmart and Amazon. Currently, the company has over 500 retail partners, including names like 7-Eleven and Sephora, and it delivers from around 8000 store locations all over the USA and Canada. Not bad for a platform that only took off last year, right?


How Will Instacart Continue to Grow After the Pandemic?
The challenge for Instacart now is to make sure that customers keep coming back even after the panic from the pandemic has fully settled down.
One of the challenges Instacart faced straight after the lockdown was that their competitors like Amazon, who had already spent decades in the industry - already had a loyal customer base. Secondly, the company had to deal with a lot of their partner grocery stores shutting down - which directly affected their sales. When the pandemic started causing local businesses to go bankrupt, Instacart had to experience downsizing its services.
But, at the same time, the company has still been doing well in terms of its overall sales, which is why it spent a lot of its resources on optimizing its user experience. With the profits it has generated, Instacart is currently improving its services and allowing its grocery store partners to become more digitally effective to meet rising customer demands.
Instacart scaled out its infrastructure supporting its customer-facing app, shopper app, enterprise software, and advertising engine ahead of a 20% day-over-day growth trajectory. They also added features like allowing customers to view how many items were in stock to offer them predictability while increasing their order-taking capacity.
The company also pushed for features like contactless delivery and Mobile Checkouts — letting personal shoppers pay at store registers using Apple Pay or Google Pay. And all of this, of course, came with expanded pickup from more than 400 new store locations.
The company also worked on expanding its customer service team to 18,000 agents to cater to any sort of complaints. This user-centric approach has really helped Instacart take off and become a go-to shopping platform.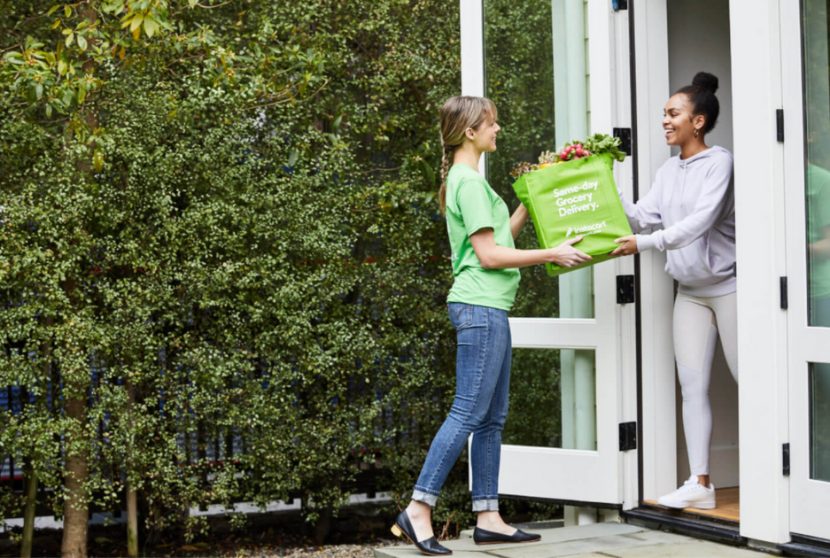 Source

How Much is Instacart Worth?
Currently, the company is valued at around $39 billion - making it one of the most successful digital platforms in the USA.
In 2020, Instacart started receiving millions of dollars in yet another funding round. Instacart has recently raised $265 million in funding from a series of venture firms to achieve its $39 billion valuation.
The company is also expanding into the advertising space. The platform offers valuable and unique granular shopping data to advertisers, such as how much someone spends on groceries and what products they buy. Instacart's goal is to reach $1 billion in ad sales in 2022 compared to the $300 million it generated last year.
To achieve this goal, they've hired top industry talent, including ex-Facebook exec Carolyn Everson, as their new president to set this digital transformation into motion while also increasing the diversity of females in leadership positions.
What Does the Future Look Like for Instacart?
As far as the future goes, Instacart will have to work on sustaining its customer base even when the lockdowns have been lifted. With 89% of users seeing Instacart as an essential service and 86% likely to keep using Instacart in the future, Instacart has the potential to continue growing in the coming years.
However, the company has to make sure that they maintain true to their core values—the speed of delivery and good customer service. Considering the fact that the company is going public very soon, the future for Instacart looks promising.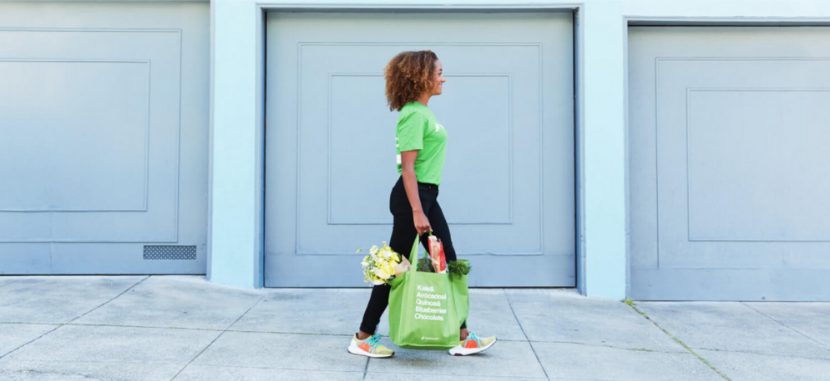 Conclusion
Instacart is one of the most exciting digital platforms to follow right now. The company saw a massive boom in growth during the pandemic, and now they need to make sure that this growth is sustained.
Is Instacart the future of retail? Has the platform changed the way the world shops? And how will it continue to shake up the eCommerce space? Only time will reveal exactly how Instacart will continue to impact the world of retail, and how this billion-dollar business will continue to grow.
Related Content