5 Essential Elements of a Converting Landing Page in 2021
Creating a great landing page is just like making croissants; it's not exactly rocket science, but it does take some work. Research has shown that the average conversion rate for brands across industries is a mere 5.86%. Sounds low, doesn't it?
Well, that's because creating a landing page that converts involves a lot of strategizing and implementation. If you're trying to convert leads into sales, you need more than a "good" design.
You'll want to create something phenomenal that would swoop your customers off their feet.
Well, in this article, you'll find everything you need to know about creating a converting landing page in 2021.
What Is a Landing Page?
If you've ever Googled "landing page vs. website," here's the first thing you need to know: a landing page is quite different from a website's home page. Comparing the two is just like trying to compare apples and oranges.
Simply put, a landing page is a web page where a brand drives visitors to convince them to take a specific action. Usually, visitors land on this page after clicking a search ad or a social media ad. The sole purpose of any landing page is to increase conversion rates, and it's typically created for a specific marketing campaign.

5 Elements of a Converting Landing Page in 2021
If you're trying to create a highly converting landing page, here are some essential elements of conversion you shouldn't overlook:
1. A killer headline
Your headline is the first thing visitors see when they first land on your page. It's the point of attraction that either compels a visitor to stay or makes them click on the "close tab" button. As such, you'll need to put a lot of effort into this section to ensure that it accomplishes its aim.
For starters, ensure that your headline is witty enough to hook your readers or make them do a double-take. It should also tell the reader what your product or service is all about in clear terms. For instance, if you run a college essay writing service, don't use vague headlines like "We write content." Sure, you write, but what exactly do you write? Stories? Copies with hashtags?
Another tip to bear in mind when creating your headline is that it should be as short as possible. If possible, limit it to ten words only, but if you can't, keep it at a maximum of 20.
Now that we've addressed the essential steps for creating a killer headline, let's take a look at ConvertKit, a brand that has managed to nail it right on the head: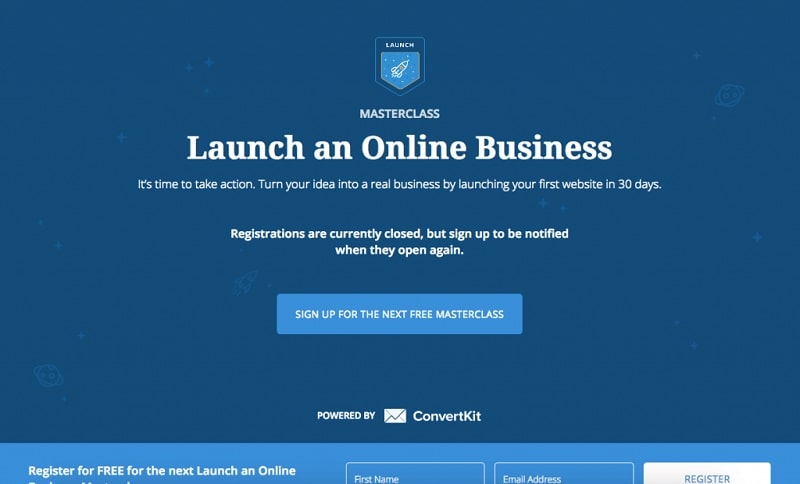 From this example, we can see that ConvertKit's headline is short, concise, catchy, and captures the brand's message aptly. This way, visitors don't exactly have to second-guess what the brand is offering. If a visitor is intrigued by the promise of launching an online business that's outlined in the headline, they'll definitely want to know more and take action.
2. A persuasive subheadline
Sure, a headline might pique your audience's interest, but you know what would make them stay? A subheadline. It usually goes into more depth and detail than the headline and should contain an element of persuasiveness.
For instance, let's take a sneak peek at the LandingFolio's page: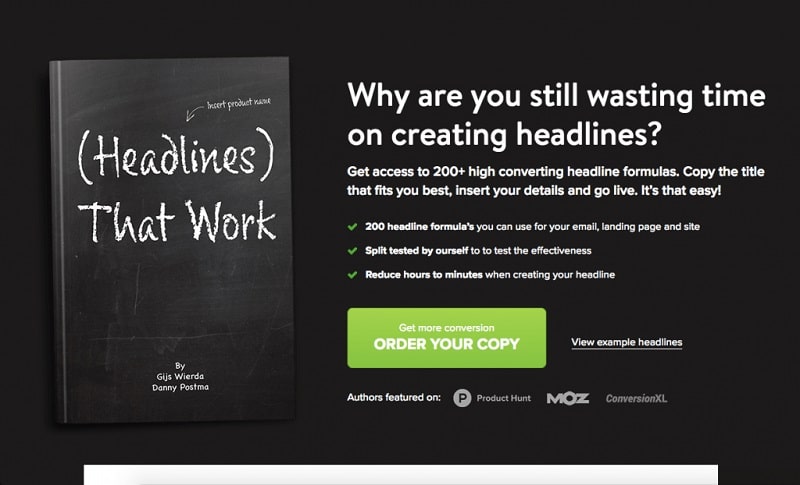 In this example, the headline targets the audience's pain point: having to put a lot of effort into creating headlines.
However, headlines can be vague, and this is where the subheadline comes in. The subheadline adds more detail and depth to the headline, conveying benefits that the target audience will be interested in.
3. A unique selling proposition (USP)
A unique selling proposition, also known as a USP or a hero proposition, is that one tiny factor that makes your brand different from others. It's a specific benefit that answers the question: "what makes you different from the competition?" As such, it should be communicated on the landing page in a very concise way.
To help you come up with a compelling USP, start by making a list of all your potential differentiators. No matter how inconsequential or irrelevant a benefit of your product may seem, add it to the list. Next, research your competitors, find out what their USPs are, and then position your brand differently.
For instance, if your competitors' USP is affordability, you can position your brand from the angle of durability. Next, check out any pain points that your competitors haven't addressed yet and address them too.
Saddleback is one brand that has successfully navigated the intricacies of drafting a compelling USP:

In this copy, you can clearly see the tagline "They'll fight over it when you're dead." This short and witty tagline conveys the high value of Saddleback products, which is the brand's USP.
4. Visual content
Here's a fun fact: the brain processes images 60,000 times faster than text. This means that visual content should be an integral part of your landing page. Select large, high-quality images that will make your landing page look colorful and compelling. However, don't just paste random stock images on your landing page.
The visual content should be relevant to your product or services. For instance, if you sell pastries and confectionery, the image on your landing page should be a picture of your desserts or pastries. Sometimes it is better to invest in good pictures and logos made by real artists or a high-quality logo maker.
When it comes to visual content for landing pages, we particularly love how Slack pulled theirs off.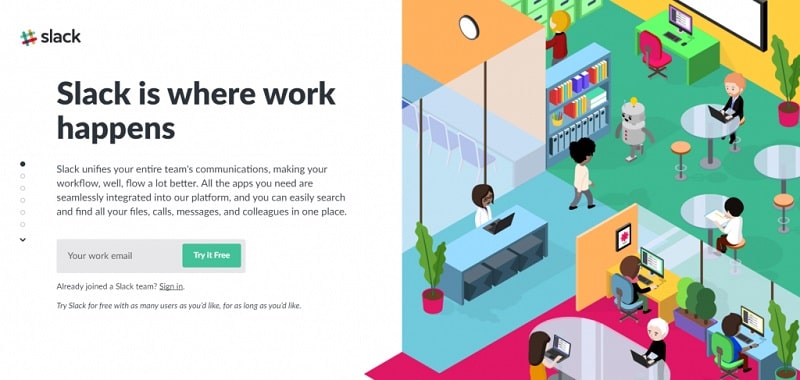 On the landing page, you can see the image is bright, colorful, engaging, and corresponds with the brand's colors. However, that's not all. The image also offers a clear insight into what Slack is all about: team collaboration and providing a healthy workspace for teams.
5. A powerful CTA
What's a landing page without a call to action? CTA is the most crucial part of any landing page because it ultimately converts visitors into actual customers.
But how do you create a powerful CTA? For starters, ditch the ordinary for something explosive and persuasive. Don't just use boring, basic words like "submit" or "click here." Instead, borrow the idea from Crazy Egg's book: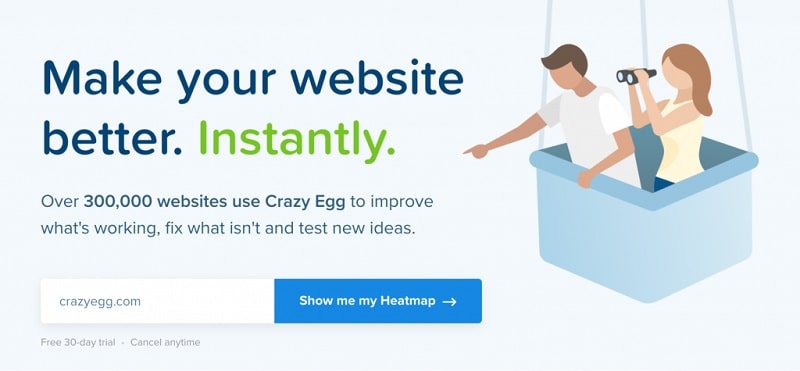 In this example, the CTA button says "Show me my heat map" instead of something boring like "submit," which most brands already use. This brings us to our second tip for writing a great CTA: using buttons.
Most people expect a CTA to be a button, and this trend isn't going to die anytime soon. So, go with the flow and give people what they want.

Related Content
Conclusion
Creating a highly converting landing page might seem complicated, but it's actually doable. If you've been asking yourself: "which attributes describe a good landing page experience?" this guide contains all the answers you seek.
All you need is a great headline with a subheader, a USP, excellent visual content, and a powerful CTA. Good luck!
---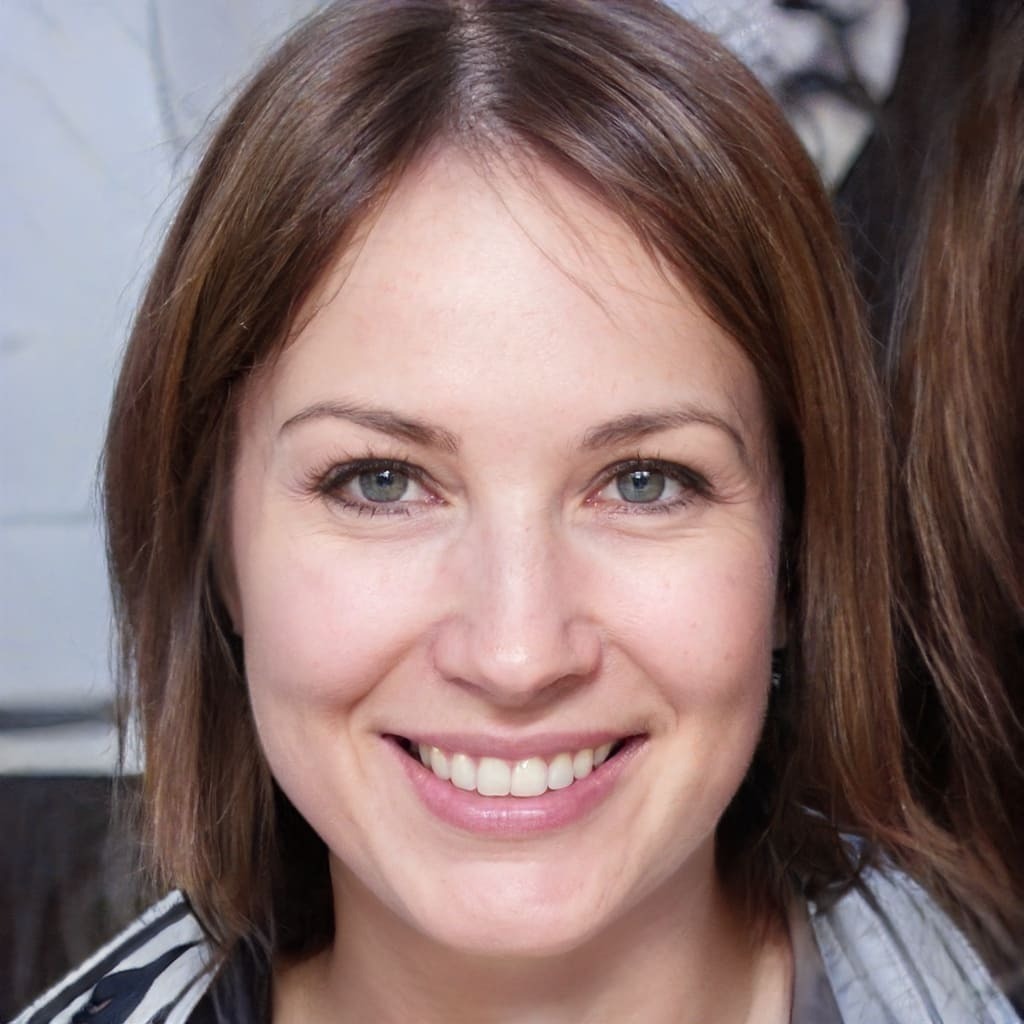 Written by our guest writer Amanda Dudley
Amanda Dudley is a lecturer and writer with over ten years of experience in the academic world. She has a Ph.D. in History from Stanford University and currently works as an essay writer at EssayUSA, where she delivers high-quality academic papers and projects for students.