Allbirds IPO: Silicon Valley's Favorite Sneakers Go Public
With its shoes worn by big-name celebrities, and an estimated $1.7 billion valuation, the sustainable shoe company Allbirds is about to go public. With its recent IPO filing announcement, Allbirds has big plans to take over the sustainable footwear space.
This company sells so much more than just pairs of shoes. Allbirds is known as the official sneaker of Silicon Valley, and its position as a public benefit corporation focuses on the pursuit of environmental conservation.
Here's everything you need to know about Allbirds before it goes public.


1. Allbirds Background
2. Allbirds Business Model
3. Allbirds Outlet Stores
4. Allbirds Valuation 2021
5. Is Allbirds Going Public a Good Idea?
6. Allbirds IPO
7. 5 Things to Know About Allbirds Before They Go Public
8. Is Allbirds Really Sustainable?
9. Conclusion
10. FAQs


Allbirds Background
The story of Allbirds started back in 2016 when it was founded by ex-New Zealand soccer player Timothy Brown and his friend Joseph Zwillinger.
To put it simply, Allbirds was and is a shoe company. But at the same time, ever since its inception, Allbirds has been offering its customers something more than just shoes. The company holds the reputation for being one of the most innovative and environmentally-friendly shoe brands in the whole world. This comes down to their revolutionary idea of using wool for manufacturing sneakers that are comfortable, simple, and sustainable - all at the same time.

How Was Allbirds Started?
The idea of creating shoes from wool came to Brown in 2014, who had to wear a variety of different sponsored footwear and sportswear from the big apparel companies.
"My initial insight was that footwear had become overdesigned, over-logoed, overly bright--and you're overwhelmed by the amount of choice. So the early idea was: make a very simple silhouette--the simplest sneaker that you possibly could," he said in an interview.
Once Brown knew what he wanted to do, he immediately searched for factories and warehouses to kick off his production. He found a factory on the internet, but on his first site visit, he realized that many shoe companies used cheap materials and less than thoughtful manufacturing to cut costs.
This sparked his second insight, with Brown saying that "the innovation alarm went off. There was a huge unexplored opportunity in natural, sustainable materials starting with wool, which is abundant in New Zealand." When he pitched his idea to the New Zealand Wool Industry. they offered him a grant to create a wool shoe to show everyone how well his idea could work.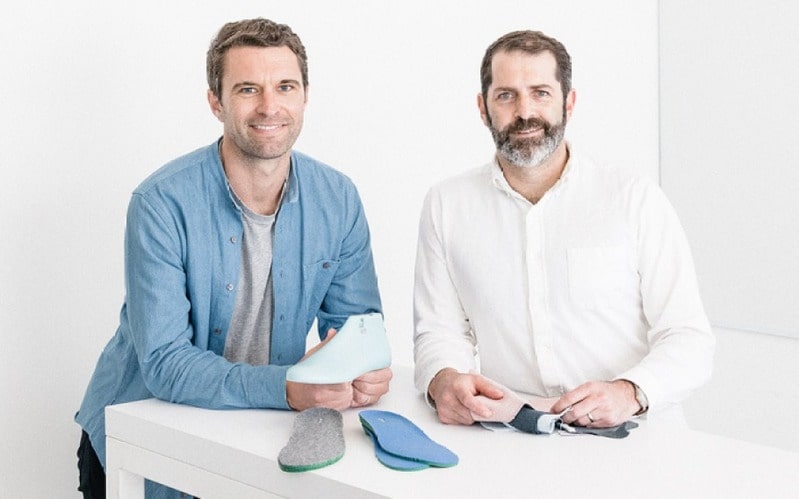 Above: Tim Brown and Joey Zwillinger


Allbirds Official Launch and Kickstarter Campaign
It took two years for Brown to create a prototype, and in 2014, he developed the first-ever pair of wool shoes, which he released through a Kickstarter campaign.
The campaign talked about how comfortable and resilient these shoes were, and while Brown's goal was to earn $100k at the end of the campaign, his shoes ended up making him more than $119k in only five days - showing just how much potential his idea had.
Using the funds he had raised and all the social capital he had gained through the campaign, Brown partnered up with Joey Zwillinger - a renewable materials expert - and the two officially launched Allbirds in 2016.


How Allbirds Became the Silicon Valley Sneaker
The thing about Allbirds is that it's not just a sustainable shoe brand, it's a seriously fashionable brand too. In fact, Allbirds is known as the official sneaker of Silicon Valley.
At the time of the launch, Brown, and Zwillinger spent a huge amount of money on their marketing and PR campaigns because they didn't want to market their shoes as only sustainable. They wanted the world to know that the shoe they created was made to be the most premium and comfortable shoe that one could wear.
The campaigns proved to be so successful that Time Magazine even did a piece on Allbirds on the day of the launch. The article was titled 'The World's Most Comfortable Shoes Are Made of Super-Soft Wool,' and it helped the brand gain even more recognition.
In the span of only a few days, celebrities like Mila Kunis and Jennifer Garner were seen wearing and endorsing Allbirds. Soon after that, the company became one of the most loved names in all of Silicon Valley. Even the New York Times published an article on how the footwear was becoming a staple for Silicon Valley - where the prevalent style was minimal chic, a category that the Allbirds fit right into.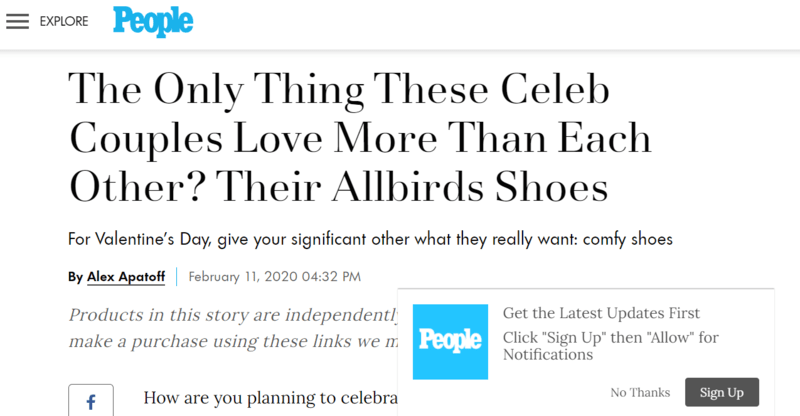 Allbirds Business Model
In terms of their business model, Allbirds is a direct-to-consumer brand. This meant that the company hasn't partnered up with any third-party retailers, but instead functions through its website. Customers can place their orders online which are then shipped to them directly.
This model ensures that the company gets to set its prices and direct its profits instead of relying on external retailers. Allbirds have more control over their sales, and their business model cuts out the middle man, which leaves more room for profit.
With eCommerce becoming so popular during the Covid 19 pandemic, the company has been seeing a huge rise in online sales.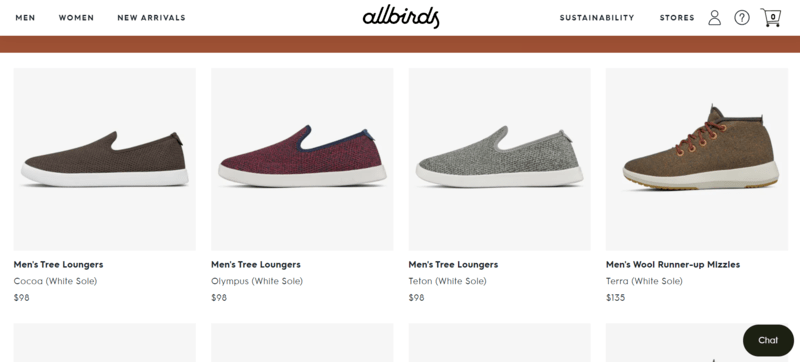 How Does Allbirds Make Money?
Being a direct-to-consumer brand, nearly 90% of Allbirds' revenue comes from online sales. Thanks to the skyrocketing online shopping space during the Covid 19 pandemic, Allbirds' digital sales reached a whopping $194.6 million in 2020.
Approximately 53% of the company's digital sales in 2020 were from repeat customers. And according to the company's SEC-1 filing, the average lifetime spend for an Allbirds US customer is $446.


The 5 Core Pillars of the Allbirds Business Strategy
Allbirds focuses on the demand for sustainable and long-lasting footwear and apparel. According to Allbirds, the companies strategy covers 5 core pillars. These are:
To make the world's most comfortable footwear and apparel, powered by leading sustainable materials, innovation, and design
To build a brand with a large and loyal community of customers that love the products
To continually inspire this community to keep coming back and advocating for the brand
To use a digitally-enabled and seamless cross-channel experience to serve this community
Deliver the highest-quality products on time at a great value to customers through a low-carbon, technology-enabled, consumer-focused supply chain
Allbirds Marketing Campaigns
After gaining initial success through its PR campaigns, Allbirds established a prominent social media presence, further driving their sales. The company hired Social Media Ambassadors to promote their products through platforms like TikTok, Instagram, and Twitter. This got everyone talking about Allbirds and how they were the revolution that the footwear industry needed.
Allbirds took maximum advantage of their social media sites to connect with their fans and listen to their feedback. Unlike their big-shot competitors, Allbirds was a small company. Which meant that they had the time and resources to dedicate towards customer service and satisfaction - and that proved to be a game-changing move.
Allbirds targets Gen Z and millennial customers through its initiative focused on environmentalism, health, and wellness. These are big topics of interest for these target audiences. Allbirds has capitalized on the complete minimal and casual appeal of its footwear.
Allbirds Outlet Stores
After experiencing all of this success, Allbirds transitioned into outlet stores, opening 27 stores in eight countries as of 2021. However, their digital channel still represents 89% of the sales - showing that their initial business model is still successful today.
The company also plans to expand its stores to 36 outlets by the end of 2021, which experts believe will be a winning move considering that people are once again returning to the world of physical shopping after more than a year.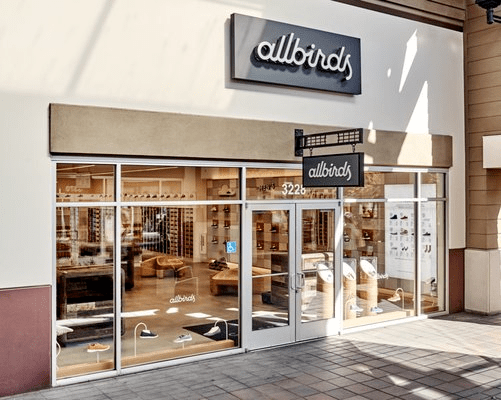 Allbirds Valuation 2021
Today, Allbirds is one of the most valuable footwear companies globally, with an estimated net worth of $1.7 billion. Because of the company's quick success, Allbirds has received at least $204 million in equity investments from big-name investors.
The company's revenue in 2020 was $219.3 million, up from $193.7 million the year before. Digital revenue was $194.6 million in 2020. About 53% of 2020 sales were from repeat customers - all of which are great numbers for a business that's only starting in the market.
However, at the same time, Allbirds' losses also grew to $23.6 million from $14.6 million in 2020. For the first six months of 2021, the company had a net loss of $21.1 million, compared to the $9.5 million posted in the same period a year earlier.


Allbirds Investors
Because of the company's quick success, Allbirds has received at least $204 million in equity investments from some well-known investors.
The Allbirds investors include Maveron, Tiger Global Management, T.Rowe Price Funds, Fidelity, Franklin Templeton, and Lerer Hippeau Ventures. This proves that the company is backed by big names that believe in its growth potential even in a market as saturated as footwear.


Is Allbirds Going Public a Good Idea?
Despite Allbirds' growth in losses, the company has grand ambitions to go public very soon. But is this such a great idea?
The apparel and shoe sales market is pretty hot right now, totaling $1.8 trillion for 2020. Across the board, major retailers and footwear brands have posted about their sales increasing, highlighting the fact that the fashion industry has recovered pretty well after the pandemic.
According to Matt Powell, senior sports industry advisor for the NPD Group, investors are looking for companies with strong growth potential, companies that bring something new to the table. The footwear business is going strong right now, and because Allbirds has an approach unlike any other player in the game, going public might work out pretty well for the company.


Allbirds IPO
Allbirds has filed for an initial public offering, and plans to list on the Nasdaq under the ticker "BIRD". The company will have Class A and Class B shares.
There is currently a team of 17 banks working on the deal, including Morgan Stanley, JPMorgan, and BofA Securities - the lead underwriters.
Allbirds has set a target to raise $100 million from the IPO, but the figures might shift slightly when the time comes.
All the proceeds from the offering are expected to be used for its growth, which involves acquiring businesses, products, and services in line with their 'green mission,' motivating people to invest in the brand on an individual and institutional level.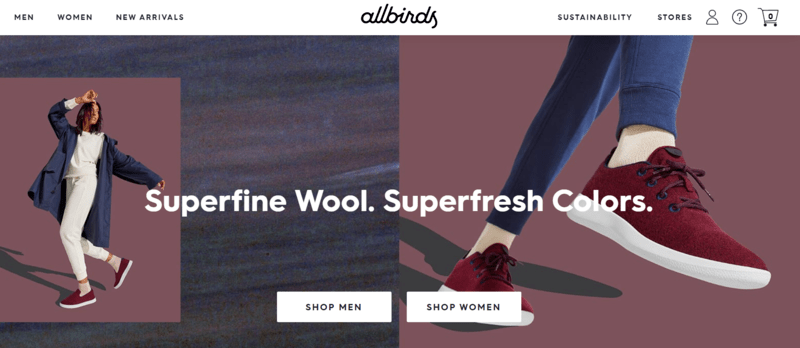 Why is There so Much Hype Around This IPO?
Allbirds has described this event as being "the first sustainable public equity offering". As a public benefit corporation, Allbirds claims that not all of its decisions will maximize shareholder value.
The company plans to stick to its sustainability mission, and focus on its environmental goals. However, Allbirds has still managed to remain on a high growth path which doesn't seem to be slowing down anytime soon.
This is what's really interesting about their IPO. The company shows high growth potential, it's got a clear environmental cause, but it also hasn't seen any profits - with losses steadily growing.


Other IPOs Running at a Loss
The Allbirds IPO seems to be part of a direct-to-consumer trend that we're seeing. Allbirds isn't the only company going public without seeing any profits.
Warby Parker, another D2C company, recently filed for an IPO. In 2020, the company reported a net loss of $26 million. Casper, another public D2C, reported a 2020 net loss of $89 million.
It's interesting to note that Warby Parker, Casper, and Allbirds all have plans to expand their physical locations. We've got to wonder what kind of effect this might have on their financials.
5 Things to Know About Allbirds Before They Go Public
With the company's IPO close up on the horizon, here are 5 things you should know about Allbirds before they hit Wall Street and become public.


1. The Losses Could Continue
With Allbirds' growth plans come higher operating expenses. This could mean continued losses for the company. And because Allbirds is so heavily focused on sustainability throughout the supply chain, the costs of producing footwear and apparel will increase.
Allbirds has stated that it needs to increase and sustain revenue levels if it wants to achieve a profitable status, which will be difficult to maintain.


2. Climate Change Could Affect the Business
Even though Allbirds' entire supply chain and ethos are designed to address climate change, climate change could have a drastic effect on the company.
Climate change will result in increased prices for materials, commodities, and manufacturing. This will drive up the price of the Allbirds supply chain, and lower the potential output of the business. For a company with a clear sustainability plan in place, climate change could seriously disrupt its operations.


3. Physical Stores Will Increase
Allbirds has identified hundreds of potential locations for new stores - something that the company plans to grow. On top of its current 27 stores, Allbirds is also looking to grow internationally. International sales have already been on the rise for this company.


4. Supply Chain Issues Could Become a Problem
Allbirds uses various raw materials in its manufacturing process, with most suppliers being outside of the US. There are various risks related to its suppliers and raw material prices. As markets and commodities fluctuate, and international trade issues arise, Allbirds could be affected.


5. The Returns Policy Could be Affecting Revenue
Allbirds offers a 30-day return policy for a full refund or exchange. This is unusual for footwear, and it could be squeezing the company's revenue.
The company prospectus states: "Our revenue is reported net of returns, discounts, and any taxes collected from customers and remitted to government authorities".
"The introduction of new products, changes in customer confidence or shopping habits or other competitive and general economic conditions could cause actual returns to exceed our estimates."

Is Allbirds Really Sustainable?
One question on many people's minds is whether Allbirds is truly sustainable, or whether they're just more sustainable than the competition?
Allbirds claims that its supply chain has been carbon neutral since 2019, and the company estimates that its sneakers' carbon footprint is 30% less than a regular pair.
However, Allbirds has also been facing a class-action lawsuit for making misleading sustainability claims. Basically, consumers are suing the brand for claiming its marketing messages exaggerate the actual sustainability of the product.
Certain critics say that Allbirds should go truly sustainable if they want to live up to the reputation they're marketing. This would involve a circular supply chain, and not relying on new product creation.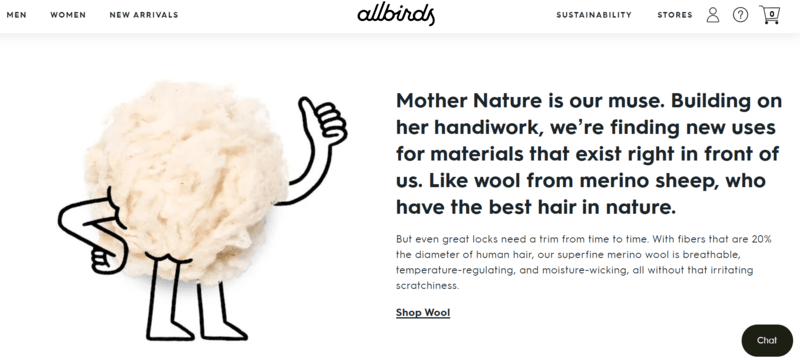 Conclusion
Considering all of this, Allbirds can very well make history with its IPO soon. And while it's true that the company is dealing with its fair share of losses during the process, the fact that Allbirds has established itself as a billion-dollar enterprise in less than a decade is all the reason to believe that the brand will successfully go on with its domination of the footwear industry.
Allbirds doesn't just sell pairs of shoes, its mission is environmentally charged. Their IPO as a public benefit corporation represents more than just a big business, they also want to create a social and environmental impact.
What do you think about Allbirds? Do you think they have what it takes to disrupt the apparel and footwear industry? Let us know in the comments below.
FAQs
Did Allbirds go public?
Allbirds has submitted its listing documents to the US Securities and Exchange Commission and is looking to go public as soon as September.
Who owns Allbirds?
Allbirds was founded by Timothy Brown and Joseph Zwillinger who currently own the company. Various venture capitalist investors are named as directors that own shares of the business. The Allbirds IPO is expected to release in September.
Is Allbirds profitable?
Allbirds has not yet recorded a profitable year. The company's net losses grew to $25.9 million in 2020. However, the company did report a 25% spike in net revenue (compared to the previous year) in the first half of 2021.
How to trade Allbirds?
When Allbirds lists, you can trade it the same way as any other share available on the market. Allbirds will be listed on the Nasdaq under the ticker "BIRD".
Related Content