What is Twitch and How Did it Become a Live Streaming Giant? (Business Model Explained)
The live streaming platform Twitch started as a small project that would establish a whole new online industry. Twitch now boasts 140 million monthly users and features many popular streamers that rake in millions.
Twitch is a product of a group of friends that developed into something much greater than they could've ever imagined. Its rapid growth led to Amazon acquiring it for $970 million in 2014.
So, how did it come to dominate the live streaming industry? Let's break down Twitch's business to find out how they got started, how big they are now, and how they make money.


What is Twitch?
Twitch is a live stream platform focused on video games. Twitch streamers broadcast themselves playing video games, and viewers can subscribe to and support their favorite Twitch streamers.
Twitch streamers generally accompany their videos with an audio commentary. When viewers watch Twitch streams, they can use the chatbox to connect with the streamers and audience. This makes Twitch a very interactive platform.
There are a couple of different ways that popular Twitch streamers can make money on the platform from their audience. This includes paid subscriptions, a donations system during live streams, as well as the possibility to monetize streaming channels to earn from ad revenue.
In addition to live streaming video games, Twitch has recently added an animals category. Here you can tune into a live stream from a zoo, conservation project, aquarium, or from an animal owner. This new live stream category hopes to be one of the most pleasant places on the internet, filled with nothing but furry friends.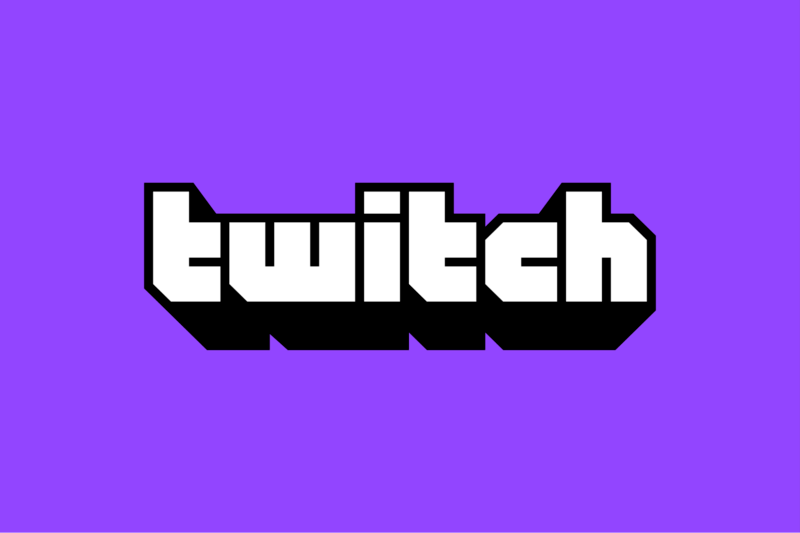 Who Uses Twitch?
The majority of Twitch's audience is made up of teen gamers. According to a study by SimilarWeb, Twitch users are most interested in technology and gaming.
22% of Twitch's traffic comes from the US, where the platform has over 28 million unique users per month. While the majority of Twitch users are teen males, the platform does have a fairly wide range of streamers and demographics, spread around the world.

How Did Twitch Start?
The foundations for Twitch were laid back in 2007 when Justin Kan, Emmett Shear, Michael Seibel, and Kyle Vogt got together to launch the revolutionary live streaming site Justin.tv. It featured a 24/7 stream of Kan's life broadcast via a webcam attached to a baseball cap and a laptop-backpack system designed by Vogt.
That same year, once they'd figured out how to simplify the streaming process, the team launched Justin.tv as a platform where anyone could set up a live stream, launching the first service that combined live video with chat.
This turned out to be a great move, as the number of registered users grew to 1 million within 8 months. As Kan said of the pivot, "So we turned Justin.tv into a platform.. pretty soon after that, people who were much more interesting than us started broadcasting and that's when it really took off."
At this time, the founders weren't sure of where the platform was headed or how they could properly earn money from it. They decided to focus on Justin.tv's most popular section, where users were broadcasting and watching live streams of video gaming, and in June 2011, they launched Twitch.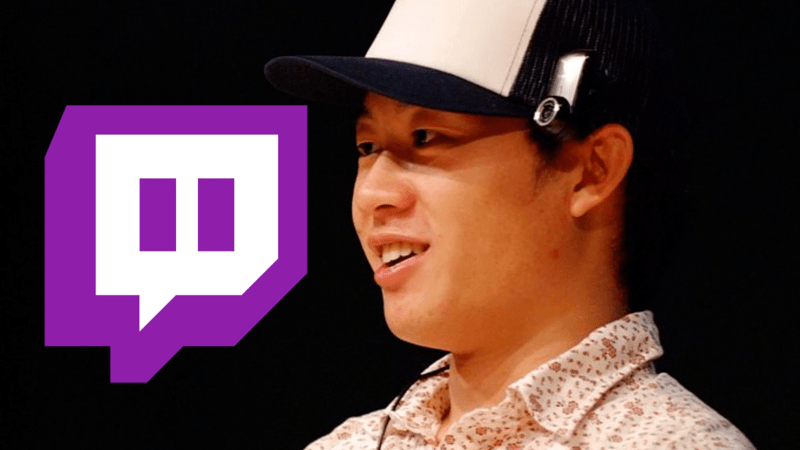 Above: Twitch founder Justin Kan with his baseball cap streaming device. Source.


Twitch Growth and Monthly Viewers
When Twitch launched, it instantly received a massive 3.2 million monthly unique views for gaming streams, with the average viewer watching 4.5 hours a month. This is impressive compared to the 3 hours per month viewers spent on general content.
Twitch's launch was perfectly timed, and it proved so popular that the number of monthly unique viewers grew to a whopping 20 million within a year. The platform's average user spent almost an hour and a half per day watching live content.
The early growth didn't slow down, and by 2013 the number of monthly viewers had more than doubled from the previous year to a staggering 45 million. At the same time Twitch's biggest competitor at the time, Own3d.tv, shut down. This made Twitch the most popular e-sports streaming platform by far. The Verge concluded that "with a near-monopoly on the market, Twitch has become the ESPN of live gaming."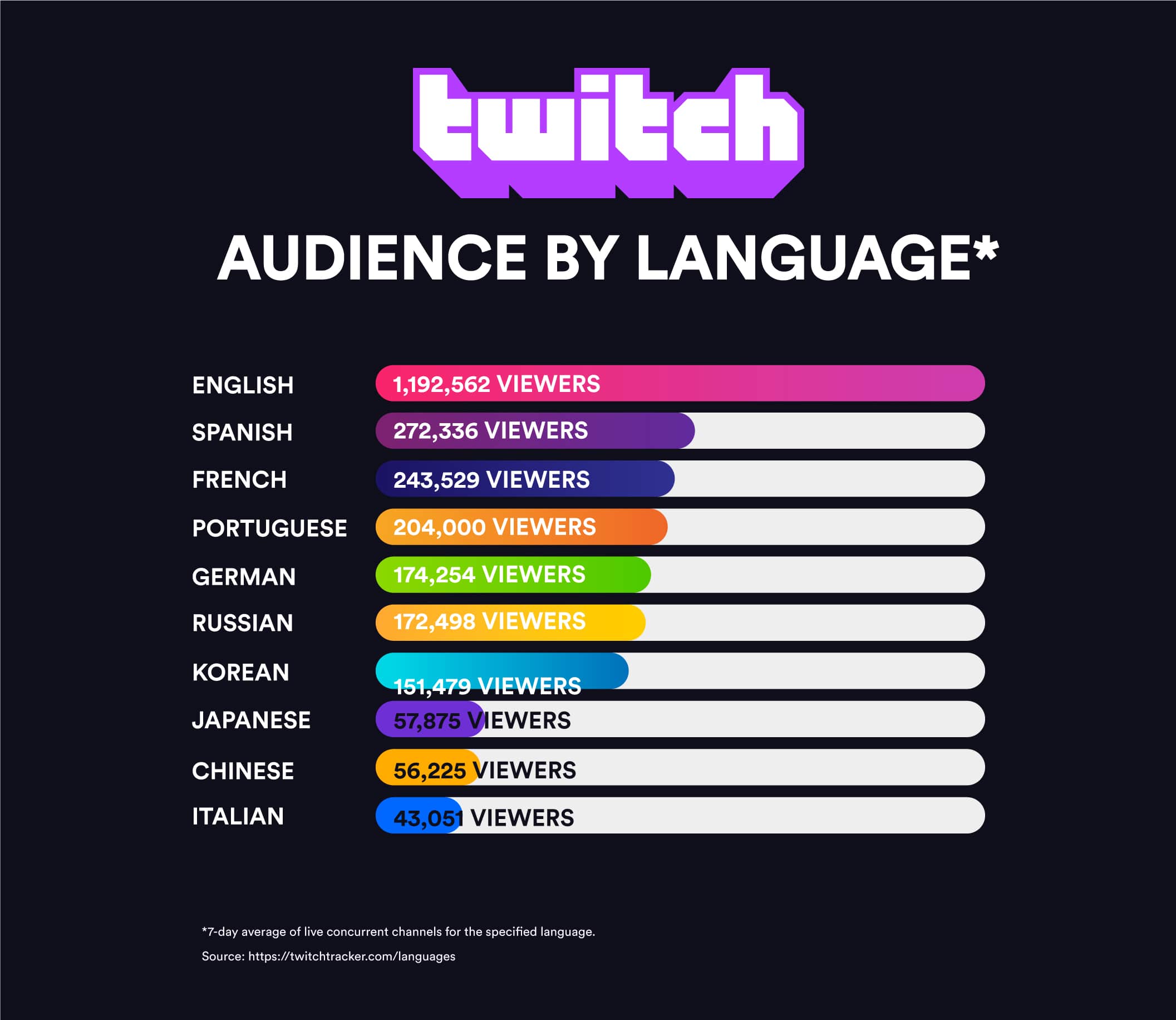 What Makes Twitch Unique?
Unlike other live streaming services, Twitch offers a real-time interactive chat experience to make it a social platform. This level of interaction through each live stream is how popular Twitch streamers have managed to build up highly-engaged audiences.
You can watch Twitch live streams registration-free, but you need to register (no cost) to broadcast a live stream and join the real-time chatting.
Twitch is not only about watching live video games though. Streamers can archive their videos so that Twitch users can find and watch them at a later stage. Twitch can be accessed via the dedicated Twitch app and through a web browser. Twitch content can be viewed on various devices, including mobile devices, PCs, and gaming consoles.
There is also a Twitch API available to help integrate Twitch with game devices, websites, and web applications. This has helped Twitch reach many more viewers and increase the platform's subscriptions.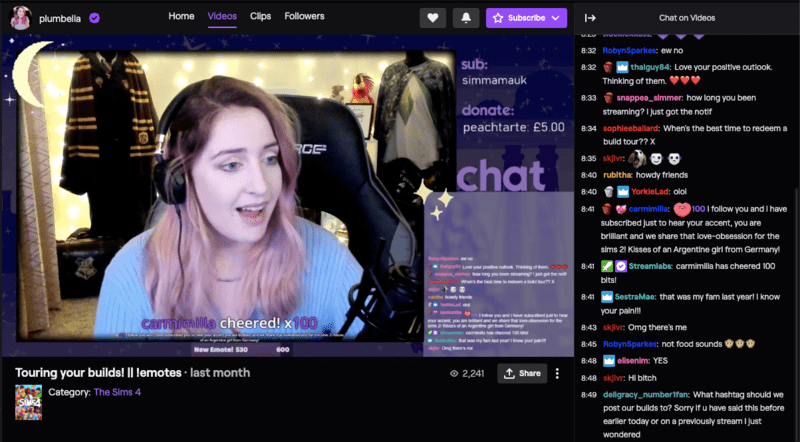 Amazon Bought Twitch
The rapid growth of Twitch got the attention of several companies. Both Google and Yahoo were reportedly in talks with the company to acquire it for around $1 billion. But it would be Amazon that managed to snag them for a cool $970 million in an all-cash deal on the 25th of August 2014.
"We met with a ton of people, and Amazon from a company values perspective matched ours really well. And we felt like we were really differentiating. They weren't doing anything like we were. Whereas other companies had similar platforms or similar businesses." said Twitch COO Kevin Lin in an interview with CNBC.
So why did Amazon decide to purchase Twitch? According to Jeff Bezos, it's because "Like Twitch, we obsess over customers and like to think differently, and we look forward to learning from them and helping them move even faster to build new services for the gaming community."


How Does Twitch Make Money?
It's reported that Twitch became profitable in 2013, but how do they make their money? The platform generates revenue by charging users a monthly subscription fee, through its own digital currency called Bits, by running video ads, and by selling merchandise. Content creators get a portion of this revenue.
What's great about Twitch is that users and content creators can interact with each other. Users can subscribe to creators' channels, chat with them during their stream, or donate money to them.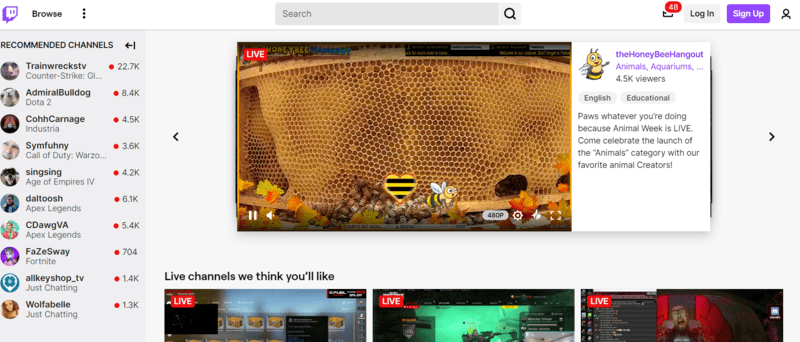 Twitch Subscriptions
Subscriptions are available in three tiers, coming in at $4.99, $9.99, and $24.99 per month, although lower subscription fees have been announced for most global regions. Twitch gets a 50% cut of these fees.


Twitch Bits
With Bits, users can cheer on and support their favorite streamer. These bits can be bought in packages ranging from 100 bits worth $1.40 to 25,000 bits worth $308.


Twitch Ads
To combat the issue of monetizing its free users, Twitch enabled video ads on both pre-recorded videos and live streams, with streamers paid on their CPM or per 1000 visitors. These prices can range anywhere from $2 to $10 per 1000 impressions.


Twitch Merchandise
The last revenue stream is merchandise. This one is the most obvious showcase of Twitch's partnership with Amazon. Through the official Twitch store on Amazon known as the "Loot Cave", the platform's die-hard fans can buy clothing, accessories, dog wear, and gift cards.
How Much Money Does Twitch Make?
Twitch hasn't released official revenue figures, but it's estimated that the streaming platform brought in $400 million in revenue in 2017, more than doubled that number to $900 million a year later, and reached $1.5 billion in 2019.
The most recent estimate, for 2020, puts their revenue at $2.3 billion of which $750 million was ad revenue. Recent reports say that Amazon hopes to push Twitch to generate $1 billion in ad revenue alone in the coming years.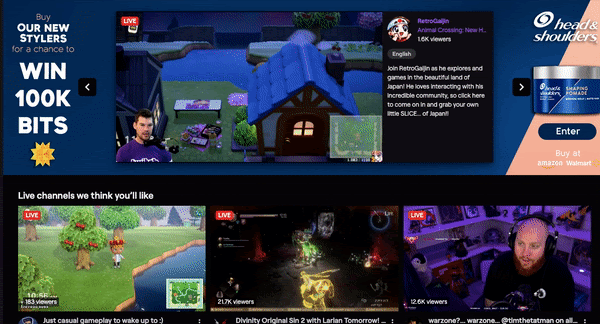 Twitch Challenges
Twitch's rise to the top hasn't all been smooth sailing though. Since 2018, the platform and its apps have been banned in China. Several Indian companies blocked the platform in 2020 because some users were using it to illegally stream matches of the Indian Premier League.
Twitch also lost its top streamer, Ninja, when Microsoft signed him for an exclusive deal to stream on their platform known as Mixer in 2019. However, when Mixer shut down in July 2020, he signed an exclusivity deal with Twitch and returned to the platform.
The streaming platform also faces the ongoing challenges of detecting content that infringes upon its guidelines, such as nudity, sexual content, gore, and extreme violence. In its first-ever transparency report, published in early 2021, it revealed how it was using machine learning in its attempt to deal with these problems.
The report also found that user reports of hateful conduct, sexual harassment, and harassment had increased by 19% from the first half of 2020 to the second. At the same time, though, enforcement increased by 214%, which was in part due to improvements to the user reporting and enforcement processes.


Twitch Leaked
Recently, Twitch made headlines thanks to an alleged leak by a hacker. The leak contained their platform's entire code-base, details of their competitor to video game distribution service Steam, and how much they had paid out to top content creators between August 2019 and October 2021.
This was a massive leak, which Twitch confirmed was authentic. "We can confirm a breach has taken place. Our teams are working with urgency to understand the extent of this. We will update the community as soon as additional information is available. Thank you for bearing with us," said Twitch.


How Much Do Streamers On Twitch Earn?
So how much did the top channel get paid? According to the leak, the top channel, CriticalRole, earned almost $10 million excluding donations or brand promotions. Not bad for a group of voice actors that play the role-playing game Dungeons and Dragons!
Twitch streamers' earnings really depend on the creator, however, it's estimated that on average, expert streamers can make between $3,000 to $5,000 each month playing around 40 hours a week before ad revenue. That's not bad considering you get more revenue from donations.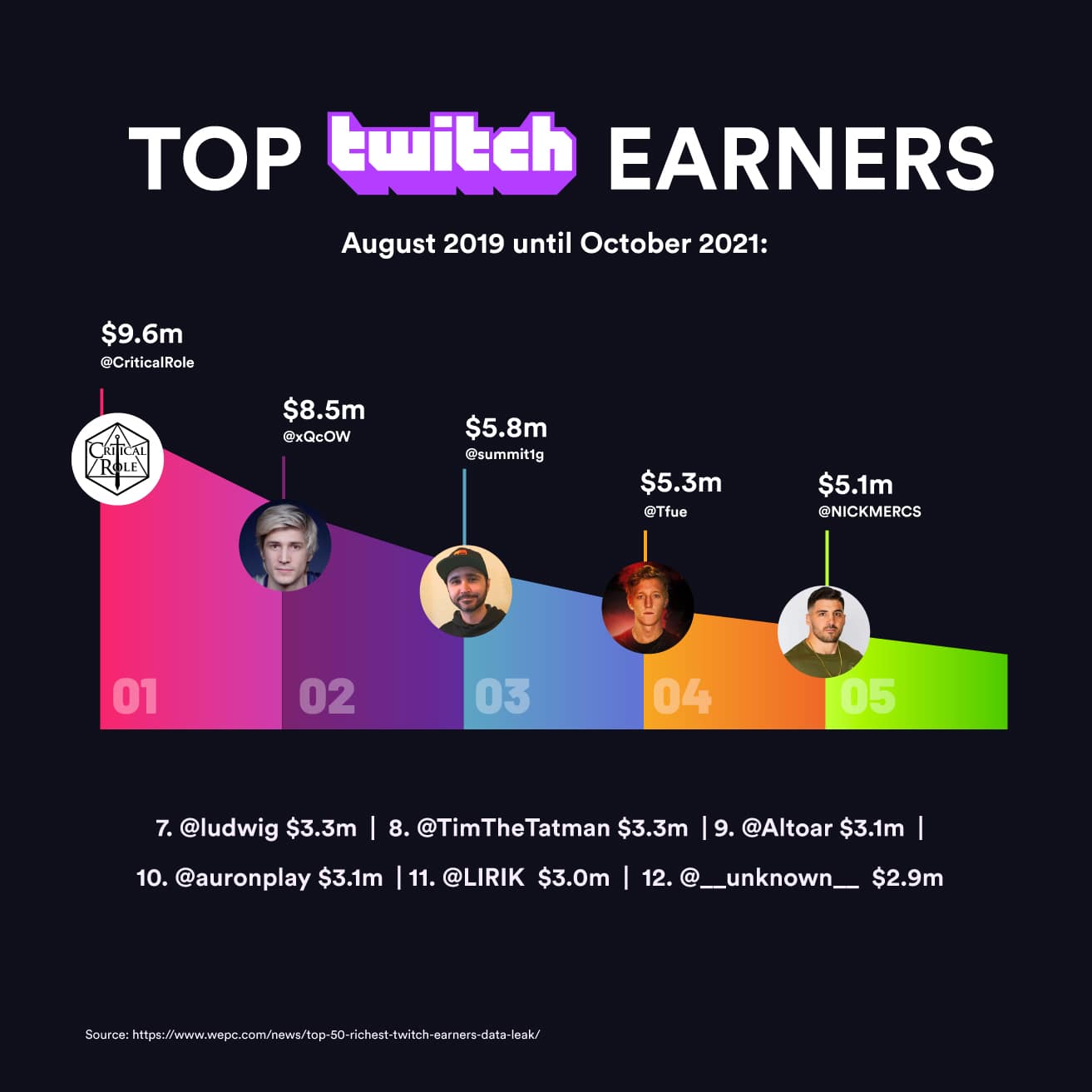 Conclusion
From its early days as the groundbreaking live streaming platform Justin.tv, it's clear that the founders of Twitch had a brilliant idea that would transform broadcasting to a live audience. While the initial website was ahead of its time, their pivot to live game streaming proved to be well-timed, helping Twitch build a dominating position in the market and emerge as an industry leader that today hosts an unbelievable 91% of all video game streams. This beats competitors like YouTube and Facebook.
Although Amazon spent almost a billion dollars acquiring the company, it's expected that Twitch will generate a billion dollars in ad revenue alone in the coming years, making it a great financial move for the tech giant.
And despite ongoing controversies, challenges, and issues, the platform remains one of the best places for gamers to stream content, engage with their audience, and earn a living.
Related Content