How to Make Money On YouTube: Every Strategy You Can Use to Cash In
YouTube isn't just a fun place to create video content, it's a serious money-making opportunity.
If you've got great content and an engaged audience, knowing how to make money on YouTube could make you a millionaire!
With 500 hours of video being uploaded to YouTube every minute, the website offers huge possibilities, but it's also extremely competitive. This means making money on YouTube isn't a get-rich-quick scheme.
Ad revenue isn't the only way to make money on YouTube. In fact, it's not necessarily the best way either. In this guide, we'll show you every single strategy that you can use to make as much money out of your YouTube account as possible.
Pro tip - try to use all of these strategies if you want to make the most money.
The Age of the YouTubepreneur
A lot of people get started on YouTube because they want to put their great content out into the world. Being motivated by creating content that people enjoy is often the first step, but you can also make money on YouTube. Really good money.
So if you produce quality content, you're in a good position to start making money on YouTube. This could turn into a side revenue stream for you, or it could even become a full-time job. The age of the YouTubepreneur is here, and it's a really big deal.
YouTube stars rake in millions. They combine various strategies to make money and turn their YouTube content into a lucrative brand. Starting a YouTube channel is no longer just about creating video content that you love -it offers the potential to build a successful career.


How Do You Make Money on YouTube?
Making money on YouTube isn't an exact science. There are many factors that influence how YouTubers make money.
Your earning potential isn't only determined by the number of subscribers or views that you have. It's also determined by your levels of engagement, your audience demographics, the niche that you cater to, your geographic location, and the different revenue channels that you explore.
Making money from YouTube is also a long-term game. Don't expect to get rich quickly. Instead, it's all about building up an engaged audience, steadily growing your watch time, and finding new ways to grow your brand and expand your revenue channels.
If you want to make money from YouTube, then you will first need to focus on building your audience. Your audience is the most important factor in how much money you earn.
So if you want to start to earn money through YouTube, then the first step is to have a clear understanding of who your target audience is.


Understand Your Target Audience on YouTube
If you want to learn how to make money on YouTube, you have to know who you're making money from. You can only make money when you have an audience, and the better you understand that audience, the more opportunities you'll have to make money.
By understanding your audience, you will be able to create content that they prefer, which makes it easier for you to build up your audience. And by fully understanding the makeup of your audience, you will be able to target them with better money-making opportunities.
Understanding your audience is also essential for working with brands (which you will want to do). Basically, the more niche your audience is, the better you will be able to target them with specific brands that they're interested in.
And when you do start to work with brands, they will want to understand your audience demographics. This includes:
The gender of your audience
The age range of your audience
The geographic location of your audience
The engagement levels, or watch time, of your audience
You can easily pull all of this information from YouTube analytics to help you better understand your audience. This data will be very useful for figuring out which brands you can work with later on.


How to Make Money On YouTube: 7 Effective Strategies
Want to get paid on YouTube? Of course you do! Here are the seven different strategies that you can use to make money on YouTube.


1. Join the YouTube Partner Program
The YouTube Partner Program is what YouTubers use to access the platform's special features. You don't necessarily need to join the YouTube Partner Program to make money (you can set up an Adsense account without it), but being a partner allows you to make money much more easily.
The major benefit of the YouTube Partner Program is that you can access multiple income streams beyond just video ads. This includes YouTube Premium subscription fees, channel memberships, the merchandise shelf, and features to make money from your loyal fans (like Super Chat).
In order to join the program, your channel will need to have at least 1000 subscribers, as well as 4000 watch hours in the past 12 months.
If you're going to make money on YouTube, then joining the YouTube Partner Program will probably be the first thing you do.
This is how you can join it:
Sign in to your YouTube account
Click the icon for your account in the top right corner
Click YouTube Studio
Go to the left menu, choose Other Features, then choose Monetization
Read and agree to the YouTube Partner Program terms and conditions
Create a Google AdSense account and connect this to your YouTube channel
Now you can set your monetization preferences


YouTube Partner Program Monetization Features
Being a partner gives you different monetization channels and options. Each of these has different eligibility requirements.
Ad revenue: you need to be at least 18 years old to earn ad revenue. Your content should also be advertiser-friendly, so brands are comfortable running ads over it.
YouTube Premium revenue: If YouTube Premium members watch your video, you automatically get a portion of their subscription fee
Channel memberships: You can sell channel memberships to your subscribers if you have over 30,000 subscribers and are at least 18 years of age
Merchandise shelf: If you have at least 10,000 subscribers and are 18 years of age, you can sell merchandise from this feature
Super Chat payments: In some countries, your fans can pay to have their messages highlighted in live chats during live streams. You must be at least 18 to access this feature
It's also important to understand that being a part of the YouTube Partner Program holds your account up to a higher standard. This means you need to carefully follow the YouTube Partner Program policies, the Community Guidelines, and make sure you're not breaking any copyright laws.

2. Sell Products and Merchandise
Once you've built up an audience and some popularity, selling your own merch is a great way to make money through your YouTube channel. Even if you're a content creator first and an entrepreneur second, don't be afraid of creating new products and selling them.
Remember, you're building a brand through YouTube. You're not only selling a video product.
Besides making money on YouTube through your merch, it will also help you to strengthen your relationship with your audience and improve the visibility of your brand online and offline.
Don't be afraid here, selling merchandise isn't as scary as it may seem. You can even use dropshipping if you don't want to handle the fulfillment yourself.
To sell products and merchandise through your YouTube channel, you will first need some good product ideas. Classic merch options like T-shirts, coffee mugs, caps, and tote bags always do well. It's also pretty easy to find a manufacturer for these items.
However, the best products are ones that are more specific to your YouTube channel brand and your audience's interests.
For example, chef YouTuber John Kirkwood uses his channel to sell the signature kitchen accessories (like his skeleton oven gloves) that he uses in his videos.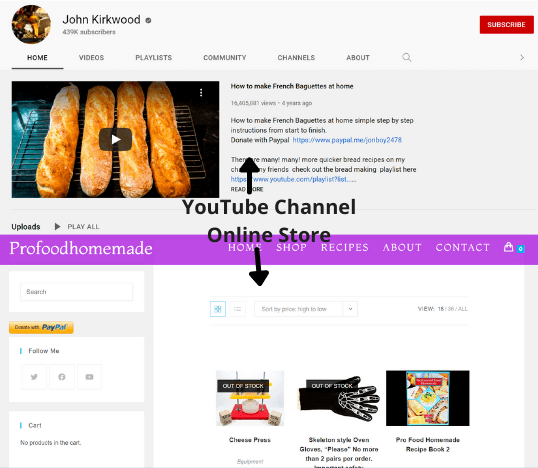 A great way to get started with merch is to engage your audience in the process. Set up a poll asking them what products they would like to see what would be popular. You should also start small, with one or two items, and gradually build up your online store based on demand.


How to Sell Merch Through Your YouTube Channel
If you want to make money through merch, you can do it through the following ways:
Create a shop and landing page: You'll need to have a separate website to handle purchases. Of course, you'll want to link this directly to your videos, so it will need to be part of YouTube's list of approved merchandise sites.
Sell through your merchandise shelf: As a YouTube Partner, you can also sell your merch through the merchandise shelf. Follow these steps to get it set up.
Promote your products in your videos. You won't make money selling your merch if you don't promote it properly. Include your products in your videos, add screen cards with great CTAs, and include your online store link in your video description.

3. Become an Affiliate
Affiliate marketing also offers some excellent opportunities for your YouTube channel to make money. If you don't have a huge audience just yet, promoting affiliate links can be a great strategy to get paid on YouTube.
The idea here is simple: you promote an affiliate link to your audience, and you get a commission for every person that clicks on your affiliate link and makes a purchase. Many companies invest in affiliate marketing, and joining their affiliate programs can be a pretty easy way to earn some extra revenue through your YouTube channel.
You could join popular affiliate programs, such as Amazon, or partner up with more niche businesses. Whatever the case, you should take the following steps when becoming an affiliate:
Find an affiliate program that relates to your channel. You will need to promote products that you actually trust and that you know your audience will be interested in, so choose a brand to partner with carefully.
Be transparent about your affiliate partnership. Mention somewhere that you earn a commission from each affiliate sale.
Promote your affiliate products in your video description and in your videos. The more you promote your affiliate links, the more sales you will generate.
Try to find affiliate programs that relate to your niche as closely as possible. The chances of selling these products to your audience will be higher.

4. Create Sponsored Content as a YouTube Influencer
Sponsored content is a popular way to get paid on YouTube. If you have enough reach and influence, brands will want to work with you directly.
The great thing about this is that YouTube doesn't take a cut. You work with the brand only, and they pay you directly. This allows you to negotiate different deals and really unlock your earning potential.
To get brands wanting to work with you, you will have to have a large enough audience, a clear niche, and good levels of engagement. Brands will only want to work with a YouTube channel if their content relates to the brand's target audience, and if the channel subscribers are actively engaged with the channel. This is where understanding your audience demographics is important.
If you want to start creating sponsored content on your YouTube channel, then you can take the following steps:
Find a brand to partner with: The first step is to find the right brands to partner up with. You could either join an influencer marketing platform that connects you with brands, or you can reach out to brands directly. If you're racing out to brands directly, make a list of all the brands you want to work with a perfect your brand pitch.
Decide on your rate: Once you've found a brand to work with, you can make a deal with them. How much you get paid will depend on the number of subscribers you have, and the levels of engagement related to your channel. On average, YouTube paid promotions are the most expensive because video is more engaging and costs more to produce.
Be transparent about your promotions: Just like with your affiliate links, you will need to be completely transparent about your sponsored content. Make it clear that any paid promotions are clearly labeled as such, and that you mention something like "this video is sponsored by [brand]". This is important for two reasons: it keeps your promotions in line with Google's ad policies, and it helps you maintain a good, transparent relationship with your audience.
Be careful about the brands you work with: While it may be tempting to promote any product that pays you when you're starting out, you need to keep your broader brand strategy in mind. Only work with brands that share the same values as your YouTube channel and your audience. And only promote products that you actually believe in.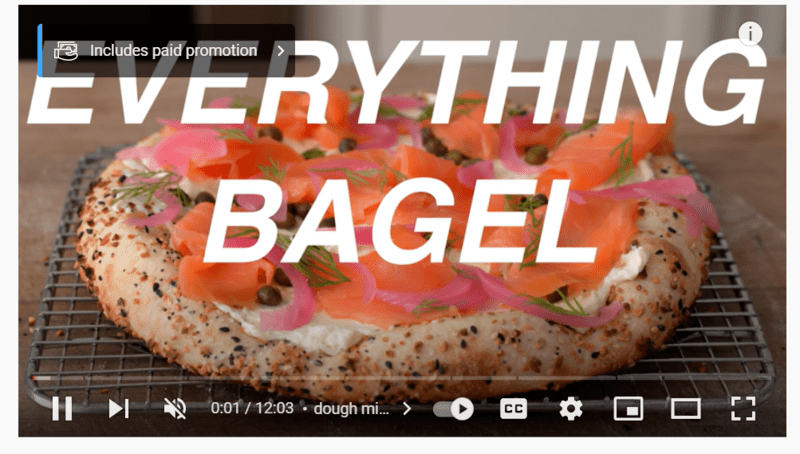 Above: see "Includes paid promotion" in the top left corner.


How Much Money Do YouTube Influencers Make?
If you want to earn money as an influencer on YouTube, you will need to understand how to charge brands.
A good rule of thumb for establishing your baseline flat fee is to take the average number of views that your videos get and multiply this by 5 to 15 cents. This is roughly equal to the rate that brands will pay for ads on YouTube.
Here are some good average figures for influencer marketing on YouTube:
$200 per video for 10,000 subscribers
$2,000 per video for 100,000 subscribers
$20,000 per video for 1,000,000 subscribers
The deal that you negotiate with the brand depends on the size of your audience, your engagement levels, the quality of your content, and what niche you're in. If your channel is a good fit for the brand you want to work with, you can make negotiate a good deal.


Influencer Marketplaces
If you want to find brands to work with, then you should add your YouTube channel to influencer marketplaces. Here are some of the best options for brands to discover you:
Grapevine Logic: A very popular influencer marketplace that only requires 1,000 followers to join
Channel Pages: An influencer marketplace that connects you with other YouTube channels as well as brands
Crowdtap: This is a unique platform where you do content creation "tasks" for payments. Anyone can join this, regardless of their followers
A good strategy is to join as many influencer marketplaces as possible to get your YouTube channel maximum exposure. Different influencer marketplaces have different offers and work with different brands. It can be tricky to find success here if you only stick to one channel.


How to Promote Products Without Being Annoying
Whether you're promoting affiliate links, a sponsored brand, or asking for fan funding (more on this later) a big part of being a YouTuber involves promoting other products. It's really important that you don't annoy your audience when you do this.
You've got to create a fine balance between generating an income through promotions without being a sellout. Here are some good strategies to help you achieve this:
Record a call to action (CTA) in your videos: Simply add a CTA during your video to try to persuade viewers to take a certain action. This is usually done at the end or beginning of the video. This could include "Please like and subscribe" or "Check out this healthy cereal brand at the link in the description".
Add YouTube Cards at the right time: YouTube Cards are a great way to grab your audience's attention to promote whatever you want to. You can set these up at the most strategic moment.
Add links in your video descriptions: Your video description is the perfect place to include affiliate links, your fan-funding pages, your online store, or anything else.
Promote your offer on other platforms: YouTube may be your main channel, but you can still use other channels (like Instagram and Facebook) to run your promotions. Add affiliate links to social media, share your funding pages, and spread the word on any other platforms you have available.

5. Let Your Audience Support You Through YouTube's Fan Funding
Many YouTubers earn an income directly through support from their fans. There are a couple of different ways that you can make this happen.
The golden rule when doing this is to have a strong and transparent relationship with your fans. If you're asking fans to show their appreciation through donations, then you need to be clear about what people get in return for their contributions.
If you offer quality content that your audience loves, and you set fan funding up properly, you can make some great YouTube revenue.
Here are some of the most popular options for fan funding.


Live Events With Super Chat
Super Chat is a YouTube feature available to members of the Partner Program. YouTubers can use it during live streams, where viewers can make contributions to make their comments on the stream more visible.
If you're able to offer live stream content, then this can be a good way to earn some extra YouTube revenue.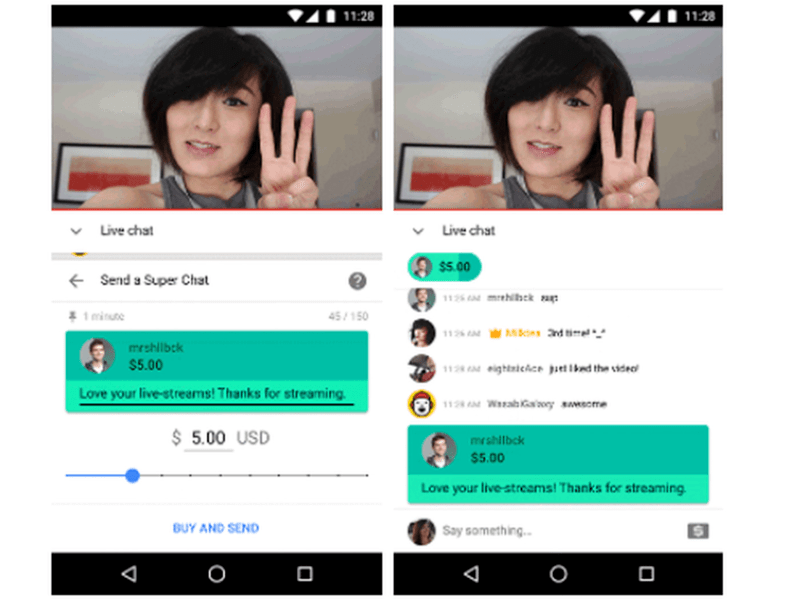 Let Your Fans Become Channel Members
YouTube allows channels to offer memberships, where members get access to exclusive features, like live chats with you, custom emojis, badges, and more.
Channel memberships cost $4.99, and you can offer several tiers of membership. To be able to offer memberships, you will need to have a strong promotional plan in place, letting your audience know why they should become members and what you will be using the membership program for.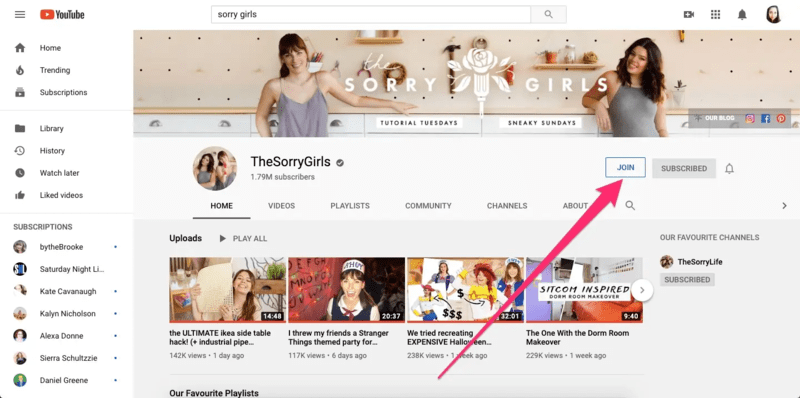 Encourage Subscribers to Join YouTube Premium
YouTube Premium isn't necessarily a fan-funding service, but you do earn a cut of Premium members' subscription fees. So when YouTube Premium embers watch your channel, you indirectly make a bit of extra revenue. So the more YouTube Premium members you have watching your content, the better.


6. Crowdfund Your Channel
Crowdfunding has become a common way YouTubers make money. This is either done through small ongoing monthly donations or through crowdfunding large individual projects.
There are many third-party crowdfunding platforms to choose from. You just need to add one to your YouTube account, provide a reason for the funding, and promote this through your channel. If you have a loyal fanbase, you could end up making some good money through this.
If you want to get started with crowdfunding for your YouTube channel, you can do the following:
Set up your crowdfunding account: YouTube has a selection of approved crowdfunding sites that you can choose from. Many YouTubers use Patreon for recurring monthly contributions, while Kickstarter and GoFundMe are great options for funding once-off projects. You could ask your fans to fund a new camera, ingredients for your cooking channel, or anything else they might be interested in helping you out with.
Promote your crowdfunding campaign in your videos: If you want to get people contributing to your crowdfunding campaigns, you will need to promote them in your videos. Use your platform to update fans about your campaigns, and offer special incentives to those who donate.
Join other platforms: You should be using multiple platforms to promote your YouTube brand and crowdfunding campaign. Having a multi-platform strategy will bring you more reach, awareness, and better results. Follow this guide to growing your YouTube channel for more information on this.
Not sure where to get started? Here are some of the best platforms that you can use to attract funding:
Patreon: Fans can subscribe to their favorite creators for as little as $1 per month and access all kinds of special rewards in return. This is a great platform for monthly fan support.
Buy Me A Coffee: Buy me A Coffee is another recurring funding option. It's known as the best Patreon alternative and is appealing because it's easier to accept payments. With Buy me A Coffee, all features run at a flat 5% fee (Patreon is 12%) and payouts are instant.
Tipeee: A fan-funding platform that allows for both recurring funding as well as once-off fundraisers.
Kickstarter: One of the biggest crowdfunding sites focused on one-off projects. If you want to raise funds for a specific project then Kickstarter is a great option. Just make sure that you set your funding goal to an achievable amount because you will only receive it if you actually achieve your goal.
Indiegogo: An alternative to Kickstarter that has more flexible funding options.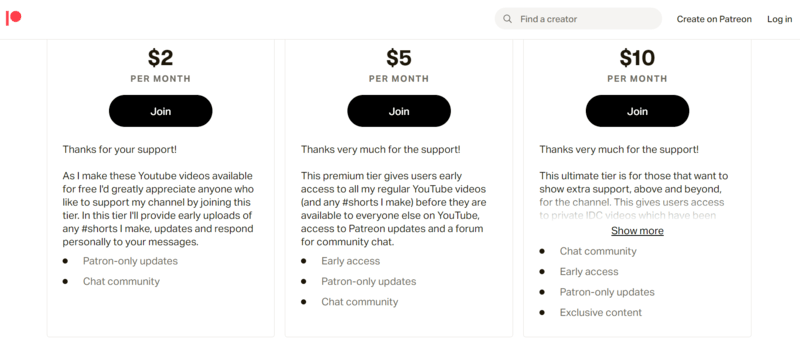 7. License Your Content to the Media
This certainly isn't the most commonly used money-making strategy for YouTubers. However, it does offer some good potential for anyone who has a viral video.
The idea is that news outlets will want to get their hands on viral video content. In order to do this, media companies need to pay for what they use. Content creators can license their content to the media for this reason. It makes their content easier to find, and they get paid for it.
Here are some best practices for licensing content to the media:
Keep your contact details up to date. Display these details on your About Me page and make it easy for anyone to get in contact with you.
Join a video rights marketplace. This makes it easy for your content to be found and purchased for use. A marketplace like Jukin Media or exeest are great options for anyone with viral content or exclusive footage.
Making Money on YouTube FAQs
Who Makes the Most Money on YouTube?
Here are some of the biggest earners on YouTube at the moment:
What's the Best Way to Make Money on YouTube?
The short answer to this is all the ways we've mentioned in our guide. The more revenue streams you're able to create from your YouTube channel, the more money you can make. Most YouTubers rely on ad revenue and paid promotions for the bu;k of their income.


How Many Views Do You Need to Make Money on YouTube?
The number of views you get doesn't directly relate to the revenue you earn. This is because you make money when people watch or click on the ads. Although, the more views your channel gets, the more you can charge brands for paid promotions. You can also earn money through YouTube Premium views (the more views, the more money you make).


What is YouTube Premium?
YouTube Premium is a paid membership model on YouTube where fans can support their favorite creators and watch without ads. YouTubers can get paid by YouTube Premium based on how much Premium members watch their content. This definitely isn't the most lucrative way to make money on YouTube, but it's easy to set up and does add to your revenue.


Why Should You Look Beyond Ads for Revenue?
Earning money through ad revenue is the most popular way to make an income through YouTube. Creators need to be aware that Google (YouTube's parent company) takes about 45% of the ad revenue, so it's always a good idea to look into other options.
YouTube can also flag your content if it is not advertiser-friendly. This will result in your content being excluded from ad revenue. According to YouTube, content that can get flagged includes anything that is:
Sexually suggestive
Includes violence
Includes inappropriate language
Promotes drugs or regulated substances
Covers controversial or sensitive subjects and events
While YouTube automatically flags and demonetizes this content, the good news is that YouTubers get notified any time their content is flagged, and they can dispute this if they think their content was mistakenly demonetized.
At the end of the day, YouTubers should always look for new ways to expand their revenue options. If ad revenue slows down or shrinks up, then they will have other options available.


How Much Money Can You Make From YouTube?
There's really no simple answer to this. Basically, the sky's the limit!
AdSense is the backbone of YouTube revenue, which pays YouTubers for each ad view on their videos. AdSense rates vary quite a lot across different geographies, demographics, and industries. For example, software or financial ads could have a higher CPM than food ads.
The average rate that YouTubers earn through AdSense is between $3 to $5 per 1000 views. So the more people you're reaching and the more popular your channel is, the more you will earn through AdSense.
The bottom line is the more views you get and the more subscribers you have, the more revenue you will make. This will influence your AdSense revenue, but it will also influence your paid promotions fees, the amount of merch that you sell, and so on.
However, things are always changing on YouTube. Even if you've got loads of subscribers and a steady stream of AdSense income, you never know what's going to happen to the YouTube algorithm or your audience's interests. This is why having a wide range of income options through YouTube is important.


How Can You Make Money on YouTube Without Making Videos?
YouTube has a library of videos that fall under the Creative Commons license - allowing anyone to publish this content and earn money from it. Any videos with a CC-BY listing can be used and edited by anyone.
Many people create "cash cow" YouTube channels that require minimal input. In these cases, the owner of the channel will pay freelancers to put together videos for them that are aimed at attracting as many views as possible. These videos don't feature any human elements or original filming. In most cases, the owners of these YouTube channels only write the video description and upload the videos.

Conclusion
YouTube knows that its creators are drawn to the website because of the money-making opportunities it offers. This is why YouTube is such an awesome platform for making money.
If you've got a rising YouTube channel, or want to start one, then you should try to include as many revenue streams as possible. Our guide includes all of the strategies that you can use to monetize your YouTube content. Try to use all of them if you want to earn as much profit as possible.

Related Content