Automated Lead Generation: How to Save Time and Get More Leads
Lead generation is possibly the biggest thing that B2B sales and marketing teams focus on.
Businesses need leads in order to make sales. The only problem is lead generation can take a lot of time and effort. This is where automated lead generation is so useful.
By putting your lead generation on autopilot, you can save loads of time, and generate leads while you work on other things. Automated lead generation is important for any business that wants to achieve a steady stream of leads and sales without putting in hundreds of hours.
Follow this guide for everything you need to know about the best ways to automate lead generation for amazing results.
What is Automated Lead Generation?
As the name suggests, automated lead generation is when you're able to generate leads without doing things manually. By using the right lead generation tools and tactics, businesses can attract a steady stream of leads without putting in hours of work into this.
Automated lead generation uses different strategies like email marketing, SEO, and the use of automation software to do things automatically.
With an automated system in place, your sales team can enjoy a steady stream of leads each month without all the pressure to generate them.


6 Tips for Automated Lead Generation
Here are some of the best tactics to use for automated lead generation.


1. Optimize Your Content for Search Engines
Content marketing is essential for the automated lead generation process. It's the first step in gaining visibility and attracting potential leads. So if you want to create an effective lead generation process, you'll need to start by publishing great content.
This content needs to be optimized for search engines. SEO ensures you rank for the right search terms to help you gain more traffic from potential leads. Even if you've got high-quality blog content, nobody will ever see it if it's sitting at the far pages of Google.
The goal of content marketing for lead generation is to attract the right users by targeting the right search terms. These people will find your relevant content, visit your site, and take an action that turns them into a lead.
By publishing informative and interesting content, your business will be able to generate trust from potential leads.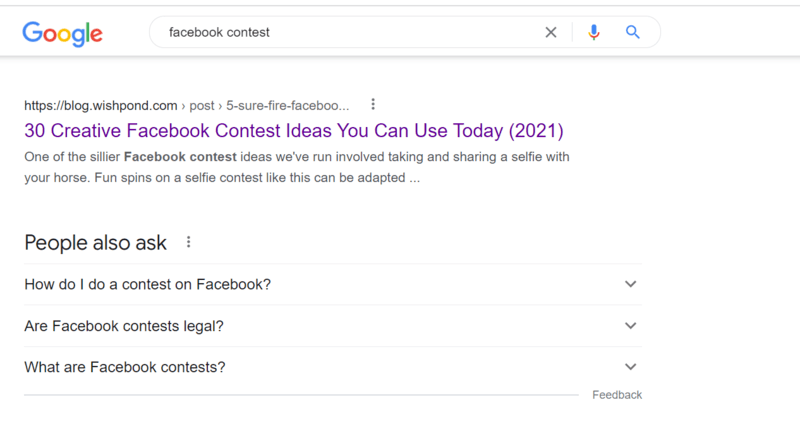 Above: an example of the kind of content potential leads want to see.


How to Create Optimized Content to Generate Leads
Find the right keywords: Start by creating a list of keywords that you can rank for. These are terms your potential leads will be searching for. You can use keyword research tools like Wordstream, Ahrefs, or Google's Keyword planner to do this.
Pay attention to search intent: Research the keywords you want to use and understand exactly what people searching these keywords are looking for. Your content will need to be relevant to this, address their questions, and offer a solution. Of course, search intent needs to align with the goals of your lead generation strategy. There's no use ranking for a really popular keyword if the people searching for that are not going to be interested in what your business is offering. Try to be specific with search intent, and only create content around keywords that will attract potential leads.
Match keywords to your sales funnel: Once you've got your list of keywords ready, understand where they will fit into your sales funnel. This should include two different areas: inform and purchase. These areas align with your lead's intent. Understanding keyword intent and the keyword's place in the sales funnel will help you develop more relevant content around this.
Create great content: Now you know exactly what keywords you're trying to rank for, who will be searching for these keywords, and what they will want to find. So, now it's time to create amazing content for these people. Dive into the topic as deeply as you can, create content that is relevant, interesting, and answers all of the users' questions. This is usually done through a blog, but you can also use video - YouTube is an awesome platform for B2B lead generation.
Make sure this content is SEO-friendly: Before you publish anything, you need to ensure your content is optimized for search engines. This includes using the right keywords throughout your content, making your website fast and easy to navigate, getting backlinks, and many more ranking factors. It's a good idea to work with an SEO expert to help you rank at the top spot.
Wishpond offers SEO services for small businesses. With Wishpond, you get your own dedicated SEO experts creating campaigns for you. This is the easiest and most affordable way to achieve high-impact SEO results that work.


2. Create Lead Magnets
Lead magnets form a vital part of lead generation. Let's say your potential lead has found your content and landed on your website. They've developed some trust in your business, but want to find out more. This is where a lead magnet comes into practice.
A lead magnet is an incentive that you offer in exchange for your lead information. This could be a downloadable eBook, report, whitepaper, checklist, or anything else. Lead magnets could also include free tools, free consultations, free courses, and more. Try to think of something that catches the attention of a potential customer, and make an offer that is valuable enough for them to give you their email address.
The lead magnet you offer should depend on your target audience. To create a lead magnet, you will need to use a tool to create popups and forms. With Wishpond, this is easy.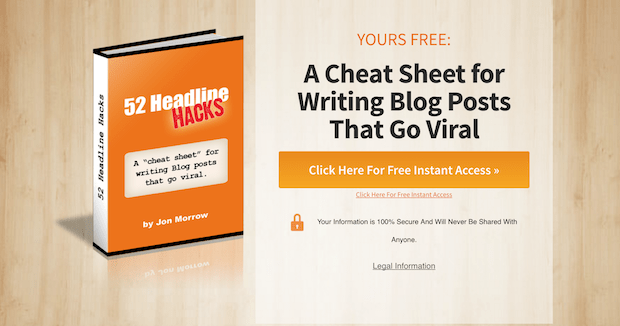 How to Make a High-Converting Lead Magnet
Solve your target audience's problem: Understand a major problem that your target audience is trying to find a solution to, and offer this through your lead magnet. This problem should be aligned with the search intent of the keywords you're optimizing for. You have to offer value to your audience in order for them to access your lead magnet.
Easy to understand: Even if you've got masses of information to offer your audience, your lead magnet should be quick and easy to understand. Make sure that the person who downloads it can open it up, easily digest it, and find the solution to their problem.
Make it actionable: Offer actionable solutions that your target audience can actually apply. The lead magnet shouldn't just be interesting, it also needs to be helpful.
Offer value: Your lead magnet needs to be loaded with value. There's a reason people are required to give up their email address for this lead book - because it offers more than what they can find on your blog or YouTube channel. And the more real value you offer, the more trust you'll be able to create for your business. This will help your leads become customers.

2. Run Webinars
When it comes to B2B lead generation, webinars are an awesome way to build trust and spread awareness. They allow you to showcase your business, add value to your audience, and motivate interested people to become customers.
Just like any lead magnet you use, your webinar needs to add value and give your audience a reason to sign up. Once they sign up, you will capture their lead information. You can then follow up with them through a series of email marketing messages.

Now, running a webinar does require some effort. However, you can record the webinar and offer it to your audience at all times. Upload your webinars to YouTube, and give your audience access to them after providing an email address. This is an easy way to automate your lead generation.
Of course, make sure that these webinars add real value. Include guests that your audience will be interested in, provide actionable insights, and add as much value as possible through the webinar. This will build trust and help your viewers to turn into customers.
3. Optimize Your Landing Pages for Conversions
You'll need a landing page if you're going to generate leads. Landing pages are simple web pages that you use to capture lead information. If you want them to do the most for your business, you'll need to make sure they're properly optimized.
To do this, clearly focus each landing page with a single message and simple CTA. Only include one CTA. Use striking but simple graphics, a clear headline, and make all information easily digestible. Visitors shouldn't have to spend ages figuring out what your landing page is all about.
And when visitors get to the form they need to fill out, make this as easy as possible. The fewer entry requirements you have on your landing page, the easier it will be for visitors to fill this out and become a lead. So, when using your landing page as a lead generation tool, only ask for the requirements you need. Usually, an email address and name are enough.
If you properly optimize your landing pages for lead generation, you'll see a much higher conversion rate. And when it comes to landing pages, you just need to set them and forget them.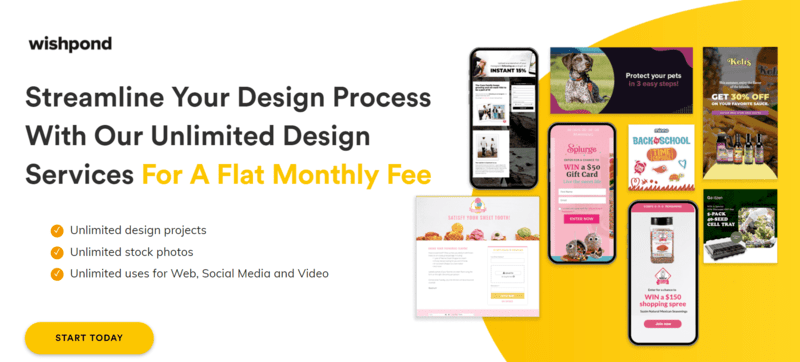 4. Use Marketing Automation to Do the Work for You
When thinking about automated lead generation, you've got to focus on using the right marketing automation workflows. Marketing automation solutions allow you to send the right content to the right leads at the right time - without you having to do any of the work manually. This helps you nurture leads and move them along the funnel far more effectively.
Marketing automation starts with a prospect giving you their email address. The action they take to do this then triggers an email or a series of emails, that is customized to suit them. For example, if someone downloads an eBook on the topic of graphic design for Instagram, then you can follow up with a series of emails related to Instagram and graphic design.
Use marketing automation to add value and assist your leads down the funnel. Here you can share helpful content and relevant information that they will find useful. End your marketing automation emails with a CTA to help your leads become customers.
And just like the previous points, don't focus on selling straight away. First, build trust and offer value. Then you can promote your products.
5. Create a Referral Program
A referral program is a great way to get your audience to do lead generation for you. Just like marketing automation, referral programs automatically generate and share lead generation content without you having to do it yourself.
And referral promotions can help you reach a massive audience. One person shares your business with five people, these five people each share your business with five people, and this just amplifies and continues… Think about just how far your reach can go. Whole your own audience may be limited, referrals allow you to tap into many new audiences.
The other great thing about referrals is that they generate a lot more trust. People trust their friends and connections more than they trust marketing messages from a business. So if someone shares a personalized referral link to their friends, there's a greater chance of these people becoming leads and customers than if you just blasted them with an email. This is a perfect example of social proof in action.
This is a great hack to automate your lead generation. You just need to make sure you offer the right incentive for referrals. This could include some kind of discount or special offer for successful referrals.
As long as you add value to your audience and give them a reason to share your referral link, you'll be able to maximize your lead generation with no extra effort.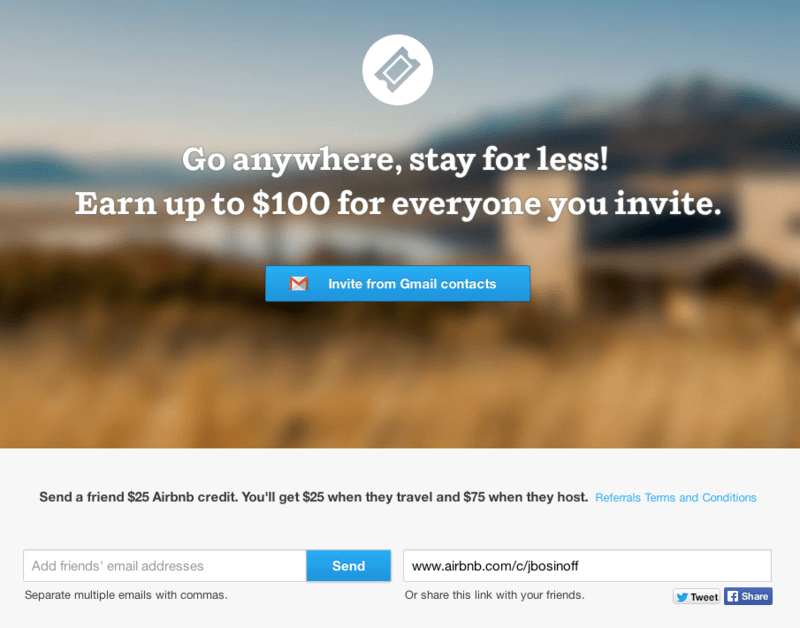 6. Don't Forget About Word-Of-Mouth
Word of mouth is a powerful marketing tool, and it can do wonders for your lead generation. You can think of word-of-mouth marketing as a more organic version of referrals. You don't give people an incentive to promote your business, but when they do it can help the lead generation process in a big way.
The problem with word-of-mouth marketing is that you can't motivate people with a reward. Instead, you have to just rely on people having a great experience with your business.
One thing that you can do is try to maximize user-generated content. Good user-generated content basically works as a referral. The more mentions you have online, the more trust you can build and the more exposure you can get.
And what's the best way to get user-generated content? Run a giveaway. By running a contest where entrants must share your brand in some way, you can generate a lot of brand awareness. And with this comes lead generation.
Simply offer an enticing prize that appeals to your target audience, and use the right social promotion tool to create your giveaway. Sit back, and watch as your business goes viral.


Tips for Improving Lead Automation
If you want to make the most of your automated lead generation, there are a couple of best practices to follow. Here are a few helpful tips to generate more leads with less effort.


Be Where Your Customers Are
Lead generation starts by understanding your customers. Yes, relying on SEO is important, but you've also got to make the most of all your possible lead generation channels. This includes different social media channels where your prospects might be.
Get into the mind of your customer and think about where they would go to find a business like yours. This involves having a deep understanding of who your target customers are and what their online habits look like. Also, think about what platform you're most active on and where you get the most engagement. This is probably the best place to share lead generation content.
Of course, there's LinkedIn and Facebook, but you can look beyond the typical social media platforms depending on your customers. This could include Reddit forums, Quora threads, Slack communities, and more.
Whatever channels you use for lead generation, always remember the following:
Start conversations and engage with prospects. This allows you to build trust and share relevant content.
Don't spam these channels with obvious sales content. Instead, use these places to add value, connect with prospects, and build trust. Once you've got an engaged and trusting community, you can start to share relevant links with them (as long as this adds value).
Optimize your profiles on these platforms. Include a clear link to your bio, make your branding easily recognizable and make it stand out clearly.
Measure the outcomes of the different channels you engage with and see which one drives the most traffic and engagement. This allows you to know which places to focus on.

Join Communities and Engage With Them
Social media marketing and lead generation go hand in hand. Social media is an awesome place to find prospects and engage them. Just remember that social marketing isn't only about posting and sharing content, it's also about creating communities.
Joining groups on platforms like Facebook and LinkedIn is a great way to do this. And just like we mentioned in the previous section, use these spaces to add value and engage with prospects. This will help them build trust in your business and see value in what you have to offer.
And remember, engage first and sell later. Start by answering questions and providing solutions. Then you can subtly promote your products later.


Using the Right Automated Lead Generation Tools
There are various tactics that you can use for automated lead generation. In order to utilize them properly, you'll need to use the right software. Marketing automation tools will hello you boost the lead generation process in a massive way, without requiring any extra effort from you.
As a small business owner, using the right marketing automation software is the easiest way to boost your lead generation process without requiring extra work hours and effort.
With a tool like Wishpond, you can create popups, landing pages, online forms, social contests, and more. You can integrate your lead generation tactics with your leads database and email marketing - allowing you to access an easy and effective marketing automation platform. This is the smartest way for small businesses to maximize lead generation.
Final Thoughts
Getting qualified leads for your business is essential if you want to make sales. The good news is that this doesn't have to be a difficult or time-consuming process at all.
By applying automated lead generation tactics, businesses can generate leads while they focus on other tasks. This is the easiest way to grow and scale your business without having to put in marketing work overtime.
As long as you have the right automation software and strategies in place, you can sit back and watch the leads roll in. Follow the tactics above, and you'll be able to gather leads without any effort.
Related Content