In only a few years, TikTok has grown into the world's 7th largest social media platform. As of September 2021, TikTok has more than 1 billion monthly active users, with approximately 37% of America's mobile internet users launching the app at least once a month.
While Gen-Z makes up almost half of the TikTok users, this means that there are about 500 million users that fall into other demographic groups. With so many users, TikTok has become a fantastic place for small businesses to market their products or services.
TikTok's algorithm isn't very well understood compared to other social media platforms, which means it can seem a bit daunting to start with the platform. To help you get started with marketing your business on TikTok, I've put together a list of 11 TikTok marketing tips. Let's check them out!

11 TikTok Marketing Tips:
1. Get To Know The App
2. Write A Comprehensive Bio
3. Use Trending Songs
4. Participate in Challenges
5. Find Your Niche
6. Be A Storyteller
7. Use Relevant Hashtags for Discovery
8. Post Regularly
9. Understand Your Analytics
10. Be Authentic
11. Have Fun
1. Get To Know The App
The first thing you should do before starting to try and promote your business on TikTok is to get to know the app and how it works, what and who is popular, and why they are popular.
The best way to learn more about the platform is to use its' For You Page, which can be described as TikTok's home feed since it's the first page that opens when you launch the app.
On the For You Page, you'll see the latest trending TikTok videos giving you a good indication of what kind of content you should be concentrating on creating.
You should also follow popular content creators to understand what they are doing, check out the trending sounds, how to live stream on TikTok, and pay attention to the Explore Page. Soon enough, you'll have a good overview of what works on the platform and what doesn't.
2. Write A Comprehensive Bio
Your bio is the first thing users see when visiting your TikTok profile. It's important that you use your bio to inform visitors about your business and give them a way to reach you.
A good example is Bub Bowl, a South Australian producer of food-grade silicone dinnerware & play items for babies and toddlers. In their bio, not only do they list their business name and describe their business, but they also link to their website, email, and frequently asked questions.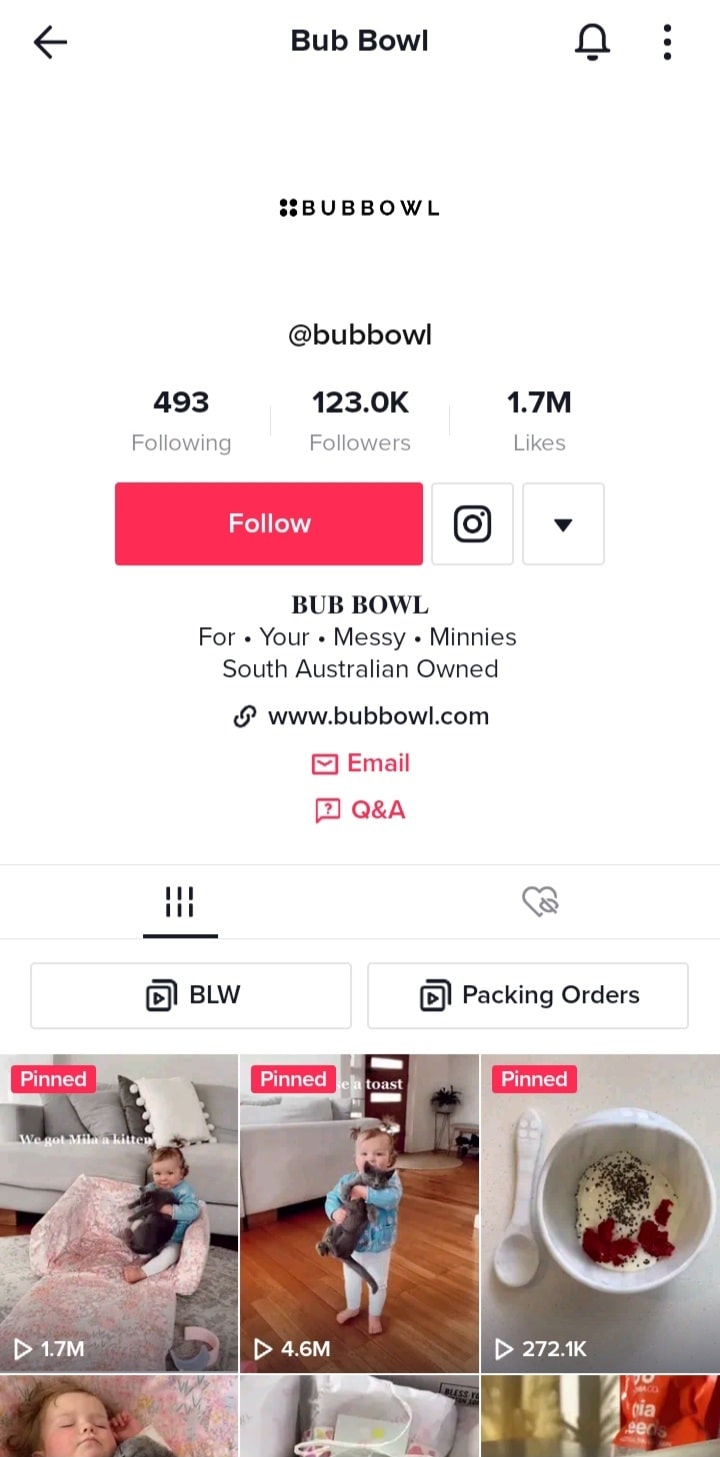 3. Use Trending Songs
TikTok is all about trending content. Creating content around popular songs is one way to increase the chances of it being picked up by the TikTok algorithm.
If you come across a sound you've noticed has started to trend and want to use in your own TikTok video, tap the song name to add it to your favorites. That way, it'll be easy to find when it's time to edit your video.
While songs might start trending around a specific challenge, you can always mix it up and put a unique spin on it by showcasing your business or products, like Choke Me Jewelry did to highlight their sterling silver rings using the "Love Nwantiti" sound that started to trend in the second half of 2021.
4. Participate in Challenges
Challenges are another great trend to hop on. They involve recreating a trending video and usually include a trending song. Finding new challenges to follow is as easy as checking your For You Page to get an idea of current trends.
Often you can find challenges created specifically for small businesses providing an excellent opportunity for you to market your business. An example of this is the "expectation vs. reality small business edition" challenge which allows small business owners to share some of their products along with part of their backstories.
Top Tip: Consider using trending challenges as an idea for your own TikTok contest.
5. Find Your Niche
While on the surface, TikTok is only about fun dance moves and lip-synching, there is actually a niche for all kinds of content on the platform. Sharing a part of your business that makes it unique is a great way to build an audience and create brand awareness on the platform.
Once you've identified your niche, you can start to create content that will resonate with your target audience. By consistently posting your niche content, people will eventually come across it, especially if you follow the other TikTok marketing tips listed here.
Once you've built up a relationship with your audience, you'll be able to extend it beyond the TikTok app.
To help identify your niche, look at what your competition is doing and try to identify gaps that your business can fill.
Cold Candy UK, a British supplier of American pick and mix candy, uses this strategy to highlight their sugary products. By consistently posting videos of their different candy mixes, they've managed to build a loyal following of sweet tooths.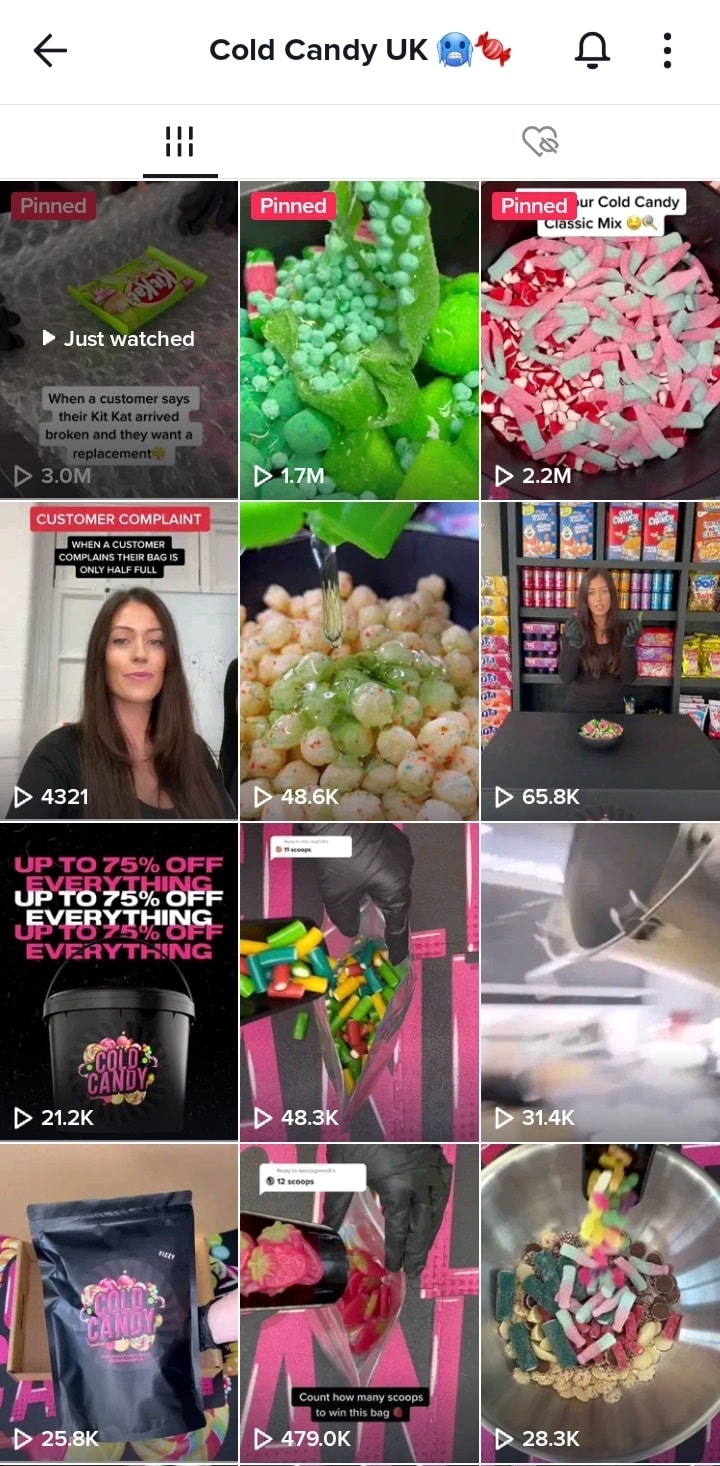 6. Be A Storyteller
Storytelling is an integral part of creating compelling TikTok content. An attention-grabbing yet straightforward way to tell a story on the platform is by using its text overlay function.
Unsure of what kind of stories work? You can try identifying a problem and then solve it.
Another approach, like the creator of Contour Cube took, is to share the journey of your business, taking viewers along from the initial idea to a full-fledged product.
Whichever kind of story you decide to tell, it's important to use the text overlays to give your story a clear narrative that even people with the sound turned off could follow.
A bonus of text overlays is that not only does it help grab the attention of people scrolling through TikTok, but it's also great for people with hearing impairments.
7. Use Relevant Hashtags for Discovery
Hashtags are one of the ways users can discover content on TikTok. This means that it's important for you to include a few relevant hashtags in the caption of your TikTok videos to increase their visibility.
A few hashtags you can use to make your posts more visible include: #business #smallbusiness #businesscheck #supportme #businessowner #entrepreneur #hustlecheck #businesschallenge.
Maria Wilkes used this strategy to help push her post on how her business started versus how it's going to the For You Page of TikTok users interested in small business.
8. Post Regularly
On TikTok, consistency is key, so posting regularly is important. You should aim to post at least once a day, although some accounts post multiple times a day to great results.
What's great about TikTok is that you can experiment with your content strategy and constantly try out new formats until you find something that works for your business and audience.
Once you've identified your most engaging videos, you can follow their formula in your other videos in order to boost their chance of success.
Top Tip: Finding the best time to post on TikTok is just as important as posting consistently. This will help you make a bigger impact with each post.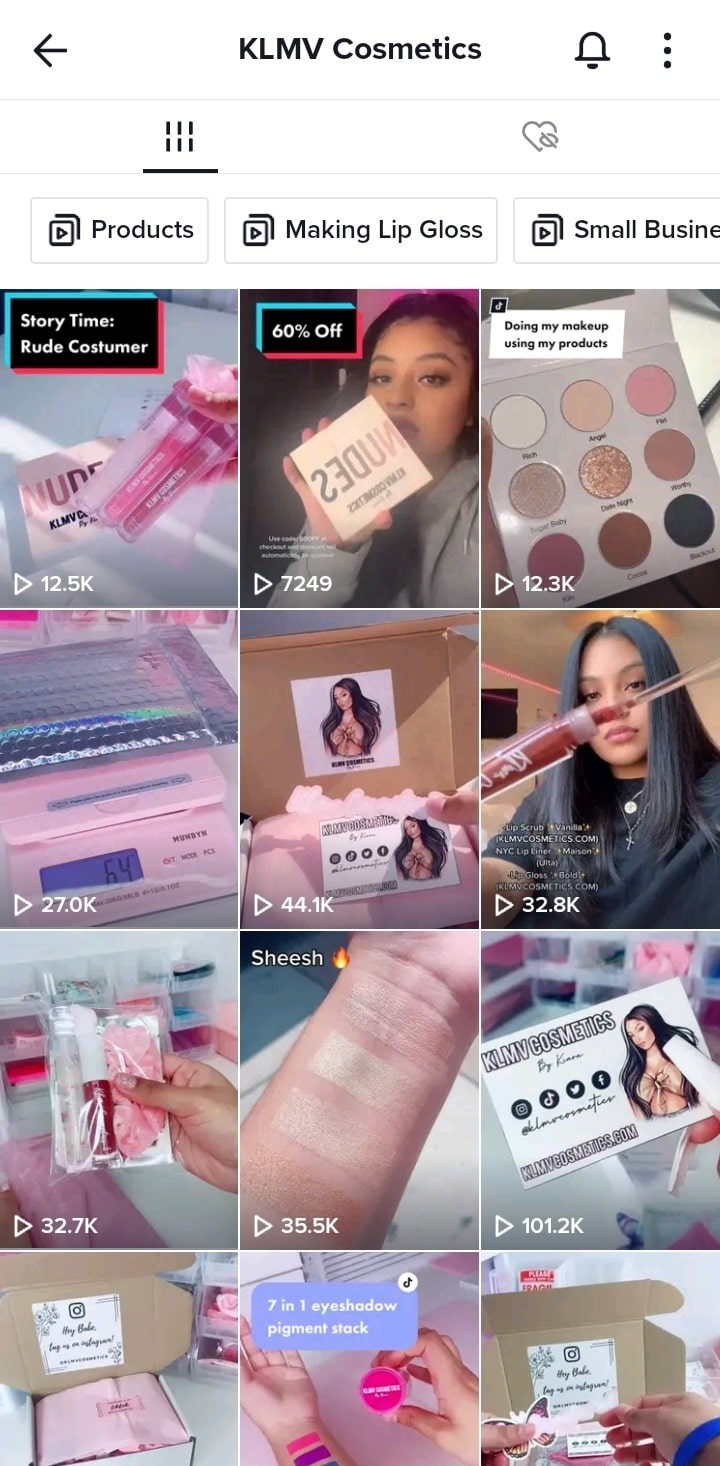 9. Understand Your Analytics
Understanding your TikTok analytics is a key part of determining the impact and reach of your TikTok videos. With TikTok analytics, you get to know more about your monthly and weekly views, trending videos, and followers' growth.
To access TikToks analytics, you first need to change your TikTok account into a pro account. Doing so is an easy three-step process:
From your profile page, open the Privacy and settings tab.
Choose "Manage My Account."
Tap "Switch to Pro Account" and follow the steps from there.
There are three areas of TikTok analytics:
Overview: As the name suggests, this section gives you a look at the performance of your profile in general, including the total number of views, followers, and content growth.
Content: This tab shows you your videos and their views over the last 7 days, along with your trending videos.
Followers: This tab shows you your follower count and activity over the last 7 to 28 days.
By keeping an eye on your TikTok analytics, you'll be able to determine which of your content works the best for your audience.
10. Be Authentic
While other social platforms claim to reward authenticity, they generally don't. On TikTok, however, authenticity is rewarded, especially if you're new to the platform.
Since you're creating the videos on your phone, TikTok content isn't meant to look perfect. Instead, you focus on being yourself and putting your personality on display.
While it might seem a little daunting to drop your filter, if you just try to have fun with it you'll find that your followers will videos far more engaging.
An example of this is Newcastle-based Hairdresser On The Corner, who shared a little mishap that happened behind the scenes of their salon and them laughing at it.
11. Have Fun
Finally, while authenticity is important on TikTok, having fun is equally part of finding success on this social media platform. While it's easy to get focused on your videos' likes and view counts, this can actually harm your content.
Instead, just have fun creating your videos. If you enjoy making them, the chances are much higher that your followers will enjoy watching your videos.
A great example of this is the Royal Glam Collection, a small business specializing in lipgloss. The owner used a funny trending sound to share her struggles of getting more orders in a lighthearted way.
Related Content
Wrapping Up
And there you have it, 11 TikTok marketing tips that'll help you get started promoting your business on the platform and potentially going viral. As you can see, TikTok is very different from other social media platforms, but that doesn't mean that TikTok marketing has to be complicated.
You don't need to run TikTok ads to get a lot of reach. The right strategies will do this all for you.
What do you think of TikTok? Do you use TikTok marketing to create brand awareness for your business? Do you have a TikTok marketing tip that you think should be included on this list? Let me know in the comments.
themba