Finding inspiration from great email marketing examples is one of the best ways to create more successful campaigns.
There are all kinds of different email marketing ideas and strategies that you can follow. If your campaigns aren't achieving the results you want, then it's time to start changing things up. It's important to understand the different types of marketing emails you can send to help you create the right content.
Follow this guide to help you understand the different types of email marketing content you can use, including some excellent email marketing examples in each of these categories.

What is Email Marketing?
Email marketing is when you use email as a tool to grow your business. Email marketing involves sending emails to your customers and potential customers with the ultimate goal of making more sales. However, an email marketing campaign can take many different forms.
Email marketing campaigns could promote a piece of content, get people to sign up for a webinar, or offer a discount coupon. Email marketing doesn't only help you make sales, but it also develops relationships with customers.
It's important to plan your email marketing campaign carefully and understand what goal it's trying to achieve. This will help you craft the right kind of email.
To do this, you might want to refer to a great email marketing example that matches your email's intent.
Types of Email Marketing (With Examples)
Email marketing is a broad term that covers many different types of emails and email strategies. Wherever kind of business you're marketing, here are some of the different types of email marketing that you can use.
Informational Emails
Informational email marketing campaigns are blasted out to your broad list of email subscribers. These types of email campaigns offer informational updates about your business. This could include things like product updates, sharing your latest content, announcing new services, and more.
Some common types of informational emails include:
Regular Newsletters
All kinds of businesses should send out regular newsletters. These could be sent daily, weekly, monthly, or at any other consistent schedule.
The aim of these newsletters is to share updates about your business, a roundup of your content, and any other important updates that have taken shape since sending out the last newsletter. the more newsletter sign-ups you get, the more people you can target with information about your business.
Good newsletter email marketing examples should allow you to include multiple pieces of content without creating a very lengthy email.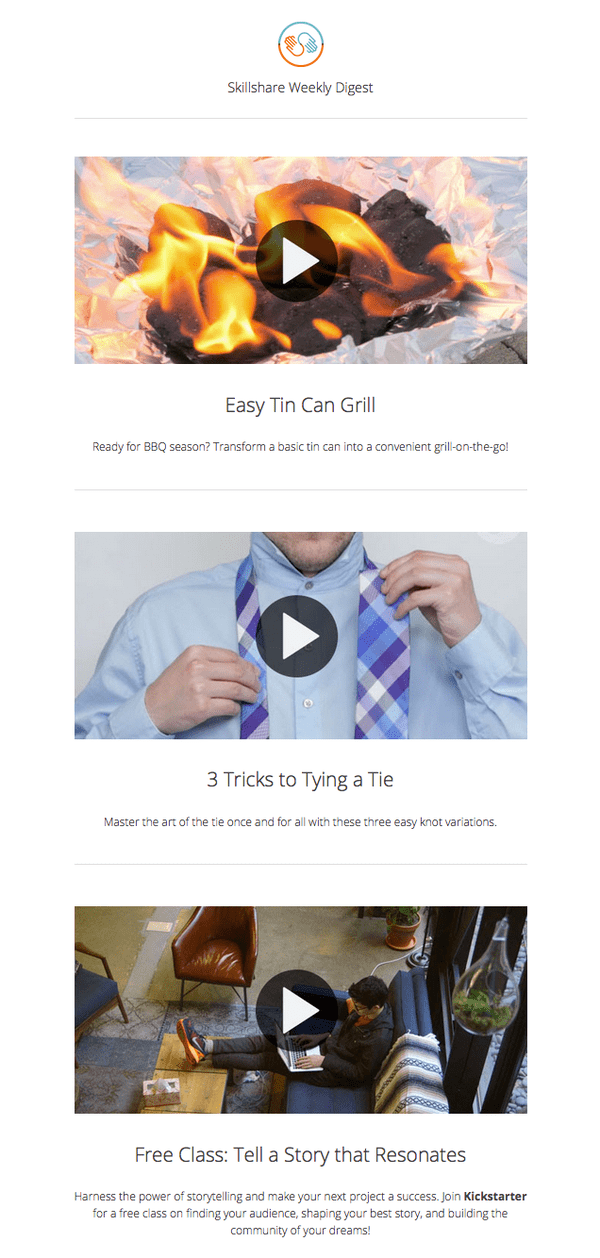 Example: Skillshare
This is one of the best email marketing examples of a weekly newsletter because it provides a very clear and easy-to-digest format. The newsletter offers a wide range of information, although this is clearly separated and doesn't require a lot of effort to figure out. If you need to fit a lot of different ideas into a single newsletter, then this is a good strategy to take.
Product Update Emails
Product update emails are sent out to keep your subscribers up to date with your products.
These email campaigns can be tricky to get right because subscribers aren't always that interested in hearing about your product if there's nothing in it for them. This means these emails are typically less engaging than other types of email marketing examples.
Many companies send out weekly or monthly product digests to keep users updated with their products. This can include updates on the latest features and functionalities of the business's products, new product releases, and information on why the product is worthwhile.

Example: Canva
When it comes to product update email marketing examples, this is a great way to do it. This email is bright, colorful, and eye-catching. It clearly conveys the benefits of the product update, how it works, and how to apply it. It's a highly visual email that's easy to read and understand in a few seconds.
New Content Announcement Emails
This is one of the most popular email marketing examples, where you send out an email to promote new content. This could include a new video, webinar, blog post, ebook, coupon, free trial, or more.
These emails are used to promote a single marketing offer, and so they are focused on a single call to action (CTA). This generally links out to a landing page targeted toward the specific offer.
These emails should be brief, descriptive, and focused on one clear topic. Use the email to highlight the benefits of your offer and make it clear why the recipient should be interested in your email campaign.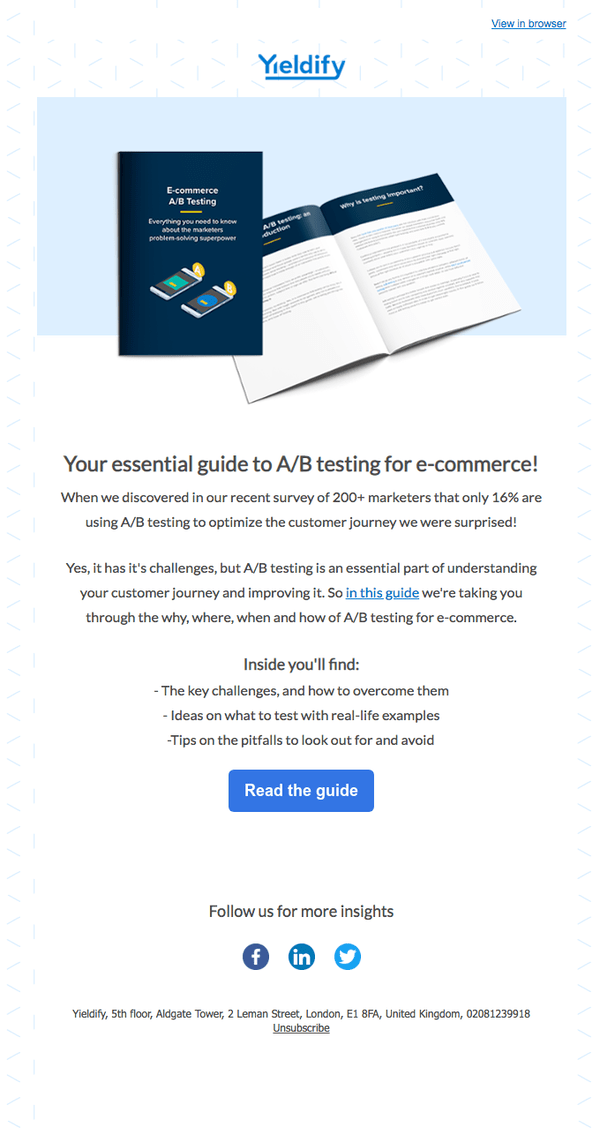 Example: Yieldify
In this email marketing campaign example, the email clearly outlines what content is being shared, why it's important, and a brief overview of what the content includes. This email is to-the-point, easily readable, and it makes the user want to find out more.
Event Invitations
If you're hosting an upcoming event, then email is one of the best ways to get people to register.
Use these email campaigns to highlight the value of the event and what kind of benefits it will offer to attendees. Provide a clear CTA focused on registering for the event.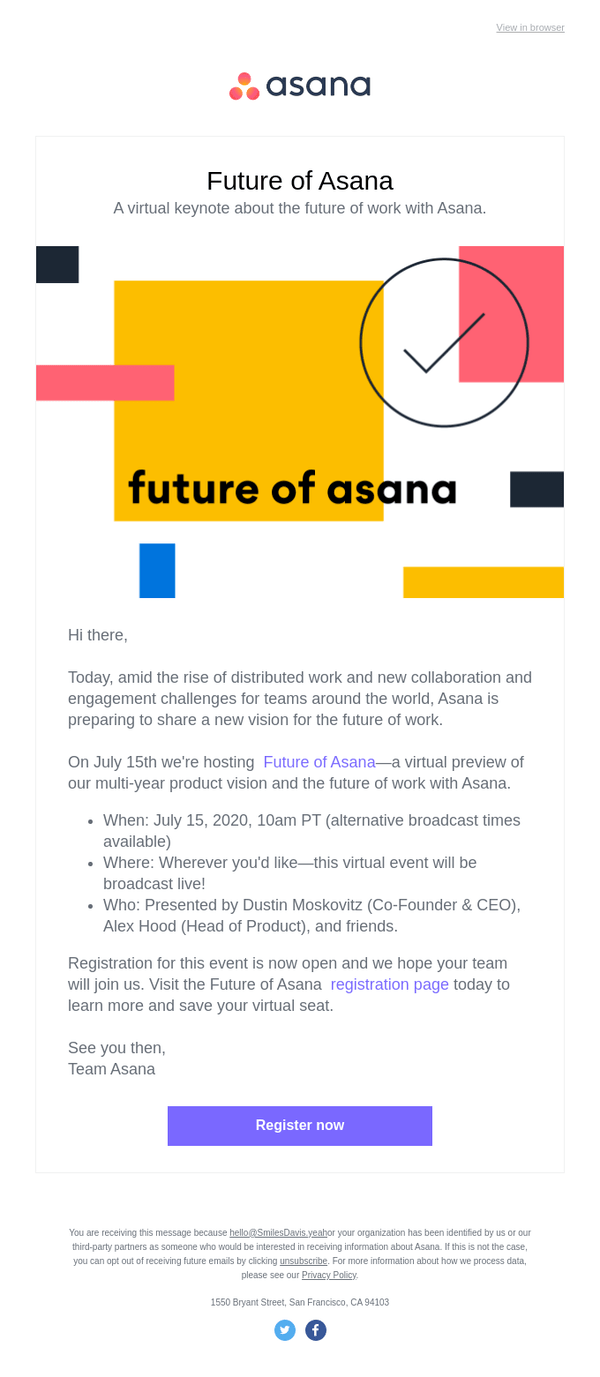 Example: Asana
This email campaign does a great job at explaining the event, providing a brief overview of the most important information, and highlighting why the event is important. All of this focused on a single, bold CTA.
Co-Marketing Emails
Co-marketing happens when two different businesses join forces for a single marketing task. It could be a giveaway, a joint event, a product partnership, or any other kind of promotion.
As with any kind of email marketing strategy, make sure to highlight the value that the partnership offers. Make it clear why people should be interested in this partnership, why it's unique, and what unique benefits will result from the co-marketing experience.
The thing that sets this email marketing strategy apart is that you get to leverage email lists from both businesses. This means you could get your business out to a whole new audience, improving your reach dramatically.
For this reason, think about the other businesses' audiences and make sure to provide value in the email that will appeal to them.

Example: Kings Highway x Taco Maria
This is a great email marketing campaign that promotes a new partnership at a restaurant. It's especially effective by offering a discount coupon, helping potential customers to want to try the new partnership.
Dedicated Email Sends
You can send out an email blast to your broad list, or you can choose to send out emails dedicated to specific audiences only. Dedicated sends are when you only need a few specific people to receive your email content.
This could be certain customers, communities, or audience segments. It could also be dedicated to people who took a certain action on your site or responded to a certain email.
Whatever the case, make sure that you personalize these emails to ensure you only send relevant content that watches the interest of that specific list.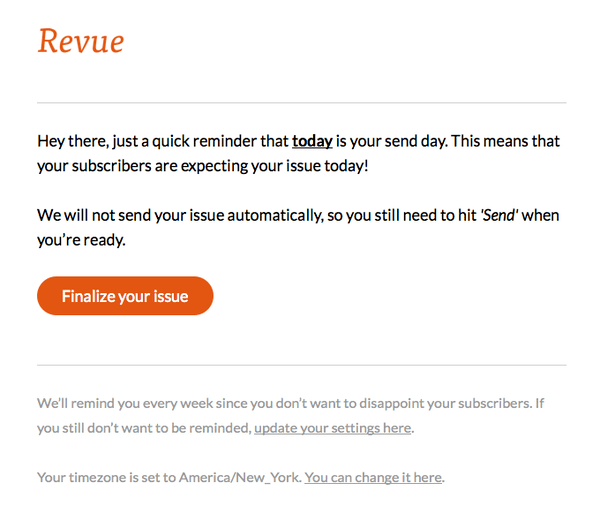 Example: Revue
A simple yet effective email target to a dedicated user.
Internal Updates
Email marketing isn't only for attracting new customers, it can also be sent out to your employees. Large companies often send out internal emails, providing any important information that employees need to know about the latest company updates.
These types of emails exist to clearly communicate important information, and not to increase subscriber engagement and make sales. So, focus on producing emails that are clear, informative, and to the point.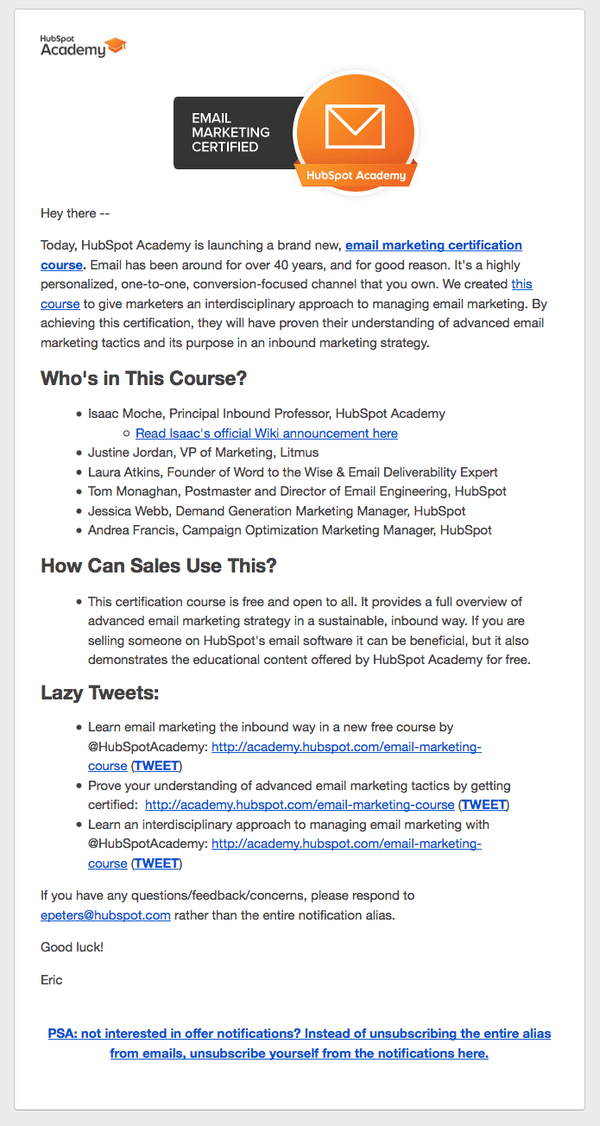 Example: Hubspot Academy
An informative, detailed, and easily readable email. This internal email marketing campaign does exactly what it aims to achieve – inform recipients about a course and let them know why this information is important.
Transactional Emails
Transactional emails are one-to-one emails that contain specific information triggered by certain actions. These emails are designed for individuals, and not for your broad email list.
Transactional emails could include things like order confirmations after making a purchase, or welcome emails after signing up for your mailing list. These types of emails are typically automated.
Some common types of transactional emails include:
Confirmation Emails
It's important to send out automatic confirmation emails to your customers after they take certain actions. This could be after things like making a purchase, registering for an event, or booking a flight.
Confirmation emails show the customer that their transaction was successful. This provides peace of mind and closure. Without these emails, customers may spend days wondering whether their transaction was successful.
These types of emails can be kept very simple. They just serve the basic purpose of providing a quick, clear confirmation. No other information is necessary.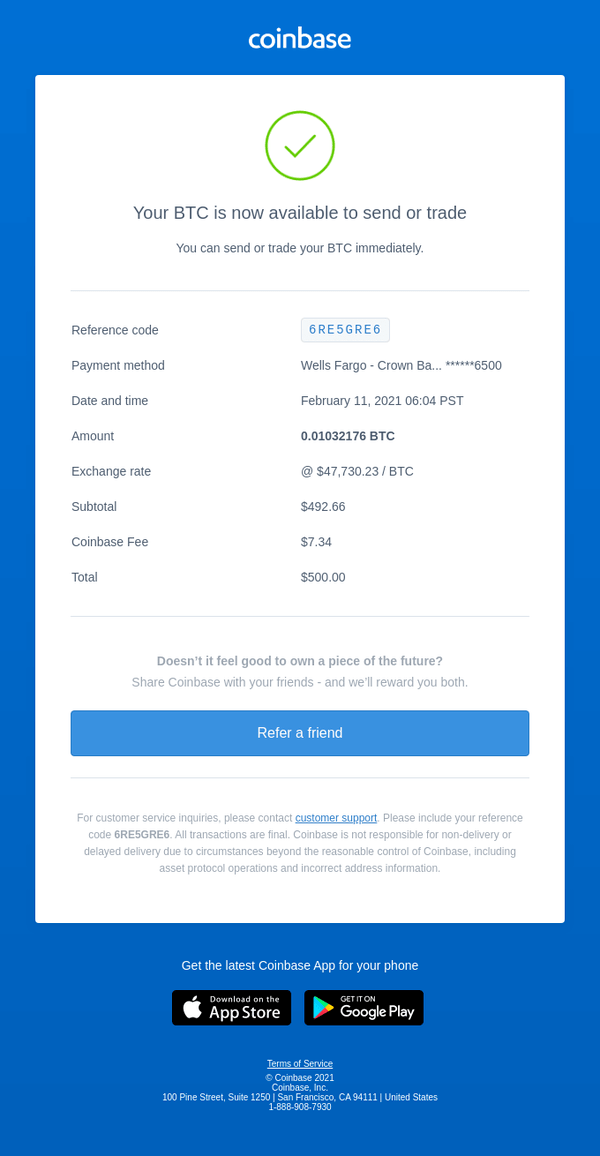 Example: Coinbase
This email is straightforward and offers all the important information the recipient needs to know. No fluff, just important confirmation details. There's also a clever referral link added in to help Coinbase reach more customers.
Thank You Emails
These emails are similar to confirmation emails because they are automatically triggered after someone completes an action – like completing a form.
These emails are designed to say a big "Thank You," and they're there to fulfill your promise to the subscriber. Thank you for downloading this ebook, thank you for making a purchase, thank you for booking an appointment, etc.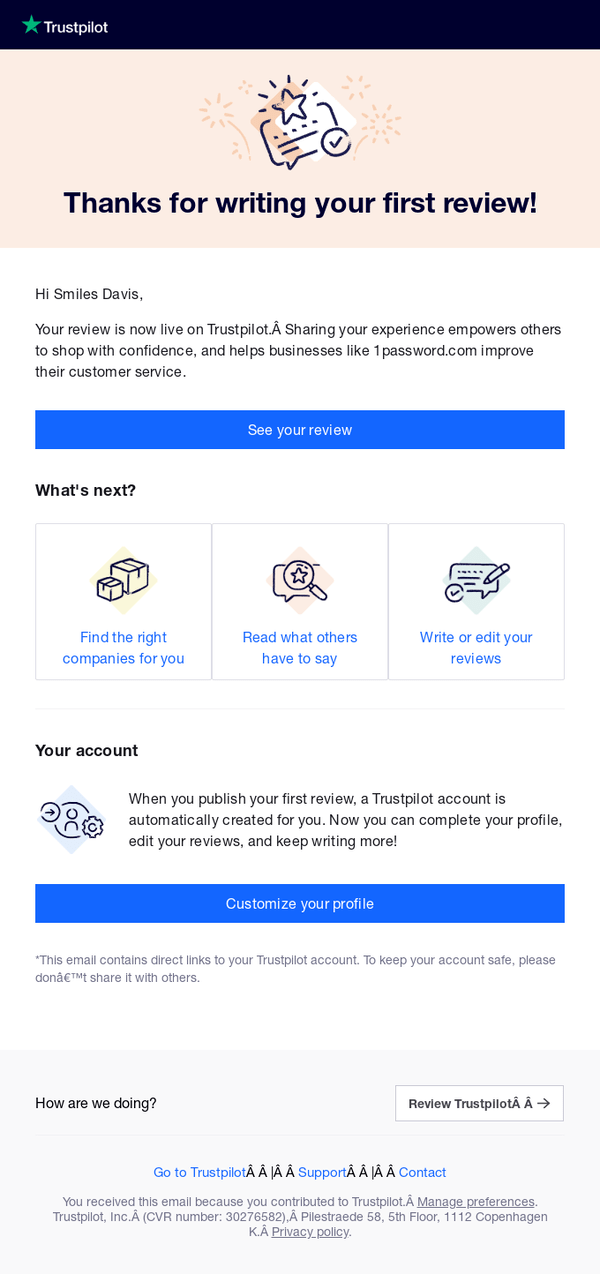 Example: Trustpilot
A straightforward thank you email that also acts as a clear confirmation of the review's success.
Welcome Emails
A welcome email is automatically sent out to people who take the first step in something. This could be signing up for your email list, joining a webinar, or anything else that requires a welcome.
Use these emails to introduce yourself, showcase your brand's personality, and outline what the new subscriber can expect from you. If you run an online store you can even throw in a welcome discount code.
These emails tend to have higher engagement rates and they're the perfect opportunity to make a good first impression.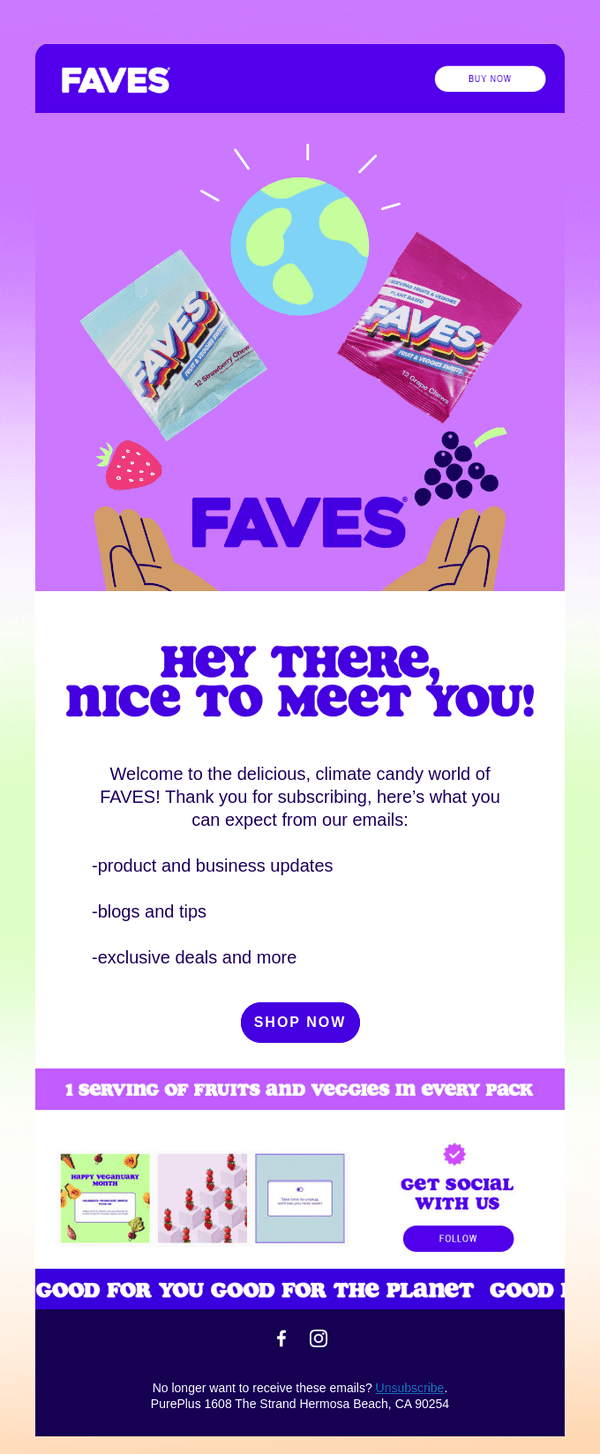 Example: Faves
This is a great example of a welcome email. The candy company sends these emails out to each new subscriber to introduce the brand, tell them what to expect, and include a link to their shop.
Other Marketing Emails
When it comes to email marketing examples, there are all kinds of different email marketing campaigns and strategies that you can send out.
Here are a few other email marketing campaign types that don't fall under the categories above.
Winback Emails
If a subscriber has stopped engaging with your emails, or if a customer seems to be disappearing, you can send them strategic emails to try to win back their attention.
Winback emails are often your last resort to regaining a subscriber's attention or trust. Use these emails to send out a special offer, ask the subscriber what they want to see from you, or simply just ask them nicely if they will consider coming back.
The aim is to re-engage the subscriber, so try to make these emails stand out from what you normally send (which they have lost interest in).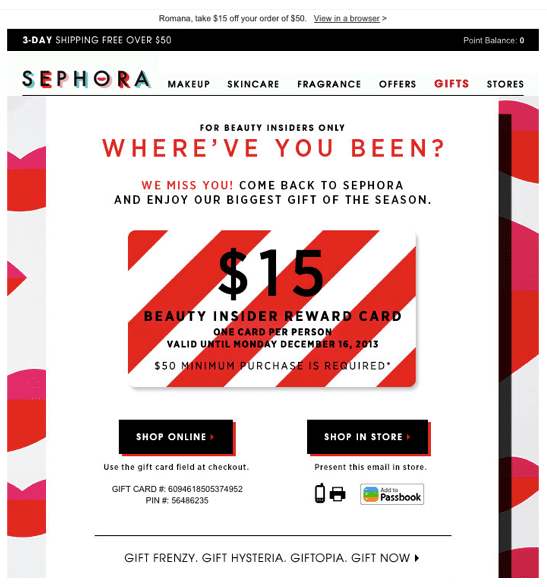 Example: Sephora
This email grabs the reader's attention with bright colors and a very clear discount card. This is an excellent way to maintain loyal customers and engage users who have not shown any interest in a while.
Abandoned Cart Emails
If you do eCommerce email marketing, then abandoned cart emails could help you recover a lot of lost revenue. These emails are automatically sent out to shoppers who have filled out their carts and abandoned them before checking out.
Use these emails to send special offers or discounts, or try to convince them otherwise to complete the purchase. When set up properly, abandoned cart emails can help any online store make a lot more sales without having to put in major marketing efforts.

Example: Homes Alive Pets
This is a fun email example. It grabs attention with a pun, shows the abandoned products in the cart, and prompts the customer to finish their purchase. Simple, but effective.
Lead Nurturing Emails
Lead nurturing campaigns involve a series of emails used to nurture leads through your marketing funnel and prepare them to become ready for a sale.
Lead nurturing campaigns are triggered after a lead takes a certain action (like downloading an ebook). A connected series of emails are then sent out, containing highly targeted content.
These emails are used to build trust, and interest and engage the lead. They should continue to get more specific and relevant and help build a meaningful relationship with the targeted lead.
These campaigns happen after an action, so try to mention this in the email. The lead should understand why they're getting sent this series of automated emails, and they should be able to find the clear value in these types of email marketing campaigns.


Example: Nerdwallet
This email highlights the advantages of Nerdwallet, clearly displaying what users can get from the product. They explain what they're all about to help inspire new leads to get started. All information on the email is focused on a clear and consistent CTA which makes this a great email marketing example.

How to Improve Your Marketing Emails: 5 Email Marketing Examples
The email marketing examples listed above include an overview of the different types of campaigns that you can send. If you want to achieve better results for any of these types of campaigns, then there are all kinds of strategies you need to follow.
Here are some examples of different tactics you can use to create more engaging, impactful emails of any kind.
1. Experiment With Different Angles
One of the best ways to improve the success of your email marketing campaigns is to experiment and test different elements.
For example, you could A/B test the subject line of the same email. Monitor which email received the highest open rate, and this is the type of subject line that your audience responds to best. Record this result, and use your insight for your next campaign.
For example, you could send out one clear and straightforward subject line, like this:

And send out another more creative and funny option, like this:

The email content is the same for each email, but the email subject line takes a different approach. By testing a safe subject line against a more creative one, you can gain a clear insight into what type of copywriting your audience responds better to.
This email marketing campaign was sent out by The Hustle. It's a great example because their brand voice remains consistent, and they are able to show that they are serious and fun at the same time. Both subject line options are also very short and succinct, which is a good move.
2. Add Personalization
Whatever kind of email marketing campaign you're sending out, personalization will always help you achieve better results.
Emails that are tailored to a specific user will automatically get higher engagement. This is because the user can tell it's not just a standard email blast sent out to a great big list. Instead, the email design is for the recipient.
The easiest way to personalize your emails is to include the recipient's name. However, this is pretty basic, and you can take personalization a step further.
Brands can segment their email lists based on users' interests or the actions that they take. For example, you could have a list of customers who have bought products from your summer range of clothes, or subscribers who live in a certain area. You could create lists based on people who downloaded an ebook, or people who subscribe to your email list from a certain blog post.
This lets you understand the user's interests so that you can send them relevant content that you know they're interested in.
Just look at this email marketing example from Airbnb: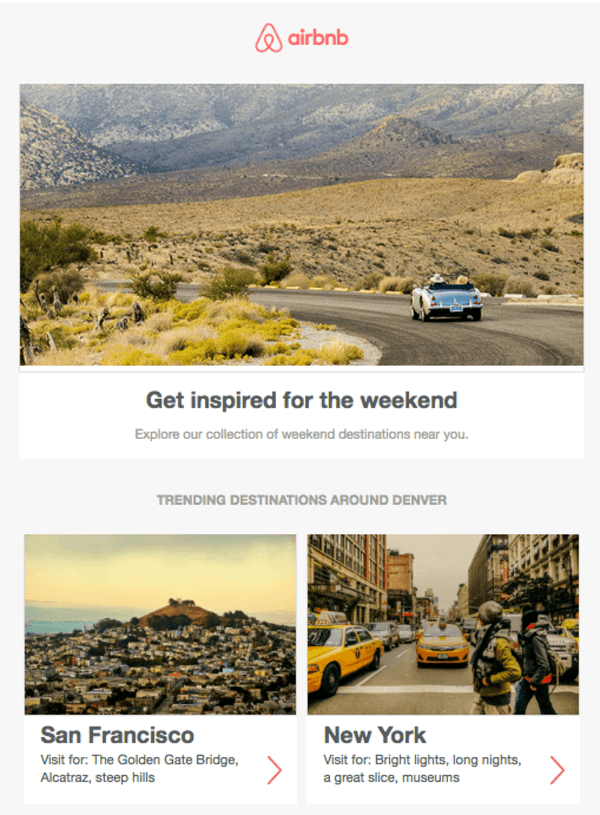 They do two things to personalize it. First, they include the recipient's first name. Second, they add their location. The email content is then personalized based on where the recipient is based.
This means more relevant content for the user, which will result in higher engagement.
3. Keep it Simple
Sure, this doesn't necessarily have to apply to every type of email campaign you send, but it's generally a good idea.
Keeping your emails simple and easy to read will do wonders for any campaign. Nobody wants to spend a lot of time and thought trying to get through an email. Instead, they should be able to effortlessly read the email, understand what it's about, and digest it on the spot.
Just look at this email marketing example by Neil Patel: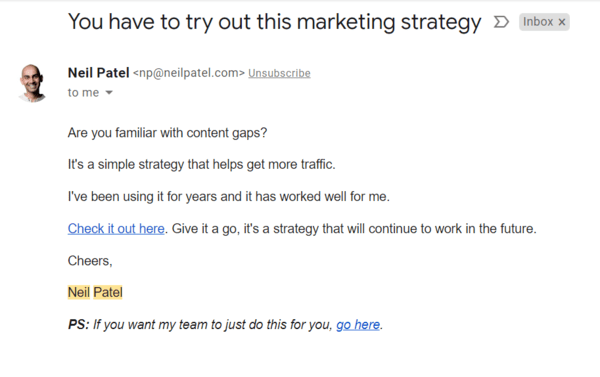 It couldn't get any simpler. The email is only four lines long, the sentences are short and incredibly simple.
The result is an email that takes a few seconds to read and understand and drives you to click on the link. The longer you make emails, the more chance you're giving your readers to abandon the email.
4. Make it Human
Just because you're a business, it doesn't mean you should sound like a business.
Email subscribers don't want to feel like you're trying to sell them something. Instead, successful email marketing campaigns should be relatable. Use language that sounds human so that your email subscribers feel more of a connection to you.
Here's a good email marketing example: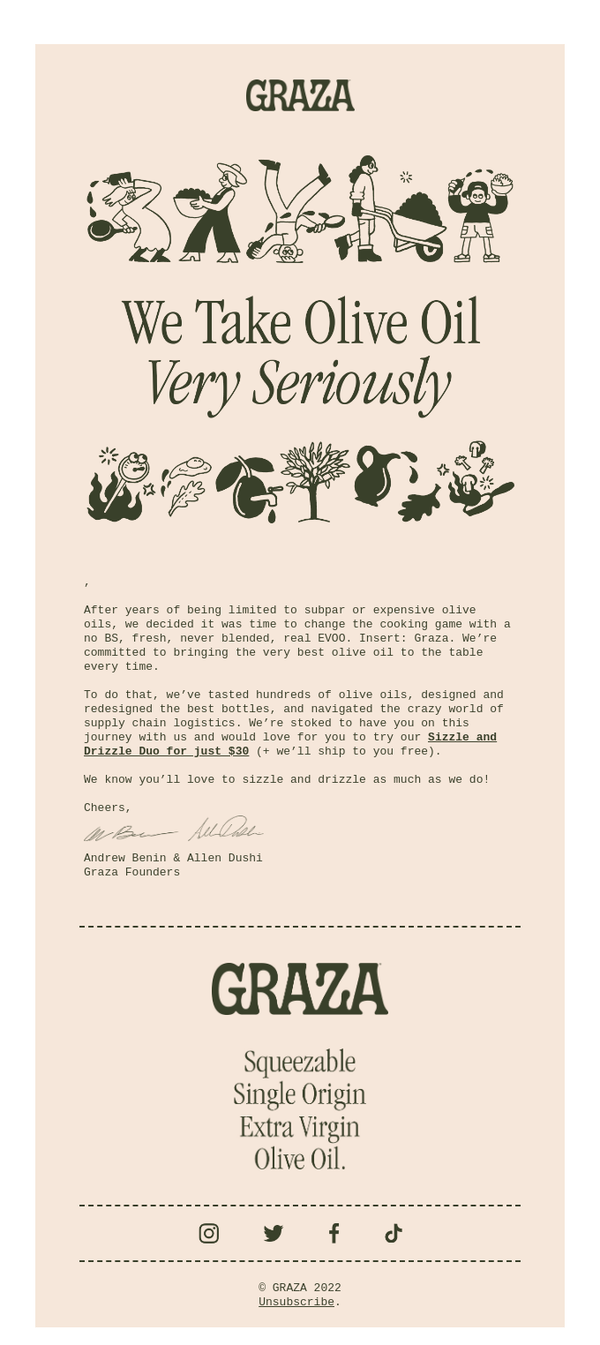 The email doesn't seem promotional or businessey. Instead, the language is natural and human-like, and relatable, which makes you want to carry on reading more.
5. Make the Benefits Clear
People signed up for your email list because they wanted something in return. So, it's your job to give this to them.
You could offer a clear tangible benefit, like a discount, or a benefit in the form of interesting content. Whatever the case make it clear why your email is beneficial to the recipient.
Successful email marketing campaigns make the recipient feel like they're winning. If your email doesn't offer value in some way, then nobody will be interested in it. The best approach is to offer this value straight away, right at the top of the email.
Consider this email marketing example: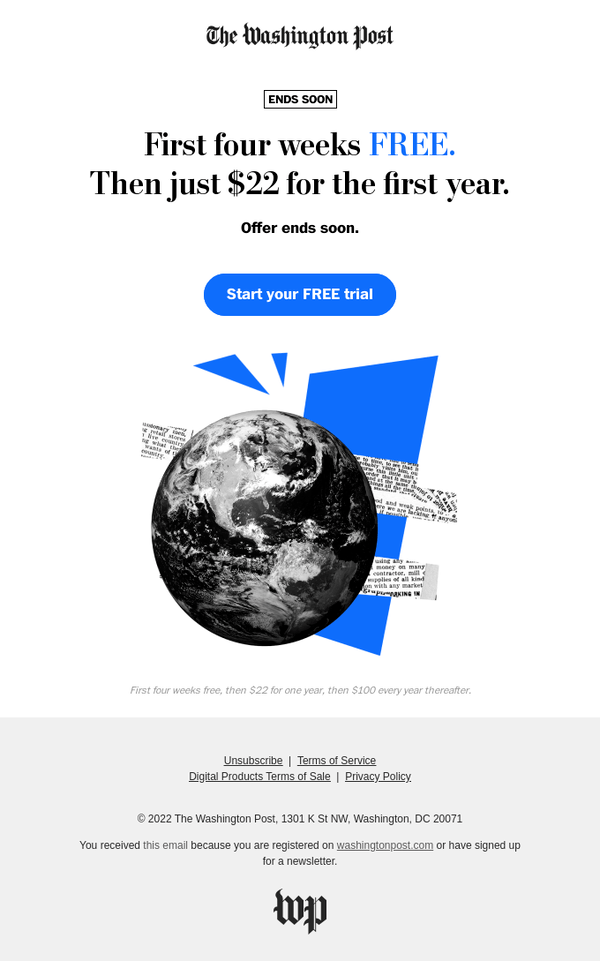 Straight away you see the benefits. In fact, thats all the email includes, the benefits. No frill, no filler, just pure value to the user. What more would you want?
Conclusion
There are all kinds of different email marketing campaigns that you can run. If you're struggling to get good results from your campaigns, then you'll want to look for inspiration from some of these email marketing examples.
Whatever email campaign you're running, there are always chances to get creative and achieve better results with the right type of content. And as long as you try new things, experiment, and record the results, you'll soon be able to find what works for you.
So get inspired by the best email marketing campaigns above and see how you can apply this to your business. When done properly, email marketing is one of the best ways to achieve an awesome ROI.
Related Content
tom