Why You Should Run Your Next Contest with a Theme
The easter bunny appears; pumpkins are carved and snowmen cover the windows of the city. It's usually pretty clear when a big holiday is around the corner.
And no matter what holiday that is, as a business you need to cash in.
A holiday contest is a fantastic way to engage users and get them excited about your brand.
Thanksgiving, Easter, Mother's Day, the Superbowl, or even Earth Day, holidays and celebrations provide you with the perfect opportunity to run a contest.
But where exactly does the value lie in a holiday contest? Let's find out.
---
Why Run a Contest?
As a business, you must know that holidays = cash.
But in order to get that cash, you need to get current and potential customers interested in your products and your business.
A holiday contest is the best way to do so.
An online contest provides incentivized interaction to your business (both online and in-store) while also generating you leads. The theme aspect allows you to tap into something that is relevant to all potential and current customers.
The contest gives you a new email list while also engaging and interacting with existing customers or leads, bringing your business back to top-of-mind awareness.
Going into most holidays, you can't walk more than a couple feet without being bombarded with some type of advertising. Whether it's a tv commercial, a bus ad, or a Facebook Ad, marketers are fighting for a bite out of the consumer's wallet. So with all of the competition, how can your business stand out?
A contest gives you that advantage over the competition.
---
Types of Contests Best for Holidays:
---
A Little Holiday Inspiration
Sometimes reading an article about a topic can give you the guidance you need to try out a new strategy, but I think examples are the best way to gain some inspiration. So take a look at these successful holiday-themed contests to get your mind swirling with your own ideas!
---
Mark's Work Wearhouse
This Christmas contest from Mark's allows them to display their winter products and get consumers thinking about what is on their wish list. It brings the brands and their products top of mind and creates a sense of desire, possibly leading customers to realize they want to purchase. The holiday theme is relevant and gets customers in the holiday mood while still think about Mark's.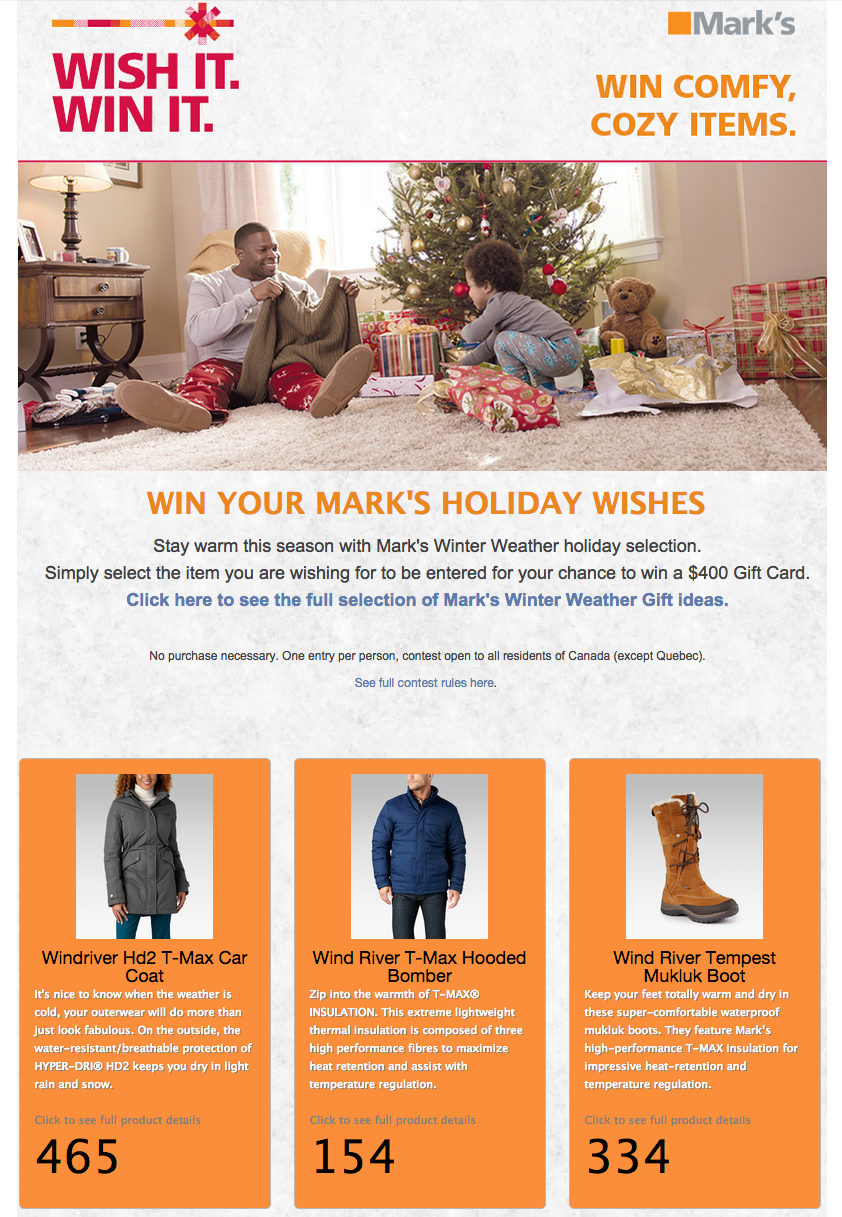 ---
Manliness Magazine
This sweepstakes from Manliness Magazine taps into the Superbowl theme and presents the perfect prize for their target audience of young, athletic males. What goes better with football than a keg of beer?
This is the perfect themed event for the magazine to engage with readers and get them entering their personal info. It also got 1,648 entries for a 46.83% conversion rate. A contest touchdown in our books!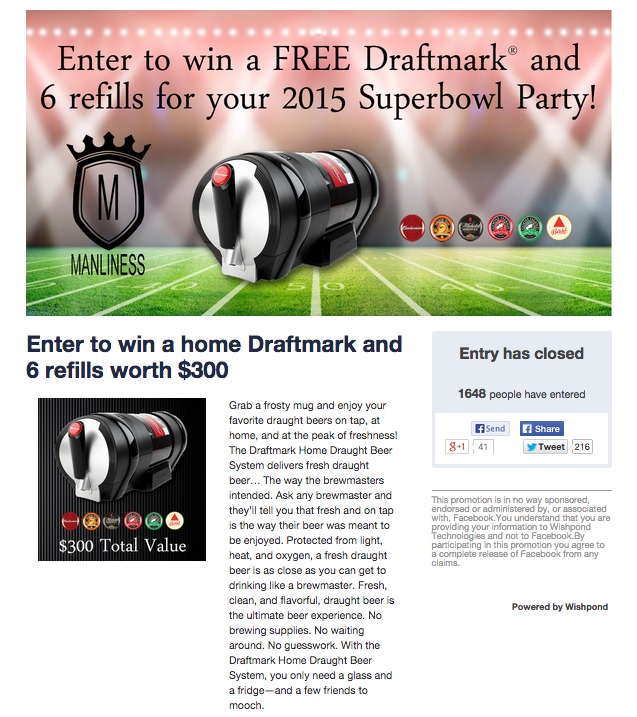 ---
People's Pharmacy
Back to school is a hectic and expensive time of the year for all families. So why not run a contest and get parents or students thinking about free cash? This sweepstakes has a simple theme and requires participants to write a short paragraph about money-saving tips.
It generated 630 entries for a 24.04% conversion rate. Not too shabby for a $100 dollar prize.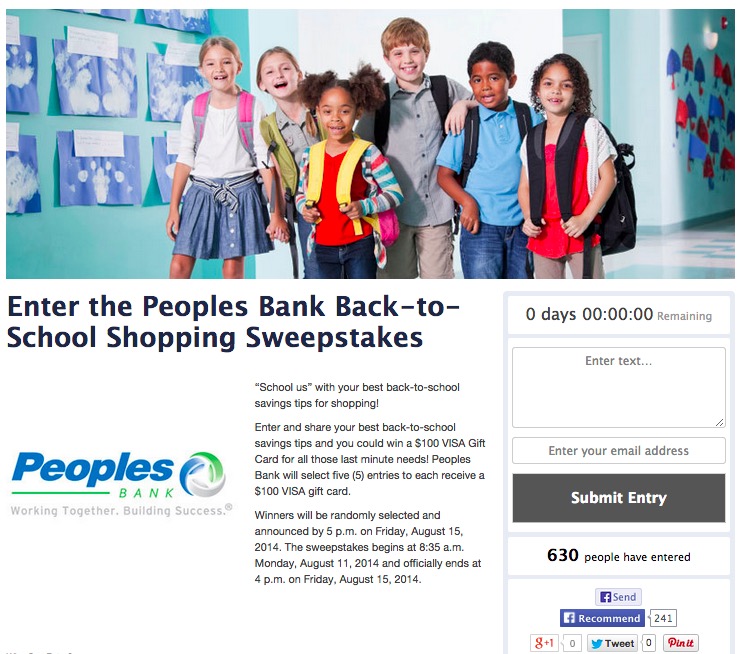 ---
Stray Cat Alliance
Furry friends are the perfect subject for a photo contest. And a holiday themed pet contest is one sure way to drive entries. This holiday contest is relevant and gets partners or past clients sharing photos of their rescue cat at a special time of the year. A photo contest is the perfect idea when involving things like babies or pets, as who doesn't love to vote on cuteness?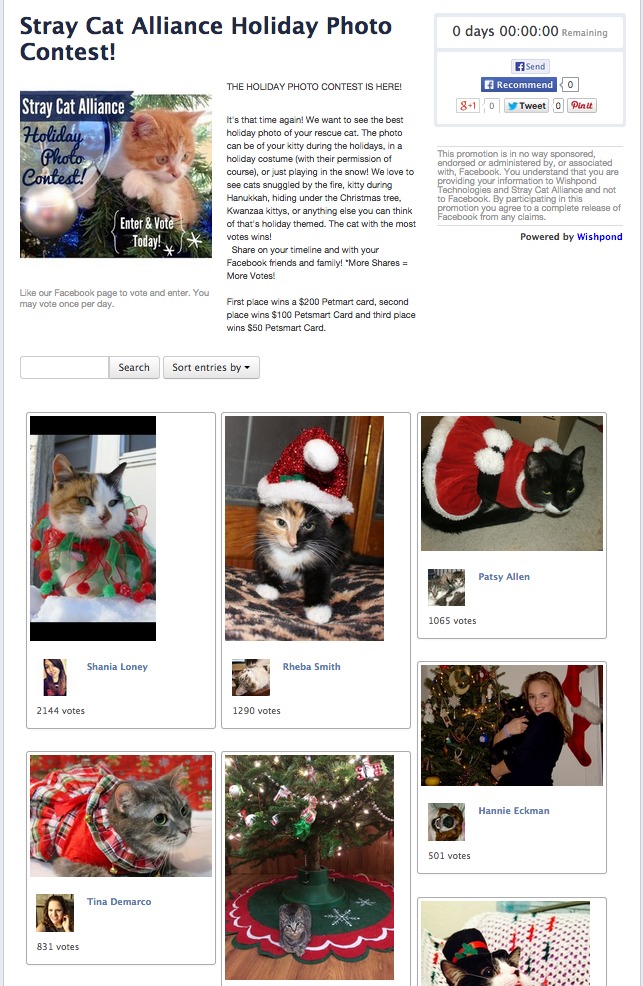 ---
About Time and Beyond Fit Mom
Along with the winter holiday season comes a lot of holiday treats, so jumping on the fitness bandwagon in the new year is a great theme idea. This Instagram hashtag contest gave participants the chance to win fitness prizes every day simply by following their accounts and uploading their Fitmas photo to their Instagram account (as shown below).
A hashtag contest like this also expands the reach of your business to new potential followers and customers as participants share their photos with their own networks.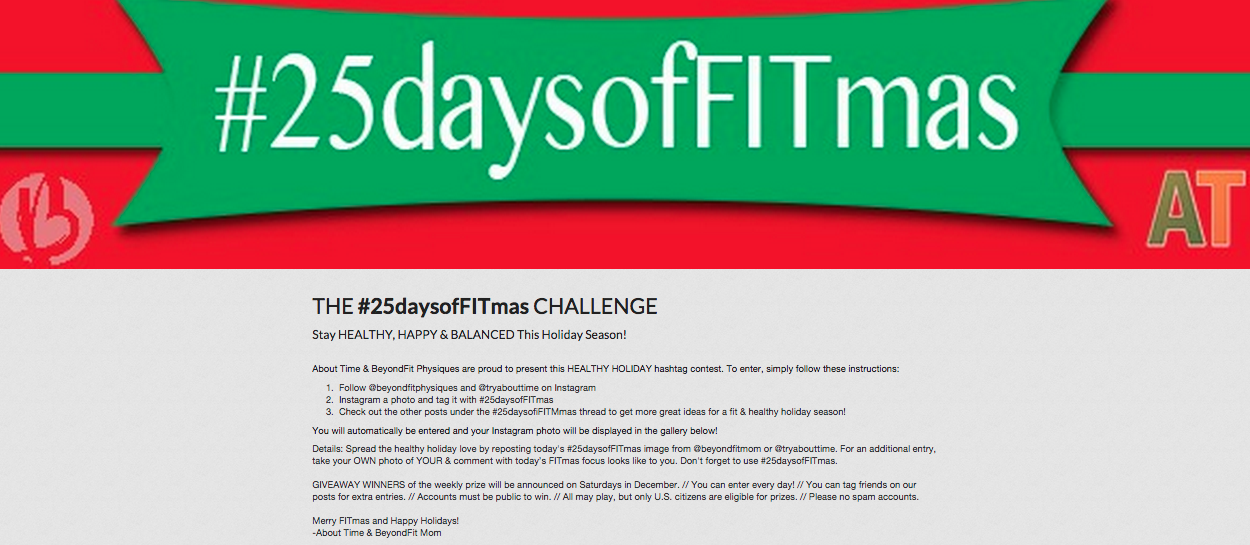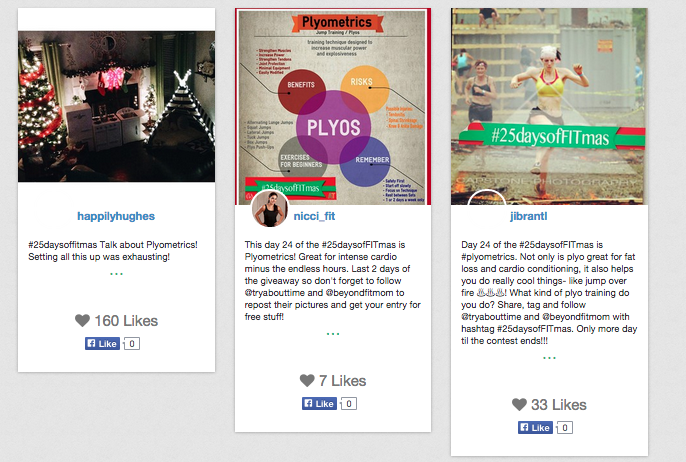 ---
Theme Ideas
So what holidays or events should you use as the theme for your contest?
Here is a list of ideas to get you through the year:
New Year's/ New Year's Resolution
Winter/ snow theme
Superbowl
Mardi Gras
Valentine's Day
International Women's Day
Spring Break
Spring
Easter
St. Patrick's Day
April Fool's
Earth Day
Cinco de Mayo
Mother's Day
Summer Solstice
Summer/ beach theme
Father's Day
Canada Day/ 4th of July/ your national holiday
Back to School
Fall theme
Thanksgiving
Halloween
Memorial Day/ Veteran's Day/ Remembrance Day
Hanukkah
Christmas
---
Conclusion
Holidays or seasonal events, no matter what they are, bring people together and get them in a happy, joyous, sharing mood. A contest is a great way to get fans and customers engaging with your brand during these busy times with a theme relevant to the time of year.
Have you run a holiday contest? Which holiday has gotten you the best engagement or most entries? Share your experiences with me below, I would love to hear them!
Related Reading:
Image by Ed Knepley
Written by Claire Grayston
Claire is a digital content marketer at Wishpond. When not racking her brain for new content, you'll find her hiking or snowboarding the local mountains.