17 Best Chrome Extensions for Digital Marketers
With the release of Google Chrome in 2008, web browsers took a turn for the better. The Google Chrome browser introduced what are now known as extensions.
Google Chrome extensions are helpful tools that one may add to extend the capabilities of the Google Chrome web browser. Chrome extensions are meant to improve efficiency, productivity, and the overall user experience. Adblock, an incredibly popular extension for example, blocks annoying ads on webpages. All this and more are why they are a popular part of the modern day digital marketing toolbox.
Now with the thousands of Chrome extensions available, the question is, which chrome extensions are worth adding to your digital marketing stack?
Scrolling through the Chrome web store it's easy to become overwhelmed. The massive number of apps and extensions available is intimidating.
That's why my colleagues and I put our heads together to list our 17 favorite Google Chrome extensions for digital marketing. These 17 Chrome extensions add tremendous value to our marketing stack and improve our productivity on a daily basis.
Now, I'm not saying you need to use every single one of these extensions, but by picking a few that are relevant to your job you'll save yourself a lot of time and increase your efficiency for the better.
Bit.ly allows you to edit your links and instantly share and save content straight from your browser into your bit.ly account. You can quickly shorten a link and brand the domain to customize it to your business. With bit.ly you can also track real-time stats to see which social strategies are most effectively engaging fans.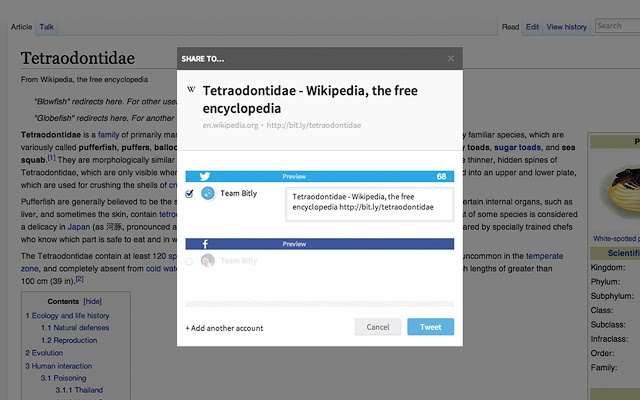 Buffer's Chrome extension is the easiest way for you to share content to your Following as you peruse sites throughout the day. It allows you to manage your day by scheduling posts to go out at specific times and follow up with analytics to track which posts had the best performance.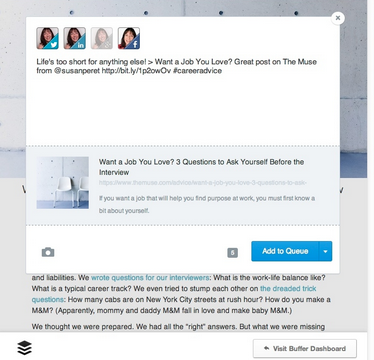 Colorzilla gives you the chance to pick any color off of a webpage, providing you with the color number for future use. It then stores the hexcodes for you to use within your own content or design creation. You can get a color reading from any part of your browser, quickly adjust it and paste it into Photoshop, GoogleDraw or any other design or drawing tool.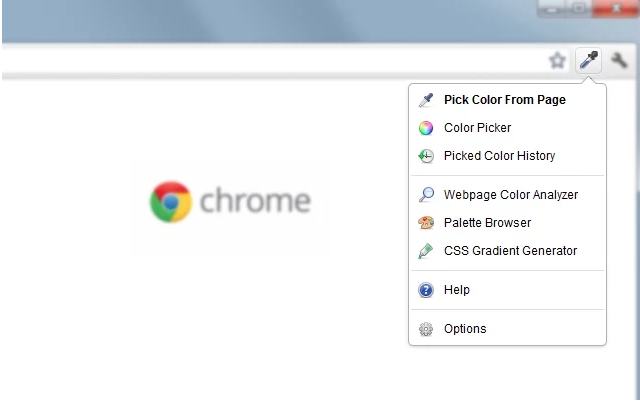 Pushbullet allows you to send pictures, files, and links between devices and to your friends and family. You can send a link to your phone simply by right clicking on it while on your computer and wirelessly move files to your phone from your computer. No more emails to yourself!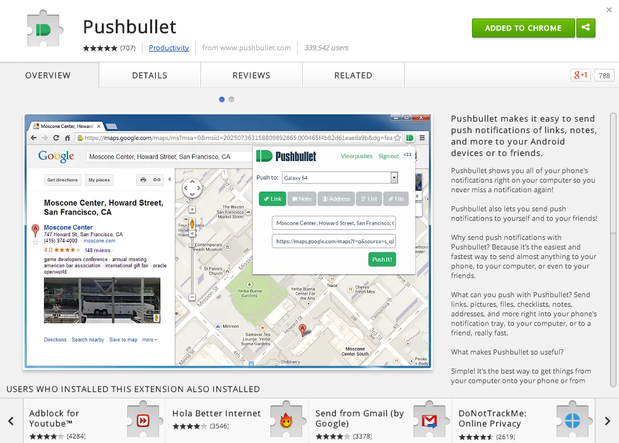 As marketers we know exactly how tracking works. And for that reason we want to see what other businesses are doing and who exactly is looking into us on the web. Ghostery lets us see the invisible side, showing the trackers, pixels, bugs and beacons that companies place on pages. You can identify who is tracking you from Facebook or Google and get links to businesses' privacy policies where you can choose to opt-out.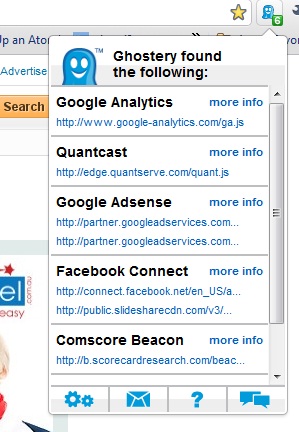 This awesome extension allows you to not only save pages you visit but to highlight the information you want, write something about it and reference it in a list for later. As a content writer we research a lot, (like multiple hours each day). Diigo allows you to collect everything in one place with highlights and notes so you can look back at those articles you found useful. Plus, you can reach this library from any computer for easy access.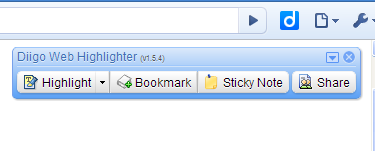 I know I personally cannot stand any programs or applications that cheat to get you more followers, but Followr has helped many marketers strengthen their following. It is quick and easy to set up, and searches for tweets every 30 minutes related to your tweets and current following. The more you use Twitter, the more Followr will work to find you Tweets to favorite, resulting in more followers. Worth a try!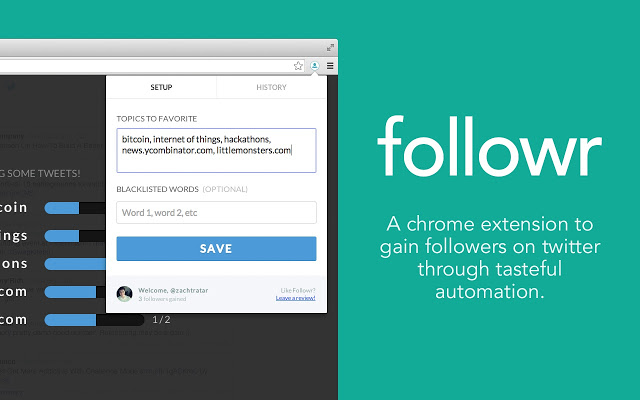 Finally, the solution to remembering the dozens of passwords you're required to have in the digital age and marketing world. I have at least two dozen between my personal and professional accounts. How on earth are we supposed to keep up? The answer, LastPass. All you have to do is remember your master password and Lastpass stores all your passwords, giving you secured access from any computer or mobile device. I love LastPass and recommend it to as many people as I can simply because it makes your digital life easier.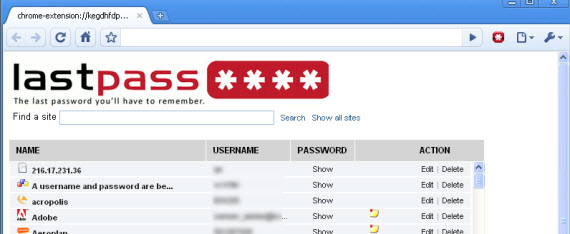 Sniply allows you to drive people to your website through the content that you share across social media.You can embed your own call-to-action onto other websites, along with custom messages for readers across the web. It can detect when you paste a link and will then ask if you want to embed a message on that page. Sharing a sniply link allows you to drive traffic back to your site.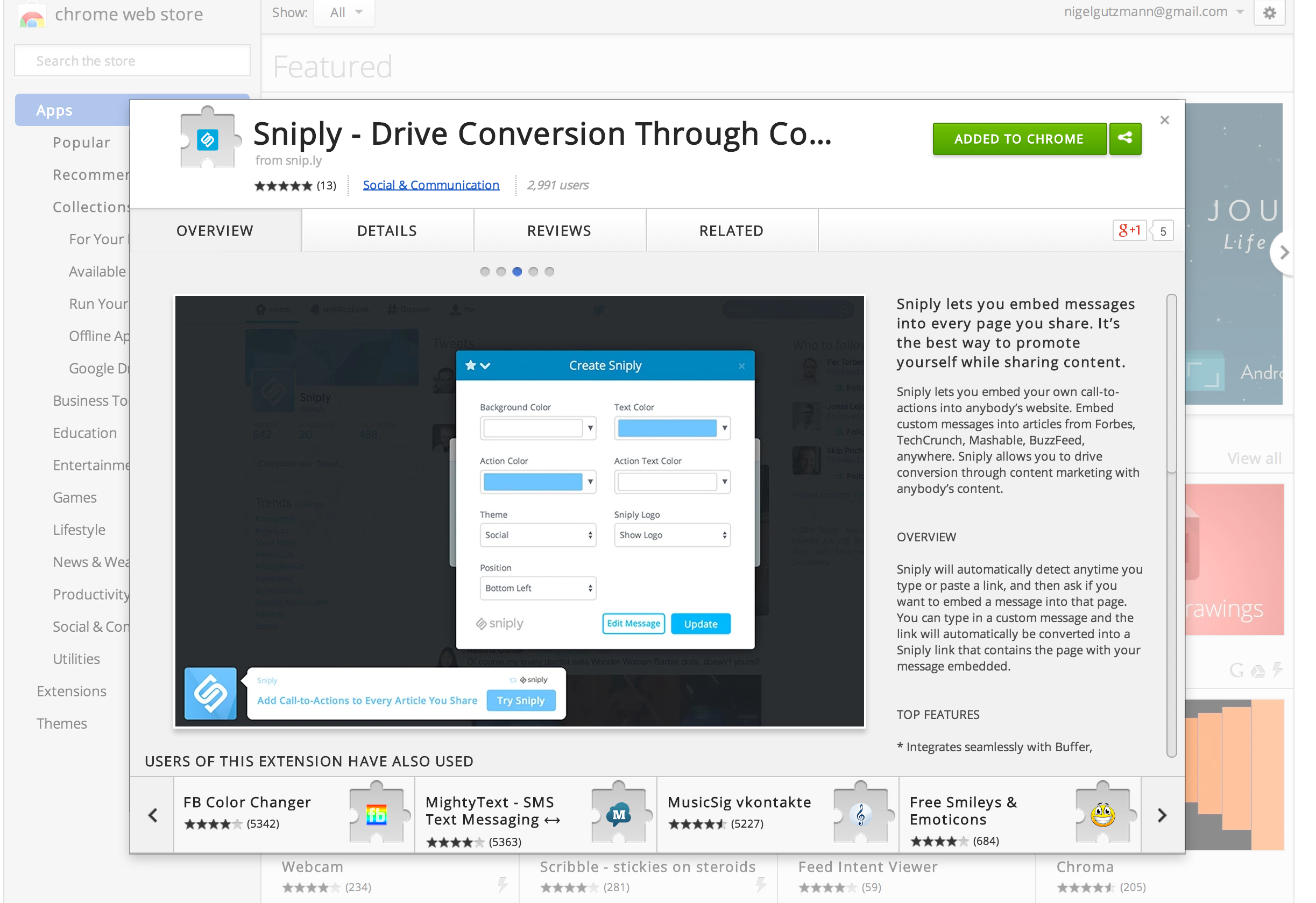 Sidekick is the inbox tool any marketer, salesperson or general business professional needs. It works with Gmail, Outlook, Apple or Salesforce accounts to schedule emails in the future, see who opens and clicks your emails and your recipients' title, company social profiles and recent tweets. Recommended for anyone who wants to improve their email productivity, coordinate teams, network, or close deals with sales leads.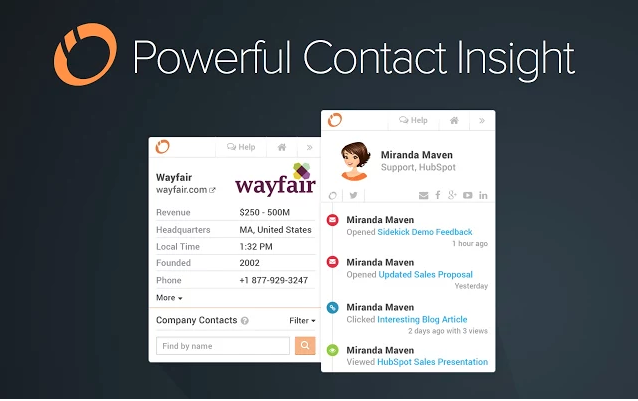 One of my favorites, Nimbus allows you to capture part of a webpage or even the whole thing and then save it into your files or onto your Google Drive. My favorite aspect of it is that you can scroll while screenshotting a page in order to get an entire web page. You can also choose to edit the screenshot by adding borders, arrows and other features.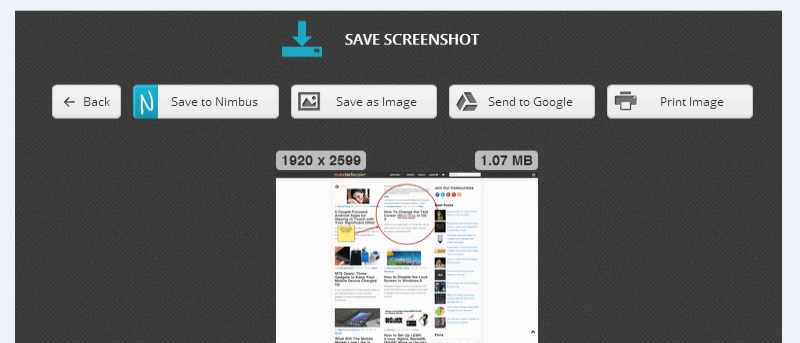 Another email tool, Yesware takes away the guesswork and shows you who's opening your emails, sends notifications when emails are opened or clicked on and tells you what device was used. It also provides you with Gmail templates you can use multiple times with detailed reports about which templates lead to the highest engagement from recipients.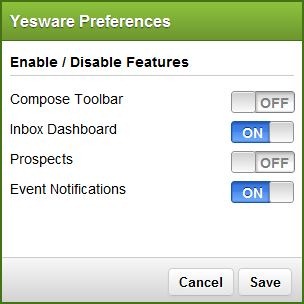 An absolute must for SEO'ers, this Moz extension lets you create custom SEO searches based on search engine, city, country etc., access SEO metrics while surfing the web and test the difficulty in ranking for a keyword.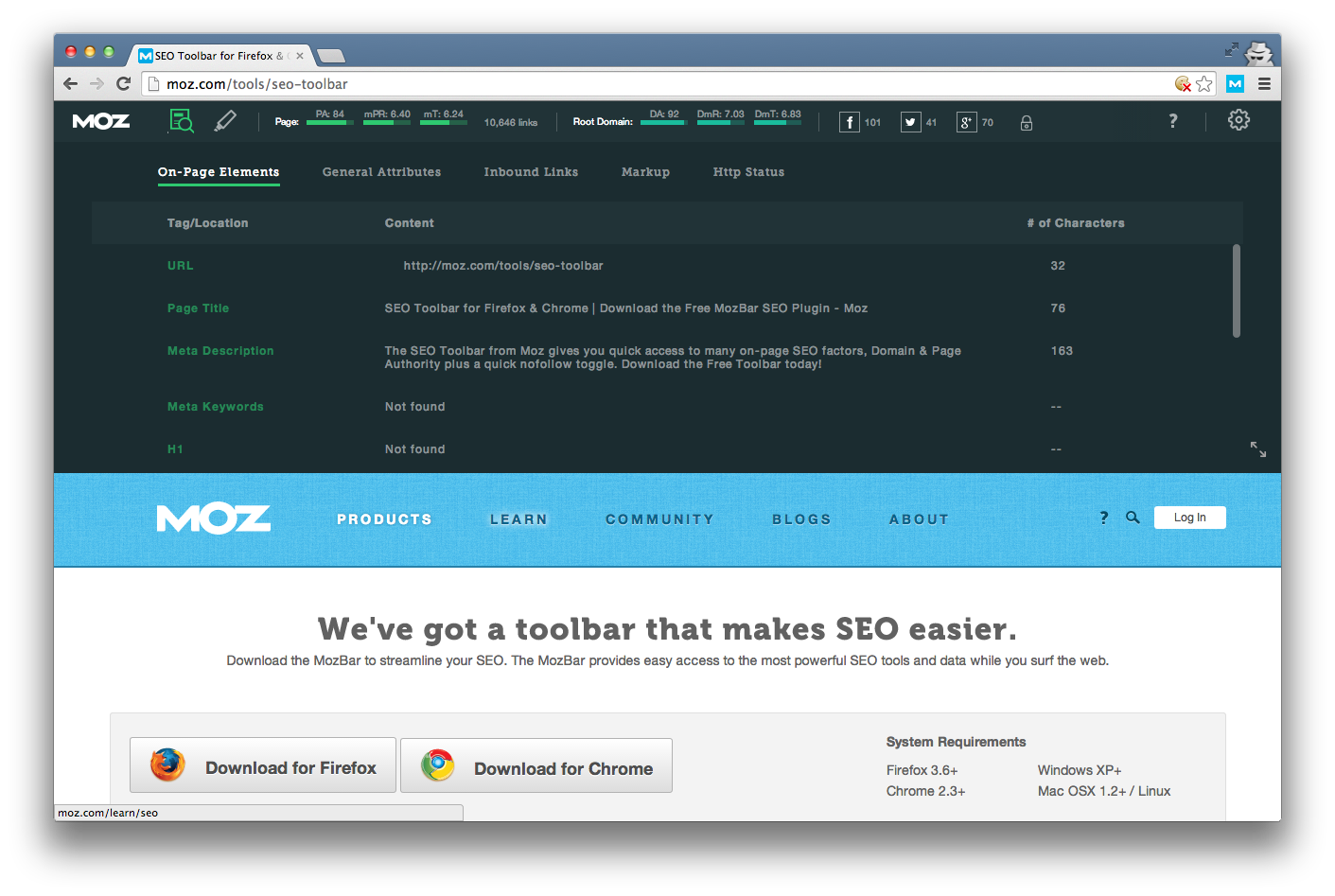 Seoquake displays various SEO ranking factors for any webpage. It can highlight nofollow links, text density on a page and compare one site to another based on URLs. Think of it as a quick reference tool to help you in the battle against poor SEO.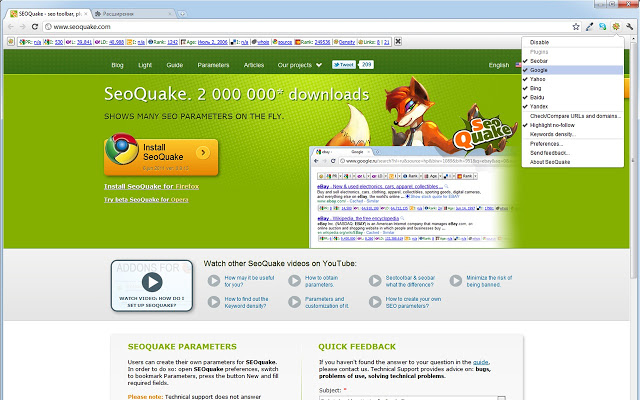 In marketing, having a way to organize articles you need to read or notes you've made needs to be a priority to find productivity. With Evernote you can work offline, taking notes, collectiving web articles or photos in one organized space. It's a great tool to manage and share resources with teams and can be accessed on all devices.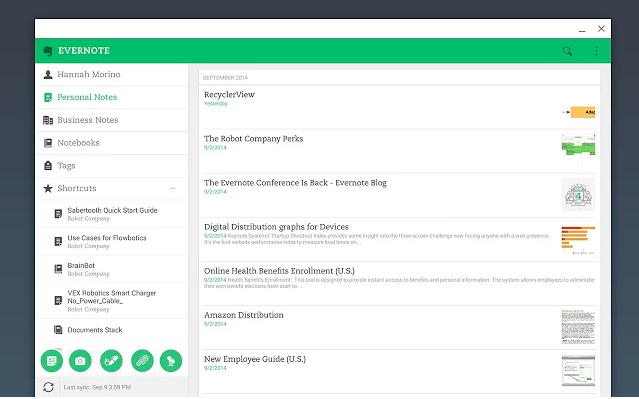 Not restricted to any industry, Momentum is a great way to add some discovery into your day. It fills a default new tab with a page complete with an inspirational background from a beautiful location somewhere around the world as well as an inspirational quote and a place to write down your daily goals. It's a simple extension that can brighten your day and give a boring web browser some spunk and personality.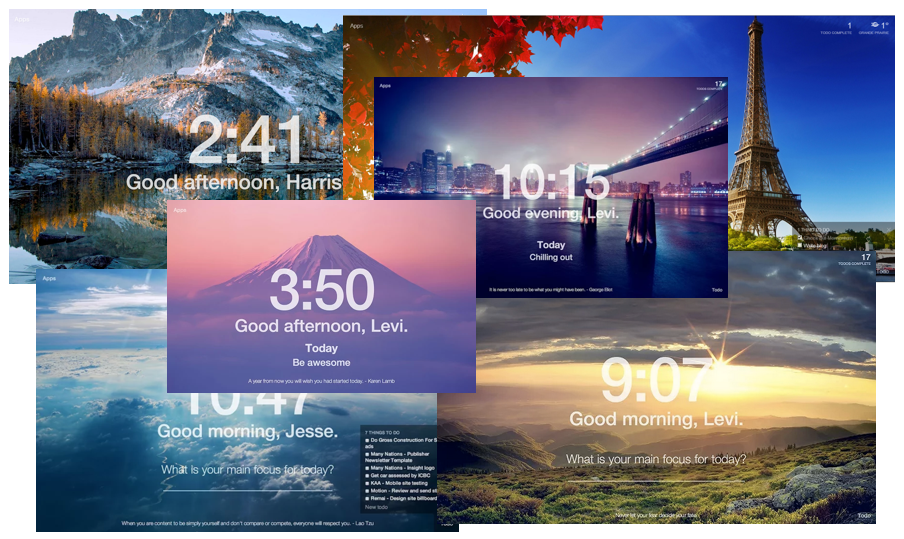 The Feedly Chrome extension allows you to add stories that you come across to your feed throughout the day, which you can then catch up on later in the day. You can also share pages or email them to others with the simple click of a mouse. As they say, it simply puts all your favorite sites in one place.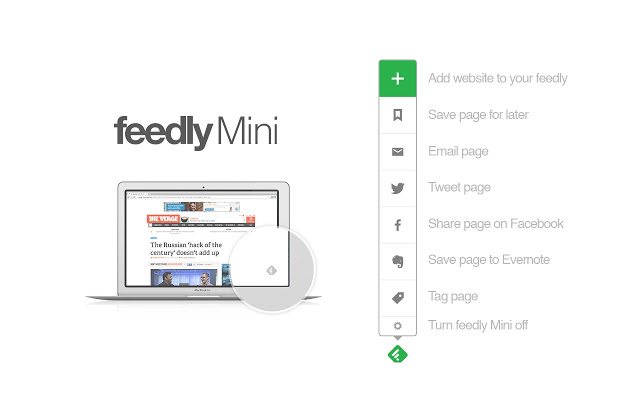 Right Inbox is a tremendously powerful tool to ease your workflow, and more than 250,000 professionals use it every day to increase their email productivity. Supercharge your Gmail account with Right Inbox's 4 powerful features that include: email scheduling, email reminders, recurring emails and a private notes option. Don't lose track of important conversations with this powerful extension that ensures you have a cleaner inbox.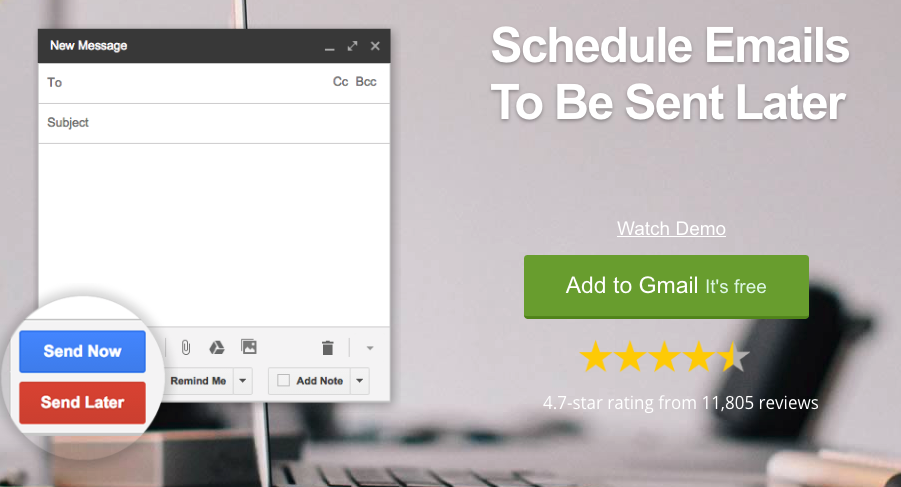 Conclusion
Now that you know the top 17 chrome extensions I've selected, it's your turn to share. What are your favorites and why?