Google recently announced that Google+ has over 250 million users, 60 percent of whom are active monthly users. Those are figures marketers can't ignore. But why have businesses been treating Google+ like it's not worthwhile?
The most common answer is, "I already have Facebook and Twitter, so why bother creating another social media account, right?"
Wrong! Google+ actually plays an integral part of any business' online marketing strategy. When you realize all the SEO benefits of using Google+, you will immediately see it needs to be incorporated into your marketing strategy.
One thing that sets Google+ apart from Facebook and Twitter is that it helps businesses appear at the top of Google search result. Twitter and Facebook posts do not appear on Google search result; status updates from Google+ does.
Google's search algorithm prioritizes Google+ content (everything from your company description to your shares on the platform). It makes things easier for businesses to show up in search results.
Setting up your Google+ Page
Creating Google+ Page for business is not as difficult as you might think. Follow the steps below and you will be ready to go in no time.
1. Sign in to Google or create a Google account
Sign in to your Google account then go to  www.google.com/business. If you do not have a Google account, then create one  here.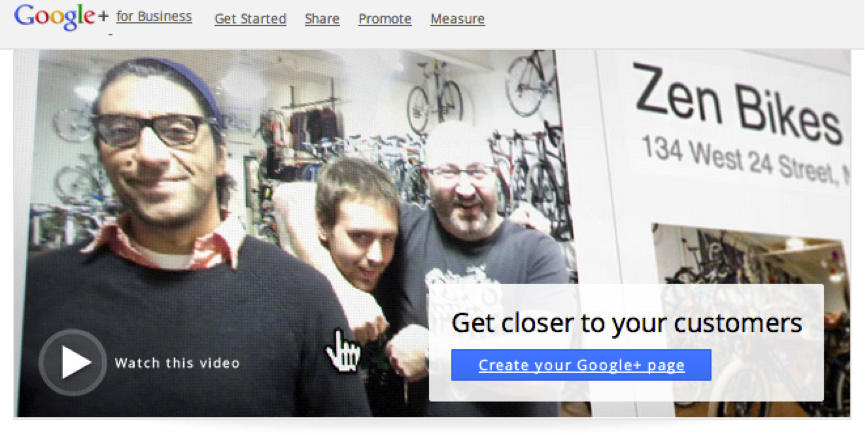 2. Pick a Category
Select which category your business fits into. You will be asked to choose a subcategory in the next step, so keep that in mind when selecting your category. You can always come back to previous step if you need to make any changes.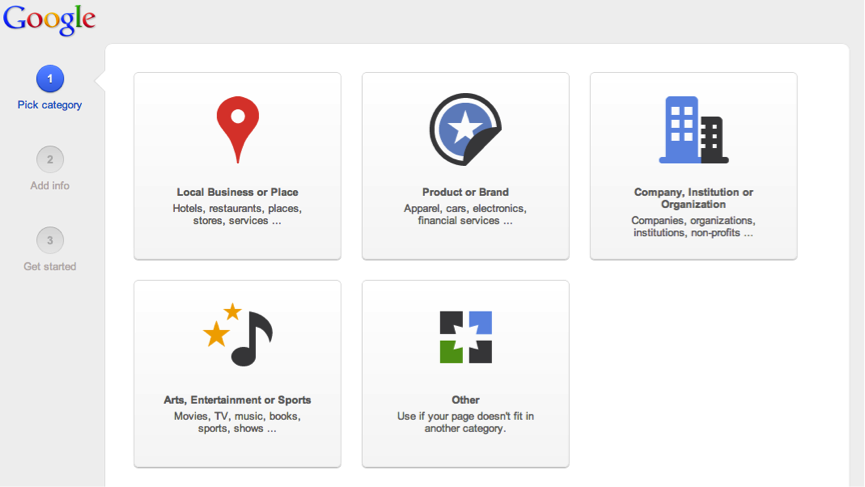 3. Add info
Enter your business name and your website. Then, select an additional category that suits your business. These sub-categories are dependent on the main category you choose.
Next, you need to select who can view your Google+ profile. The default setting is public, but you can also restrict your page to 18 and older or 21 and older.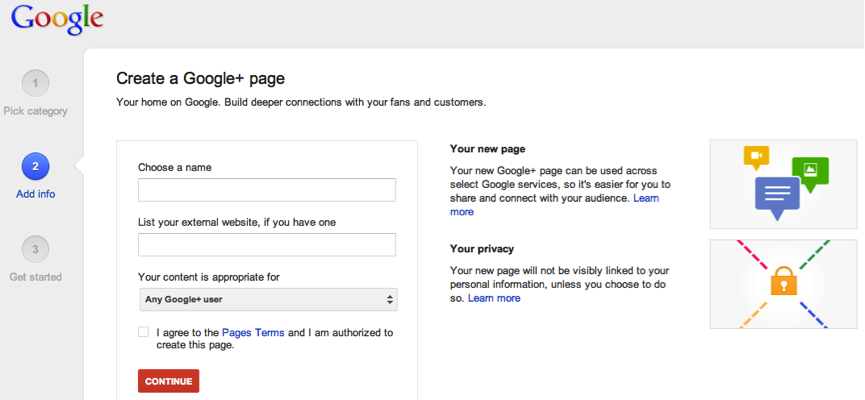 4. Tagline and Image
The space is even more limited than Twitter's 140 characters. Show your creative flair and writing prowess to summarize your business in 10 words or less.
Do not forget to add an image for your Google+ Page. Ideally, this image is your logo – whichever image you choose, ensure that it is the same image you use across your social media accounts.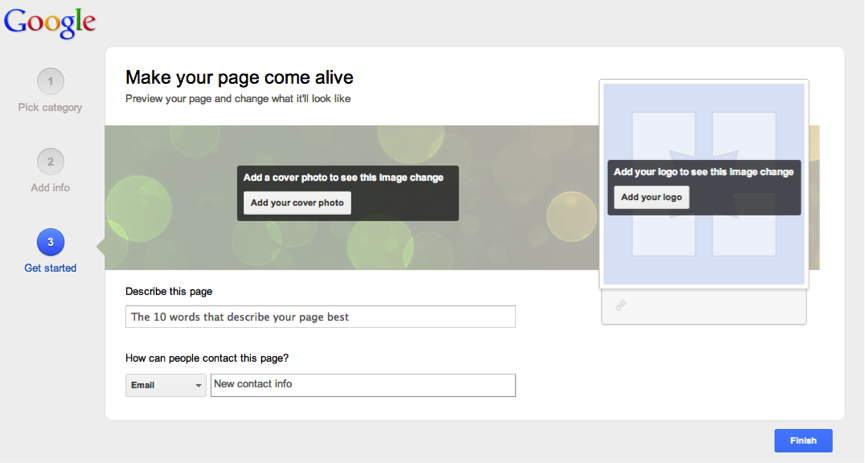 5. Get the +1 button!
Don't forget to embed +1 button to your website to help visitors share your content on Google+. HubSpot reported that websites with Google's +1 button generated 3.5 more traffic than websites that don't have the button installed.
Now you are all set! Tell people about your Google+ Page!
How do I leverage Google+ for marketing purposes?
Here are some tips to use Google+ to market your business:
1. Company Overview
Update your "About" section with a quick overview of your business. Include keywords and relevant links on your about page (link back to your web pages and services).
You can also create a prioritized list of suggested circles on your Google+ profile, i.e.: online marketing, social media marketing, online marketing tools, etc. This will help visitors to quickly and easily determine your business focus.
2. Post often and optimize for best search results
Google search pull more data from its own products, including Google+. If your business has a blog, share a link to the blog from Google+ every time there is a new post.
Post content (status updates, links, etc.) often and ensure that it is optimized with keywords to make it easier for Google to index it. HubSpot has a good post on  how to determine the right keywords for your business. Whenever possible, include an image or a video in your status updates.
The objective here is to provide value and engage with other users. Users follow you because they are interested in the service you provide, but that does not mean that is the only thing you promote. Constantly pushing your own products won't increase sales. If anything, it will only lead to resentment from your followers. People will eventually tune out or unfollow you.
3. Find relevant users and connect with them
There are two ways to find your audience. Try using Google+ rich search functionality. Search for mentions of your business or industry related keywords. Save your searches so they will appear on your sidebar for quick reference.
Also check out this  Google+ Shared Circle Database from Chris Porter. It is an extensive list of Google+ circles based on industry.
Once you start building your audience, don't forget to engage them in conversations. Get to know your audience by asking questions and sharing content. Follow people back when they follow you. It is a nice gesture and it gives your business a more personal touch.
Tools to manage your social media accounts
We get it. You have Facebook Page, Twitter account, Tumblr, and perhaps Pinterest, too, and now you also have Google+. Managing these accounts separately can be a headache.
No need to fret. There are Google-approved applications that you can use to manage your social media accounts (including Google+) from a single dashboard.
The companies listed below provide businesses more flexibility and power to run a Google+ Page. Using their services, you can post content and comments, and create and manage your Google+ circles.
HootSuite
HootSuite is a social media management system that helps brands streamline campaigns across social networks such as Twitter, Facebook, LinkedIn and Google+ Pages. Teams can collaboratively monitor, engage, and measure the results of social campaigns from one secure, web-based dashboard.
Buddy Media
Buddy Media is the social enterprise software of choice for eight of the world's top ten global advertisers, empowering them to build and maintain relationships with their consumers in a connections-based world.
Adobe
Adobe is a leading provider of digital marketing solutions. Part of the Digital Marketing Suite, Adobe® Social helps the world's leading brands and agencies build, manage, monitor and measure their brand presence across social networks.
Hearsay Social
With over five million fans and 15,000 successful social pages under management, Hearsay Social enterprise technology enables top brands and their local representatives to distribute content, deepen customer relationships, and minimize regulatory and brand risk on social media.
Involver
Involver is the web's most trusted social marketing platform with everything brands need to manage conversations and engagement across social networks.
Virtue
Vitrue is the leading Social Relationship Management platform, a software-as-a-service technology, that partners with global brands and agencies around the world to maximize social community engagement with their social communities.
Wishpond's platform makes it easy to get the most from your Google+ buck with mobile-optimized landing pages, contests, and lead nurturing tools. Check us out today!
wishpond