Is there any room on Tumblr for my business?
Tumblr is a powerful tool for many businesses to showcase their products and gain traction with their followers.
This article is part of a six part series by Wishpond. This series will explore the business benefits of the blogging platform Tumblr and how it can help your online marketing efforts.
Tumblr Terms and Terminology
Here is a quick introduction to some of the terms and terminology used on Tumblr.
*Animated GIF
Animated GIFs are moving images. They are usually humorous or at least interesting, and can be taken from movies, video games, or any video footage.
Ask
On Tumblr, users can privately ask questions to other Tumblr users, which they can then choose to publicly answer for their fans.
Answer
When a Tumblr user publicly responds to an Ask on their blog.
Dashboard
A homepage for any Tumblr user. The dashboard aggregates content produced by people the user is following, similar to a Facebook news feed.
Follower
A follower is someone who subscribes to your blog. They can do this without your permission, but they will know you have followed them. Once someone has followed you, all the content you post or reblog will show up on their dashboard.
Note
When a Tumblr user views a post, they can either "Like" or "Reblog" it. The total cumulation of users who have reblogged or liked an individual post is referred to as the "notes".
Reblog
Similar to the "Share" or "Retweet" buttons from other social media networks, reblogging a post will share it with all of your current followers.
Tags
Tags are used when creating or reblogging a post to specify what the post is about. This allows people to search the blog post
Dissecting a Standard Tumblr Post
To see some of these terms in action, here is an example of a standard Tumblr post from Wishpond. Note that not every term we defined earlier is represented in this example, but this should provide an understanding on the format of a regular Tumblr post.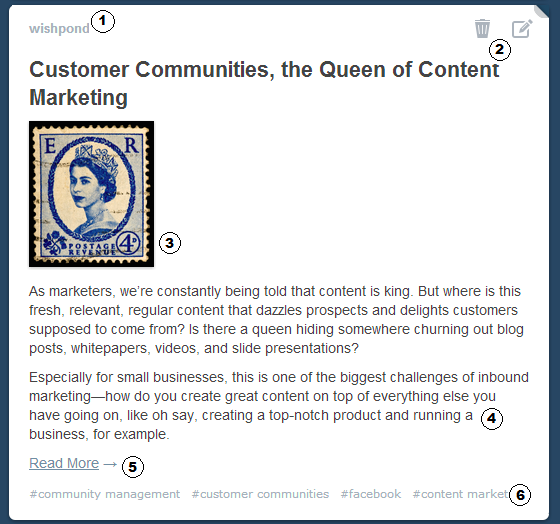 1 . This is the creator of the post. If the content is being reblogged from another source, it will look more like below:

2 . When you are looking at a post you have created, you use these icons to either delete or edit your post (in that order). If you are looking at someone else's blog post, the icons change to the following:

On the left, you can see the number of times the post has been reblogged. This normally shows up on all blog posts as long as there is at least one note. In the middle is the reblog icon.
Clicking this will bring up a new window where you can add new text, alter existing text, and append your own tags to the blog before you repost it. On the right is the like icon. Clicking this will make the heart turn red and the creator can see that you have liked it.
3 . While this is a text post, remember that pictures can still be manually added. More information about different post types can be found in the next section.
4 .The body of your blog post.
5 . This is known as a "Cut". When writing a lengthy blog post, you can insert a cut that will act as a page break for your post. When users see your post on their dashboard, they will see the "Read More" link that will redirect them to the full post. This prevents longer posts from flooding your followers' dashboards with walls of text.
6 . These are the tags associated with the blog post.
Setting up a comprehensive social media promotions campaign has never been easier. Take a look at Wishpond's social media promotions today and see it for yourself!
wishpond