Creating engaging Pinterest Contests are an amazing way to reach your market on the world's fourth largest social media network.
Contests create interactions, mentions and referrals about your brand. Referrals, interactions and mentions on Pinterest result in sales.
We wanted to give you a few tips on how to run a successful Pinterest contest.
7 Tips for How to Run a Successful Pinterest Contest:
---
Make the Pinterest contest easy to enter
Make the contest visually appealing
Make your sweepstakes prize appealing
Ask for a repin
Ask for contestants to create boards
Make your Pinterest contest mobile friendly
Cross-promote your contest through Facebook, Twitter and your website
1. Make the Pinterest contest easy to enter
---
It sounds simple, but if your contest or sweepstakes is easy to enter, more people will enter.
Create a pinterest sweepstakes that just requires an email to take part. Or, make it as simple as asking for a comment on the Pin.
Check out how Gilt Home has used this to Pinterest contest success:
A significant benefit of your contest is to gain more emails for future follow-up and CRM leads. It is also a great way to create brand awareness for your business. The more people who enter, the more your contest pin will be repinned.
Make your contest simple, and you will have more success.
2. Make the contest visually appealing
---
Pinterest boards are very visual. Keep your contest pins on Pinterest visual.
Check out how brands like Sephora make successful visual Pinterest contest pins: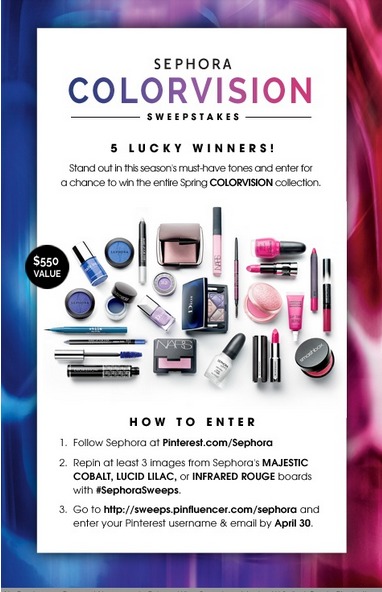 By using seasonal colours, and showing samples of their Spring collection, Sephora creates visual appeal. They are also very savvy in both creating engagement, and promotion of their latest products.
3. Make your sweepstakes prize appealing
---
Keep your target market in mind when you are developing the prize for your contest. The more appealing it is to your customer, the more entrants you will get.
You might give away a gift card, a guest blog post, a book, or even an experience. If your prize connects with your audience, you can create a referral frenzy. On Pinterest, referrals result in higher spending.
Check out how Etsy uses Pinterest contests to giveaway a branded gift card, and a book appealing to their market:
4. Ask for a repin
---
84% of Pinterest users time is spent repinning. Cater to this desire!
In your contest, ask entrants to repin it to win it. This not only gives what your audience what they want, it also gives you what you want: to spread your contest to their Friends.
5. Ask for contestants to create boards
---
If your contest prize is appealing, and you can invoke motivation in your contestants, ask your dedicated Followers to create their own Pinterest boards to enter.
Carnival Cruise Lines is brilliant in their Pinterest contest interactions. In their "Create a Winning Pin Board Contest", they ask entrants to make four boards with pictures of their dream destinations.
Not only does this spread their brand, through friends of friends on Pinterest, it gets contestants to actively think about their dream vacations, and share it with their friends. Carnival Cruise Lines becomes associated with these destinations.
6. Make your Pinterest contest mobile friendly
---
Mobile is quickly becoming the most common method to access social media. Make sure your Pinterest contests are optimized for mobile devices like phones and tablets.
An easy way to do this is to use a third party contest app, like Wishpond. Not only do we make your social contests easy to set up, are ready for mobile, we give you simple to use analytics and exportable CRM lists.
7. Cross-promote your contest through Facebook, Twitter and your website
---
When you run a contest on Pinterest, make sure you promote it to all of your social media networks. Post it to your Facebook page, tweet it through Twitter, and post a blog about it.
Using our social contest apps, you can even run a Pinterest contest through your Facebook, Twitter, website, blog, or a Wishpond hosted landing page.
Written by Krista Bunskoek @ Wishpond
The future of social is changing how we interact. Are you engaging digitally with your consumers? Wishpond social promotion apps make it easy. Get interacting with vote contests, photo contests, video contests and more on Twitter, Facebook, Pinterest and more.
Learn how to run a sweepstakes and many other types of contests and promotions.
wishpond