Email lead generation is still one of the most effective ways to gain sales. Using social media marketing to generate these leads is a win-win opportunity to increase your business ROI.
In this article, we will show you how to generate leads with email by using Facebook and Twitter contests.
Social contests – done right – make email capture simple.
5 Tips to Generate Email Leads through Facebook and Twitter:
---
use a 3rd party contest app
email-gate your social contests
make your contests enticing to enter
collect Facebook open-graph data
export emails and follow-up
1. Use a 3rd Party Contest App
---
If your goal is to generate email leads, using a 3rd party app makes your job a whole lot easier. Contest apps, like Wishpond's, enable you to collect entrants' emails, easily sort them, and even export them to your CRM of choice.
2. Email-Gate Your Social Contests
---
To get emails, you need to ask for them. By creating an email-gated contest, entrants must submit their email in order to take part.
In the example, below, Lookout Blizzard set up a Facebook Sweepstakes, and email-gated it. In order to enter, to win an iPad Mini, contestants must simply enter their email.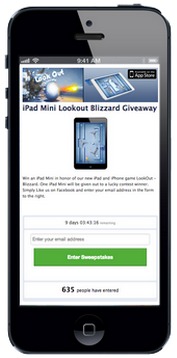 Lookout Blizzard can then use the collected email for future lead generation.
3. Make your Contests Enticing to Enter
---
Contests and sweepstakes are in themselves a good motivator to entice future consumers to give you their email.
To gain more success in generating email leads, create contests that are interesting and engaging for your target market.
In this hugely successful Twitter contest example from Diamond Candles, over 8,000 contestants entered to win their giveaway of popular candles.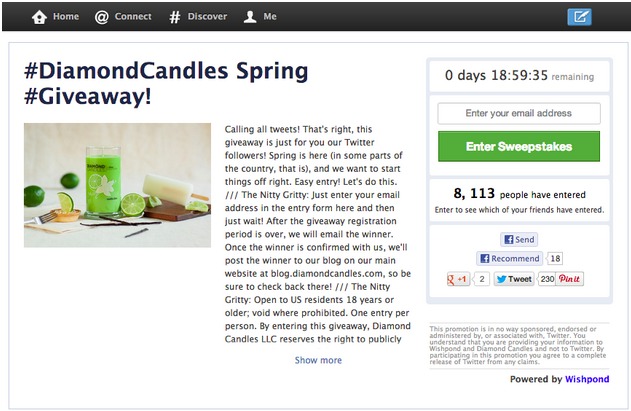 Ok, the team at Diamond Candles are marketing geniuses, and have created a frenzy with their candle giveaways….but their email collection in the process has been second to none. Create contests that fit with your consumer mindset, and your email leads will grow.
4. Collect Facebook Open-Graph Data
---
3rd Party contest apps, like Wishpond's Sweepstakes App, are integrated directly with all the rich customer data from Facebook's Open Graph.
In addition collecting entrants emails, you are able to collect more targeted information. Entering through Facebook, the contestant is asked to allow our app to gain access to their Facebook profile information.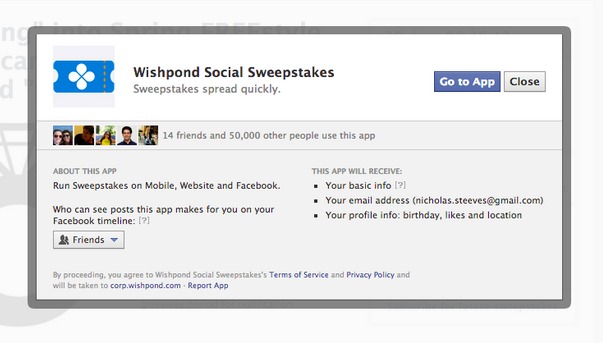 Wishpond apps lets you collect this information, such as contestants' birthday, likes and location. You are then able to integrate this into your email database system. Yes, using good 3rd party apps lets you have access to all of this customer information.
5. Export Emails and Follow-up
---
Not all contest apps are created equally. Some of the better apps, like Wishpond's (ok, I'm biased), make exporting all your email data easy. After your contest is complete, it's a few simple steps to export your email list, with the contestant data. Wishpond's Leads Database is compatible with most CRM systems, including Excel.
Generating email leads through social media contests is a smart new way to increase your sales potential. Let us know your marketing success stories.
Written by Krista Bunskoek @ Wishpond
The future of social is changing how we interact. Are you engaging digitally with your consumers? Wishpond social promotion apps make it easy. Get interacting with vote contests, photo contests, video contests and more on Twitter, Facebook, Pinterest and more.
wishpond