I've seen a lot of contests on Facebook. Some skyrocket, some do not.
To give you some inspiration, I've put together this list of 30 Facebook contest examples. The businesses that ran these contests range from multinationals to local shops and prizes vary from $25 – $4000.
I hope there's something here for every business, and if you still have questions, don't hesitate to reach out in the comment section below the article!
Let's get rolling.

1. Qwertee
---
Contest
Qwertee ran an incredibly successful Facebook contest. Entrants simply had to like their page and submit their email for a chance to win. They ran the contest every week to reach their goal of getting 100,000 total Facebook likes.
Note: Qwertee's campaign was run a couple years ago, before Facebook had their restriction on requiring people to Like your page to enter a promotion.
Prize
They remained true to their brand, and gave away 1,000 t-shirts every week.
They achieved their goal, and now have an incredible fan base of over 297,000! (Every time I check it, their fan base has grown.)
They're now marketing their t-shirts through other simple sweepstakes offers – all brand and product related. They hit their branding right and attracted motivated Fans, turned customers.
Note: All the Facebook contests in this article were run using Wishpond's Facebook Contest App. Just so you know.
2. Eggo
---
Contest
Eggo recently hosted a two part Facebook contest. The Great Eggo Waffle Off! begins with a recipe contest, with entrants submitting their best recipes for waffles. The second part is Fans voting for their favourite recipe.
Prize
The winner receives $5,000.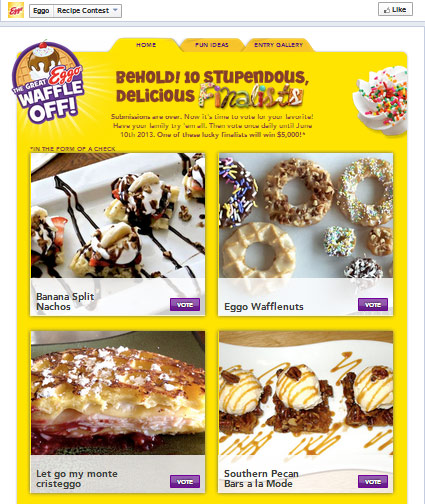 Okay, so the prize is not brand related. But the contest itself is. Eggo is asking their Fans for user-generated content – their own recipes – about their waffle product. Not only does Eggo get lots of photos of their product for their Facebook site, but with the addition of a vote element, Kellog's further extends its branding opportunity by both suggesting voters try each of the recipes (i.e. buy and use their product), and by sharing the voting with their friends.
Recipe contests like this are actually not that hard to create. They don't have to be expensive, either. Use a third party app to create an essay contest, or photo contest with voting, and you could run a contest just like Kellog's.
3. Diamond Candles
---
Contest
Diamond Candles ran weekly sweepstakes with entrants simply having to Like their page, and submit their email. Their strategy (what we call "Like-Gating") has been banned by Facebook since this contest was run, but you can still add a "Like-Prompt" to your Facebook contests. Learn more about that on my article How to Run a Facebook Like Promotion.
Prize
The prize they gave away was their product – candles.
In less than 6 weeks, they exceeded expectations for gaining an enormous Facebook likes base – generating over 30,000 new fans. Not only that, but they created a bit of a social phenom. Facebook pages have been popping up from excited Diamond Candles fans, and organic growth of videos showing excited customers getting to their ring are now abundant.
This is brilliant marketing, using Facebook contests to spread their brand.
4. Dove
---
Contest
Dove's "Real Beauty Should Be Shared" contest on Facebook hit the branding bullseye. They ran a fill-in-the-blank contest with photos. They asked their Fans to tell them why their friend 'represents Real Beauty,' by filling in their friend's name and two things that make them beautiful.
Prize
In keeping with their brand, they did not offer an iPad, or extravagant prizes. The winners will get to become the next faces of Dove.
This is a brilliantly-branded campaign. Not only does Dove get a real, genuine face for further in-store marketing campaigns, but their brand is further associated with real people sharing – making their slogan more than just words.
5. London Drugs
---
Contest
Canadian drugstore London Drugs ran a number of weekly, targeted contest. Entrants simply had to like the London Drugs Facebook contest page, and submit their email.
Prize
The prize was very brand related. They gave away gift cards of up to $500 in value, exclusively for their store. Gift cards are a fantastic way to ensure that your contest entrants are actually interested in your business' products.
Not only did their campaign result in a massive 600% increase in Facebook likes, but Facebook has become their #1 source of website traffic referral. By keeping their sweepstakes prize brand related, they are creating both brand awareness and brand loyalty.
Read the London Drugs case study.
6. Man of Steel
---
Contest
Man of Steel's Facebook Contest was a photo contest. Entrants simply uploaded a photo of themselves depicting how they are the biggest fan of all things Superman. Once the photo is up, there is a voting element.
Prize
The prize built excitement for the brand. The weekly winner was featured on the Man of Steel Facebook Page as 'fan of the week.'
By asking for fans' user-generated content of a Superman related photo, Warner Bros. is building anticipation. With the addition of voting, participants will be motivated to share their entry (and the Man of Steel brand) with their Facebook friends, to generate the most votes.
You don't need to be a multi-million dollar enterprise to run a contest like this. See how easy it is to make your own pre-launch Facebook photo contest, just like Man of Steel.
7. Mark's Work Warehouse
---
Contest
Mark's Work Warehouse ran a Facebook sweepstakes, teaming up with Cineplex' "Scene" program to give away 50,000 Scene Points (a year of movies). The simplicity and professional layout of this Facebook contest page help it to stand out from the crowd.
Prize
This was a great prize – not just "free movies for a year" for one lucky winner, but one of seven free movies and one of two $50 gift cards to Mark's store.
Tires Plus is not aiming to reach a massive global market. By keeping true to their brand and marketing it regionally, they attracted a relatively small number of local, loyal prospective customers. They could have given away a free iPad to get more people the Michelin man clock appeals to their loyal, handy-man type consumer.
This shows that even a company that sells tires can do something cool using social media.
8. Macy's
---
Contest
A recent Facebook contest, Macy's promoted their fitness clothing along with weekly fitness tips. To enter, contestants just have to 'like' their Page, and allow Facebook access.
Prize
The prize is a great fit – a $1,000 gift card from Macy's for a new fitness wardrobe.
The Macy's sweepstakes has general appeal and is easy to enter. They have created a whole campaign around fitness for the contest (including fitness tips and videos). This supports Macy's brand, as a broad-based, lifestyle enhancing retailer who is willing to educate its consumer.
---
Company
Wishpond makes is easy for business to create social contests and promotions, without IT. Our Social Marketing Suite is designed to empower businesses to attract, engage, understand and grow their customer base across mobile, social, online and local channels. Founded in 2009, our goal has always been to create online marketing tools for your business success. We have a team of experts ready to help with advice on how to run a sweepstakes or other types of contests.
Contest
We teamed up with design-platform Snappa and both companies offered a year of our complementary services.
Prize
A year of Snappa and a year of Wishpond's Pro Plan – total value was about $2000.
Co-promotions are a great strategy if you know a business who shares your target market (but aren't competing against). The benefit of them sharing the contest to their newsletter and you sharing it to yours means, essentially, you trade customers and contacts.
10. Sephora
---
Contest
Sephora's Sweet 15 Sephora, celebrates 15 years of a fashion partnership. They are running the contest on their Facebook Page. Entrants must complete an entry from for a chance to win.
Prize
The grand prize is a five day all-inclusive trip to Costa Rica, plus a year's supply of their Surf product.
Sephora's contest appeals to their hip, fashion conscious consumer. The grand prize of a luxurious and exotic trip, coupled with their surf product reinforces both their brand image, and their cosmetics.
11. Fatherly
---
Contest
Fatherly teamed up with Skinny Mom to run the perfect "beginning of the year" fitness contest. A seriously-professional header image, large headline and great prizes meant both businesses got a couple thousand new fitness-conscious contacts to promote their products and brands to.
Prize
Endless "Kind" bars, the latest Fitbit and a year's supply of Lululemon fitness gear.
This giveaway was advertised pretty heavily as well as promoted on a few high-traffic websites. It received 57,100 views and converted 86% of them (49,000 people) into prospective customers.
12. Chaguaramas Amusement Park
---
Contest
The Chaguaramas water and amusement park ran a Facebook contest to determine what they should name their new park. They asked Facebook Fans and local people what they thought would make a great name and gave the top-voted answer free entry and $10,000 cash.
Prize
A year's entry to the park for a family of four and $10,000 cash
You might be saying "I don't have 10,000 cash to give away!" and, normally, I'd agree with you. But think about it, this contest drove 3,457 entries. If even 10% of those people go to the park as a result of this contest (they hear about it's opening, they think about it next time they want a family day out, etc) and spend $60 for their family, the park makes $10,000 profit.
Do the math, it works out.
13. Cocoon Medical Spa
---
Contest
Cocoon spa teamed up with the Trans Resort to run a beauty holiday Facebook contest to attract people to their hotel and spa. This was a simple promotion, utilizing one of Wishpond's more basic Facebook contest templates: a high-resolution image and a few lines of text are all they needed to drive 233 new prospective customers.
Prize
Accommodation at the Trans Resort in Bali, breakfast for two, a spa treatment and transfer from the hotel – prize valued at $1,000.
This contest, like the one above, has a dollar value that might look higher than you're prepared to part with. But consider that the prizes are substantially more valuable to the Facebook contest entrant than they are to the runner. When something is valued at $1,000, that's the value put on it by the market. The value of this prize to the hotel and spa is probably more than $250, and then you have to consider that Cocoon can follow up with contest entrants and, if they convert 10% of them at a value of $100 each, they'll make $1,300 profit (even if the value really is $1000).
14. Gillie's Coffee
---
Contest
Gillie's coffee ran a simple holiday promotion exclusive to their Facebook fans. I love the holiday theme (if I had my own business I'd run a Facebook contest on every holiday as well as make up a few, and I'd run three during the Christmas holidays).
Prize
A chance of one of two prize packs containing one aeropress coffee maker and one 12 oz bag of their Bleecker Street espresso.
This Facebook contest got 2,274 entries – which is a lot, given that the prize was probably valued at about $25. The name of the game for this kind of promotion is simplicity and professional images. Run a contest like this one (with a prize which appeals to every adult) during the holidays, make entry easy appealing, and see what happens!

15. O-Cedar
---
Contest
O-Cedar drove a huge number of people to this page (if you look at the share icons, it got at least 900 social shares) and converted about 60% of them (a good conversion rate), totalling 11,168 entrants – this is for a prize valued at about $30. Just goes to show you that a professionally-templated Facebook contest with simple entry can do wonders, even with a small prize value.
Prize
10 "EasyWring" spin mop and bucket packs every day for two weeks.
The prize is the real MVP for this contest. They give away 10 prizes per day, which increases the chance of winning by about 14000%. This addresses, really effectively, the primary reason people don't enter contests: they don't think they can win. If you think you have a shot, you're far more likely to provide your details and enter.
16. Gyft
---
Contest
Simplicity at its very best, this Facebook contest from Gyft gives away a $50 gift card to Target. This contest was run primarily to promote the launch of the "Gyft" app, and the company ran several such contests.
Prize
A $50 gift card to Target.
274 people entered this contest, which means 274 people downloaded the Gyft mobile app (as "participants have to download […] to qualify of the draw.") In the early stages of an app's launch, 274 isn't a small number. And this was all down to a simple Facebook contest which probably took a Gyft marketer 30 minutes to create.
For more great ideas about running Facebook contest, check out 25 Creative Facebook Contest Ideas You Can Use Today.
17. Before + Again
---
Contest
This month-long promotion was centered around a weekly draw for a product (a top) and a final grand prize of a $500 shopping spree. It was centered around the Fourth of July, and is a great example of how businesses can run holiday-centric Facebook contests without, really, any solid tie to the holiday.
Prize
A Before + Again top and a $500 shopping spree.
896 people entered this simple contest which, like the one above, likely took a Before + Again marketer about 20 minutes to create. The top image, which shows the product as well as features the prize, would have taken a designer (or even someone who just knows a bit of photoshop) 10 minutes, the copy another ten. Not a bad return, in all.
18. Poof New York
---
Contest
This ugly sweater-themed holiday Facebook contest is a referral promotion, meaning that each entrant receives a unique "share URL." Everyone that enters the contest via that URL increases the original entrant's chance of winning by +1. This is a fantastic way to get your contest to promote itself, taking a lot of the load off your hands.
Prize
An "adorably ugly" Christmas sweater
What I love about a referral contest like this is that Poof can promote it to their Fans on Facebook to drive Friends of Fans to enter. And their product/target market works really with a referral strategy. Not every business will be able to reliably sell to "friends of friends." Poof's target market (young women) will likely share with other young women to increase their chance of winning.
19. San Churro
---
Contest
This is, technically, an essay contest. It requires entrants to share in 25 words or less what makes them happy. These quotes (what social media marketers call "user generated content") can be used by San Churro in social media posts, on product pages and landing pages for months to come.
Prize
A chance at two vouchers every day of the Facebook contest's run, as well as a grand prize of a year's supply of churros.
More than 3,800 people entered this promotion and gave their 25 words on what makes them happy. This is a huge supply of awesome quotes and testimonials that San Churro can use in the future.
I also like that they gave 2 vouchers away every day. Vouchers (like gift cards) ensure that people are spending money at your location. And, if they have a voucher, it's possible they'll spend more (a coffee, perhaps?)
20. Fairmont Hotels
---
Contest
The cool thing about this prize was that Fairmont enabled entrants to re-enter (increasing their chance of winning) every day, but no more. Having people return again and again increases their brand recall, so even if they don't win they'll be thinking of Fairmont hotels next time they make a holiday accommodation decision.
Prize
A seven night stay and a $400 gift card for spa, golf or dining at a Fairmont hotel or resort.
I really like the graphics here as well. If you don't have the money, or training, to use Photoshop, check out Canva, Google Drawings or PicMonkey – all of which are free.
21. Mark's Work Wearhouse
---
Contest
Mark's Work Wearhouse ran their "Wish It. Win It" contest a couple Christmases ago. They wanted to get valuable insight into what products they should stock up for during the holiday season, so they ran a Facebook vote contest focused around several products. Everyone who voted got a chance to win a $400 gift card to Mark's.
Prize
A $400 gift card to Mark's Work Wearhouse.
I can't overemphasize how gift cards are the best prize for retailers. I know they don't sound particularly sexy, but the dollar value makes up for that. And they mean that the only people who enter this Facebook contest are people genuinely interested in Mark's product line. After all, why enter to win a gift card if you don't want the company's products? This massively increases the return that Mark's can get from their investment here. They'll be far more capable of turning contest entrants into customers down the line.
22. Maine Cottage
---
Contest
Maine Cottage's "Share the Love" Facebook contest did everything right'
The contest was run around Valentine's Day
To increase entries, they ran a referral promotion.
Featured the dollar value of their prize front and center in their contest header image
Made it super obvious how people could enter with a three-step process.
Asked for the information they needed to convert Facebook contest entrants into customers down the line (address)
Prize
A $1,000 gift card to Maine Cottage.
Maine Cottage clearly put a bit more time and thought into this Facebook contest than a few of the other examples in this article. Their header image is professionally designed and they've put the effort into running a referral contest. Luckily Wishpond does a lot of the heavy lifting when it comes to getting a referral contest to work as you'd like. Tracking entries via a couple hundred unique URLs isn't easy, and I wouldn't try it at home'
23. Baby Box Canada and Vtech
---
Contest
This Facebook contest was built with the newest templates, which means that the contest runner was able to implement share incentive buttons ("+1 entry if you Like us on Facebook) as well as the countdown timer at the top. These two elements really set their contest apart from in-house promotions or contests run a few years ago.
Prize
25 baby monitors and a grand prize of 1 "Pan & Tilt Full Colour Video Baby Monitor" and a $550 gift card to Babies 'R Us.
What I love about contests like this one is that both these brands have the same target market, and every entrant to this promotion is directly within that target market. Absolutely nobody would possibly enter this contest unless they were expecting a baby or recently had one. That means that every email address submitted belongs to someone who both brands can effectively market to. No "I just wanted to win that iPad" entrants here.
24. Our State Magazine
---
Contest
Run around Valentine's Day, Our State Magazine (North Carolina being "Our State") gave away a fantastic package deal by teaming up with five distinct retailers and hotels in their area. The prize, valued at more than $1,700, drove 12,278 entrants. This was one of our top 5 contests from 2016).
Prize
A weekend stay at the Renaissance Raleigh North Hills Hotel, dinner for two at the Capital Grille, a massage at Massage Envy, 14k gold pendant earrings from Fink's jewelers and a $200 shopping spree at Peter Millar.
Let's say each of those five retailers gave between $200 and $500. What's their return?
Well think about it. I'm sure Our State Magazine shared the email addresses of its entrants. That means these retailers can follow-up with everyone and offer a 10-25% coupon for the next time they're in the North Hills area. If even 5% of this contest's entrants (614 people) buy something worth $20 they'll be making more than $12,000.
Sometimes contests are just a no-brainer.
25. Shop Latitude
---
Contest
Like Our State Magazine above, Shop Latitude teamed up with five other companies to create a truly awesome prize package. Package deals like this and the one above make these luxury Facebook contests far more achievable for smaller and medium-sized businesses. You get 100% of the benefits a $4,000 prize would normally get you, but you only give 25%.
Prize
A 3-night stay at Casa Malca in Tulum, Mexico, a $1,000 airline voucher, a $1,000 shopping spree and an "Elite Travel Membership" valued at $675.
This Facebook contest drove 5, 844 entries, a pretty significant number. It really shows off what can be done with a template; it might look like it was created by a developer or web design professional, but it's entirely possible that it was done by a marketer. The background image can be easily dragged and dropped, and the headline, form and footer are completely editable from the get-go.
26. My Sports Clubs
---
Contest
This is a super modern-looking contest, featuring multiple Call-to-Action buttons, a testimonial, clean and high-res images and a professional layout. This is what contests look like in 2017 if you know what you're doing and put the energy into it.
Prize
A year of free personal training with My Sports Clubs, with 143 locations in the Northeast of the US.
This contest had 7,680 entries, and that's, for sure, partially due to the beautiful design. A couple things I like though is the testimonial: there's no one less trustworthy than you when it comes to how awesome your business is, an a testimonial from a previous customer goes far to create trust, and the multiple buttons. With a slightly longer page, prospective contest entrants don't have to scroll back up to the top to convert, they can click exactly where they are.
You'd be surprised at the effect that catering to your visitor's laziness can have on your contest conversion rate.
27. Core24
---
Contest
Another modern contest, Core24 taps into the best practices of a countdown timer, clear dollar value and a contrasting CTA button.
The difference is that Core24 has included way more information about how their programs work than you'd normally see.
I like this because Core24 has a complex enough process that they need to explain the value of what they do. Without the added section, and despite the added reading, it's likely this increased their Facebook contest's conversion rate.
Prize
6 months of personal training.
The three videos at the bottom of the page are a great way to communicate way more info than you possibly could with text. Hearing from real-world clients is also a very effective way to create trust. Like the testimonial in the example above, candid reviews go a long way to communicate the legitimacy of your business.
28. UrDogs
---
Contest
People love to share pictures of their dog, so a Facebook contest centered around "the cutest dog" is a fantastic idea. And people love to show their friends their photos of their dog, so running it as a photo contest (where people win by sharing the contest with their friends and family and encouraging them to vote for their submission) makes it all the more brilliant.
Prize
1st Prize: $500. 2nd Prize: $300. 3rd Prize: $200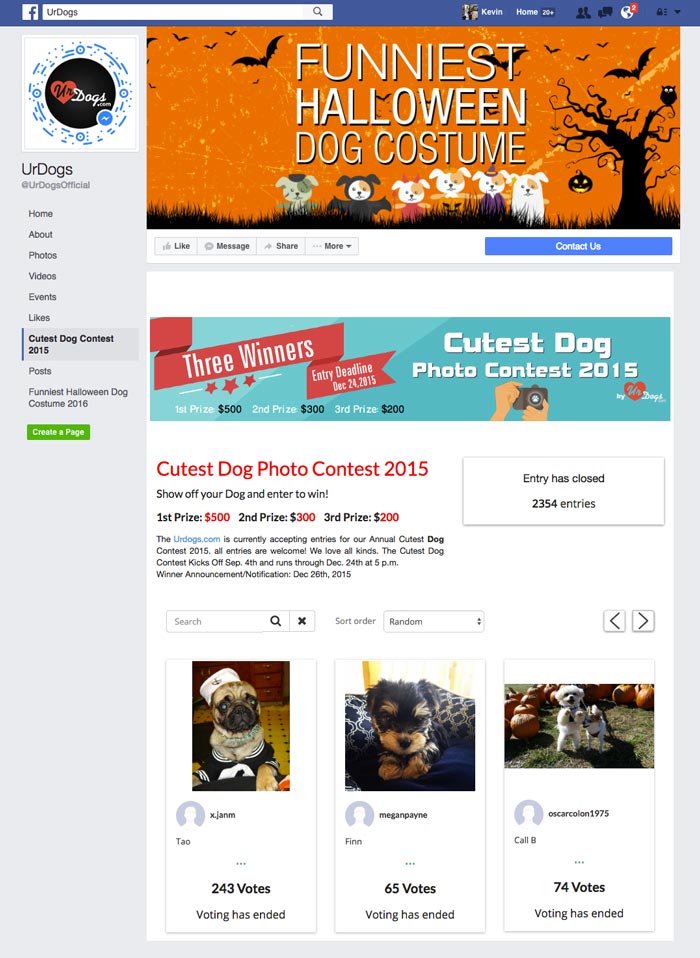 This contest got 2,354 entries, which isn't anything to stick your nose up at. The combination of photo contest and dog-focus drove the success of this promotion.
Normally I'd be screaming "Don't give away money!" at the top of my lungs, because people who enter aren't necessarily people you can actually turn into customers. But this contest got around that by requiring entrants to share a picture of their dog. If your target market is dog owners' we're covered.
29. Pacific Island Fitness
---
Contest
This is a beautiful Facebook contest page, though I am concerned by the prize. I like that they gave away a year's fitness subscription, but I'd be concerned that they also got a lot of entrants who only wanted the holiday.
They helped themselves a bit by giving all entrants a free 3-day pass to the gym in order to incentivize people to try out the gym, but even so, I'd be concerned about turning these Facebook contest entrants into clients.
Prize
1-year membership to the gym and a 3-day holiday getaway.
The design (including countdown timer and testimonial) is really good. The images are professionally-done and the layout is top-notch. Again, I"m a bit concerned by the prize, but it all comes down to Pacific Gym's ability to turn entrants into customers. If they have a really solid strategy in place, with an optimized and automated follow-up email drip campaign, who knows? Perhaps they'll be able to turn their high number of entries into a higher number of clients than a contest with just the free personal training. It's all about seeing the whole campaign and deciding what's best for your business.
30. SuperHeroStuff.com
---
Contest
Thanksgiving contests are a great holiday theme, boh because people are thinking about what they have to be thankful for as well as ramping up towards the Holiday season. You could run a "Get a start on the Holidays!" Facebook contest as well as (as SuperHeroStuff has done) a "What are you thankful for?" essay contest.
Prize
A "Hero Box Prize Pack" with superhero-themed merchandise.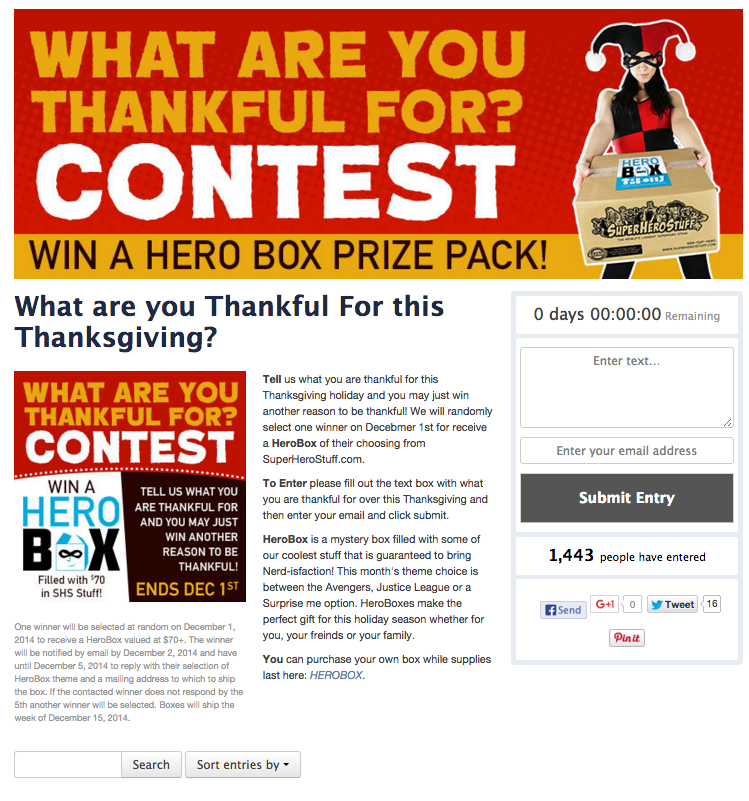 This Facebook contest drove 1,443 entries, all of whom were (by definition) interested in the products that SuperHeroStuff.com sells. They gave away one prize pack (probably valued at about $50) and were then able to turn a good portion of their new contacts into customers. This contest exemplifies the value of a social contest and its ability to drive real results, monetary results, for your business.
Conclusion
---
I hope this article has given you some helpful tips and examples together with original prize ideas! Also check out this article on The Top 5 Mistakes to Avoid When Running a Facebook Contest.
What do you think? Should you brand your Facebook contests? Do you think it'll make them way more appealing to your market? Let us know your branding tricks.

wishpond