How to Increase Facebook Likes: 10 Strategies, Ideas & Examples
Are you looking to increase the number of Facebook Likes on your business Page? You're in the right place!
The Facebook Like has taken a battering among marketing circles in the past year or so, but there are a few things which remain true, no matter what:
With 2 billion users, Facebook still comprises the largest collection of prospective customers in the world. Your business needs to have a presence on the platform.
Having more Facebook Likes is a symbol of your business' legitimacy, as well as giving you a platform to speak to customers and prospective customers alike.
A "Like" on your Facebook Page is not just a vanity metric - it signifies a real person showing interest in your business and wanting to learn more and hear more from you.
This article will give you 10 actionable strategies to increase Facebook Likes, both on the platform and off it.

Don't fret if you're just starting out. These methods apply to both advanced users and newcomers!
How to Increase Facebook Likes Off the Platform
You might be surprised to hear that it's actually easier to drive Facebook Fans from your website, email and blog than it is on the Facebook platform itself.
This is true for a very simple reason: You have significantly more traffic off-Facebook than you can possibly have on it.
And sending that traffic to Facebook can result in massive spikes in your total number of Likes.
Here are five actionable strategies to turn your website and blog traffic, as well as email contacts, into Facebook Fans...
Strategy #1: Increase Facebook Likes with Contests & Giveaways:
Facebook contests are the easiest way to get people excited about your brand, your products, and draw new users in to Like your Facebook Page. The lure of a big prize (one that's relevant to your specific target market) makes it an easy ask for your target customers to also "Like" your Page and become your Fan.
How does a contest get people to "Like" your Facebook Page and become a Fan?
Many people think that without the Like-gating feature (deprecated in 2015), contests are no longer useful in generating Likes, but that's not true.
A contest still engages users, educates them on your brand, and makes them want to gain access to win more valuable prizes down the road. And, while you can't require them to Like your page to enter, you can still prompt them to visit it.
Here's an example of a campaign which incentivized social engagement by giving additional entries in return:
---
Note: You can also host a contest or giveaway in a tab of your Facebook page, or on both your website and Facebook at the same time (just duplicate the contest page in Wishpond's contest builder).
---
By the way, even though Facebook no longer allows your business to require contest entrants to Like your page to enter, Instagram and Twitter have no such barrier. If you want Instagram followers, a contest is an awesome way to incentivize them!
Here's an example of a simple contest page which rewards people when they Follow your brand on Instagram and Twitter:
Strategy #2: Add Facebook-Like Call to Actions to your Blog:
Do you have a business blog? Most businesses do, even if it's just a place for you to report news or, periodically post an article. No matter what, I bet it has more traffic than your Facebook Page.
A great strategy to turn your blog readers into Facebook Fans is to add a popup or opt-in bar.
Here's an example of a popup which you can add to your blog. Set this popup to appear after 30 seconds (or 50% of the way down the page) to be sure your readers are engaged:
And here's an example of a blog footer which also prompts your readers to Like you on Facebook to get your blog articles:
A best practice here is to frame Liking your Facebook Page around the value to your readers. Consider value propositions like "To get our next article before anyone else, Like our Facebook Page!"
Strategy #3: Add social media icons to your emails
This is a super simple, but often missed, way to increase your Facebok Likes. And it takes no time to implement.
How many email contacts do you have? Even small businesses have a few hundred, and that number is constantly increasing as you generate blog subscribers, merchants or business leads.
Start using an email template (like the one below) which includes social media icons. Or, better yet, add a footer to your emails which prompts your recipients to Like you on Facebook:
Did you know?
This email, as well as the contest above and coupon below, were all created within the Wishpond marketing tool. Want to increase your Facebook Likes? We can help! Learn more at Wishpond.com
Strategy #4: Create a Facebook Fan-Specific Coupon
What's the value of Liking you on Facebook? What does someone get out of it.
It can't just be your awesome Posts. There has to be something in it for them.
That's where a Fan-Specific coupon comes in: something offered on your website (perhaps promoted with a popup or footer) which showcases the specific value of Liking you on Facebook.
here's an example of a Holiday-season coupon template which would incentivize someone Liking you on Facebook (and also give them a reason to buy from you around the Holidays). Creating something like this takes only a couple minutes with Wishpond:
Strategy #5: Ask Your Email Subscribers to Like your Page
As I said above, even an early-stage business likely has a few email contacts. Why don't you give them the opportunity to engage with you on Facebook as well as over email?
This is a strategy which can be used right when you're starting out (as soon as you create your Facebook Page) as well as down the line when you really start building your email list.
Here's an example of a Facebook Like prompt email sent right when you first create a Facebook Page:
Top Tip: If you're going to do another Facebook Like prompting email, be sure to exclude the people who received your first one. Segmenting is easy with Wishpond's newsletter tool, but just check your email platform has the capability.

How to Increase Facebook Likes on Facebook
Despite the many opportunities to turn your website traffic and email subscribers into Facebook Likes, once you've implemented those strategies you can (largely) set 'em and forget 'em.
Not so with increasing Facebook Likes on the platform itself.
The strategies which grow your Page's Fans are strategies you need to constantly remember, implement and consistently focus on.
This section will give you my top 5 strategies to increase Facebook Likes on Facebook itself...
Strategy to Increase Facebook Likes #6: Create Facebook Ads with the "Fan" Objective
You may have already experimented with Facebook Ads to drive traffic to your website or promotion. If so, you'll know how affordable it can be. Many social media marketers are realizing that they can actually get a better return on their investment by paying for Facebook Ads than spending all their time and energy trying to drive organic results.
But what about using ads to increase Facebook Likes?
Here's how to do it:
Step #1: Choose your ad campaign's objective. Select "Engagement" and then "Facebook Likes":
Step #2: Target people within your business' target demographic. After all, we want your Facebook Fans to be people likely to buy from you down the line, right? There's no point in getting a bunch of Facebook Fans in outer Mongolia if your business is a brick-and-mortar restaurant in Salt Lake City: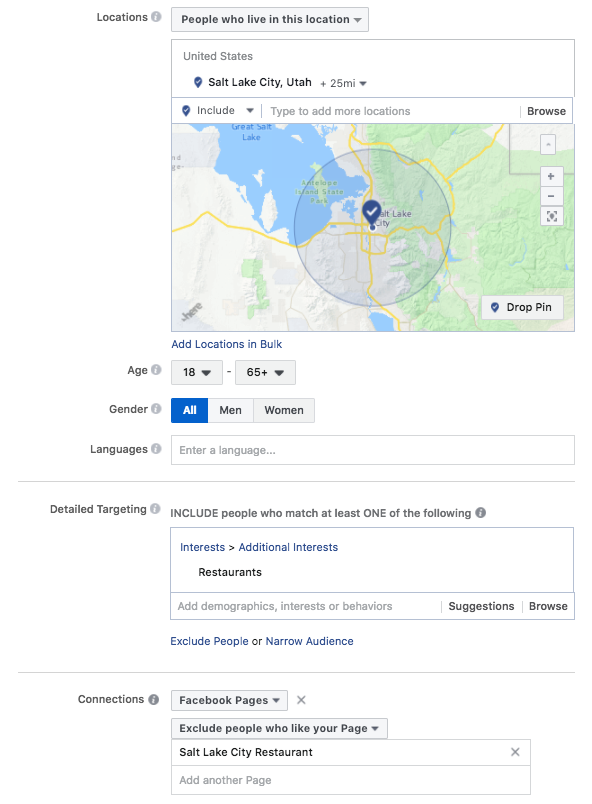 Note: Be sure you've excluded people who already Like your Page (at the bottom under "Connections."
Step #3: Check your audience size. Try to find an audience size between 100,000 and 500,000. For this first ad, set a daily budget of $20 and see how many Page Likes Facebook estimates you'll get per day. Increase budget as you optimize your ads: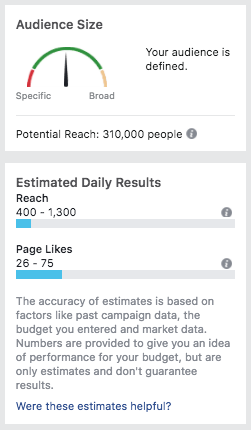 Step #4: Create your ad - Write a headline which showcases the value of Liking your business' Facebook Page and an image which makes your product or brand look desirable: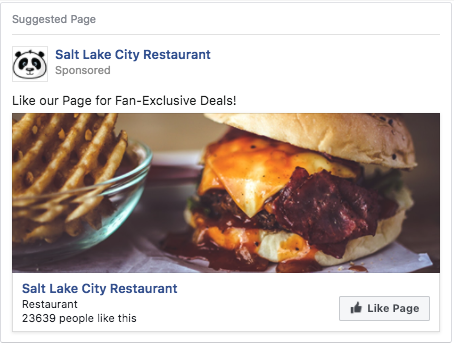 ---
For more on Facebook Ads...
Check out Wishpond's Complete Guide to Facebook Ads. It's totally free and comprehensive.
---
Strategy to Increase Facebook Likes #7: Create Content That Gets Shared (Without Asking for It)
Although "Create content that gets shared" seems like a simple enough strategy, it's not.
Creating posts which your Fans (and your Fan's friends) love is the #1 challenge facing Facebook marketers. You have to know your audience - know what they're thinking about, what they like, when they are most likely to engage with a post, how much they want to know about your products (and how little), and a dozen other little variables.
However, this post isn't about your getting more engagement, but rather increasing Facebook Likes. So what type of content gets shared with non-Fans, and drives those people to Like your Page?
Example #1: Posts based on what people are thinking about:
The number one best practice for creating shared content is to tap into what people are already thinking about. This could be anything, from the seasons to holidays, current events (though steer clear of anything overtly political unless you really want to take a stand) and even the day of the week.
Here's an example of a Facebook post from Walmart on International Women's Day:
Something to notice: Photos of your employees are also a great way to engage and showcase your brand's personality, and "candid" photos are even better.
Example #2: Posts from your community:
When you feature the images, quotes or video from your existing Fans or customers, you put them on the world stage. Get their permission to share their content then @ mention them in the post. They'll be likely to share their excitement about being featured with their whole social media network.
Here's an example of a Facebook post from outdoor retailer REI:
Example #3: Quotes
Quotes Posts are the type most likely to drive a Share from one of your existing Fans to a non-Fan. People love sharing quotes on social media, and they're an awesome way for you to reach a new audience (people who may be intersted in Liking your Page.
Here's an example from social media marketing tool Postplanner:
Notice that this post has 144 shares, significantly higher than Postplanner's average. Again, people like to share quotes more than any other type of content. And sharing (because it shows your Facebook Posts to non-Fans) gets you new Fans.
---
The reason I emphasize "without asking for it" in this section is because of Facebook's recent "Engagement Bait" ban, which penalizes Facebook Pages which ask for or prompt engagement of any kind. For more on Facebook's ban of posts which ask for a Like, Share or Comment, check out Facebook's "Engagement Bait" Ban: What It Is & What It Means for You.
---
Strategy to Increase Facebook Likes #8: Create and Post Video
In the past couple years, Facebook has pushed hard to compete with Snapchat and even YouTube - social media platforms based around video. As a result of this push, they give video a bigger boost on your Fan's newsfeeds than they do any other content type.
This is true of both Facebook Live video and normal video.
For instance, when we at Wishpond tested Facebook Live video, this is the graph of our engagement for all our posts over the course of a couple weeks. Guess which post was video?
Here's an example of a simple video from social media marketing tool Buffer:
Your Facebook videos don't have to be completely professional (though having good sound is important) - sometimes people will respond better to a candid, casual live video than a professional, studio-created one.
---
For more on using video on Facebook, check out How We Used Facebook Live Video to Grow Organic Reach 300% (+ 3 Bonus Case Studies).
---
Strategy to Increase Facebook Likes #9: Give Customer Support
Responding to comments and messages on Facebook from customers with support questions can be a great way to increase Facebook likes.
Doing this shows other Facebook visitors that you're helpful, your page is active, and that you're using social media as a platform to genuinely connect with your customers. Customers who have received good support, or who may need it in the future, will probably Like your page.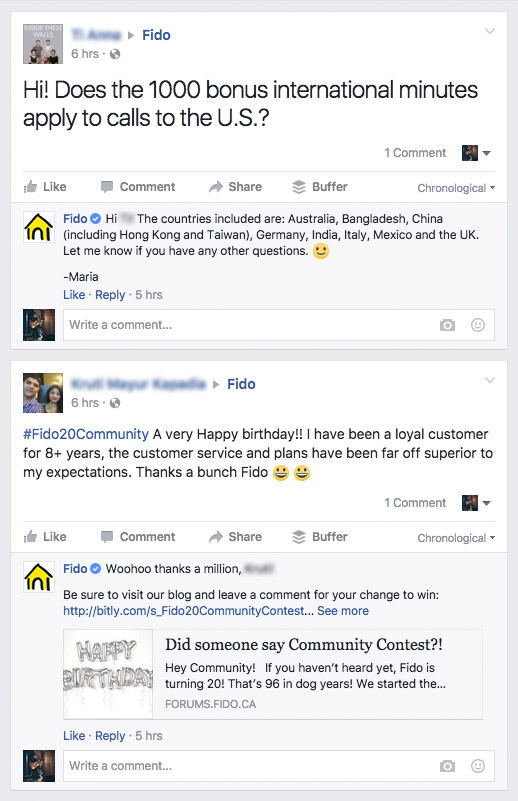 Strategy to Increase Facebook Likes #10: Post at the Right Times
This seems like a no-brainer, but I'm constantly amazed by the Facebook Pages who don't practice it: Post when your Fans are most likely to see your Posts.
How does this help you get more Facebook Likes?
The more existing fans who see your content, the more Shares, comments and post Likes you'll get. The more engagement you get, the more Fans will see your content. The more Fans who see your content, the more Shares you'll get. The more Shares you'll get, the more non-Fans will see your Post and Like your page.
There are a few different variables you need to be aware of here...
#1. Timezones:
If you're targeting all of North America or the US, remember that 50% of the U.S. population is in the Eastern Time Zone, and the Eastern and Central combined represent almost 80% of the U.S. population. However, if you're targeting your specific area, target your timezone (of course).
#2. When Users are Active:
According to Coschedule (who sourced 20 independent studies), the best time to post on Facebook is 1–4 p.m. late into the week and on weekends...
Saturday and Sunday from 12-1pm
Thursday and Friday from 1–4 p.m.
Wednesday at 3 p.m.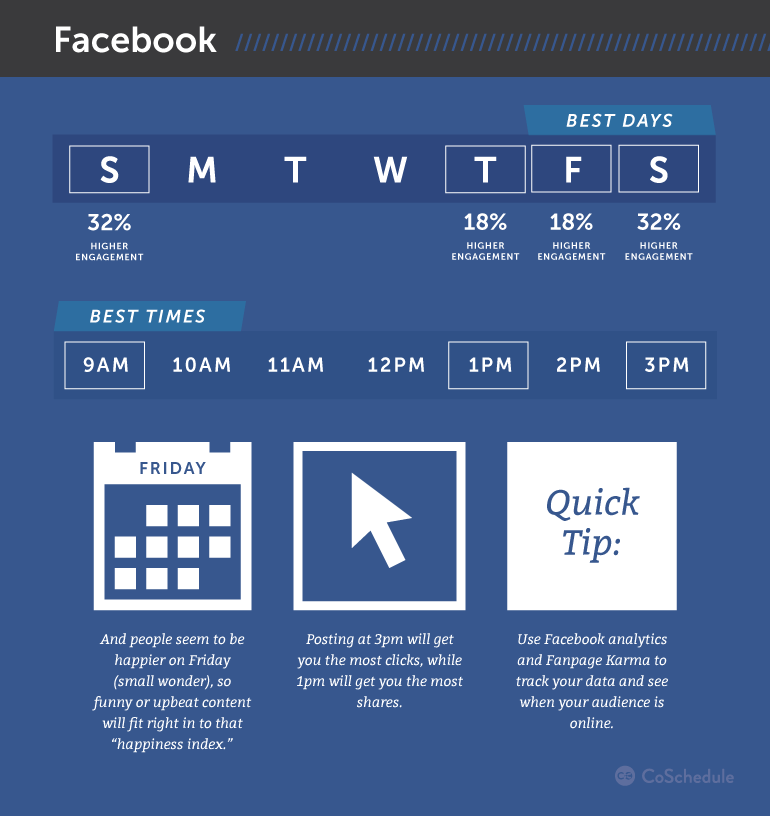 #3. Facebook Insights:
Taking advantage of Facebook Insights can help you connect better with your customers. Understanding the people who like your page - and the content that best resonates with them will help you shape your content strategy in the future, meaning you can optimize engagement.

Final Thoughts
Hopefully this article has given you a better understanding of how you can increase Facebook Likes.
Have you tried these strategies before? If you have experience you think our readers would benefit from, be sure to share it in the comment section!
Related Reading:
Ready to get started?
Wishpond's contest apps, popups and email tools make it easy to get more Facebook Likes. Learn more at Wishpond.com.