21 Ways to Create Amazing Facebook Posts to Promote your Products
If a person "Likes" your Facebook Page, it means they have an interest in your business and products. It means they're interested in seeing posts in their News Feed about your business.
Even with this opted-in "like", however, there is a delicate balance in promoting your business and products on Facebook. You don't want to be shouting about you and your products all the time. Yet, you do want to get your products seen, loved and sold. Your Fans like to be interacted with. They go on Facebook to 'hang out' with friends, and get cool news about their favourite brands and products. How can businesses like yours understand this to make better product posts and skyrocket their marketing success on Facebook?
I wanted to know this too. I wanted to know how the top brands on Facebook successfully post about their products, and to find out how companies with millions of Fans generate engaging, resonating product updates that are liked, shared and commented on by tons of consumers worldwide. So I took a look at the world's most popular brand Pages, analyzed them, and came up with a whole lot of brilliant product post methods.
Here are 21 awesome and clever product posts in 8 categories from the world's most liked Facebook Pages.
You can try them too.
Questions
---
Questions are a great way to create conversations with your consumer, and engage your Fans with your products.
There are lots of types of questions you can ask on Facebook. Here are five of the more common question types, with examples:
Facebook Post Formula #1: Product Preference
A product preference question asks your Fans to choose which of your products they like the best.
In this example, Walmart uses "product preference questions" to entice comments. They show images of two choices of products, and ask Fans to comment on which they prefer.
This is pretty easy to do, and if you can show your products in a fun way that relates to your consumer you can have a lot of successes with these types of questions.
Here's another product preference question from Xbox . This update shows four of their games, and asks their Fans which one they'll be playing this weekend. This is a not-so-subtle way to get their enthusiastic fans thinking about their product, and sharing these images with their friends. Gamers can be pretty passionate about their favourite, so sparring them off can generate a lot of Facebook likes, shares and comments.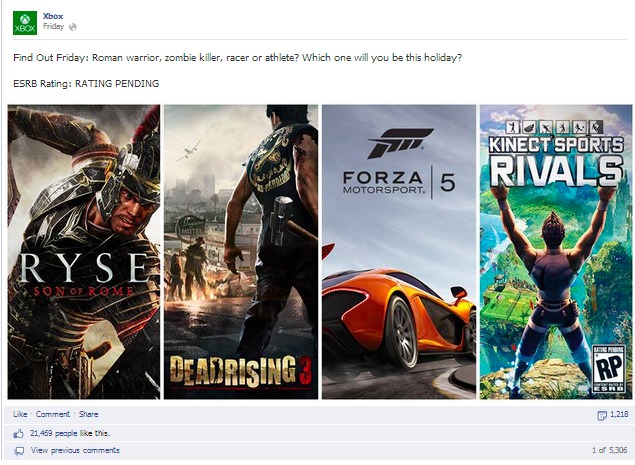 Facebook Post Formula #2: Fill in the Blank
A fill in the blank post is another question posts that's effective at getting your Fans to take part in your Facebook Page, and talking about your products. These types of posts are generally one sentence, with a blank line for your Fans to complete.
Here's a "fill in the blank" example from Coca Cola, using a branded image of a coke truck. They used an Instagram filter to give it a hot summer feeling.
Another example of a product post using "fill in the blank" comes from Disney. In this update, they are marketing their pins, in a way that resonates with their consumers of this particular product. Disney pin traders are clearly very passionate about their wares: this one fill in the blank post had gotten nearly 22,000 Facebook likes and close to 2,400 comments in one day.
Facebook Post Formula #3: Like vs. Share
A "like vs. share" post is a fairly straightforward way to engage your consumer, and get a lot of likes and shares. Create an image of two of your products, and make a "like vs. share" icon. Ask your Fans to choose their favorite product by either liking or sharing your post.
Here's an example from Walmart. They are promoting their NBA t-shirts during the NBA finals, by asking their Fans which of the two teams they support. Fans 'like' one choice, and 'share' the other. In just 18 hours, this post had over 21,000 interactions with their Fans.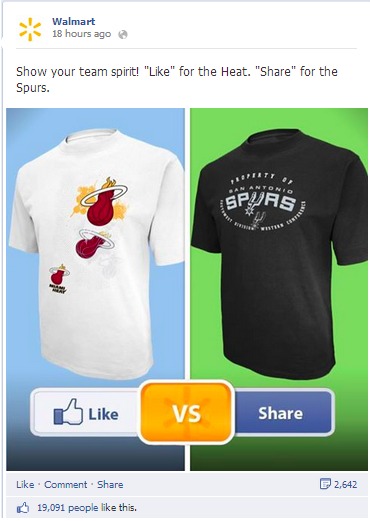 Facebook Post Formula #4: Polls
Polls are a pretty easy way for your Fans to engage with your Page. Polls about your products get Fans talking about your products. Ask a question, and give product choices as options.
In this example, Target asks "what's the official scent of summer?". The four choices they offer are all related to products they sell.
Facebook Post Formula #5: "Caption This"
A caption post involves asking your Fans to caption an image, or short video, you have posted. Use your product in your post to get people thinking and talking about your wares.
Here's an example from National Geographic, where they are asking their Facebook Fans to caption an image from a Photo Contestthey had run. In just 47 minutes, they had over 20,000 interactions with their Fans.
Photos
---
Photos are the most shared and talked about posts on Facebook. Posting photos of your product is good. Posting photos of your product in a creative way, related to you consumers' lifestyles and motivations is better. It shows that you are understanding your consumer a little more, and not just pushing your product out to them.
Here are four types of themes you could integrate in your photos:
Facebook Post Formula #6: National/ International Holidays
Incorporating images of your product with a national or international celebration can generate lots of Fan interaction.
Converse, for example, has used this tactic to promote their American Collection of sneakers on the Memorial Day weekend:
Facebook Post Formula #7: Product Specific Days
There's a lot of little known, pretty obscure international days of celebration. If you find some of these that relate to your product, use them! Hey, you never know, your market niche just might like to learn of them - and you can have a bit of fun promoting your niche product to them.
Check out how Oreo used this with "World Milk Day". _Yes, I'm still a bit sceptical this day exists too.
Subway also uses an obscure day, "National Eat Your Veggies Day" to promote their sandwiches:
Facebook Post Formula #8: Sponsored Events
If your business sponsors events, use this to post photos of it on your Facebook Page, and include images of your products.
Red Bull is quite brilliant at using sponsored events to promote their beverage. They post their events from around the world on their Facebook Page too:
Facebook Post Formula #9: Lookbook Photo Albums
Facebook's photo album feature lets you upload up to 1,000 photos per album. As a business, you would want to keep that to a more digestible number. But you can use photo albums to show a theme of your products. For example, if you've just received a new line of a certain product for the season - show cool photos of them in a lookbook-style album.
Zara used this formula to create a lookbook of their latest outfits.
Facebook Post Formula #10: Photos That Show a Product's Value or Feature
Not every post has to be something outlandish. Some posts can simply show a unique or interesting aspect about a new products you have to offer. Check out how Intelused a traditional-style advertising photo to show the thinness of its Ultrabook Convertible. This one post has gotten over 264,000 likes, and over 13,000 shares.
Include Calls-to-Action (CTA's)
---
A Call-to-Action can have the power to incite action in your consumer. Include CTA's in some of your product posts to get your Fans interacting with, and ultimately buying, your merchandise.
Many of the examples above include CTA's, to ask Fans to take a specific action. Here are two more examples.
Facebook Post Formula #11: Quotes with CTA's
A positive quote on a meme is a popular post on Facebook. Incorporate your product with inspiration, humour, or happiness with a quote. Post it with a CTA to share or like your update.
Nutella has used this tactic to "send a kiss to the one you love most". The meme includes an image of the Nutella bottle. The CTA is to share the post.
It worked, too. In just 3 hours, the post had over 8,000 interactions.
Facebook Post Formula #12: Videos with CTA's
Include a CTA with an embedded video, to tell your Fans to watch it, and then comment on it or share it.
Here's an example from Subway. They embedded a funny video made just for Facebook. The CTA encourages Fans to watch the video enough to comment on their favourite line from the dialogue.
Share Product Information
---
Consumers like to be informed about products. Most consumers get their product research online. Posting interesting facts related to and about your product can be a great way to get your product known.
When you're sharing product information on Facebook, you really want to keep the content visually appealing, entertaining and simple.
Here are two examples of posts that successfully share information in a Facebook kind of way.
Facebook Post Formula #13: How your Product is Made
Show how your product is made, and do in a very visually appealing manner.
Check out how Starbucks has shown images of its espresso product, in varying stages of its development. It shows it from bean to being packed, pulled and poured. This post has been interacted with over 128,000 Fans.
Facebook Post Formula #14: Trivia
Sharing small bits of trivia is a great way to get your posts liked, shared and commented on, through Facebook. Post a sentence or two of trivia about your product, or something related to your product, and include a visually appealing image.
In this example, Intel posted trivia about lobsters and related it back to their logo. It was liked by more than 264,000 people.
Videos
---
Videos are another interactive way to engage your Fans with your product. It's best to embed them directly onto your Facebook page, so your Fans don't have to leave the site to watch.
There are many types of videos you could post. Here are two types that get a lot of traction:
Facebook Post Formula #15: Exclusive/ Behind the Scenes Videos
Post videos that give your Fans exclusive coverage of an elite event that showcases your product. Or give your Fans video access to a behind the scenes look at your company products through a short video.
In this example, Burberry posted a highlighted video of its invite only menswear fashion show. In just one day, it received over 9,000 interactions. It shows its menswear product in tune with its brand, by keeping it elite, yet available.
Facebook Post Formula #16: Funny Videos
Humour goes a long way on Facebook. If it works with your products, making and posting short, funny videos can market your product well.
Check out this kind of ridiculous post by PlayStation. The video is titled "PS4 Instructional Video: How to share games with your friends". It is 22 seconds long. You can't see it in this image, but essentially, it starts out pretty serious about how to share games. Then, it goes to Step 1. What's Step 1? Hand the physical game to your friend. You've shared it. The video has had close to 7,000 shares.
Contests and Promotions
---
Facebook promotions are an amazing way to market your products and get people sharing about them. When a consumer enters your contest, many Facebook Contest Apps, like Wishpond, will send out an auto-post to your entrants Facebook timeline. This will show up in their friends' News Feeds, with a call-to-action for their friends to enter too.
Here are three types of Social Promotions through which you could promote your product:
Facebook Post Formula #17: Vote Contest
A vote contest gets your participants to vote on their preferred choice of your offerings. It can be used in many ways to market your product. Make the voting choices a range of your merchandise, and offer a product related prize.
In this example, Kit Kat asks their contestants to vote on their favorite new chunky flavours. Prizes include a trip for 4, and 200 other great prizes. This not only markets their new product, but it does so in a very interactive and engaging way.
Facebook Post Formula #18: Sweepstakes
Sweepstakes on Facebook give you the opportunity to market your product socially, and generate excitement about winning something from your company.
In this example, Skittlesis giving away the chance to win a Skittle bean bag chair, and other product related prizes. The sweepstakes is run entirely on Facebook, and promotes the candy in their posting about the sweepstakes.
Facebook Post Formula #19: Social Coupons and Deals
Who doesn't like a great deal? When you run social coupon promotions on your Facebook Page, you can generate a lot of interactions with your posts about it. Include images of your products that you are offering your deals on. If you offer a group deal, you encourage sharing, as you can set up the number of entrants needed for the group deal to happen. If your deal is a good one, your Fans will be eager to share this with their friends.
In this example, Target is promoting their new site for coupons and deals. The Facebook post is full of their products, to entice their consumers to visit and interact.
Hashtags
---
Just last week, Facebook introduced hashtags to posts. If you don't know what a hashtag is by now - it's essentially a word or two behind a # that makes a common discussion subject. They've been common practise on sites like Twitter and Tumblr for many years.
Including hashtags in your posts makes them a little more accessible, for a particular category. It can also generate a lot more interaction with other Pages and Fans throughout all of Facebook - not just with Fans on your site.
There are a number of ways you can use hashtags to promote your product. Here are two examples from companies who have already embraced this new trend.
Facebook Post Formula #20: Brand Name #hashtags
One way to use hashtags to promote your product related posts is to simply hashtag your company name. This works well to get both your company name shared, as well as your product images.
Check out how Mercedes Benz has integrated this new tactic in their Facebook posts:
When you click on the #MercedesBenz hashtag, it takes you to a streaming pop-up of all the posts on Facebook using this hashtag:
Facebook Post Formula #21: Sponsored Events #hashtags
You can use hashtags about events related to your product. If you are sponsoring an event, include it in your posts on Facebook. Make sure your hashtagged posts have an image of your products too - it's a great way to get them seen within your event you're paying for.
In this example, Monster Energy is using the #Drift3 and #Driftocalypse hashtags. This connects their Facebook posts to a larger audience than just their Facebook Fans. They could have done more to include an image of their energy drink in the post photo, though.
When you click on #Drift3, this pop-up is shown. This is a great example of how using hashtags can connect you with other Pages and potential Fans and consumers:
Conclusion
---
So there you have it, 21 types of products posts from the largest brands on Facebook. They are hugely successful, and if you try them out, you could be too.
What do you think? What methods do you use to get your products interacted with? Tell us about your product post mega-hits.
Related Reading: