According to a recent Forrester Research report, "70% of US online adults trust brand or product recommendations from friends and family". That same report indicated that 46% trust online reviews written by customers, but only 10% trust online ads and company written text messages.
What does this mean for you, as a marketer? You need to change your branded push marketing, and shift your strategies to be getting real, authentic positive customer feedback on your products and business.
Authentic reviews can actually be a better marketing tool than tons of creative pushed out directly by a company themselves. Real, authentic consumer reviews by family and friends can establish a trust and loyalty with your brand that all your one-way advertising cannot.
But, how do you get these testimonials? And, how can you get them to spread to friends and family?
Social sites like Facebook provide an incredible marketing opportunity. If you use Facebook well, you can market your products like never before, and get tons of sales.
Here are 4 Sure-fire Methods you can use to get great, authentic testimonials about your business, and make them seen by friends and family.
#1 Strategy to Get Customer Testimonials on Facebook: Video Contests
---
A video contest can generate tons of positive feedback for your product or brand; and it creates very authentic User Generated Content (UGC) from your customers, showing or telling the merits of you what offer.
According to comScore, video testimonials about your business, service or product can boost your marketing efforts by 19 to 25%. Getting your consumer to make their own video for you, and posting it through your Facebook is a very powerful marketing tactic for your business.
In a video contest, you ask your consumer to make a video and submit it to participate. You can run different types of video contests, depending on the types of testimonials you want to obtain for your business. You might want a product testimonial, or a service testimonial, or even an overall business testimonial. Make guidelines for what you are looking for from your participants, and your video testimonial types are endless.
The video testimonial you ask for could be as simple as a short 15 second webcam video about great service your company provided. It could be as complex as an edited video telling a story about how your consumer uses and loves your product.
Getting your customer to put in the effort to make a video can prove to have a high barrier to entry. To entice more entrants, give away a great prize with a large monetary value, or an exclusive sought after prize such as tickets to a sold out event, or a once in a lifetime opportunity such as a meeting with your CEO or a famous person. The better the prize, the more likely you will attract higher quality video entries.
You can add a voting element to your video contest too. This provides greater virality. Entrants will want to win by getting the most votes on their video, so they will share your contest and their entry with their friends on Facebook.
A video contest is actually not very hard to set up. On the technical side, if you use an easy third-party app like Wishpond, you can have a contest up and live on Facebook in under ten minutes.
In this example, PreSonus hosted a video contest on Facebook, to gain customer testimonials for one of their products, Studio One. They gave away a cool prize for their customers, related to their industry.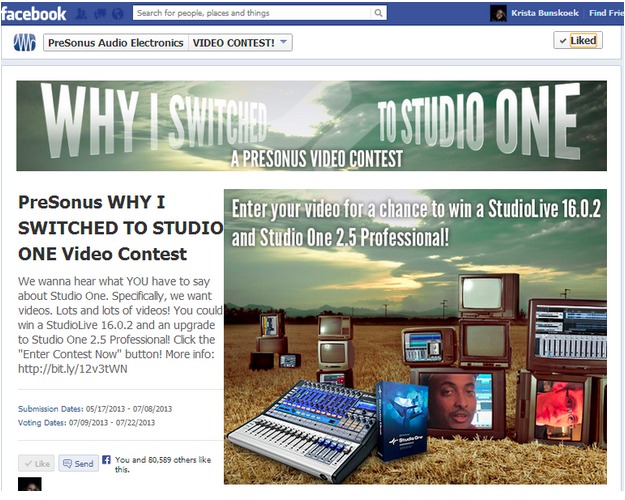 The result? They had nearly 40 entrants of passionate customers telling how much they love the product. You really can't buy more authentic, convincing marketing for a product.
Best Practices for Using Video Contests to Get Customer Testimonials on Facebook
Make your video contest guidelines clear
Have a great prize, or prizes to generate a lot of interest in your video contest, and make it worth the effort of your contestants
Cross promote your contest to your website, your social sites, and through email
#2 Strategy to Get Customer Testimonials on Facebook: Essay Contest
---
An essay contest gets your customers to write about your brand. Like a video contest, it can generate tons of UGC testimonials about your product, service and business.
According to Search Engine Land, "72% of consumers trust online reviews as much as personal recommendations." Asking your clients for written reviews of your product and having them post it on to your Facebook Page gives you authentic confessions that can add a boost to your product sales. A positive review from a real consumer can be incredibly beneficial to your bottom line.
In an essay contest, you ask your Facebook Fans to write about a topic. You can ask for positive comments on a new product you have, or a story about how your product has impacted their lives, or who they would give your product to as a gift and why. You could ask your customers if they have had a positive service experience in your establishment, and ask them to write a paragraph about this.
An essay contest can require as many or as few words as you like. Make sure you include this in the guidelines, so that participants do not think they have to write a 2,000 word essay to take part. Some excellent essay contests I've seen have been asking contestants for simple product testimonials in a sentence or two.
An essay contest can be a lot easier to enter than a video contest. But, you still want to make sure you have a prize for the contest than will induce the most participation, and to get entrants feeling good about your brand. Make your prize brand related. It you are asking for a product testimonial, make the prize an accessory of your product, or a gift certificate at your store.
Add a voting element to your essay entries, and your contest can become a very strong marketing tool. Participants will share their testimonial to get their friends to vote for them. Not only does this spread your contest, it markets your products with a personal online review to friends of Fans on Facebook.
You need to use a third party app when running contests on Facebook. Fortunately, third party apps, like Wishpond, also make essay contests super easy to set-up. As a bonus, using our pro plan, you also get real-time analytics to monitor your contest, and a social contact database with all the Facebook data from your consenting participants.
Best Practices for Using Essay Contests to Get Customer Testimonials on Facebook
Provide brand related incentives to enter your essay contest
Include a voting element to get the testimonials seen by friends of fans
Make the contest easy to enter, with an interesting theme, for greater participation
#3 Strategy to Get Customer Testimonials on Facebook: Photo Contests
---
Photos of your products or service can be worth a thousand words. Generating positive, authentic photos of your products on Facebook can also be worth thousands of sales.
Photos on Facebook receive 53% more engagement than the average post. Getting your clients to submit favourable photos of your products shows real people enjoying your product in real situations. This is kind of a modern marketers' dream come true – to have the ability to pull in a consumer so much that they are submitting bone-fide photos of themselves with your product to share on Facebook.
In a photo contest, you ask your Fans to upload a photo based on a theme you make for them. To get product related photos, for example, you could ask your Fans to submit their best images of your product in a particular environment or scenario. If you sell women's fashion, you could ask your Fans for their best photo of one of your clothing items at the beach. If you are looking for more service oriented testimonials, you could have customers take part by uploading their best photo of how happy they are when they deal with your services! You could even set up an in-store photo contest, where the prize is a product at your store. Contestants take a photo of themselves in-store of your product, to upload to your Facebook contest.
Photo contests are very popular on Facebook. You can use them to show your products and business in a positive light, and gain authentic customer images.
Most of your customers will likely have cameras on their phones that are super easy to share photos with. This makes a photo contest fairly easy to enter. It does take some creativity and action on the part of your entrants, so you do want to make sure you are giving a prize that will motivate the best entries. Give away a gift card, more products, a trip, or a brand related experience.
Like other customer testimonial contests, add a voting element to your photo contest. This encourages sharing to friends of your participants, which in turn shares images of your products. It truly is an amazing way to make a positive image of your brand go viral.
A photo contest is not hard to set up. On Facebook, you need to use a third party app to legally run a contest. Use a simple contest app like Wishpond, and you can have your photo contest up and running live in just a few easy steps.
Check out an example below from Beautiful Photo Props: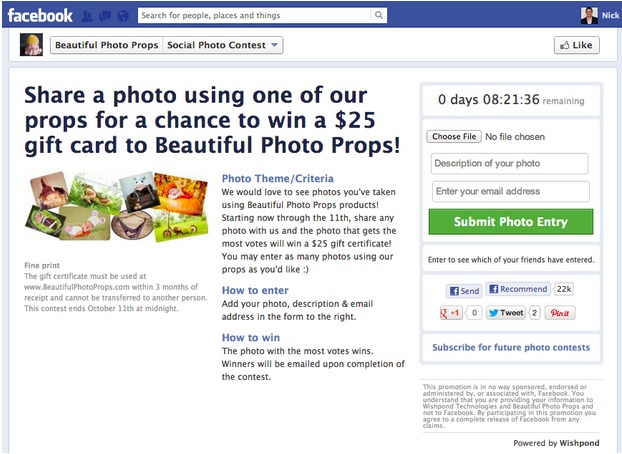 Best Practices for Using Photo Contests to Get Customer Testimonials on Facebook
Create a theme for your photo contests
Choose products that are easy to photograph for your photo contest campaigns
Include a voting element in your contest to get the images shared a lot
#4 Strategy to Get Customer Testimonials on Facebook: Photo Caption Contests
---
Customers on Facebook like to interact with you. Captioning photos is an easy way for your Fans to interact with your brand, and give you UGC about your products or brand.
A Photo Caption Contest is a contest where you post a photo or image, and ask your Fans to caption it. You can sort of think of a product Photo Caption Contest as a visual ad, with the ability of your Facebook Fans to interact with it and take ownership by creating a caption for it. A Photo Caption Contest asks for a few words, more wit and is all about your photo.
A Photo Caption Contest can be used in many ways. To gain authentic customer testimonials, they can be amazingly powerful in generating lots of customer engagement, and positive expressions about your products. For example, you can create a photo caption contest where you have an image of your product in a beautiful setting. Let's say you sell eReaders in your store. You could have an image of an eReader on a sunny palm-lined beach. Ask your contestants to caption the photo. Or, if you have a restaurant, show a great photo of your best-selling dish, and have contestants caption it for you.
Again, photos are engaged with 53% more than other posts on Facebook. You can use your own photos to generate even more engagement through contestant captions. These positive captions are customer testimonials that can spread your images even further.
Photo Caption Contests are very easy to enter. They require nothing more from your entrants than a keyboard, clever jocular, and a bit of motivation to comment on your product. To get the best UGC testimonials for your photo, make sure your image is an appealing one and offer a good prize for entering – even if that prize is just showcasing the best caption on your website and Facebook for a week.
A Photo Caption Contest is not hard to set up. You do need great images of your product, but after that the contest on Facebook can be live in minutes. Using flexible apps like those of Wishpond, you can monitor your contest, tweak it, and edit comments which you deem inappropriate.
In this example, Reviews42 (a shopping review site in India), hosted a photo caption contest. They asked Fans to caption a fashion related photo, with the prize being a coupon for the biggest online shopping site in India.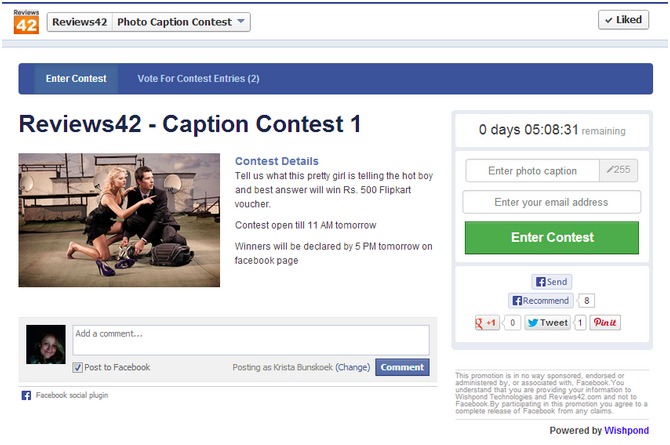 Best Practices for Using Photo Caption Contests to Get Customer Testimonials on Facebook
Use a great image of your product
Monitor your contest
Promote your Photo Caption Contest through Facebook ads
Conclusion
---
Modern day marketing requires genuine feedback from your consumer. Use the power of Facebook, social sharing and social contests to skyrocket your marketing success.
What do you think? Have you changed your marketing strategies? Do you engage with your consumer to get great customer testimonials?
wishpond