How to Use Incentives to Get More Fans & Followers
Do you want to get more Fans on Facebook or Followers on Twitter?
Good. You're motivated to get more Likes and Followers, but how do you motivate your consumer?
I know there are many sites out there where you can go and buy Fans and Followers, but even the thought of doing that makes my skin crawl. What's the point of all your social media marketing updates if all you're doing is posting to fake fans who really don't care about you and are never going to become paid customers?
You want to get more Facebook likes and Follows, but you you need to make sure they are real, authentic connections with your customers and potential customers. To get your actual prospective consumers to follow you online, you need to give them good reason.
Give people in your target market incentives to connect with you socially online, and they will. Get the right incentive, and use it effectively, and you could have tons of new Fans and Followers.
Here are 6 tips on how to get more Fans and Followers using incentives.
Choosing an Incentive to Get More Fans & Followers
---
The first step in getting more Fans and Followers using incentives is to choose motivational prizes that will resonate with your market. Generally speaking, the better your offer, the more takers you'll get.
Your offer needs to be:
One that your Fans can't refuse.
In keeping with the "ask" you want to achieve.
Related to your business, product or service.
Can you think of prize ideas that relate to your market? That's been a $64,000 question for marketers throughout the ages. It's important to think about your target markets. What do they want? What are their hobbies and lifestyle? Then match up what you know about your customers with an appropriate incentive.
If your customers are into surfboards, for example, make your incentive related to surfing and beaches. If your consumers are stressed out executives, make your incentive related to busy yet affluent lifestyles.
There are many ways to learn about your consumer through social. A few ways to do so is to:
Check your Facebook Insights for which posts get the most engagement
Analyze the Facebook likes of your current Fans
Check out the most frequent hashtags used by your Followers on Twitter (and check out your tailored trends)
Review your most retweeted tweets
Use analytical tools to track your consumers' behaviour
What is the objective of your incentive? How much effort from your consumer are you asking? Match your incentive with your ask. If you give too little of an offer, you won't get a lot of motivation, and you won't gain a lot of Followers. If you give too much of prize, for little effort from your consumer - you might gets lots of Fans - but you might also get lots of people not believing you, too (and online trust is important).
If all you want is a simple Like to your Facebook page, your incentive can be fairly simple, too. Your offer could be a low cost item, such as a free eBook, for example. If you are asking for your consumers to create their own video, and submit it to you via Twitter (and Follow you), then your incentive needs to create value for your participants to make this effort. Your incentive could be an all expenses paid holiday, or lots of video equipment, for example.
What can you offer that also markets your business? Ideally, your prize can also work to market your products, service or business image.
You want Fans and Followers who want to connect with you online, for you and your products. Don't choose a prize such as an iPad just because you know that it's an easy draw to attract people. If an iPad is not at all related to your business, you might attract more Followers - but they won't necessarily be interested in you. Choose an incentive that relates to your company's products or services, and you will gain more authentic Fans.
If you are launching a new product line in your company, use those items as prize. Give away a gift card to shop at your store. Make an exclusive discount offer of an item you sell for anyone who Follows you on Twitter, or Likes your Facebook Page.
Get all three of these right, and you're well on your way to getting more Fans and Followers.
Some of you may be new to social media, some of you aren't. Let's look at a few basic, but essential, social media terms next.
How to Use Like-Gating to Get More Fans
---
Like-gating means someone has to Like your Facebook Page in order to get something.
You can set up tabs within your Page that can only be accessed after a person has Liked your Page.
For example, if you have an upcoming webinar, you can get people to sign up for it through your Facebook. You can get them to Like your page as part of the registration process. You can do this with pre-recorded webinars too, or eBooks, or even newsletters.
Tip: When you use Like-gating, be sure to include Call-to-Actions (CTA's) in your Like-gated tabs. Include a clear CTA in your cover image too. Arrows pointing directly to your Like button direct your audience attention to the action you want them to take. Explain your incentive, too - you'll get more people following through and becoming your Facebook Fan.
Note: Like-gating itself is within Facebook promotional guidelines for a business Page. If you run a contest, sweepstakes or coupon offer, Facebook requires you to use a third party app. I'll discuss a few of these social promotions soon.
How to Use Follow-Gating to Get More Followers
---
Follow-gating is the Twitter version of Like-gating. A person has to Follow you on Twitter in order to get something from you.
Follow-gating is a bit different logistically, in that pretty much all of your Tweets are open to the public in the first place. Follow-gating can be done through third party apps (like Wishpond's). We can automatically Follow-gate a social promotion you run, so that anyone who enters your contest will also Follow you on Twitter. (We ask their permission for you.)
Ok, so now you know how to choose your incentive, and the basics of getting more Fans and Followers. The rest of the article focuses on how to apply your rock-star incentives to real actionable tactics, that will get you more Facebook Fans, and more Followers on Twitter.
How to Get More Fans and Followers Using Sweepstakes
---
Sweepstakes are some of the best ways to get more Fans and Followers. Why? The entry method in a social sweepstakes is easy. You can simply have participants Like your Facebook Page, or Follow you on Twitter. (You can even ask for an email to enter, too.)
As in a traditional sweepstakes, in a social sweepstakes, you give away a prize to one or a few or your participants. So, if your prize resonates with your market, fits with your ask, and promotes your business - you could have a home-run with social sweepstakes.
I've seen a lot of companies grow their Fan base at a phenomenal rate. Generally, the more successful giveaway campaigns have been those that are run frequently, and consistently. Let's take the example of Qwertee.
Qwertee makes and sells designer t-shirts. Most of their business comes from online sales. They have been using Wishpond's Facebook Contest App (yes, they happen to use our app) to run weekly sweepstakes on their Facebook Page. Their lofty goal was to reach 100,000 Fans by giving away free t-shirts every week.
They Like-gated their social sweepstakes. They made a great CTA image for the giveaway.
They now have well over 100,000 Fans, and they continue to host weekly sweepstakes.
A few keys to their success are that they gave a prize that their consumers wanted (their t-shirts), the prize was big enough to motivate Facebook users to Like them, and their prize marketed their product (t-shirts are what they sell). When searching for prize ideas try to follow the same route.
They Like-gated the offer. They made the actions required from participants very clear.
Additionally, by running frequent, consistent chances to win, their Fans got into the habit of entering, and they kept building momentum. (Any time a Fan entered their contest, our sweepstakes app automatically posted an invite to their News Feed, for their friends to enter too.)
To learn how to run a sweepstakes can prove very useful, since this type of contest can work to create lots of engagement and increase both your Facebook Likes, and your Twitter Following.
How to Get More Fans and Followers Using Group Offers
---
Another great way to get more Followers is to give discounts on a product you sell. Even better is to get your offers shared through group offers.
Coupons are very popular on social sites. Some of main reasons people Like a Page on Facebook is to get a good deal. You can use group coupons to get more Followers on Twitter too.
Let's take a look at the example of SMITE: The Game. SMITE is an online game with mythical gods as the players. They had a really strong Fan base on Facebook, but they wanted to bring more Followers to their Twitter.
They started running giveaways through Twitter. They Follow-gated it. In less than four weeks, they got over 30,000 Followers.
How did they do it? The offer they created was pretty ingenious. They gave a free 'skin' that entrants could then use to play in the online game.
Because it was a group offer, it could encourage entrants to share the offer with their friends on Twitter, to make sure the offer became valid. In SMITE's case, the offer went viral. They now have over 80,000 Followers on Twitter.
The key to their success was creating the right incentive to get the engagement they wanted to achieve. The offer was what their market wanted (a skin to play in their game), it was easy enough and motivating to get, and it promotes their game by encouraging their Followers to use their newly acquired tool (and then play more of the SMITE battleground).
How to Get More Fans and Followers Using Vote Contests
---
Using great prizes, and easy to enter contests - like vote contests - is another way to increase your Fans and Followers.
Vote contests are some the easiest types of interactive contests you can run. All they ask from your consumers is their opinion (and a Like or Follow, of course). People on social love to voice their views. As a business, you can capture this desire by asking your customers what they want.
Add in a great incentive like a discount of your product, or a free session of your services, and you could have a hit on your sites.
Let's take a look at vote contest success from a small, local business. The Studio is a local portrait photography studio. They wanted more Likes on their Facebook Page. They also wanted more engagement, and promotion of their services.
They ran a vote contest, featuring a number of their recent portraits of kids. They invited customers and others in their local community to vote on their favourite image. They Like-gated it. The prize they offered was a free one hour photo shoot.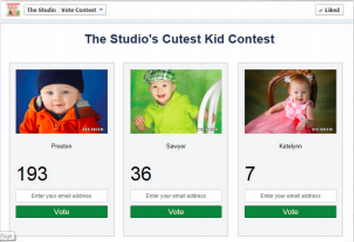 Their Facebook vote contest was a success, with over 1,300 participants - and new Likes.
Their prize (a free photo shoot) was motivating to parents who'd like to see their kids being the cutest, it was easy (and fun) to enter, and the prize was related to the business, as it was their services.
Additionally, because the participants were clients, and it was their children in the photographs, this created a lot of motivation to spread the word about the contest (and Like their Page). Participants told all of their family members and friends about the contest, so that their kid could be the Cutest Kid in town!
Bonus: User-Generated Content
---
Another brilliant way to get more Fans and Followers is to ask for User-Generated Content (UGC). UGC could be photos, text, photo captions, or even videos. If your arena is Instagram then you should think on how to get more followers on Instagram with an Instagram Contest.
Generally, to get this kind of content, you need to give a great incentive. For example, let's say you want to get more Followers by running a photo contest on Twitter. You'd want to create a theme for the photos (preferably related to your business), and ask your potential customers to upload them to you via Twitter. (Don't worry, there are contest apps that make this really simple for you).
To make this effort worth their while, give away a suitable prize. The prize should be irresistible to your consumer, motivating enough to get the photos, and related to your business in some way.
To make the contest really spread, add a voting element.
By using voting to choose your winner, you encourage way more sharing of your contest. Every entrant will want to get the most votes, so they will share their entry with everyone they know on Facebook or Twitter. Make voters Like or Follow you - and you'll have a lot of new potential consumers connecting with you online.
Conclusion
---
So, now you know how to get more Instagram followers, Twitter followers and Facebook fans, and maybe you have have a better overview on how to run a sweepstakes.
Here are a few more articles you might like to read to make your social promotion marketing even more successful:
Facebook:
Twitter:
Instagram:
What do you think? Have you used incentives to get more Likes and Followers? What would be a good prize from your business?