According to American Pet Products.com, pet owners spent a record $62.75 billion in 2016. Pets and pet related products are a booming industry.
So, if you have a pet store, or you sell products related to cats, dogs, fish, geckos, birds, hamsters – or any other type of pet or pet product – how can you use social media to better market your products? How can you connect with your customers online? How can you further keep engaging your clients using social media marketing?
Here are 7 platforms and 31 tips to improve your social media marketing for pet stores.

Social Media for Pet Stores: Facebook
---
Facebook provides a great platform for you to connect with many target markets. Most people these days are on Facebook, and many use it as their number one social site. It provides a great platform to connect with families, young people and even seniors.
Here are seven tactics you can use to add to your Facebook content marketing:
"Caption this" images – Images are the most shared, liked and commented on posts on Facebook. Images of cats (and dogs) are the iconic most loved images online. Use this in your social tactics. Use images in 'Caption this!' type posts. London Drugs used this on their Facebook Page – in 28 minutes, the update had over 35 comments, and over 30 other interactions.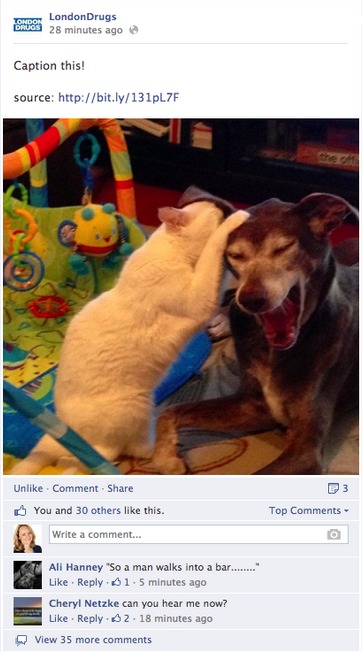 Questions about People's Pets – Get your Facebook Fans talking. Ask questions that your customers care about and can relate to. Questions are a great social media tactic in general, as they can begin conversations with your store, and create a community with your consumers.
Here are a few questions you could ask, for example:
What are 3 things you love most about your cat?
Did you watch Cesar last night? What was your favourite tip?
Have you ever had a goldfish? What did you have in its tank?
Embed Short Videos – Share videos with your Facebook Fans. Videos are becoming an increasingly popular method of sharing stuff on Facebook.
You could share how-to videos, or videos about your products. You could post videos about tips for feeding a gecko, for example; or tips for walking your dog.
If you make your own videos, create a Tab on your Page for them. This makes them easy to find and to watch directly on Facebook. Additionally, post your videos in a Facebook update. When you post them, make sure you embed the video (not just the link) – this makes the image the full size and your Fans can watch it without leaving the site.
Post Images of Your Products – from your customers – Deepen your connection with your customers – by giving them a bit of fame, and appreciation. Share their photos (that they let you use) of their pets and your products. This is quite an amazing way to gain real, authentic word-of-mouth type marketing.
Wag.com, for example, uses this tactic by sharing a Fan photo, mentioning her in the post, and linking the basket product to the basket's landing page of their online store.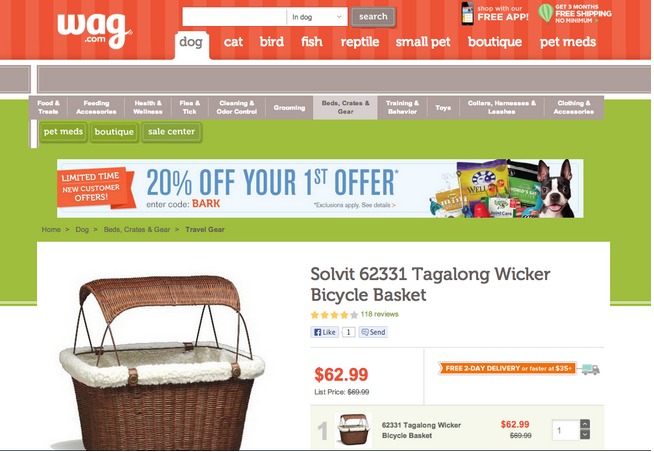 Hashtags – Facebook now has hashtags. Some social media savvy companies have embraced this, to great success. Hashtags let your posts get seen by more than just your Fans in their News Feeds. With hashtags, you can get your posts seen by more people searching for the word (or words) you have tagged.
For example, by including the #dogfood in a post about dog food, your post will come up in a Facebook search for it: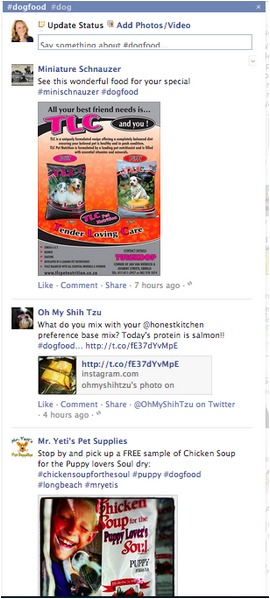 Exclusive deals – Offer your Fans exclusive Facebook offers, or group deals. This is a great tactic to get more people to Like your Page. It's also a great way to show that you appreciate your customers that connect with you online.
Here's an example from the Facebook Page of Bosley's Pet Food Stores. They are promoting their new store opening, by offering a discount to in-store customers.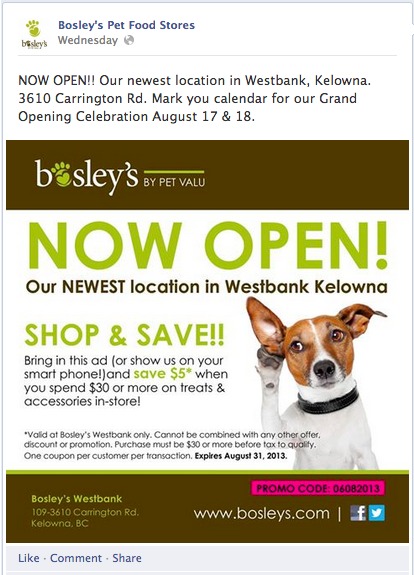 You could also make group discounts to get your posts shared more. For your group offers to be valid, for example, you could set a minimum number of participants. That way, your Fans will be inclined to share your offer with their friends (who are likely your target market too).
Contests – Photo contests, vote contests, photo caption contests, essay contests, and even video contests are all great ways to create greater engagement with your customers on Facebook. Contests are highly shareable content, and they can generate excitement around your brand.
You could, for example, host a photo contest on your Facebook Page to get the best photos of kids and their pet hamsters. Include a vote element to choose the winner, so that the photo with the most votes wins your incentive.
If you get permission, you could even use the photos for later promotional purposes.

Social Media for Pet Stores: Twitter
---
Twitter provides you with an amazing way to connect with your customers quickly, and personally. Some businesses have been using Twitter predominantly as a customer service outlet. But, Twitter can be used for so much more. It's frequently accessed through mobile, too.
Here are seven tips to add to your pet store Twitter marketing:
Hashtags – Hashtags are a big part of connecting on Twitter. They originally started as a way to create 'tweettalks', and provide a way for like-minded people to join open discussions on Twitter. Nowadays, they are very common, and almost an essential part of marketing to your niche on this site.
You can use hashtags in many ways, depending on your objectives. Here are two main ways to use #hashtags:
Use hashtags that your niche customers are looking for, such as #dogfood, #catclothes or #birdcages
Use campaign specific hashtags. For example, if you are running a contest, or other marketing campaign – use an original tag, so that all of your participants can connect through Twitter. For example: #bestpetcontest, #petsmartwin or #ilovemyfishwin
@Mention Your Customers – Connect with your customers by sending them tweets directly with @mentions. If you have a good customer who did something you want to thank them for, do it publicly through Twitter.
Offer Exclusive Deals to Your Twitter Followers – Like on Facebook, give your Twitter Followers exclusive deals.
Check out how Pet Smart uses this tactic, to give deals on their Twitter feed. The link is Twitter specific, and it directs the consumer directly to their online store. They make it a discount by providing a coupon code.

You could do a similar deal, by using group offers on Twitter. Customers simply have to enter your deal, they get the discount. When you have a minimum number of people who have to enter to validate the coupon, it encourages sharing of your deal to friends too.
Tweet Tips about Care of Pets – Tweet short tips on pet care. You can even link these back to your blog – to further elaborate on the tips.
For example, you could tweet tips about:
best fish food
how to calm a barking dog
how to cut your cat's nails
and much more
Retweet Pet Related Articles – Add a few retweets in your Twitter tactics.
You can, for example, retweet:
customers who mention you
leaders in your community (such as Cesar Millan)
articles related to pets and pet care
This Pet Smart rewteet is, well, smart. It is kind of out of the realm of just pets. However, they are appealing to the mother market, with tips about recipes and costumes and such for kids. Kids like pets, too, after all.

Tweet News about Pets – Twitter is a place for breaking news, and news of all types. Include a few news headlines that are related to animals.
Dog Time, for example, tweets about pet and other animal related news stories. In this example, they include an image of the deaf dog and blind dog that are now in a unique friendship. The story does pull at the heart strings, and this one tweet has 11 rewteets and 12 favourites.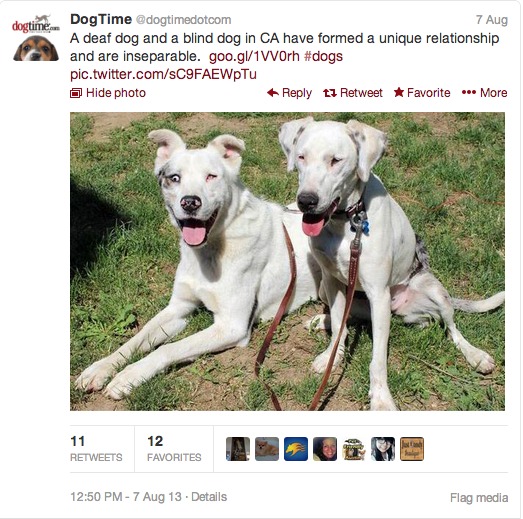 Include Contact Info in Your Background Image – An often overlooked tactic on Twitter is using your background image. Take the opportunity of this free space to tell people where you are, both online and offline. Include your contact information on the left hand side of your Twitter background image. Make sure it's readable (and not too big or too small to be seen).
Your background image is not clickable, but it is a chance to cross-promote your website, phone number, and other social sites people can connect with you.
Here's a great example from Wag.com: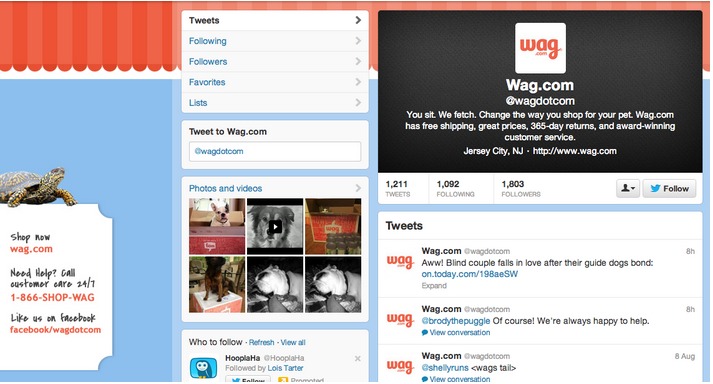 Social Media for Pet Stores: Blog
---
Having interactive components on your website is almost essential these days – if you want to drive consumer traffic to it. A basic way to engage on your site is to include a blog. Here are seven brief tips to make your blog more social.
Post Articles Regularly – When you have a blog on your website, and you want people to engage with it, you need to post consistently. _(Posting more often also helps your SEO.) _
Depending on your resources, you could post one article a week, or one article a day. Try to make sure you are posting, though, to keep your subscribers engaged.
Write Articles about Pet Care Tips – Your customers want to know how to take care of their pets. You have this knowledge. Share it with your consumers in blog posts.
Pet Smart, for example, writes articles about pet care. In this example, they have a seasonal how to about training your dog outside- even when it's hot out.

Write Articles about Animal Related Events – If there are events related to dogs, cats, fish, reptiles, or any other animals you cater to – write about them. For example, if your local aquarium is hosting a new tour for kids, you could write a short blog post about it.
Include Videos on Your Blog – You don't have to limit your blog to writing only. Embed a related video into your articles, to make them more exciting for your readers.
You could ask questions about the video, to generate engagement through comments on your site.
Include Visuals – Like on Facebook, and other social sites, include images in your blog posts. If you're writing about dog food, include an image of a dog eating food.
Run a Contest on Your Blog – To increase visits to your site, run a contest on your blog. This creates a reason for people to visit you, and not just your social sites.
You can run a:
And yes, Wishpond apps make it super easy to set up, manage and follow-up.
Make a Monthly List of Topics – When you have lots of other social media marketing to do, it's good to be organized! Every month, list our your topics for the month. Determine how many posts you'll do and what you'll write about. Blog posts don't HAVE to be really long or extensive.
You could even get your staff to contribute (and appreciate them by letting them show off their knowledge!).
If your purpose is to create engagement, then make your topics fun, informative, and interactive. Ask questions and create a conversation with your customers online.
Social Media for Pet Stores: Other Social Sites
---
This blog post is not long enough to list out all the other social sites and tactics you could use for marketing your pet store.
I'll just briefly mention a few:
Instagram – There are tons of ways to use Instagram in your marketing. Tons of your customers use this photo networking site regularly.
Run a photo contest , or make a unique hashtag to get pet owner Instagrammers to share their photos in one stream.
Integrate with Facebook , with a tab, like Cesar Millan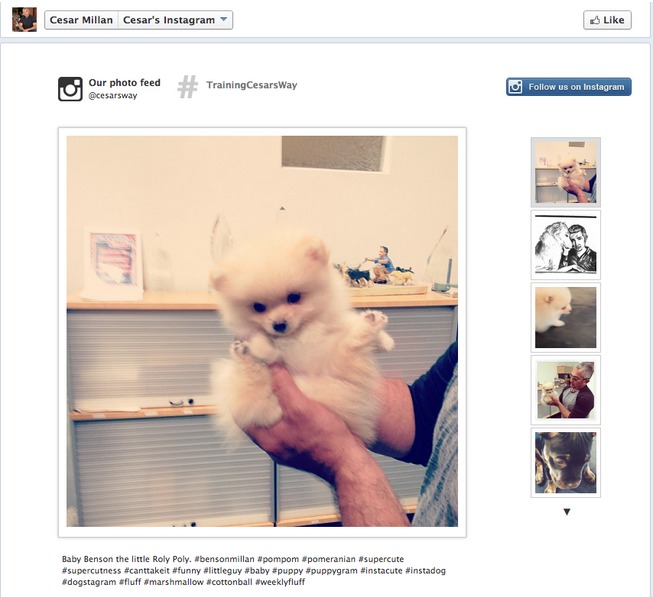 Pinterest – Use Pinterest to engage your market.
Create boards about lifestyle, and your product.
Pet Smart on Pinterest is a great example of how to use Boards well: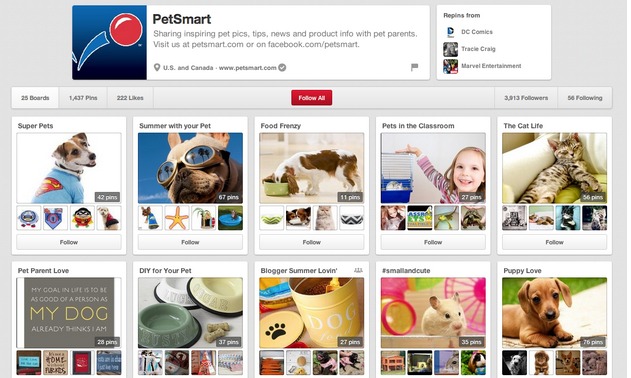 Include prices, and use hashtags.
YouTube – Make your own videos, and upload them to YouTube. Depending on your resources, and your brand image, you could get professionally made videos, or make them on a budget.
Make videos about how healthy your pet clients are.
Make videos on how-to take care of your dog, cat, or other animals you serve.
Tumblr – Tumblr is very popular with people under 25. Use the site to connect with this demographic.
It is a very visual site, so post lots of images.
Use hashtags to connect to group dialogues.

Conclusion
---
This is by no means a comprehensive list of how you can use social media to market your pet store and pet products. I hope that it has given you some helpful hints, and has begun to get your own creative marketing juices flowing.
What do you think? Do you market for pet stores? Have you used social media to develop your own 'pack' of pet parents? Do you have more tips to share?
Check out our complete guide to local marketing for more local marketing strategies.

Related Content
wishpond