6 Small Business Facebook Posts: Critiqued with Tips for You
Are you a small business using Facebook? Do you need more engagement on your Facebook Page?
I took a look at Facebook posts from socially savvy small businesses. Each of these small businesses use our Social Marketing Suite. Each post highly-engaging content every day.
In this article, I'll show you six specific examples of great Facebook posts from these businesses. I'll give you actionable tips you can use to improve your own engaging Facebook content.



Tweetable Tips
---
(click to tweet)
---
1. eReader Nation - Literary showdowns to increase engagement
---
Controversial face offs can incite your Fans to comment on, Like and share your posts. Use brand related showdowns to get people talking about you.
Here's an example of a literary duel post from discount ebook seller, eReader Nation:





What I like:
Passionate choices - The post works well, as their readers are likely passionate about one over the other - Harry Potter vs. Lord of the Rings. Generally speaking, the more emotional, or even controversial, you can make "This vs. That" type posts, the more interaction you'll get.
Brand related - Choosing two well known literary characters connects their products with their market.
Concise wording - The update is short, simple and to the point. This makes it easy to read on Facebook.
Good images - The images they chose show the two characters in similar poses - making it a fair 'fight'.
Things I'd change:
"Like vs. Share" post - Make the post even easier to engage with, by making it a "Like" for Gandalf and a "Share" for Dumbledore. The simpler it is to engage, the more participants you'll get. With a "Like vs. Share" post, Fans can quickly see which choice is winning - if their favourite is lagging, they'll likely share the post to get their friends to vote too!
Two paragraphs - Make the update two 'paragraphs', by putting the two sentences on different lines. This would make the update CTA more clear, and entice more people to participate.
2. Lazy Pants - Make your customers famous
---
Make your customers famous by posting their photos on your social sites. Give them their 15 minutes of fame, and you'll look like a cool company that values the people that like your stuff. You'll gain a lot of consumer loyalty, too.
Lazy Pants (who sell sweatpants) integrate their Instagram with Facebook by asking for photos from people wearing their product. Here's an example: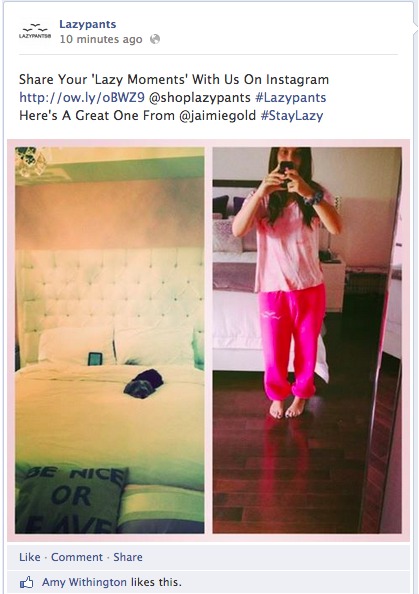 What I like:
Real photos - By asking customers to share photos of themselves wearing their product, they get real photos that connect with their buyers.
Appreciates customers - Making your customers famous is a huge shout out and shares the love with the people who buy your stuff. It's a cool way to appreciate their loyalty.
Integrates social platforms -This post is great, too, because it integrates both Facebook and Instagram. This kind of cross posting can increase followers on both sites.
Campaign specific hashtag - With a photo-sharing campaign specific hashtag, they're creating a community of people who like their product and want to share their photos together. (The #staylazy hashtag has 422 posts on Instagram.)
Things I'd change:
Offer Incentive - To get more UGC, they could offer an additional prize (aside from the chance for fame), such as a discount on their next purchase.
More consumer engagement - They could add a vote elementto their chosen photos, to get all of their Fans engaged with a weekly winning image, for example.




3. Le Cig - Funny, crazy videos
---
Videos are some of the most viral content online. Funny, short videos can go a long way to connect with your consumer, and have the potential to get shared a lot.
Electronic cigarette provider, Le Cig, embedded the following funny video in a post on their Page: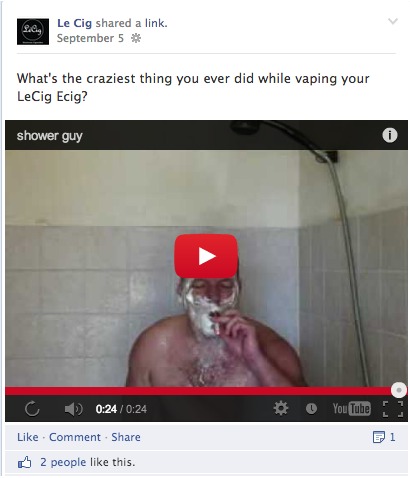 What I like:
Clever product promotion - They're not overtly selling their product in the post, but they are showing zany ways to use it.
Short and funny - The video is 24 seconds in length, making it easy to watch on Facebook. It's also funny, crazy and kind of offbeat - which would appeal to their market.
Asks a "you" question - The update tries to engage, by asking a personal question with "you" in it. They ask Fans for comments about their own experiences with their product.
Embedded - Fans don't need to leave Facebook to watch the product promotion, as the video is directly embedded into the update.
Things I'd change:
Use Facebook Insights - This post only has four interactions. They need to check their engagement rates by using Facebook Insights (or other tools such as Facebook EdgeRank) to improve posting strategies.
Use Instagram or Vinevideos - People know that Instagram videos are only 15 seconds long - and they may be more willing to view and share the post.
Hashtags - They could turn craziest into #craziest to get their post seen in that hashtag stream, and ask for more engagement.
More Call to Actions (CTAs) - In addition to comments, they could increase the posts' reach by asking their Fans "Like if you laughed", or "Share if you want to do this".
4. June Designs - The customer shout-out
---
Make the effort to find mentions of your brand. Then use Facebook to appreciate your customers who've mentioned you.
Here's an example of how Esty store, June Designs, mentions customers who mention her, by giving a customer shout-out: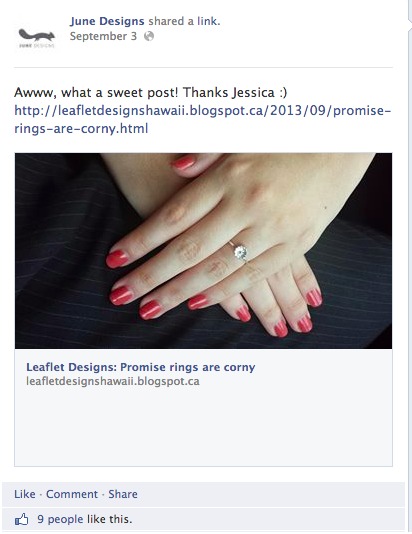 The link is to a blog post mentioning the shown promissory ring. The customer gives rave reviews for June Designs.
What I like:
Customer shout-out - The post shares a customer's product review on an unasked for blog post. There's nothing better than a customer recommendation to instill confidence in your future customers. It also gives a nice shout-out to the customer.
Shows care for customers - The post thanks the customer in a very personal manner, showing customer care.
Great product image - The product is showcased tastefully, and being worn by a real person.
Things I'd change:
More detail - She could make the update more detailed, with a brief summary of the linked blog post, so Fans are more enticed to click through. Include "Thanks for the sweet story, Jessica (and the rave review)…"
Lose the link - Delete the link in the update, as it shows up post anyway. (Delete it after you've inserted it into your update.) This would make it more reader-friendly.
Tip: Set up brand monitoring to find out if your name or brand or products have been mentioned. Use Google alerts, Twitalyzer, or other brand monitoring metrics, to track your brand.
5. Beginner's Oil Painting - Practical tips
---
Consumers like to be educated about your products, services and related lifestyle tips. Posting practical tips related to your brand is a great way to with your market, without directly selling your product.
Beginner's Oil Painting, who provide online courses, uses "Tips of the Day". Here's a recent example: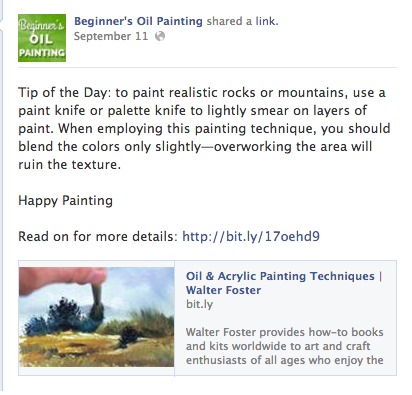 What I like:
Informative - The post summarizes the essence of the linked blog post. People can quickly get the jist without leaving the site, and it provides a teaser for those who want to learn more.
Other people's content - The tip links to other people's content about oil painting. This is a great practise in social media marketing - and adheres to the 80/20 posting rule. (In social media, post 80% informative and relationship building / 20% your product and sales.)
Personable - The update is written in a personal tone, and wishes people "happy painting".
Things I'd change:
Add tracking code - They are using a bitly link in their post. They could include a utm tracking code if they use the same link from other social sites, to determine their best click through rates (CTR).
Create a community - They could create more of a community, by asking their Fans for comments about the tip, and what additional tips their Fans might have.
Questions - They could get their post seen in the newsfeeds of friends of their Fans by asking people "Was this tip helpful? Like it", or "Learned something new? Share".
6. SIPP Soda: Keeping it local
---
If you're a small, local business, you want to connect with your geographic locale. Facebook has some pretty cool tools to target your specific regional market. Make sure you use them.
Have a SIPP makes and sells sparkling organic beverages. Their core brand is about eating local, and being local. Here's an example of how they keep it local, by posting about their product events: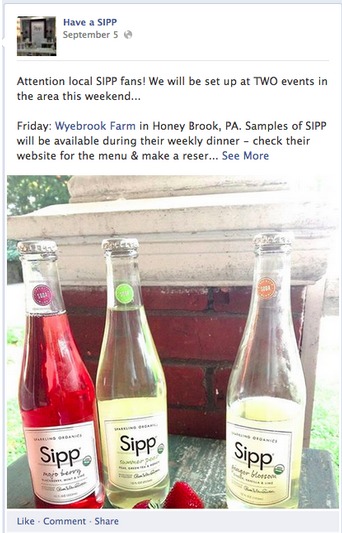 What I like:
Great image - The full sized photo makes the product look local, natural and appealing.
Cross links with partners - The update links to the event locations' Facebook pages, and those Facebook pages promote the event too. This is a great way to increase the marketing for the events, and further develop partner relationships.
Uses Facebook to promote local event - Facebook can be a smart, inexpensive way to get the word out about a local event. Local events are also in keeping with their organic brand.
Friendly tone - The update is written in a very friendly, inviting tone which connects with their local market.
Things I'd change:
Hard to read - They should reduce the wording on the updates. Post the events in two separate updates, and keep the count to under 225 characters. This makes it simpler to read, without Fans having to take a further step to get your message. It also makes it more mobile friendly.
Clearer CTA - Make the CTA more obvious. Start with "Are you in the Honey Brook area? Join us this Friday at Wyebrook Farm (link) for samples of SIPP… Book your seat now for Wyebrook's weekly dinner of local freshly grown products."
Create a geo-targeted "Event" - It's easy for businesses to set up an event, and target by location, in Facebook. When making a post, simply click on "Offer, Event +", click on "Event", and then fill in your information. The "Add Targeting" dropbox lets you target your post to Fans in a particular location, and more. The event feature also shows how many people are attending your event, creating a feeling of community online.



Suggest "attend with friends" - They could ask for people to share the invite with their friends if they're planning to go. This gets the posts seen in the newsfeeds of friends of their Fans - and may get more people out to the event, too.
Conclusion:
---
Whether you're a growing small business, a single person entrepreneur or even a larger company, I hope you've been able to learn and be inspired from these Facebook post examples.
Always be thinking about how to engage your target market, create an online community, and subtly sell your product or service.
Here's a few more articles on Facebook Marketing to read:
Wishpond's Facebook Contest Apps make it easy to create sweepstakes, photo contests, Instagram hashtag contests & more.