9 Ways to Use Pinterest to Drive Traffic to Your Blog
So, you've spent a lot of effort researching and writing an amazing blog post. You've published it on your website. Why aren't you getting lots of readers?
Do you promote it well on Pinterest?
When you write a blog post, you need to drive traffic to it for a good return on investment (ROI). Pinterest is increasingly becoming a site where people go to read the articles of their choice. But, how do you do it?
Here are 9 actionable methods to drive traffic from Pinterest to your blog.
---
Tweetable Takeaways
---
(Click to Tweet)
1. Create a Blog Board
---
Create a Board on Pinterest specifically for your blog articles. This makes it easy for your Followers to find your blog posts, and even Follow your blog Board.
Make the title of your Pinterest blog Board the same as your blog page title. For example, if you're an Etsy store, and you blog about crafts and DIY projects, name your Pinterest blog Board the same as your website blog name, such as "Crafts and DIY Blog", or "My Etsy Blog".
Naming your Pinterest board with keywords makes it more likely to show up in search engines too.
When you write a blog post, Pin it to your blog Board. Include:
A brief summary, or quote, from the article
A great image that represents your post (we'll talk more about the importance of images on Pinterest soon)
A link directly to your blog article
Example:
If you have a lot of blog posts, break them down into easy to search categories, like prominent social media blogger, Kim Garst:
If someone is searching for information about "Pinterest for Business," for example, Kim's Board named "Pinterest for Business" is likely to show up: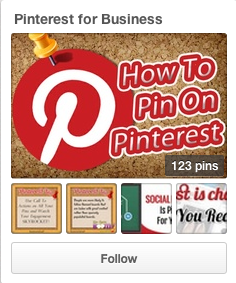 Her Board is is chalked full of great blog posts about Pinterest.
2. Create Lifestyle Related Boards
---
You likely already have a number of Boards on your Business Pinterest Account. If not, you need to stop right now, and create Boards that resonate with both your business and your market. Pin it full of mixed content like products, household tips, lifestyle images and more, all revolving around your Board theme. Post related links back to your blog, too.
When you Pin blog articles this way, include:
A brief summary or quote from the article that relates to the theme of your Board
A great image that emotionally connects with your Board theme
A link directly to your blog article
You really want to show how your blog article fits within the personal or emotional context of your Board theme. This will make your blog content even more appealing to your Pinterest users.
You can cross-Pin your blog articles in your different Boards, too. Just don't do this too much, as your Pins show up in your Followers' feeds, and you don't want to 'spam' them with the same link over and over.
Example:
Whole Foods is brilliant at driving traffic to their blog through Pinterest. They have 55 Boards related to recipes, health, beauty and family tips. Many of their recipe Boards, such as their "Who wants dinner?!" Board, are filled with Pins that link directly back to their recipe blog site.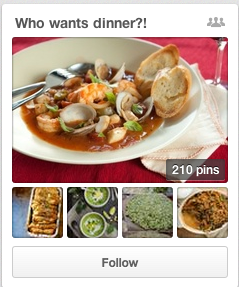 Whole foods Pins images of recipe ideas with a brief description. Each recipe Pin includes the entire recipe on the Pinterest site, but also links to their recipe blog.
The Pad Thai Wraps Pin links to the specific post on the Whole Foods recipe blog: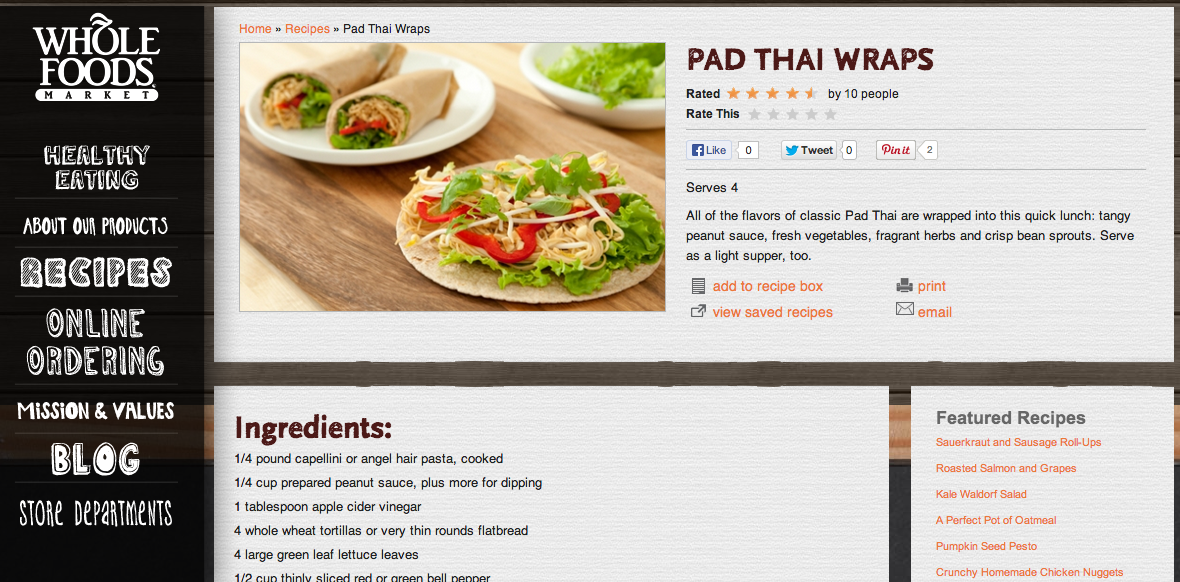 3. Images, Images, Images
---
Pinterest is all about visuals. Yes, it may seem a bit counter-intuitive to provide great images when you want people to read. Great visuals, though, are the way to entice Pinners to click through to your blog post.
Think of Pinterest as a lusciously enjoyable glossy magazine. It is filled with appealing eye candy. To capture the attention of a reader from the site, your Pins need the visual appeal to stand out, and invoke them to click through to your blog post.
Additionally, according to Dan Zarella, long visuals get the most rePins. So, post an infographic on your site, too.
You can use Venngage's easy-to-use Infographic Maker to get started.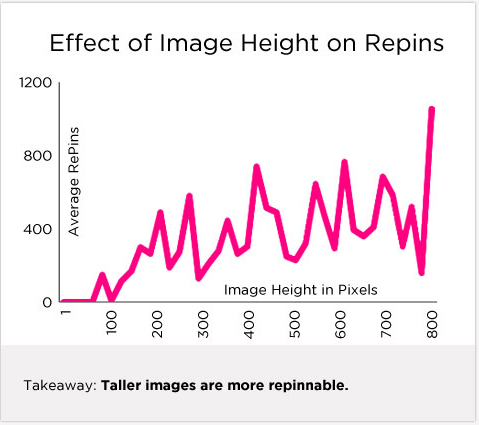 Example:
Prominent social media leader, Mari Smith includes enticing images in all of her Pins.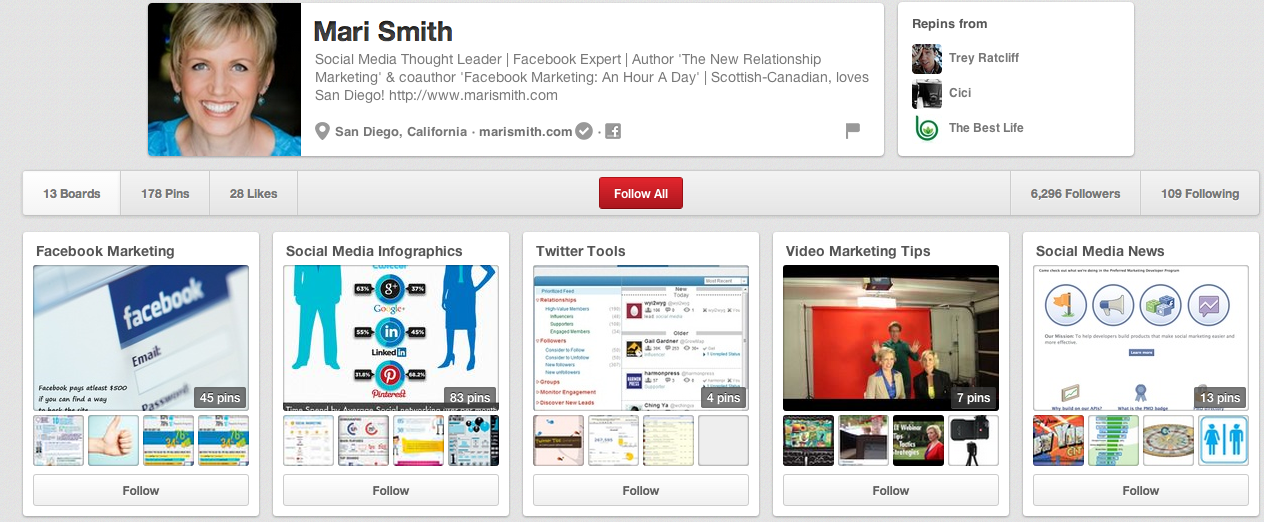 She even has a Pinboard dedicated to social media infographics: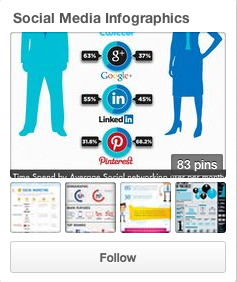 Mari Smith is also amazing at engaging on Pinterest, by sharing other people's content, and giving a link back to their blog sites. Ok, here's an infographic she shared from the Wishpond blog (thanks Mari!)
4. Engage on Pinterest
---
Like any good social marketer, you need to engage with your Followers. This is true when you want to turn your Pinners into your blog readers, too. The more you engage with people on Pinterest, the more likely they'll also want to connect with you on your blog, and other sites.
So how do you engage on Pinterest? There's lots of ways to get to know your market better on Pinterest, and for your market to get to know you better too.
Here are a few tips to engage on Pinterest:
Pin good, original and relevant content
Pin often and consistently so your Pins get seen in your Followers' feeds
Return the favour and follow your Followers
Check out your Followers' Boards and Pins for good content ideas they like
Ask questions that are answered in your blog
RePin, like and comment on your Followers' Pins, when you really think they're great
RePin industry leaders, and other great content your Followers will like
Example:
Etsy rules in terms of engaging with their market on Pinterest. They have 90 Boards, and nearly 8,600 Pins. Their content is consistently user-friendly, with craft, recipe and DIY tips.
What really makes them stand out is how engaged they are with their customers. They even go so far as to create "Guest Pinner" Boards, to showcase the Pins, and products, of their Followers.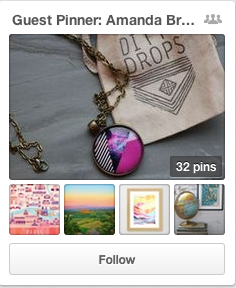 This kind of relationship building converts beyond their Pinterest page, and drives traffic to their website and blog.
5. Make Your Blog Post Pins Easy to Find
---
Pins on Pinterest are indexed within the site, as well as search engines like Google. Make sure you are practising good SEO techniques when posting your blog post Pins on the site.
The first thing you need to do is to make sure your Pins are actually searchable. Check your account settings, and make sure your "Search Privacy" setting is set to allow for public search engines to find you!
Here are a few more SEO tips for Pinterest:
Use your blog title as your blog Board title
Use relevant keywords to describe your post
Include hashtags if you can't find a way to use the keywords in your description
Use keywords in your image 'alt' tags
Read more tips for your Pinterest SEO: A Guide for Business
Example:
Neil Patel, who is "kind of a big deal" in social media has a Neil Patel branded Pinterest site. His Boards include his business blog sites: KISSmetrics and QuickSprout. He names his blog Pinboards the same title as his blog sites: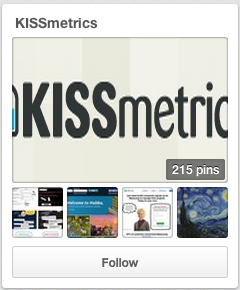 He uses the blog title as the description of the Pin. Most of his blog titles have article keywords in them, for SEO purposes. (Note, he could mix it up a bit, and include variations in his descriptions, such as a quote with the main keywords related to the article.)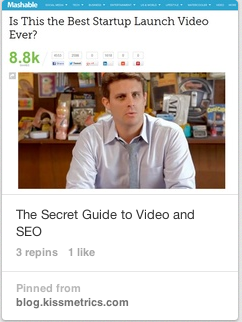 6. Make a Contest Board
---
A great way to drive traffic to your blog is to post engaging, interactive content on it. Run contests directly on your blog. Then Pin it to your contest specific Board on Pinterest.
This is different than a "Pin it to Win it" type contest. When you host a contest on your blog, your goal is to drive traffic directly to your website. Promote it on your Pinterest site, to garner more participation.
Contests are very engaging, and will drive a lot of traffic to your blog. Make a contest PinBoard, and Pin your blog hosted contests on it.
Example
Senior deal news has a Pinterest Board dedicated to Pins about their contests and sweepstakes.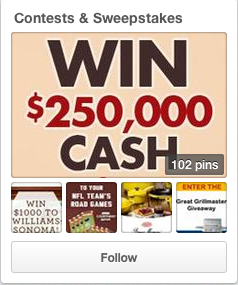 They have 102 Pins on their Contest & Sweepstakes Board, such as this one:
The Pin links people back to their deal website where the contest is hosted:
7. Feature your Blog Writers
---
Generally speaking, the more your Pinterest Followers know about you, the better the relationships you'll have. This works if you want to develop better traffic to your blog too. Let your Followers get to know the faces behind the articles. Make a fun, personable Pinboard that showcases your blog writers.
When you Pin to a Blog Writers Board you could:
Include a personable face of the author
Write a short bio, with a quirky, lifestyle (such as cooking) related hobby
Include a short quote from the blog post, and attribute it to the author
Featuring your writers makes your readers feel like they are getting to know that person. They will be more likely to want to connect with you on your blog.
Example:
The Next Web is a leader in social media news and innovation. They're also very active on Pinterest. They've started a TNW Columnists Board: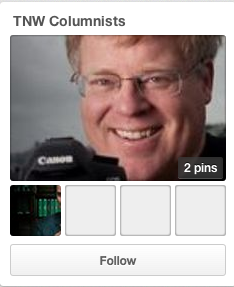 Where they showcase their prominent authors, such as their co-founder, Boris Zanten: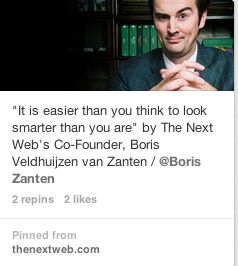 8. Include a "Pin it" Button on Your Blog
---
When your blog articles are shared by your readers, your readers' friends and Followers are more likely to read it too. It's kind of like word of mouth marketing for your blog.
To get this, make sure you have a "Pin it" button on all of your blog posts. Make it easy for your Pinning readers to share it on the site they love most.

A "Pin it" button is simple to set up. Go to the " Pin it" Button site on Pinterest, and complete the information. Choose the Pin it image you want, submit your URL, paste your image file, and build it.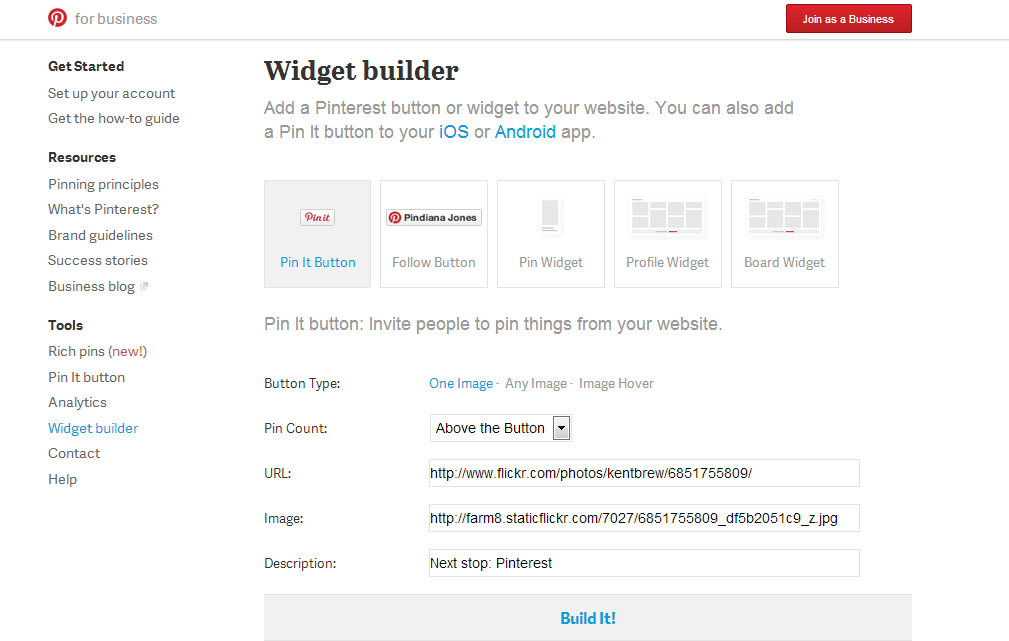 Paste the code for the "Pin it" widget onto your website.
According to Pinterest, the "Pin it" buttons can create a massive increase in referral traffic back to your site. Allrecipes.com, for example, added the Pin It button, and in just three months, people Pinned their recipes over 50,000 times, resulting in 139 million views on Pinterest.
Here's an example from prominent social media marketer Heidi Cohen. She has "Pin it" buttons for her images, embedded on her blog posts:
When a blog reader clicks the "Pin it" button on the top right hand side, they create a Pin on their own Pinterest site:
The Pin will then show up in the readers' Pinterest Pins - and their Follower's home page.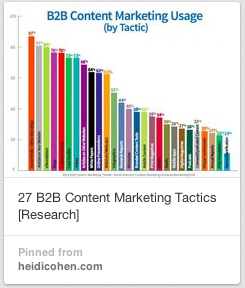 9. NEW: Use Article Pins
---
Article Pins were announced just a few weeks ago. They are similar to Pinterest's other newish Rich Pins, such as Product Pins, Recipe Pins and Movie Pins.
The Article Pins share more data than a regular "Pin it" button. When they're Pinned, they automatically include information such as headline, author, story summary, and link. They can even include a logo and byline image.
For driving traffic to your blog site these Pins will add an incredible boost. According to Tech Crunch, early adopters have been using the Article Pins to great success. They report that Buzz Feed, for example, now boasts Pinterest as their top traffic referrer.
You need to apply to Pinterest in order to add Rich Pins to your site. Before you do, you have to have a blog site that meets the Rich Pin requirements, and you need to add particular metatag data to your site. Read the Pinterest Developers Rich Pin site for more details.
Example:
Here is an example, from Tech Crunch, of how the Article Pins look, when they are Pinned on Pinterest. Notice the added summary at the bottom of the Pin. The idea is that the additional information will make the blog Pin more intriguing, and generate more click throughs to their blog._
Article Pins are an exciting new development for publishers and bloggers. I'm looking forward to analyzing more results from the early adopters. If you're one - let me know your successes in the comments, below!
Conclusion
---
Pinterest is not just for images anymore. The site has a vibrant community of diverse readers, and Pinterest is only enhancing this personal magazine type readership. Don't miss the developing opportunities to expand your global reach through Pinterest. Use the tips from this article to drive more traffic to your blog.
For more reading on using Pinterest for business, check these out:
For more reading on promoting your social media in general, check these out:
And remember, Wishpond's Facebook Contest Apps make it easy to create sweepstakes, photo contests, Instagram hashtag contests & more.
What do you think? Do you use Pinterest to promote your blog? What methods have you used? Will you try a new method from this article?