Wishpond 2.0: Now the Easiest Way to Get New Leads and Sales Online
At Wishpond, we've been listening to your needs.
You've told us you love our suite of social campaign apps. You've been hugely successful with our demographic rich contact database. You've fully optimized your results with our real time analytics.
But, you needed more.
We've acted. We're now the easiest way to get new leads and sales online.
Our massive upgrades give you the power to launch a comprehensive online marketing campaign all from one site, in four easy steps. Our new tools make it easy for you to:
Drive people to your Pages with Facebook Ads
Customize Lead Generation Pages
Collect and filter leads into highly-segmented lists in your contact database
Close sales with targeted email marketing automation campaigns to leads and new list subscribers
Our redesigned Dashboard brings your campaign analytics together, making it simple for you to manage and improve your results.
1. Drive people to your Pages with Facebook Ads
---
With razor sharp targeting and socially endorsed messaging, Facebook Ads are some of the most powerful advertising tools for business.
According to Facebook themselves, 70% of companies experience a 300% or more return on their ad spend.
Our brand new Facebook Ads tool gives you this power - and directly integrates it with your marketing campaigns. Drive people to your email lead generation pages and gain immediate sales.
Our Facebook Ads tool makes it incredibly easy to target the right audience, and create highly clickable Facebook ads.
Our tool will help you:
find new extremely targeted and interested customers
target customers similar to your current customer base
drive traffic from repeat customers just by integrating your current customer list
Here's a run through of how it works:

Target by demographics and interests

Target by custom audience

View your Facebook Ad's performance live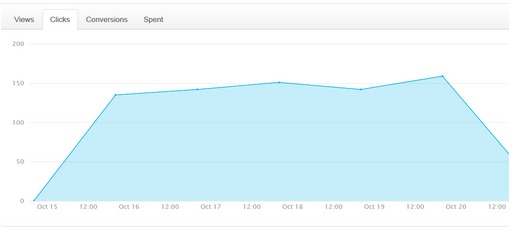 View your Facebook Ad results by campaign

Learn more about how to build a successful Facebook ad campaign.
Oh, and hey, if targeting your ads makes you blurry eyed and confused, Wishpond's Ad Buddy system can do the work for you… check it out:

Well targeted ads elevate the reach of your marketing campaigns, and grow your lead gen results. Smart customers, like you, already know this.
Now we make it super easy for you to get the ad success you deserve.
2. Create Lead Generation Pages
---
Lead generation has been one of the biggest problems for both B2B and B2C businesses. Surveys recently published in Marketing Land indicate that more businesses are now generating leads through social media.
Wishpond social contestand coupon apps are one of the top tools in addressing email lead generation for our customers.
We now offer customizable landing pages to increase your lead results.
Landing Pages:
Landing pages are an integral part of successful email lead capture - and conversion within your sales funnel.
Our newly-released landing page templates allow you to create customizable pages to optimize your lead generation.
Produce landing pages that convert with:
Optimized Call-to-Actions
Incentivized email opt ins
Social sharability
A/B test options
Detailed analytics
We make it simple for you to create email capture pages before, during, and after your social marketing campaigns.
Social Contests:
Our social contests can be run on your Facebook, Twitter, and website and are fully optimized for mobile sharing. We've even added Instagram photo contests, SoundCloud contests and Referral Promotions in the past few months.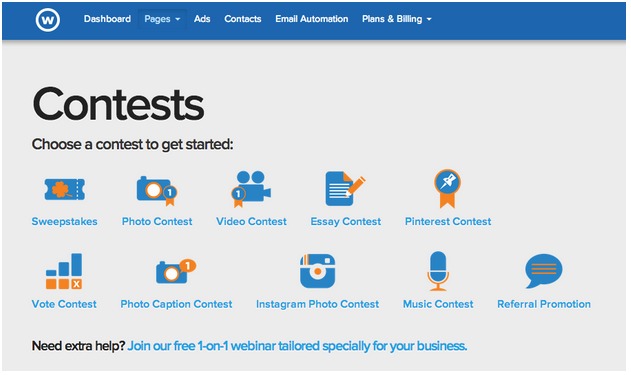 Our full gamut of social contests include:
Sweepstakes - easy to enter for your contestants. Sweepstakes are your chance to give away great prizes to get great leads.
Vote Contests- get consumer feedback. Let your customers choose your next product line, or just have fun with increased engagement - and get leads.
Photo Caption Contests - ask entrants to caption a photo you choose. You can get lots of emails, and engagement, as they are easy and fun to enter.
Photo Contests - gain UGC by asking entrants to submit their best photo of your product, or any other business related theme.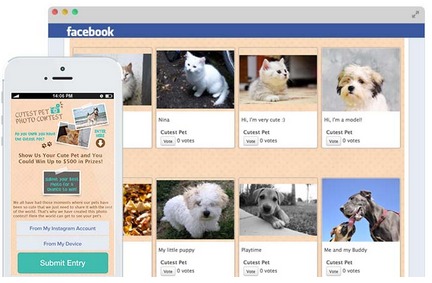 Essay Contests - get more feedback from entrants, or get more brand awareness. Ask your customers to write a few words about a topic you choose (such as what gifts you deserve this holiday season - and why).
Video Contests - take a photo contest one step further, by asking entrants to submit short videos about your product or related topic.
Music Contests - engage music lovers with a music contest. Our app makes it easy for entrants to submit their best tunes from their computer or soundcloud. You get loads of targeted leads.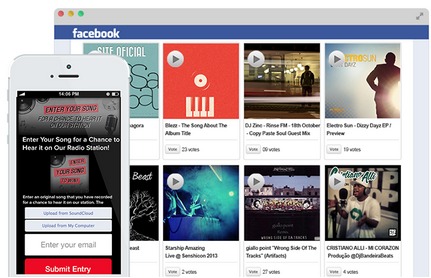 Referral Promotion - spread the reach of your brand, and promotion. Entice Fans to earn a reward in exchange for referring their friends to sign up. This is a great way to get tons of new leads - fast.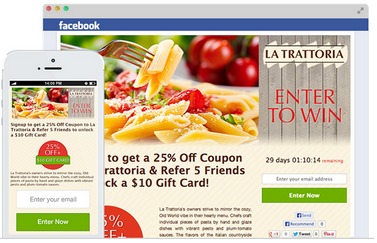 Pinterest Contest - run a "pin to win" contest, and email gate it to collect segmentable leads.
Instagram Photo Contest- target your Instagram market through photo contests. They're easy to enter and generate you great email leads.
Coupons:
Social coupons are an incredible method to generate immediate sales, spread the reach of your discounts, and get more leads.
Our social coupons are easy to make. Host them on your Facebook, Twitter or website. They're also fully optimized for mobile, just like our contests.
Coupon app - our new coupon app lets you easily create coupons, and host them through your popular social networks. Your business gains immediate sales, and email leads.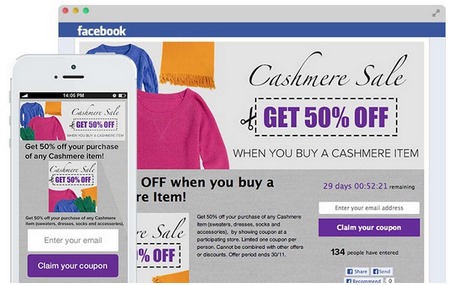 Group Offers - give incentive for your customers to share your coupons. Host easy-to-enter group offers - validated with a minimum participant number.
3. Collect and filter leads into highly-segmented lists in your contact database
---
Segmenting your emails can result in 18 times more revenue than a straight email blast.
Use tools to segment your contact database to increase your rewards. Take it further, and use tools that give you an extremely powerful customer relationship management option.
Wishpond's innovative social contact database enhances your customer information with the rich personal data of Facebook Open Graph.
We make it super easy for you to create highly targeted email lists based on age, gender, location and "Likes" - data points based on Facebook Open Graph data.
Wouldn't you like to send demographically-targeted emails, run a contest or advertisement and target only users who have the best chance of engaging?

You can download personal data and contact information of consenting Facebook campaign signups. Our software automatically segments this rich user data within your email subscriber lists to fit specific buyer personas.
How it works:
Once a customer has entered your social marketing contest, consent is given, and their personal data can be used to create targeted email lists.
Our social contact database allows you to highly-segment your emails - you can add any number of data points, including an address or phone number, or even a birthday to track and send personalized best-wishes.
4. Close sales with targeted email marketing automation campaigns to Page leads and new list subscribers
---
Nurtured email leads produce, on average, a 20% increase in sales versus non-nurtured leads. Automated emails can nurture your newly gained Page and contest leads.

Wishpond has just rolled out a simple to use email marketing automation tool. We make it super easy to integrate your social contact database with your contest email campaigns.
Send a personalized, segmented email to contest entrants, for example.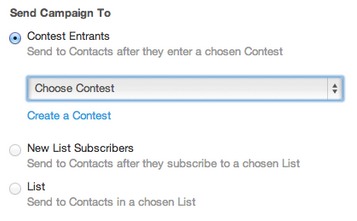 Personalizing your subject lines deepens the connection with your customer, and results in a 21% increased open rate. Use email marketing tools like Wishpond that allow you to personalize your subject lines.

Take it a step further, and include your company contest name or brief description. Your email brings an immediate familiarity, deepens consumer trust, leads to better nurturing and, ultimately, increased sales.
Send an automated series of highly targeted, personalized emails to your leads to turn them into customers.
Easily combine email marketing automation with your landing pages to increase results. Triggered emails can result in a 65% open rate. Connect with people immediately as they're interested to create a bond, and close the sale.
Complete the package: Analytics (and Results)
---
Tie all of your online marketing pieces together with your dashboard of analytics.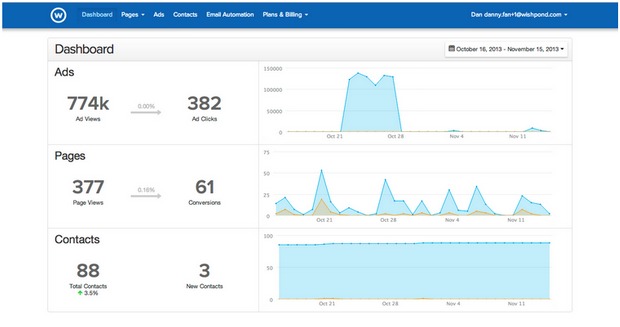 Get your results at a glance for your:
ads
landing pages
contact database
We even offer the sophisticated metrics you need to dig deeper into each campaign.
For every Facebook Ad, contest, coupon and landing page, our analytics measure your views, entries, and even demographics in real-time.
Gain rich insights for every one of your marketing campaign successes. Update your ads, contest and other landing pages in real-time as they are running. Increase leads, drive more traffic, and convert more sales.
Conclusion
---
We love to make online marketing tools, and we love to see your business succeed. That's why we keep innovating to give you the best marketing suite available!
Tell us what you think of our extensive upgrades!