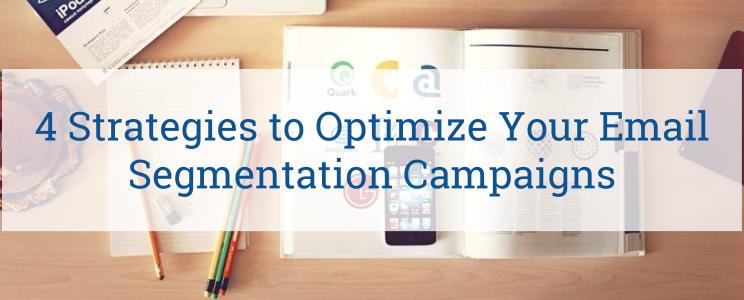 I'm asked a lot about best practices in marketing these days. With so many changes happening daily, I get it, it's hard to keep up. I always tell people that the fundamentals of marketing remain:
Marketing is about communicating your targeted message in ways that best connect with your audience to motivate action.
Studies have shown that   77% of consumers say they prefer to receive marketing communications through email.
Email marketing works. Email segmentation works even better. Here's why you need email segmentation, and 4 strategies to optimize your drip campaigns.
Why you Need Email Segmentation
---
Do you like personalized communication? Do you tend to click on an email that knows your name and your interests – even over a super image rich message? I know I do, and yeah, you likely do too. Guess what? So do your customers.
Studies (like those from Marketing Sherpa) prove that segmenting your emails can improve your clickthroughs by 50%
Why?
Your customers aren't all the same.
They don't necessarily:
have the same interests
come from the same sources (such as social sites, contests or in person)
live in the same geographic location
belong in the same stage of your sales cycle
So, don't treat the same, with a blunt single email blast. In these days of social, your customers want to know that you know them.
Fortunately, it's not all that difficult to create highly-segmented email campaigns.
How to Segment Your Emails, Strategically
---
Segment your emails strategically. For each one of your marketing campaigns, the key is to create messages that support your unique business and marketing objectives. Every business needs to increase the bottom line, but every business does this in their own way.
Here are four strategies for segmenting your email marketing campaigns:
1. Geographic Location
---
Segmenting your emails by geographic location can be a very effective method of speaking directly to your particular group of consumers. This strategy works particularly well when location is a significant influence in the purchasing decision process.
It's also a good strategy to use when sending timely, time-based email messages. (For example, segment your emails by geographic time zone if you're sending messages to consumers in Australia, the UK, or the US)
Examples of when to segment by geo-location:
Your business is hosting events being held in particular geo-locations and bricks and mortar stores.
You are inviting consumers to join you at a live webinar – adjust the times on your email invite, and mention their location.
Your business has a particular connection to certain towns or areas (such as a restaurant, local store, etc.)
2. Gender
---
Let's face it, men and women often speak a different language. There are general differences in what we want (or need). Segmenting your emails to target each gender may be an effective tactic for your business. This technique works particularly well if you either have a wide range of products, or if you have very gender specific stuff. Use it to both tone and message your emails to target each group.
Examples of when to segment by gender:
You sell diverse hair products through your online store, including men's shaving tools and women's hair care products – send emails showcasing the gender specific products to your two email segments.
You're marketing a male-oriented product as both a gift, and a direct purchase.
You have a new product that is gender neutral, but want to connect with men and women differently (with diverse images, words, colors, etc.).
3. Age
---
People of all ages respond to your emails. The way they respond can be vastly different depending on their age group. A college age cohort of 18-23 will be very different than a grandparent age cohort of 65-75. Segment your emails accordingly. You may find that you don't want to send out your email message to certain age groups, but rather focus on particular age segments for particular marketing campaigns.
Examples of when to segment by age:
Your business sells pre-natal equipment, and you want to run a marketing campaign to target gift-giving from expectant grandparents.
You have a car dealership, and are having a sale on entry-level vehicles – you could segment your emails to the under-30 demographic.
You sell wine online. Segment your emails to showcase your more prestigious wines to an older demographic, and your less expensive wines to a younger group.
4. Interests
---
Segmenting your emails by consumer interests can create personalized emails that get click-through. There are a myriad of methods to segment your lists by what your markets like. Some email marketing tools, like us at Wishpond, can give you extremely personal and data rich interests. Our tools enable you to segment your contact lists via Facebook's Open Graph data.
That is, you can know what your customers are interested in on Facebook.
Not only that, but our tools let you segment your emails and send out personalized emails based on this Facebook data. You could also segment your lists by using data you have about what your contacts have downloaded, past purchases, or shopping cart wishlists.
Segmenting by interests may be one of the most effective methods of grouping your consumer prospects into various email marketing campaigns.
Examples of when to segment by interest:
Your business includes online movie rentals. Segment your movie product emails to targeted Facebook Fans who like movies (or even get more personalized with particular genres of movies).
You need warm leads to reach to your monthly sales target. Segment your list based on how far prospects reached on your sales funnel. Send emails to seal the deal to highly interested people.
You're hosting a webinar about content marketing. Segment your emails to personalize messages based on prior ebook title downloads.
Start small. If you're just delving into email segmentation, start with one variable. Review your email contact list and determine natural variations. Even the smallest alteration in your email messages, and who your are targeting, can give you huge results to your email success.
Test it
---
A/B test your email marketing campaigns. Test your segmentation results for:
delivery rate
view rate
open rate
click-through rate
sales conversion
Refine your messaging, and test your results again. Tweak your segmentation tactics, and test again. Send out your most successful emails to optimize your profits.
How to Segment Your Emails, Technically
---
I've included this section on how to technically set up a segmented email marketing campaign. Once you've got your strategy, you need to use the right tools to put them into action.
Most email marketing automation software makes segmenting your campaigns pretty straightforward. Depending on your business needs, you could use something as basic as an Excel spreadsheet. For more sophisticated campaigns, however, I'd use an email tool to make your marketing life a whole lot easier.
Here are the 4 basic steps to segmenting with Wishpond's email marketing automation:
1. Create a Campaign List
---
You can use your contact database generated through social campaigns or landing pages you've created through our tools. You can also upload your own list, or export your data rich list to other CRM's such as MailChimp.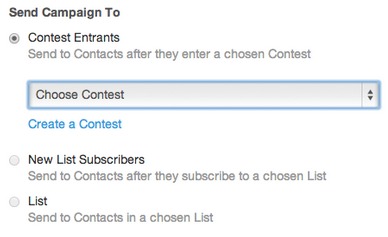 2. Expand your Email List
---
Upload your contacts directly from your lead generation pages.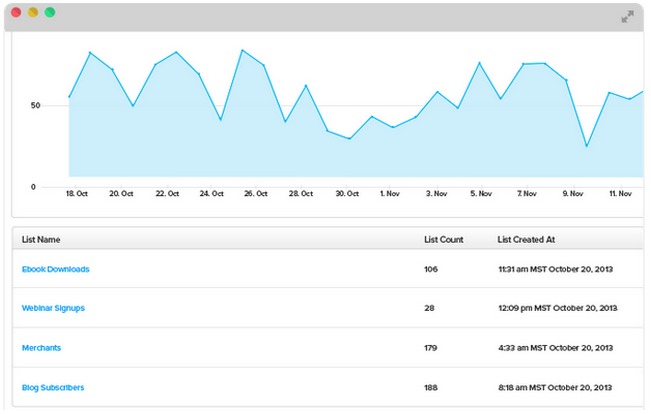 3. Segment your Emails
---
Segment your contact list by gender, age range, location and even Facebook Likes.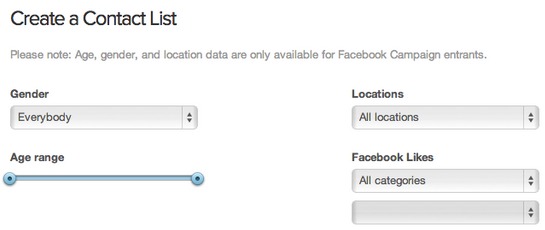 4. Send your Emails
---
Yup, it's that simple.
Conclusion
---
Email segmentation gets results. Try out a number of segmentation strategies, A/B test them, and use the ones that get your business the best outcomes. Then do it again!
More resources on email marketing:
What do you think? Have you been successful in your email segmentation campaigns? What did you do? Share your thoughts.
Written by Krista Bunskoek @ Wishpond

wishpond