Facebook Ads Effectiveness: Myths, Misconceptions and Mistakes
Have you experimented with Facebook Ads but decided they weren't for your business? Have you taken a look at the average click-through-rates and said 'hmph!' and stalked back to Google Adwords for the rest of your career?
Before you go, let's re-evaluate Facebook advertising for your business.
This article (first of a two-part series on why Facebook Ads don't suck) will discuss the misconceptions of Facebook Advertising. I'll get into the differences between Facebook Ads and Google Ads, why those differences aren't a death-stroke for Facebook, the impact of the Facebook Edgerank algorithm change, as well as the first three of our eight strategies to ensure your Facebook Ad doesn't flop.
What I'll cover in this series:
Part 1:
The misconceptions of Facebook Ads and how they work
The influence of the Facebook Edgerank algorithm change
Designing your ad for conversions
The importance of an eye-grabbing offer
Integrating your Facebook Ad with its corresponding landing page
Part 2:
Targeting your Facebook Ad by traditional demographics
Targeting your Facebook Ad by interest and broad category (getting specific)
Targeting your Facebook Ad by custom audience
Targeting your Facebook Ad by lookalike audience (and what this is)
Re-targeting your Facebook Ad to website visitors
1. Something you have to understand…
---
Facebook Ads aren't Google Ads. No, I mean, really. They do different things in different ways, and you're not going to get the same response (but that doesn't mean one's better than the other).
Here's the main difference: Google Adwords is based on keywords that users search for. This means that every time an ad is seen in a Google search, the viewer is at least interested in that ad's subject matter.
With Facebook Ads, you have to go to them. In this article I'll discuss the best ways you can do that - and why it's this 'going to them' that makes the platform viable for advertisers from all sectors.
It's not necessarily about the dinero:
Many businesses can find commercial success with Facebook Ads (I took an in-depth look in a guest post I did for SocialFresh entitled ' 3 Cornerstones For Using Facebook Ads To Generate Ecommerce Sales) For those who may struggle (B2B, for instance) you can still find a use for the biggest ad viewership on earth.
You guessed it, lead generation.
I'll go into this in more depth below, but before we start you need to understand that Facebook Ads aren't just for B2C. Facebook Ads allow you to target your market incredibly specifically. They're an awesome way to discover new customers, generate brand awareness, and capture people at the top of your sales funnel.
That said, if you're looking for Facebook Ads to make your SaaS company a bunch of money right off the bat, you might be sorely disappointed.
2. The Facebook Edgerank Change, and what it means for your business
---
In August, Facebook changed their Edgerank algorithm (which determines what content appears on a user's News Feed, and what doesn't). The social media marketing world has pretty much exploded since then - citing huge drops in organic reach of their content and record-low engagement.
To be honest with you, I'm somewhat torn on this subject. On the one side, I'm frustrated by Facebook's methods to determine the 'quality' of a Facebook post (this is the crux of the algorithm - ensuring that only 'quality' content is seen): Basically they seem to have asked a bunch of people somewhat leading questions about what they want to see on their News Feeds. One of the six questions they asked was 'Would you call this a low-quality post or meme?' thereby equating the two. And I happen to like creatively-generated memes.
On the other hand, I understand where Facebook's coming from. They're a business and for the past 10 years (on the 4th of February!) a Facebook Like has opened a 24-hour-a-day, 7-day-a-week avenue of free communication between brands and consumers. Do I begrudge them their commercialization?
I'm not sure yet.
But what the changes do mean is that if your brand is going to stay current and stay involved on the Facebook platform, you need to consider Facebook Advertising as a viable option. And believe me, it is.
Let's take a look at why:
3. Designing for Conversions
---
Before I really get into the importance of an offer or integrating your Facebook Ad with an optimized landing page, I'll give an overview of the best way to design a Facebook Ad for conversions. This, of course, is another difference between Facebook Ads and Google Adwords. Facebook requires you to put some effort into making your ad eye-catching, interesting, engaging.
So here's how to do just that.
Image best practices:
Focus on making your Facebook Ad stand out:
Use people's faces (especially a smiling woman). We are subconsciously attracted to the face, especially the eyes.
Use simple images, easy to identify and plain (yet engaging)
Don't include any words within the image. Leave the message to your headline and body copy
Detail best practices:
You might be surprised at how important the smallest details can be, and how influential they can be on your Facebook Ad engagement:
Include a red or green border if your Facebook Ad image is somewhat dreary
Increase the yellow or green gamma on your image to make it stand out even more
Throw a shadow around your image (easy enough in any number of free photo editing tools)
Color:
I took an in-depth look at the psychology of color in advertising, so head over there for a comprehensive analysis. In the meantime:
Focus on colors that stand out against the blue and white of Facebook's News Feed
Warm reds and oranges are attention-grabbing and pleasing to the eye
Avoid blacks, whites and light-blue as the primary color of your Facebook Ad as they'll blend in, and (whites and blacks) are seen as cold and calculating
Headline best practices:
Think of your headline as a hook. Use it (along with the image) to grab attention and encourage the Facebook user to read your body copy:
Use a question, like 'Want to Maximize ROI?
Use keywords like 'free', 'discounted', and 'exclusive'
Use dollar signs and percentages like 'Get $100 Off' or 'This week only 50% off!'
Body copy best practices:
Your ad body copy is where you communicate the value of interaction and elicit the click-through. The rest is just eye-grabbing tactics.
Use a value proposition, like 'Double your landing page conversion rates with this free, downloadable Ebook'
Use a USP, like 'Google analytics tells you where your traffic is coming from, AcmeAnalytics tells you who they are'
Use the time-limit factor, like 'This week only, buy one AcmeSweater get one FREE (deal worth $100). Exclusive to Facebook'
Use the demographic/audience target factor: 'For our Facebook Fans only/For our loyal customers only, get 50% off your next month of AcmeSaas services. Worth $200' – See below for targeting strategies
If you want to find out more about optimizing your Facebook Ad design, read my article How to A/B Split Test your Facebook Ads to Maximize ROI. For more on value propositions, read 7 Value Proposition Formulas to Boost Conversion on Ads and Landing Pages.
4. The Importance of an Offer
---
I've said before that a Facebook Ad without an offer is like a Ferrari without wheels. It might look great from afar, but won't get you where you need to go.
This is one of my favorite metaphors for Facebook Ads. Without a solid reason to click (like an offer), Facebook users will skim over your ad as just another piece of useless information.
Consider this statistic, 45% of Facebook users like a brand for promotions, discounts or free giveaways. Only 14% do so out of loyalty to that brand.
It's far and away the most commonly stated reason for user engagement with a brand on Facebook. If you're not willing to offer up a little something in exchange for that lead, that first step on the way to a sale, you're going to struggle on Facebook.
This is why I genuinely recommend contests and promotions on Facebook (not just because I work for a company that creates them). A contest gives people a chance at an offer, which saves your business money. Giving people a chance at the offer is (as long as that offer is actually desirable) just as rewarding for your business as offering a guaranteed discount for everyone who clicks through.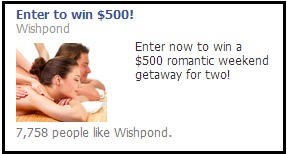 Offers for E-commerce:
Exclusive discounts for your loyal customers, or customers who haven't bought in a few months
'This week only!' discounts on holiday-related or seasonal stock
Partner with a well-known brand (one with a similar target market) and offer a large prize related to your sector. Cross promote the giveaway for mutual benefit
Offers for B2B:
If you're not already, offer a one-month free trial of your tool or service (this ensures entrants are interested in your service, not just a cash prize)
Offer a selection of your ebooks (with cash value included) for free
For those who don't win, remember to offer a consolation prize (like access to a webinar, free audiobook, etc)
5. Integrate your Facebook Ad with a corresponding landing page
---
A Facebook Ad optimized to the max with all the strategies I've given above is still useless if the page it trafficks to doesn't convert that traffic to a lead or a sale. Here's a few ideas on how to do it for both B2B and B2C companies:
Keep the general design variables from your Facebook Ad in your landing page (image, text, USP/value proposition, etc). This creates continuity and ensures your traffic doesn't bounce because they're confused.
Ensure the technical details are all lined up. You'd be surprised at how many Facebook Ads don't succeed in trafficking to their corresponding landing page - double-check these details to avoid an embarrassing result.
Make sure your landing page is optimized for your desired result ( lead generation, E-commerce sale, etc).
For more information on integrating your Facebook Ad with a great landing page, check out my article 4 Ways to Create Facebook Ad and Landing Page Combos to Maximize Conversions
What this all means, and what it does for your business
---
The main point of this series is that Facebook Ads - when optimized with the best practices in this article and in the next - are absolutely a viable option for your business. Wait a day for the next article (tomorrow!), check out my free Complete Guide to Facebook Ads Ebook, and take another look at Facebook advertising. Do your research.
Much of the negative press that Facebook Ads get comes from users who aren't using all the completely free, completely awesome parts of the tool:
Access to the largest advertising audience the world has ever seen.
The most specific ad targeting available today
A platform that allows you to target your existing customers, and then target people with all their demographic and interest characteristics, and then do it again.
A PPC platform, where a $50 ad spend can generate you more than 100 ad clicks. With a landing page that converts at 20%, you're paying $2.50/lead. And if you can find me a better rate than that, feel free.
A platform that makes it easy to re-target your advertising (for free) based on where a lead is within your sales funnel
So don't dismiss it because the average CTR isn't what Google's is. Don't dismiss it because you don't understand it. Do your research instead.
Conclusion
---
Hopefully this series will convince you to try Facebook Ads for the first time (or take another look if you've given up on them). Yes there's a lot to learn. If you don't have the time or energy to do it yourself, try using a 3rd party app like Wishpond's. We have experts who target Facebook Ads for you, and can answer any questions you have about integrating with a landing page or the best kind of offers to advertise
If you want to give it a shot yourself, I recommend the Chrome plugin Facebook Power Editor - which offers more choices than the built-in tool on Facebook. I also recommend checking out the Facebook Ads ebook below (yes, it's free).
More Free Facebook Advertising Resources