Is your landing page optimized for your AdWords campaigns?
If you've ever run a Google ad campaign, you know that Google 'looks' at your Destination URL – and rates it. If you hit the right marks – with relevancy, ease of navigation and trustworthiness – Google will like you, and your page visitors will convert. It's a win-win.
Whether you are a small retail business, a multi-chain service provider, or even a tech startup, getting your landing page matched up with your ad campaign and keywords improves your results.
Here's 21 ways you can work on landing page optimization (and conversions) for AdWords campaigns.

Is your content relevant, useful and unique?
---
One of Google's three main criterion for increasing your landing page's quality score is relevant, useful, and original content.
Here's 5 ways you can act to improve your score:
1. Use related ad text and keywords on your landing page – The better you match your keywords and ad text with your Destination page, the more your customers will like you – and convert. Google likes this too.
Example: X-clusive Nail & Beauty created an ad that included the keyword phrase "french manicure". Their ad text gives their phone number, and uses the words "nail salon" and "20% off". This links to their Destination URL that matches their ad. It shows the 20% off page, uses the word "nail" and includes the same phone number.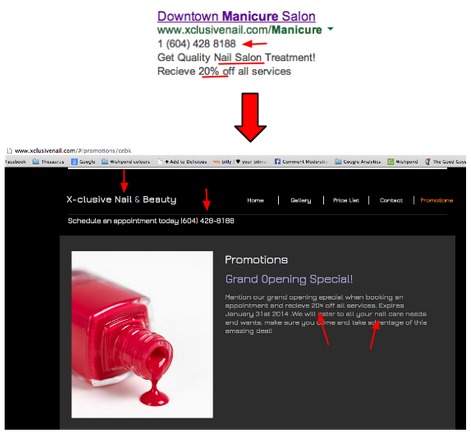 2. Keep your offer/ product/ service consistent – This seems pretty obvious, but when you're running an AdWords – or any marketing – campaign, make sure whatever your promotion is about remains the same through your advertising funnel.
For example, if your ad is for a new product your store is selling:
Write about it in your ad
Include it in your keywords
Make your product page the landing page
3. Tell your unique features – Just as you do in a well written ad text, show your unique selling point on your landing page. Why would a customer chose you over a competitor? The clearer and more convincingly you can communicate this, the better your overall PPC campaign, and the better your ad ROI.
4. Keep your content original and useful – Don't just cut and paste your content from your other landing page offers. Make your pages unique and specific to each ad or ad group. To increase conversions (and make Google like you) include information that your customers will appreciate and value for each ad that you run.
Example: UBC Continuing Studies runs ads for different educational courses they have. This ad campaign is for their social media training program. It links to the program overview page on their website.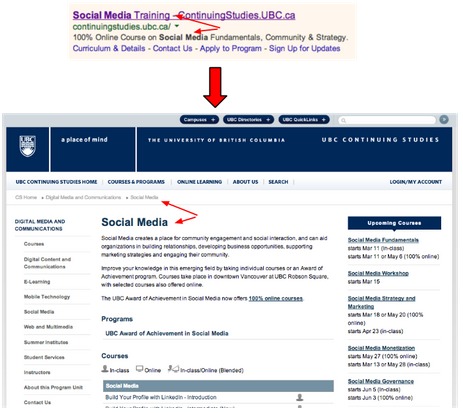 5. Use ad groups to tighten your focus – You might have a few related offers that you want to run in one ad campaign. You might want to A/B test the landing pages in your campaign. Use your ad groups to direct each ad to a specific page offer.
Is your web page easy to navigate?
---
Google also rates your page on how easy it is to navigate. Here's 5 tips to make your page a lot more user-friendly:
6. Make your Call-to-Action (CTA) clear – One of the design fundamentals of a great landing page is to create a CTA that's easy to see, and easy to act on. This is particularly true when you're paying to promote it!
There are tons of tips and tricks to optimizing your landing page CTA. Changing the text of a CTA can increase conversions by 161%. Here's a few ways to improve your CTA:
Use simple action words like "buy" "act now" or "get yours"
Make a CTA button with contrasting colors
Place your CTA where your customers will see it
Example of Wishpond's homepage – with a contrasting colored CTA, and simple clear action words to "Test it out".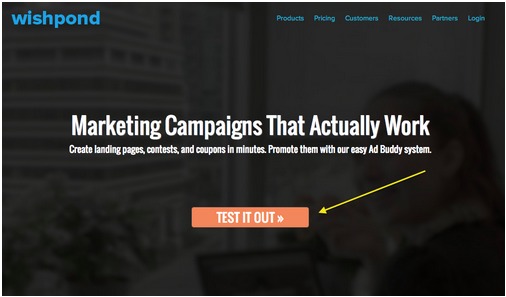 Read more about how to increase landing page conversions
7. Keep your CTA above the fold – Again, your Call-to-Action is the most important element of your page. You are paying for results. Increase conversions by making your CTA easy to see. Keep it above the fold.
Vocab tip: Above the fold means what your customer sees when they click on your page – without scrolling down. (I think this is actually a old newspaper term – for anything above the fold of a paper – like what you'd see in a news stand)
8. Don't clutter your page – Keep the text and visual noise to a minimum – you want the design of your landing page to be simple. Make it super obvious to your customer why they clicked through, and what it is they need to do next. Don't spook them with distractions – make your customers feel comforted that they made a clear clickthrough choice.
9. Use numbers and bullet points – People are skimmers and scanners online. Make it easy for your interested consumer to understand your offer at a glance. The simpler you make your page, and the better you can communicate your amazing stuff, the more conversions you will get.
Example: Here's a Wishpond landing page template that quickly shows the benefits to your customers. Note the contrasted color CTA on the left side. Where is your eye attracted to?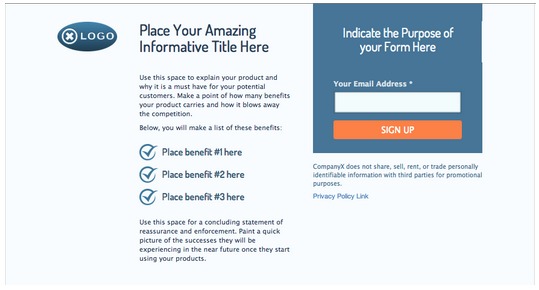 10. Segment your products – If you have a lot of products you sell, make it really simple for your customer to find the one they want. Divide your products into categories, and sub-categories. Use simple side tabs to make your site easy to navigate, and find any of your products with ease.
Give each of your products its own landing page. Link to specific products when you're running paid ads for them.

Is your landing page content trustworthy?
---
Trust is another key to Google's quality score – and increased ROI. Hey, if you can't connect personally with that person who clicks through on your ad, you're not going to get a sale. If they click through your ad – you have to pay for it. If they don't take it further by converting, you lose your hard earned dollars.
Creating a trustworthy page is just as important as creating your ad copy and keywords.
Here's five ways to do it:
11. Be upfront about who you are and what you do – If you want to increase your conversions, show your potential customer who you are. Think of your ad landing page as the first impression a customer has of your business.
Use the opportunity on your page to succinctly communicate who you are and what you do.
Show what you do by:
Using images of your products
Embedding a short video related to your CTA
Showing images of your friendly customer support or sales team
12. Include your contact information – Don't hide from your consumer. Make your business accessible by including your phone number or other social sites on your page. This makes you look more friendly, and open for your customers' business.
Example: This kitchen renovation business landing page provides trust in their services. They include a phone number, and a chance to get a free consultation.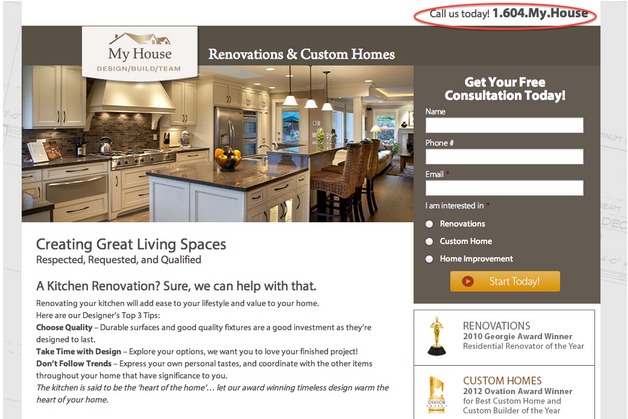 13. Use friendly words – Yes, it may seem like a no-brainer – but to build trust (which enhances your Google AdWords Quality Score), use a friendly tone in your landing page text.
Think of your landing page visitors as people who might be visiting you in-person, at your bricks and mortar store. Craft good quality, natural sounding copy for your lead generating pages.
14. Show a map of your location – Again, make your business look accessible – show your customers where you are, and how to find you. Include a map of your physical location.
Example: Here's a Wishpond landing page template for auto dealers, that makes it easy to build trust with a map of your showroom.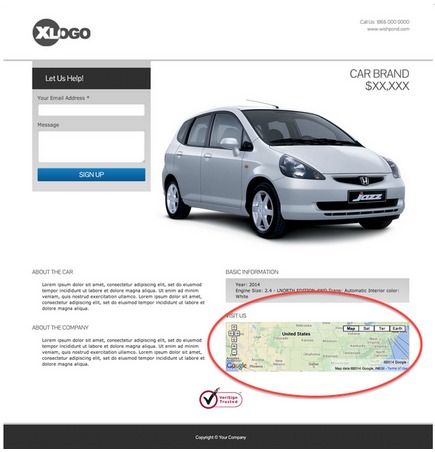 15. Be clear about your lead generation or sales ask – If your page is email-gated or a shopping cart, be really clear about why you're asking for information, and exactly what your customer will get from you. This will increase your conversions, and increase your Quality Score.
For example, if you are selling a product directly from your online store – use the product page as your Destination URL. On your page include real images of your product, item specs, and exactly how a customer can pay. Offer a money back guarantee to put your prospective customer more at ease.
The technical stuff: how Google 'reads' your landing page
---
Yeah, the tech stuff, right? I will try to make this section as user-friendly as humanly possible. It is pretty advanced, though. So, if this makes your brain shut off, leave it to your tech guys, or use landing page templates, like you can get from us at Wishpond.
16. Use good meta tags – Meta tags are the key things Google reads on your site. They're all that HTMLy stuff, like keywords. Use them for your Title, Keywords and Description attributes. Use Alt tags too, for image descriptions. (For more info on meta tags and PPC, check out Larry Kim's informative article.
17. Use clear title tags – Make it easy for Google to understand what your page is about. Use one title tag for your page, and include your top keywords in it. If you want to get more advanced, place your keywords in descending order based on value to you.
Example: your title tags are what show up in your organic search results, too. Use keyword phrases on your page to code them in: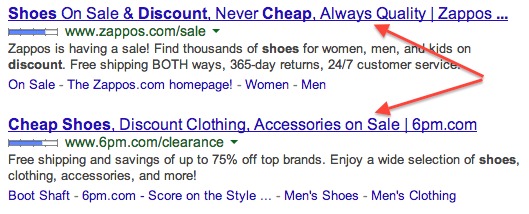 18. Match your content and title tags – Use the keywords you have in your title tags within your page content, and use the more valuable words more frequently. This confirms to Google that you are telling customers that same thing you're telling its crawlers.
19. Watch your words in your landing page URL – The website address you use as your Destination URL is super important to the performance of your ad. Hey, Google actually uses the words in your URL path to help you decide what keywords to plan in your ad. So, make sure your keywords, or offer, is clear and easy to read.
Example: Wishpond uses the keywords "landing page builder" in its URL path to our easy landing page builder landing page.

20. Don't use "fancy features" like Flash or javascript – Google cannot read certain types of website stuff. When in doubt, stick with an HTML5 site for your landing page.
One more tip to optimize your landing pages for Google AdWords
---
21. Make your landing page mobile optimized – Use dynamic pages to make your sites scalable for mobile, tablets or desktop viewing. There's nothing quite as off-putting to your mobile customer than when they click through your mobile Google ad – only to find a super clunky hard-to-read page. Make it easy for your customer, and they'll convert.
Conclusion
---
A landing page can make or break the success of your Google AdWords. Without the appropriate landing page optimization that gets conversions, your ads will fail, and your ROI will decline. Act on one or two of these tips, test them out, and increase your profits.
Read more about Google AdWords:
What do you think? Do you run Google AdWords? How do you optimize your landing pages to increase conversions?

P.S. Need help creating more engaging AdWords campaigns? Wishpond's Facebook Contest Apps make it easy to create sweepstakes, photo contests, Instagram hashtag contests & more. If you're looking for inspiration, check out our post Facebook Contest Ideas.
wishpond