How Do I Make a Google Ad Campaign for My Small Business?

Your customers are online. They're searching for your products, services and offers right now. They want to find you. They want to buy from you.
Why are you missing out?
Google AdWords is one of the most effective online advertising methods to reach those consumers. But, if you're a busy small business owner, an 'always on' social media marketer, or even a seasoned offline marketer, running a Google AdWords campaign can seem pretty overwhelming.
I get it. That's why I've written a series of articles on Google AdWords, including how to plan your Adwords.
In this article, I'll give you the basics of setting up your ads directly on Google. Then I'll show you a simple 3-step alternative.
---
So, you've set up your Google AdWords account, and you're getting ready to make your first Ad. Congrats. It's an exciting time. You get to join the online advertising move, promoting your business to the world - or simply to your local niche.
Then you see a page like this:

And all your enthusiasm drains. Panic strikes. There's so many tabs and buttons, you don't know what to do next.
Relax. I'm going to walk you through the technicals of how to set up an AdWords campaign on Google. (Then I'll show you a simple 3 step alternative.)
1. Set up a Campaign. The first thing you need to do is click on the red button called "+Campaign".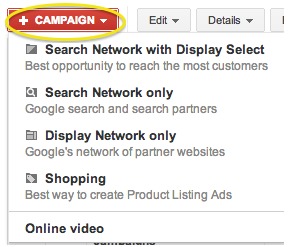 You will get a drop down menu with Ad Type choices like "Search Network with Display Select", "Search Network only", "Display Network only" and "Shopping". These options determine where your ad is shown.
For your first few Ads, choose the "Search Network with Display Select". This will show your ad on Google search and a few select websites. It's the most commonly used option by Google Advertisers. (And, no stress, you can change this Ad Type down the road.)
Note: if you have a Google Merchant Account and are specifically advertising your products in a Product Listing Ad, use "Shopping".
Select Campaign Settings
---
You'll now be on page two of your AdWords campaign. You'll see "Select campaign settings" highlighted at the top tabs of the site, like this:

In this section, you are making your settings for your Ad Campaign. Next, you will set up your Ad Groups, and then make your Ads. Here's a diagram of how AdWords is structured: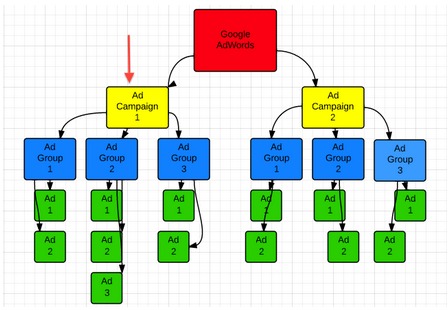 2. Name your campaign - You can give a name to your Ad campaign, or simply keep the default "campaign #1" name. If you're sharing your AdWords with a team, or plan to run multiple campaigns right away, be sure to use a name that you'll be able to easily identify.

Note: You can change your Ad Type again here.

3. Devices: You can target your campaigns to drive more traffic from particular devices - such as computers, mobile devices, or tablets.
To start, choose the "all devices" option. This gives you the most comprehensive Ad coverage for all viewers.
You can always change your device targeting after you've created your campaign. (For example, check your metrics to determine where your best ROI is from and put more Ad spend in your higher returning devices, or if you goals are to drive in-store traffic via mobile, etc.)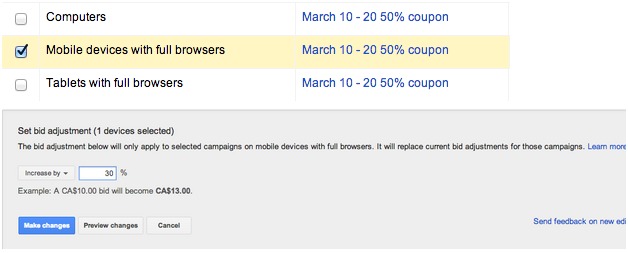 4. Location - Choose your location(s) that you want your Ad to target, or even to exclude. Your location choices will narrow down who sees your Ad in what region. The more specific you are, the lower your costs will be. (Your costs will be lower because the number of people you reach will be lower - but those people your reach are your local customers.)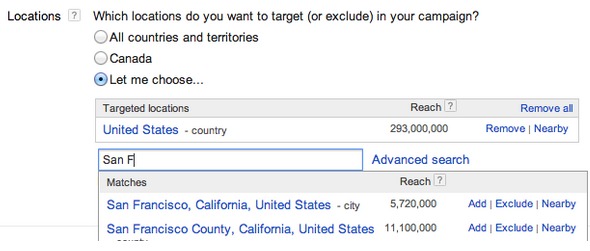 Creating a really targeted location is particularly useful if you have a physical location for your business and you rely on foot traffic to sell your goods and services.
You can use advanced settings to narrow your location further:

5. Language - Choose the language for your Ads.

6. Bid Strategy - This is the section that's all about the money and how you're going to use your budget.
You are given two choices about how you want to structure your bids. You can select "I'll manually set my bids for clicks" or "AdWords will set my bids to help maximize clicks within my target budget".
Basically this is asking if you want to use your own strategies to optimize how much you'll pay for a click per keyword (and lots more), or if you want Google to do the optimizing for you.
If this is your first campaign, or you want more automated advertising, choose the "AdWords will set my bids" option. For more about bidding strategies, check out my article " How Do I Optimize Budgeting and Bidding in Google Adwords?"
You can opt for more advanced options such as your Delivery method and how frequently your Ad will show.

7. Budget - This is the box where you tell Google how much you are willing to spend per day.

You set this as your Ad Campaign budget, and will apply it to your first Ad Group (you'll be making this next) and all the actual Ads within that Ad Group.
The default budget is PPC (pay per click). I recommend you start with this payment option. You can get into all kinds of advanced pay methods - but I'm not going to talk about those here.
If you're curious, check out an article I wrote which outlines the various budget bidding methods.
If you're not used to budgeting your Advertising campaigns on a daily basis, be sure to do the math before you submit your dollar amount.
I'd recommend that you start small - but not so small that your Ads won't make an impact. Set a budget of $20 - 50 per day. Monitor your clickthroughs, leads, and sales conversions and adjust your budget accordingly.
8. Ad Extensions - Ad Extensions are a pretty cool feature in Google AdWords. They can increase your clickthrough and conversion rates, and they don't cost anything more (you still just pay for every click your ad and ad extensions get in total).
You've probably seen Ad Extensions in action. They show up in blue below the ad copy of top position Ads:

Ad Extensions can be used to include your location information, your phone number (both of which have a particularly high return on mobile searches), links to your site's landing pages (if you have multiple offers you want to promote), and more.
Choose which Ad Extensions you want to include in your Ad. (Note: Google does not show every Ad Extension for every Ad. They've got their own algorithms to determine what Extension shows up when and where, etc.)

9. Advanced Settings - You will see Advanced Settings at the bottom of the "Select Campaign Settings" page.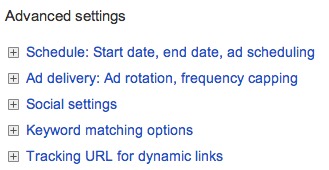 Do NOT glaze over this: I strongly recommend that you make an end date for your Ad Campaigns.
Google's default is to have no end date set. This means that if you start your Ad, get busy with something else and forget your Ad was even running, you could end up with a large bill at the end of the month. If your Ad was for a one week promotion, let's say, you'll have paid for lots of clicks to your promotion landing page that had expired.
Click on "Schedule: Start date, end date, ad scheduling" and input your Campaign end date.
You can leave the other Advanced settings as they are. When you're more familiar with AdWords, try out various Ad rotations, keyword matching options and URL tracking.
Okay, on to the next (and almost last) page for your AdWords Campaign.
Create an Ad Group
---
You'll now be on to the next page, with the tab on top called "Create an ad group". It looks like this:

An Ad Group is a sub-group of your Ad Campaign.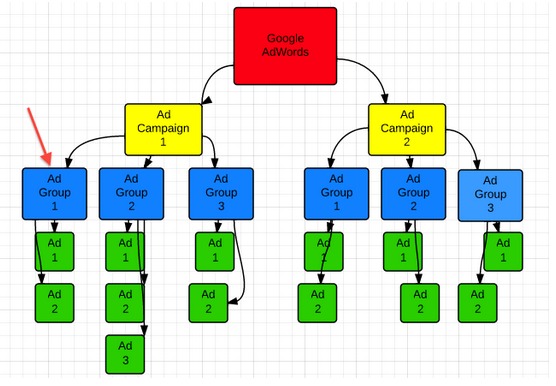 10. Name this Ad Group - Similar to your Ad Campaigns, you can have multiple Ad Groups. Like your Ad Campaign, you can name it with specific keywords or promotions, to make it easier to identify when you are analyzing your results (or easier to find when working on a team).
Your Ad Groups can have multiple Ads and groups of related Keywords.
11. Write your Ad - Now you get to write out your Ad! You can make as many Ads as you want in each of your Ad Groups. I'd suggest you make at least two Ads per Ad Group, so you can do A/B Testing and optimize your results.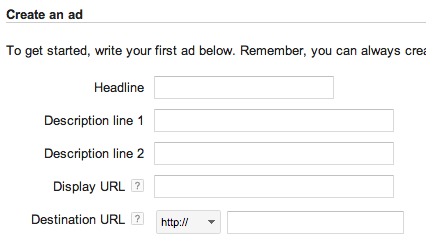 Your Google Ad is made up of a:
Headline - This is what shows up first, in blue, on your Search ads. You have a maximum of 25 characters.

For best results, keep your headline relevant to your top keyword and your marketing campaign. You need your headline to be eye-catching enough to compete with other Google AdWords and organic search results.
Description Line 1 - This is the first line (after your Display URL) in Side Ads (the ones that show up on the right hand side of the page). In Top Ads (the ones at the top of the search results page, in that pinky-salmon hue), this line shows up in the Headline. You have a maximum of 35 characters.
In this Example (from an actual Expedia ad), Line 1 is "Best Hotel Prices Guaranteed". It shows up in the 2nd line in Side Ads, and in the headline on Top Ads.


For best results, include a clear Call-to-Action (CTA), a top keyword and/or your USP (unique selling point). You could include your business name, if it is recognizable (this helps to create trust, which helps to get your Ad more clicks).
Description Line 2 - This is the next (and last) line on both your Side and Top Ads. You again have 35 characters as your maximum.
In the same Example, Line 2 is "Find your Perfect Hotel in Vegas!"


For best results, be sure to include a top keyword, and a unique, compelling CTA.
Display URL - Google lets you choose the website address that will be shown in your Ad. It can be shorter than your specific landing page, or URL path. It must be similar enough to make your ad trustworthy. For instance, it could be your homepage URL with one keyword.
In the Example, the Display URL is clear, with a recognizable homepage, and a path with their top keywords for the Campaign (Las_Vegas_Hotels):

Destination URL - Your Destination URL is the exact link you want people who click on your ad to go through to. Your Destination URL should be your campaign-specific landing page (such as a coupon in your Ad). You can even include all kinds of tracking codes here which won't show up in your Ad copy.
In the Example above, the Destination URL was actually this:

Again, try out multiple Ads within your Ad Group. A/B test them. Use the Ad with the best results, then tweak them again, and A/B test them again. Repeat until you have the best performing Ad Copy for your business.
12. Select Keywords - Keywords are one of the most important aspects of your Ads. They are how to tell Google when to show your Ad, and they can make or break whether your Ad gets seen by your potential customer.
Your Ad will show up_ (well, based on many variables)_ when someone does a search for your keywords. You know this: when you do a search on Google, Ads are shown. They are usually pretty darn accurate for what you're searching for, right?
Google likes keywords that are relevant to your Ad Campaign, your Ad Copy and your landing page. Keep this in mind when you are choosing yours.
Use 10-20 keywords per Ad.
There are like thousands of methods for choosing your keywords, here's a few:
Choose from Google's keyword selections for you. This is derived from your ad copy and Destination URL [yes, Google crawls your campaign landing page pretty quick!] (Note: these keywords don't always work - I made up a site for "Discounts are us" and Google suggested keywords like: "dating Russia" "mail order bride" and "free Russian dating")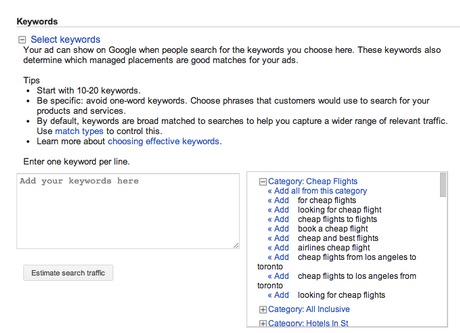 Think like your customer. Brainstorm lists of searches your customers might be doing when they're looking for your stuff. The better you can match it, the better results your ad will have.
Check out more Google AdWords Keyword tips.
13. Set your Max CPC - You'll only see this if you chose to manually set your Bid Strategy. This is the maximum you're willing to spend for one click per keyword to your landing page.
If you chose the Bid Strategy to let Google optimize your budget you won't have to set your Max CPC.
14. Billing - Set up or confirm your preferred billing method. Google has different payment methods for each country. For most countries, you pay after your campaign has completed. Make sure your credit card or debit card information is accurate and up-to-date.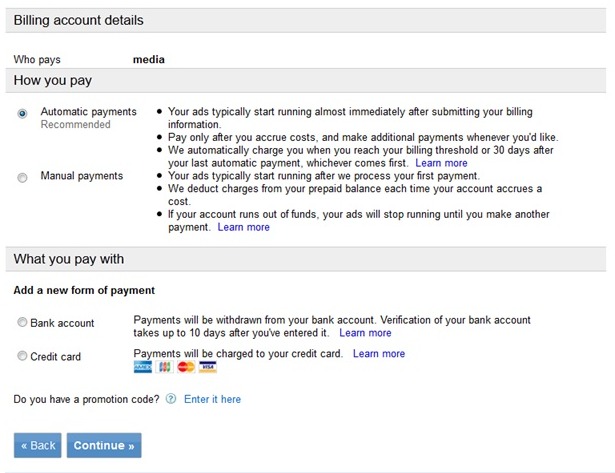 Once Google has approved your ad it will be live. You'll see a green dot by your campaign, and your ad status will say "eligible".
Woo Hoo! You did it!
Make sure you check your account stats once your ad is live. Monitor it throughout its duration to check clickthroughs, views, searches and more. Make changes to your ads and ad groups to optimize each ad you run.
Conclusion
---
Advertising online with Google AdWords doesn't have to be overly complicated - or scary. Hopefully this article has given you a clearer idea of how to create your next AdWords Ad.
Learn more tips to optimize your online marketing:
What do you think? Do you advertise online? Do you use Google AdWords? Share your tips on your Ad success!
Wishpond's platform makes it easy to get the most from your advertising buck with mobile-optimized landing pages and lead nurturing tools. Check us out for free today!