21 Actionable Landing Pages for Content Marketers
If you're a content marketer like me, you're in the sales funnel front line for your business.
You blog, yes. You create amazing content. But how are you turning your efforts into lead generation? How do you get the numbers to show your results and increase your ROI?
I've got a simple and super effective method: landing pages.
With landing pages you can generate warm leads and show your ROI in a boss-appealing number crunching way.
Here are 21 actionable lead generating landing page tactics you can use to get qualified leads.
I've also included a short section on what content marketing is - just in case you don't know.
What is Content Marketing and Why does my Business need it?
---
Many of you know what content marketing is. Heck, you likely wouldn't have found this article if you didn't. But, did you know the term "content marketer" isn't new? Yep, Netscape_ (remember them at the start of this webrowsing internet thing?)_ hired the first content marketer way back in 1996 (aka the last millenium). Content marketing is now becoming an essential part of your online business marketing - and it's here to stay.
Content marketing is basically a method of getting your business' message communicated to your consumer. In practice, good content marketers don't sell directly but rather engage, educate and develop or nurture customer leads. Content marketing can include:
Social media marketing
Blogging
SEO tactics
Brand building
Public relations
Journalism (of sorts, that's uh - slightly biased)
Online advertising
Inbound marketing
Lead generation
Customer relationship building
Corporate storytelling
Strategic planning
KPI metric measuring and ROI improvements
Content marketing and article writing is one of the 'leanest' ways to attract new leads. At the moment, it typically costs 62% less than traditional marketing.
Cool, hey? I know, us content marketers are awesome (if I do say so myself)….
But, with so many jobs to do, you need to stay focused on your results - and you need simple streamlined methods to achieve your business objectives. In this article, I'll show you how to easily achieve your lead generating objectives. These landing page tactics use your content, warm your leads and get results.
Landing pages are pretty easy to set up (if you're using a good builder that gives you access to several landing page templates).
Optimize your landing pages (read tips in my recent article on how to optimize your landing page for conversions), use online advertising and remarketing campaigns and you can generate tons more qualified leads to send over to your eager sales team.
Marketing for Lead Generation Landing Pages
---
We're all looking for marketing ideas. When you're marketing online with landing pages, create content that gives your prospects a value exchange they can't refuse. Here's a few tips that'll boost your landing page leads.
1. Create targeted ebooks
You write blog articles, right? Those articles are good quality and business related. You've probably even written a series of articles on one particular topic. Use that series of, say, 5-10 full length articles. Compile and edit them into a book. Get it formatted into a compellingly attractive ebook, and turn it into a PDF ebook.
Set up a landing page on your website. Ask consumers for an email in exchange for your product - to create a higher perceived value of your content - and get leads.
2. Use sidebar CTA's for your ebooks
Once you've created a number of great, relevant and interesting ebooks, promote them through your blog. Make a sidebar on your blog pages to promote and generate clicks to your landing page.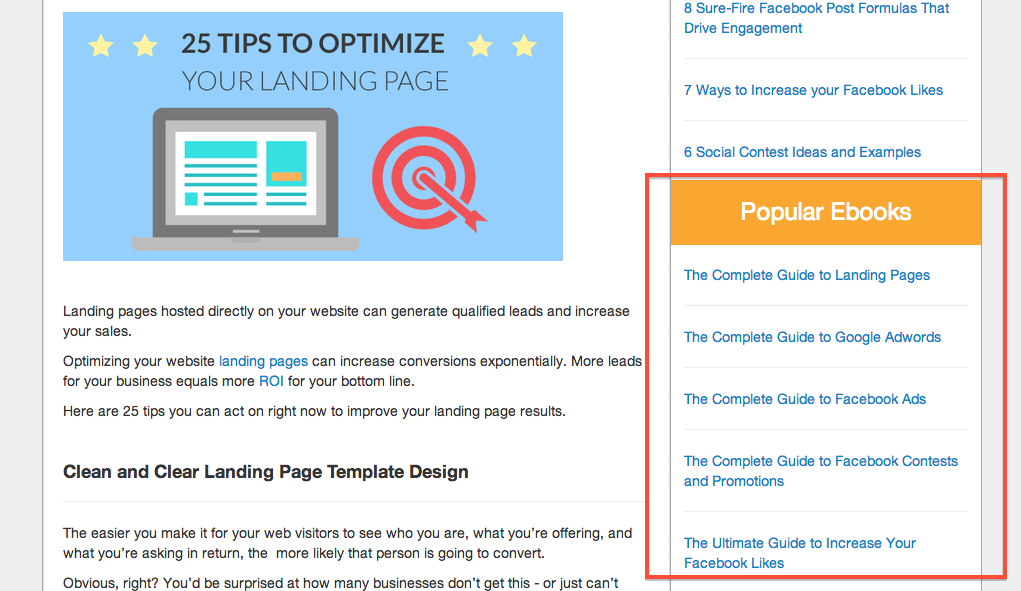 3. Make how-to guides
How-to guides are targeted lead generators. You attract potential customers who really want to know about your business offerings. Make your how-to guides related to your exact service, and even include hints about how to use your products to achieve the best results.
Make a landing page on your website so it's easy to download these guides.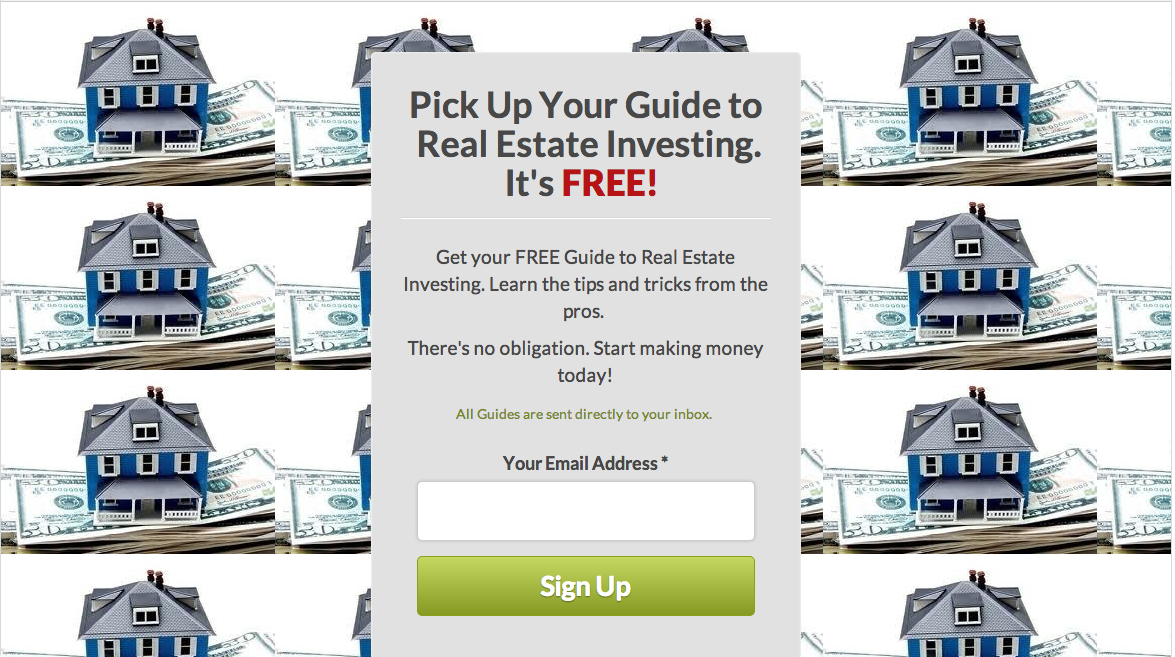 4. Host Webinars
Webinars are a cool way to engage your interested market and generate leads. Make a powerpoint presentation related to a customer problem. Show how to solve it.
Take webinars a step further by recording them for future use, and allowing participants to keep your presentation.
Generate leads by making a simple RSVP landing page.
5. Create Podcasts
A cutting-edge trend right now is turning your blog articles into podcasts. Read out your articles. Record them. Email-gate your podcasts on landing pages to show that they are of value.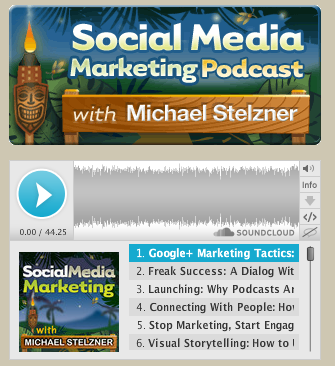 6. Create newsletters
Newsletters have been and still are an effective form of content to keep in touch with prospects and customers. Generate more leads by hosting an optimized landing pageshowing people the benefits of getting your updates.
Use incentives like coupons or exclusive discounts to those newsletter subscribers.
7. Write Whitepapers
If you market for a B2B, whitepapers speak the language of business. Write papers with industry stats, data and trends. Address a problem your market has. Format your content so it's easy to skim and highlights the important info.
Give it away to your prospects for their email and contact information. Use a landing page with a clear call-to-action and great visuals.
8. Know your customer; make niche ebooks
You're a marketer, so you know you need to follow the golden rule: Know your customer.
Segment your target markets. List out demographics for each of your buyer personas. Then target your content and write for each of your niche buyers.
Generate leads through super targeted ebooks hosted on a website landing page.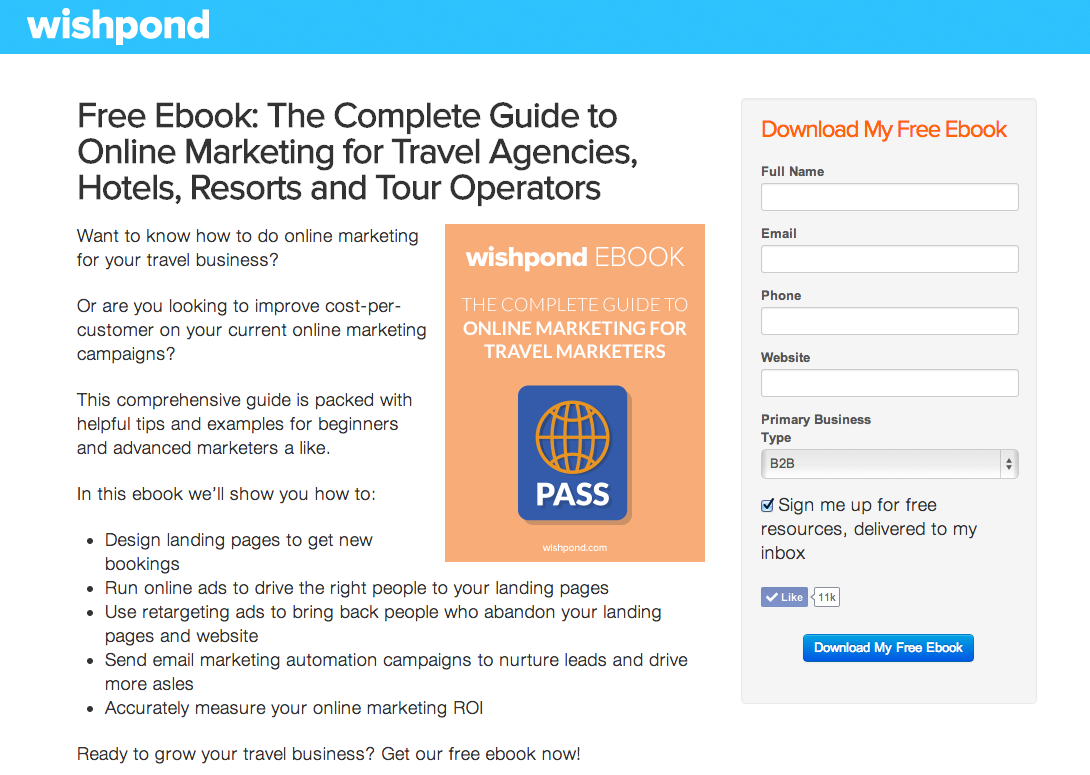 9. Promote your niche ebooks on highly relevant website pages
Once you've developed highly targeted ebooks written for your target market, promote them. Market your email-gated content on your own website on relevant pages. Use online advertising to directly connect with interested prospects.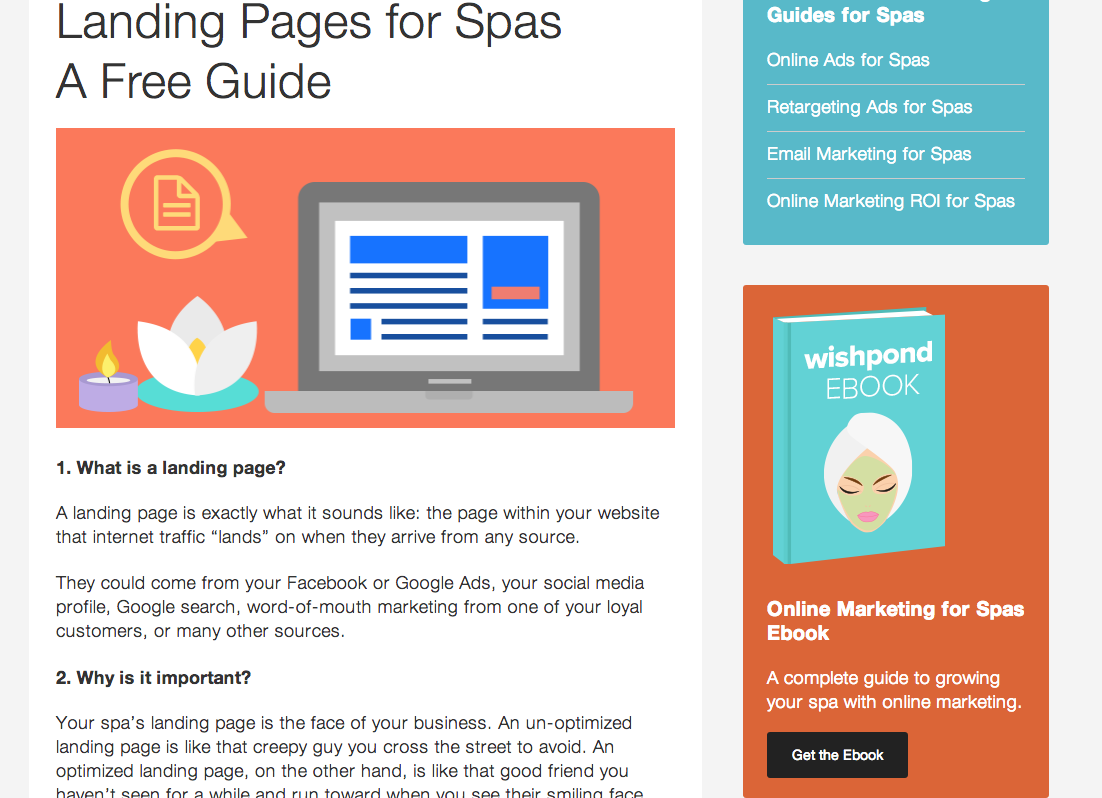 10. Make a series of case studies
Customers love to see how other people use your products. Case studies are a type of social endorsement - and they work to generate leads and sales.
Develop case studies by interviewing real customers with real results. Put a series of case studies together, format it with nice visuals, and email gate it on a landing page.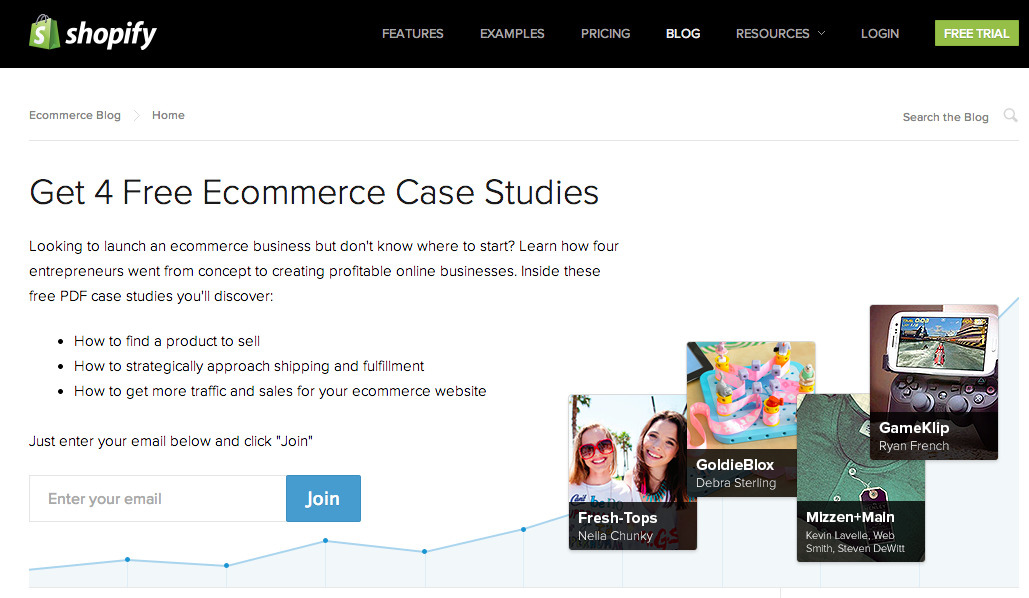 11. Generate industry reports
If you're in B2B, your business customers want reports and data. If you have the resources, conduct comprehensive studies on a topic that solves your customers' problems.
Give it away for the mere price of an email and a name. You get leads of genuine prospects.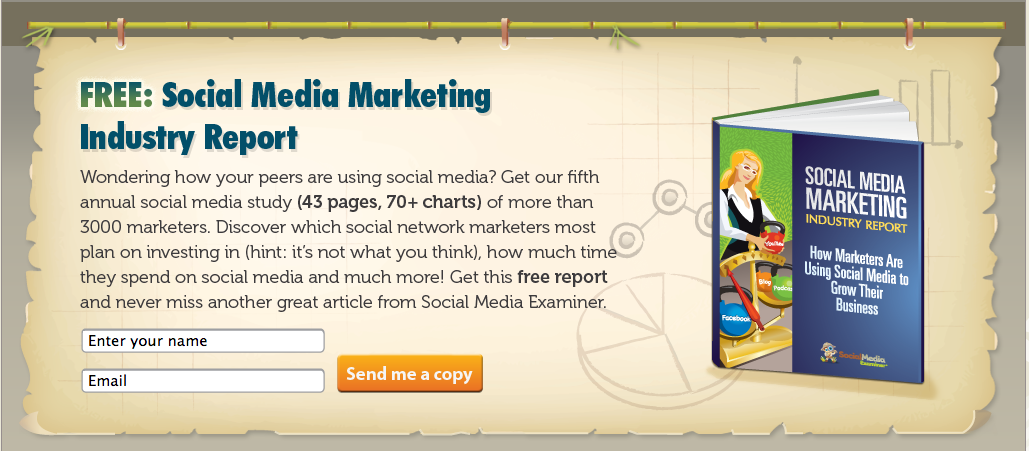 12. Create Slideshares
Again, if you're marketing to business, presentations like Slideshares have an impact. They generate leads too (if you're on a pro plan). A real benefit to this type of content is that people can download your slides and put them on their own site.
At Wishpond, we've generated tens of thousands of views - and hundreds of qualified leads from our slides being posted on hundreds of blogs. You can email-gate a series of Slideshares - just market the resource to motivate by showing the beneficial value exchange.
13. Create a learning centre
You've created great content. Make more and segment it by topic or a consumer-centric objective. Compile the targeted content to create an all-in-one learning center for your customers. Make it exclusive content for members.
Make it easy to join via a short form on your landing page. You're adding value - and generating leads - for your ongoing or future clients.
Lead generation on your business blog
---
Did you know that 96% of all first time website visitors will not immediately buy from you? But once those visitors have clicked on to your blog they're getting warmer. As a smart content marketer, you know this is the time to turn those readers into leads.
Implement one or more of the following strategic blog tactics and you can get tons more opportunities to drive traffic to your landing pages.
14. Make a topbar CTA that directs to a landing page
Code in a landing page banner at the top of your blog posts. Show your benefits, use contrasting colours for your CTA and include a friendly image. Keep your banners focused to match the topic of your articles - that way you're attracting an interested audience who is more likely to convert.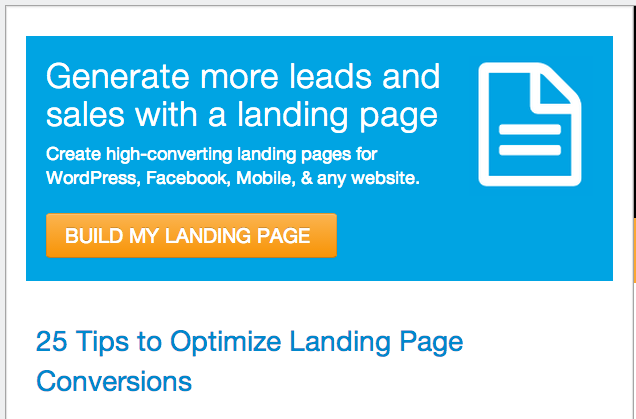 15. Use landing page sidebars or pop-ups
Try deploying a landing page form directly on your blog. Use a sidebar so your ask is viewed while your readership skims or reads your articles.
This is an alternative to the overly used pop-ups.
Test both methods to determine what gets you the most effective results.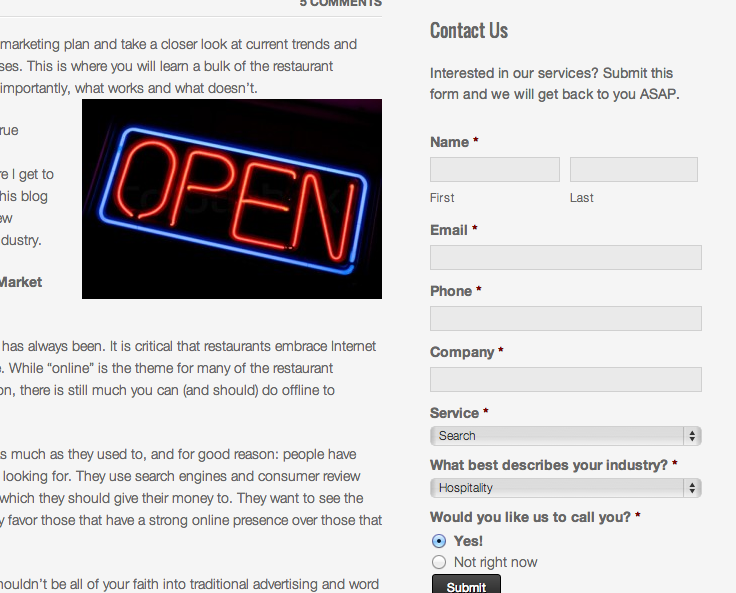 16. Use anchor text in your blog to link to landing pages
Basic SEO tactics not only increase the SERP of your landing pages - they can drive traffic to your website lead generators too. Use keywords on your blog posts to link to relevant landing pages, like your landing pages ebook, your VIP demo or your Free Trial offer. (Sorry, couldn't resist!)
17. Make it easy to subscribe
Put up a blog subscription opt-in form. Make it stand out with contrasting colours to your site. Get creative in your CTA and value propositions. (Like, don't just use the old school "RSS" feed sign up.)
18. Add a bar on the top on your site
Use tools like Hello Bar or Viper Bar to add those cool little bars to the top of your blog. Yes, they're all the rage right now - uh, because they work.

19. Add a CTA button at the end
Hey, if your reader is engaged and interested enough to give your article their time 'til the end, wouldn't you want to engage them further? You've likely warmed them enough to gain trust. Don't lose the opportunity to post CTA buttons that drive traffic to your email gated content.
Like this, or, er - what's that at the bottom of this post?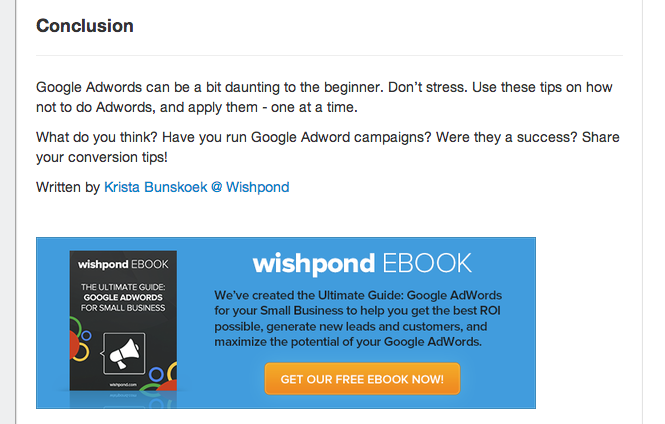 Test, monitor and get results for your landing page
---
Tracking your results is a huge benefit in online marketing. You can measure, monitor, tweak, improve and optimize just about any online campaign. Do it, content marketer, do it!
20. A/B test your landing pages
Always monitor your landing pages. Changing the wording in your CTA button, for example, can increase your conversions.
21. Monitor and track your landing page lead generation
Use the right analytic tools and you can easily track the leads you're generating and where they're coming from. Connect these analytics to your sales team, and you can have an incredibly powerful method to analyze your best efforts, determine what's getting you the best ROI, and where to focus your content marketing efforts.
I think of my analytics dashboard as a high performance vehicle monitor. I can tweak the torque, tighten the steering or adjust the tire pressure on any landing page campaign to give me the best results for my business.
Streamline your content production to increase results of your own business objectives. Get more leads, nurture them, build your brand, and increase sales.
Conclusion
---
So, what's the key takeaway of this article? Uh - content marketing is cool, and it's here to stay. And, when blogging for business, there's a million ways you can generate leads and prove your marketing results.
Want to read more about landing pages from our super awesome Wishpond content marketing team? Check out these articles:
What lead generation tactics do you use? How many landing pages do you have on your business website? Do you use a landing page builder with marketing automation options?
Written by Krista Bunskoek @ Wishpond
Here it is: