Are you looking to take your hotel or resort to the next level through social media?
Well, you have come to the right place. Through a few social media marketing techniques you see an increase bookings, a return in clientele and encourage exponential growth of your business.
Engaging with your guests via social media will increase awareness of your hotel or resort and get your potential guests excited about their next vacation.
In this article I'll show you 10 ways to take your social media marketing to the next level.
Let's begin!

Social Media Marketing for Hotels and Resorts: Knowing your Customer
---
Before the guest books your hotel or resort they will probably have done some research to pick the right hotel for them. Through Facebook, Instagram, Twitter and Tripadvisor you have the ability to influence how the guest perceives your hotel or resort before they book.
Determine what you offer and the types of guests that you want to cater to. Is your clientele made up primarily of business or recreational, singles or families, do you want to convey a romantic or action packed vibe, budget or luxury? The tone you set will be used across all social media platforms so it is important to get your messaging straight from the start.
Once you have narrowed this demographic, encourage guests to "like" you on Facebook or "tweet" you on Twitter. Reward them by offering discounts on products and services. If they have a travel blog, ask them to write about your hotel for further discounts. If they do not have a travel blog push them to post a review through their Facebook account on TripAdvisor.
Social Media Marketing for Resorts and Hotels: Facebook Marketing
---
Facebook is a place for people to share with their connections all about their vacation pre and post-trip. This is your chance to focus the conversation on how your hotel or resort will make their trip the best trip they've ever had.
You can get guests excited about your hotel or resort through pictures, contests and links to your page. Here are some ways to create an awesome Facebook Page to get new clientele and re-engage former ones:
1. Choose an awesome Cover Photo – A picture is worth a thousand words, therefore it is important to choose your Cover Photo wisely. Pick a Cover Photo based on location, seasonality and what makes your hotel unique. The cover photo is the most prominent image on your Page and the first thing people are going to look at. It will show potential guests how you want to be seen.
Below you will see the Cover Page of Fairmont Hotels & Resorts. They show the tranquil beauty that you will experience when you visit their location.
2. Showcase as many pictures as possible – Use photos of the destination to create an idea of the vacation guests will be having. This will change based on the time of year, show them why you are awesome all the time.
An example of this is Vancouver, a city that can be visited year-round for an array of different activities. In the winter show the snow capped mountains and in the summer the lush forests. Encourage your potential guests that it is always a good time to visit your hotel because of "X".
Have a variety of pictures from professional to candid that capture the hotel and city in the best light. The Four Seasons Resort Punta Mita shown below uses images of relaxation and escape.
3. Special offers or promotions – You can offer guests special incentives for Liking your Page. Such as discounts on future stays which encourage guests to be interested in the product you are selling. You can do this easily using Wishpond's Facebook Contest App.
What are some ways I can do this?
Get users to enter their name and email address in your contest.
Have them share this contest with their friends on Facebook for extra chances to win.
Or, as shown below, have guests comment on a service you have and offer compensation for participating.
Social Media Marketing for Hotels and Resorts: Instagram Marketing
---
On its own Instagram is a powerful marketing tool and can have proven results if used correctly. Hashtags are a key component in using Instagram
1. Trending hashtags can be used to increase awareness of your hotel or resort – There may be particular times you want more people at your hotel or resort. As shown below Wythe Hotel uses Instagram to showcase that on June 27th and 29th they have an officiater for weddings. Special promotions like this one encourage guests to book with Wythe Hotel instead of others in the area if they want to get married.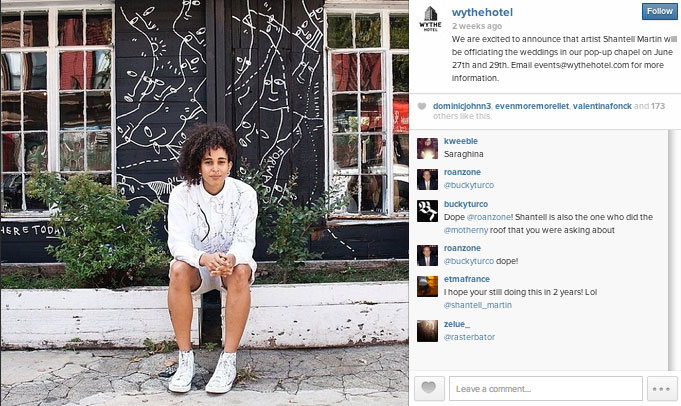 2. Niche hashtags can be used to get specific people excited – If your hotel is located in a famous ski resort like Whistler, Canada you can use a specific tags such as #whistlervillage. In planning a trip to a specific location potential guests will search for those location-based hashtags, which gives you a great opportunity to showcase your hotel and resort to them.
8 Hotels in Sydney uses #sydneyoperahouse, a popular landmark for tourists to get excited about staying with them in Sydney.
3. Contest hashtags – Photo contests can encourage guests to show off how they are enjoying your product, your hotel, your amenities and the city they are visiting. By offering incentives to guests, they will be encouraged to take snaps of their favourite moments and share with their circles. You can easily do this using Wishpond's Instagram Photo Contest App.
Whether they win or lose they will more likely remember the moment they shared.
This was done by W Hotels who use #POSEWHENEVER to encourage guests to win a retreat @wbaliseminyak.
Social Media Marketing for Hotels and Resorts: Twitter Marketing
---
How do you get your message across in 140 characters or less?
Through the direct influence of Twitter.
Twitter makes it easy for guests to share their experiences with friends to generate referrals. It also provides a gateway to expose guests to what your hotel or resort has to offer.
1. Include a link to current promotions – This is reliant on the amenities you have available and the dates you are looking to book in your hotel or resort. Easily create social deals with Wishpond's Social Offers App.
Some examples could include:
We are having a Mid-Summer Sale: Buy 2 nights get the 3rd free
Get $20 dining credit in our lounge when you book a night over the weekend
All guests who stay now through June 30 get 2 for 1 passes to the Vancouver Aquarium
Opus Hotel in Vancouver entices guests to book multiple rooms in exchange offering a $100 bar tab.
2. Promote events happening in your hotel and around the city – Is it a holiday or special event in the city? Get people excited by sharing event information.
There is a big hockey match @Canucks vs. Bruins Saturday night book now to avoid missing out.
Live jazz every Tuesday in the lounge, drink specials from 7pm.
Canada Day parade at 11am, complimentary face paint and balloons for kids
Loden Hotel shows how popular the Vancouver Jazz Festival is while promoting the hotel on the @vanjazzfest Twitter feed, which increases the reach of their tweet.
3. Offer discounts and services to amenities offered outside of hotel rooms. – Perhaps you have a salon, spa or restaurant onsite. Offer deals to guests to get them onsite so they can see your hotel and remember it for future visits or share with their circles.Easily create social deals with Wishpond's Social Offers App.
50% of manicures today when you buy a pedicure at our spa
Feeling hungry? Come down for 2 for 1 appetizers at our bistro
Watching FIFA? Come enjoy the action with a cold brew on one of our 20 TVs
The May Fair Hotel is letting guests know its always the perfect time for a Pimm's cup since the Tennis is on.
4. Time your Tweets – Tweets will immediately show up in your followers feeds. Therefore it is important to send out tweets when people are online and checking Twitter.
A really great time to do this is during breakfast, lunch and or dinner, as it is generally the time that people will be catching up on their social media. Utilizing hashtags such as #vacation an #holiday can be useful to make it easier for guests to find your brand.
Tip: You only have 140 characters and if you want someone to @mention or retweet there needs to be room to do this. Do not use the full 140 characters.
Social Media Marketing for Hotels and Resorts: Tripadvisor
---
Tripadvisor is a popular tool used by travellers to determine where to go, who to stay with, what sites to visit. It also gives them a chance to share with their connections their thoughts and opinions regarding travel products.
Guests are able to provide impartial reviews of your hotel, upload pictures of their experience, vote up or down your hotel ranking and share their views with their Facebook connections.
Every hotel or resort has the ability write a personalized description, the amenities offered and offers space to upload pictures.
Potential guests are able to search through a list of popular destinations or pick their own. Hotel type can be narrowed down by: hotels, B&Bs or speciality lodging, vacation rentals and special offers. Your hotel will be ranked within a list and can be further selected for having best value, romantic, family-friendly, business accommodating or luxurious.
Tip: Figure out what your niche is and be at the top of that list. You may not be at the top of the list of all of the hotels but you can be in certain categories. Go with what you are good at and emphasize those points.
There is also an option where guests can view pricing and availability through a number of websites. It is therefore equally important to ensure your pricing it accurate and up-to-date. If there is a deal going on make sure guest can see that reflected through the pricing.

Conclusion
---
I hope this has helped you get a better understanding of how to use social media to market to travelers. There are other social media platforms that have not been talked about here such as Foursquare, Yelp or Youtube videos.
Thoughts? Suggestions? What has worked for you? Do you have tips for other hotels or resorts?
Want to learn more about marketing your hotel or resort on social media? Check out these articles:
wishpond