Do you need more email leads from qualified buyers? Of course you do.
Would you like to get those leads from people already interested enough to spend time on your website? Uh, yes.
Have you ever thought to use a website popup?
You're probably seeing pop-ups all over the place these days. More and more smart marketers are using them because they've tested them out, and they've proven to work.
In this article, I'm going to show you the value of pop-ups. More specifically, I'm going to show you the value of a timed pop-up, and how five clever cutting-edge businesses are already using them to grow their email leads – and their business.
I'll show you how you can use them too.
What is a Timed Pop-Up?
---
A timed pop-up is just what it sounds like: a pop-up that appears to a website visitor after they have been on the site or page for a specified period of time.
Timed pop-ups are pretty cool because you're only showing your lead generating offer to people who are on your site for a determined amount of time. If someone bounces in say, less than 5 seconds, they're probably not that interested in your company or industry and likely wouldn't be a great email lead anyway.
Many pop-up providers let you set the timing of your pop-ups in a few limited increments (such as 10 seconds, 30 or 60). Wishpond website popup builder allows you the freedom to set any time increment and we have a pretty robust A/B testing tool that enables you to test the best time frame for optimal conversions.
Getting the right timing on your pop-ups is the name of the game with these lead generators. Show your message too soon, and you may turn off your visitors. But show it too late, and your traffic may have already bounced or they're so absorbed in your website content that your pop-up just annoys them.
As my colleague James Scherer advises, "Check your Google Analytics to see the average time your traffic is spending on the page you want to put a Timed Pop-Up, and set it for 10-20 seconds before that average."
Okay, let's get to the five examples of timed pop-ups done well, and how you can do the same.
Timed pop-up: Elegant Themes
---
Elegant Themes is a premium WordPress theme provider for web designers.
After about 30 seconds of being on their blog, visitors see this timed pop-up: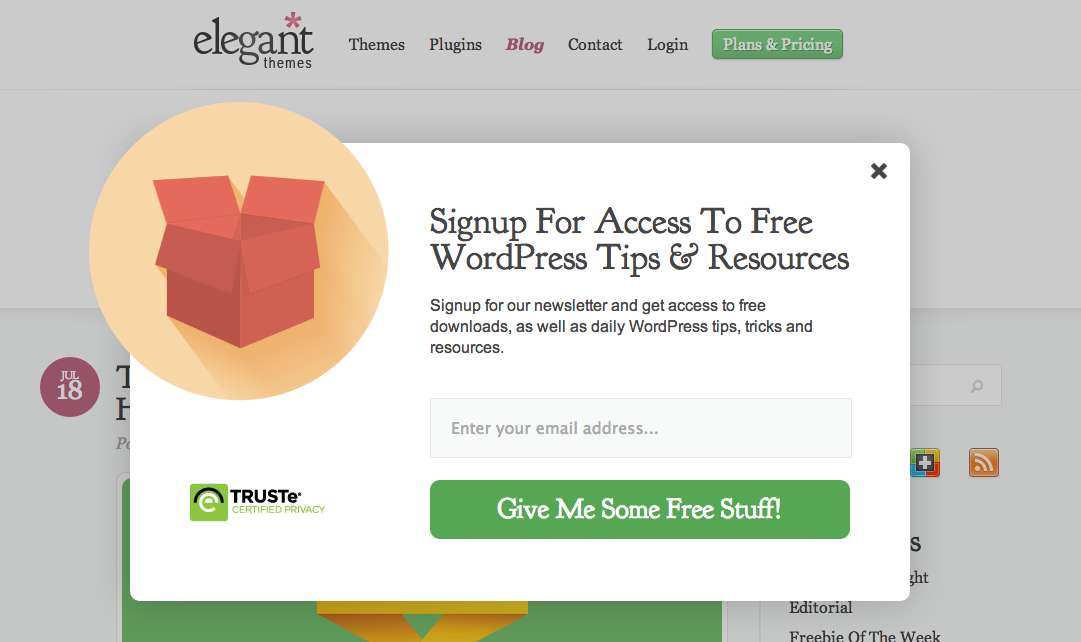 The pop-up swings back and forth as it initially appears, which further grabs the attention of readers.
What I like about the timed pop-up:
The header font is inviting and friendly, and the inclusion of the ampersand (&) symbol draws attention to the benefits of signing up.
It has a visually appealing (and smart) design with the red box shadowed on an off-tan circle in the upper left hand corner acts as a directional cue. Most people read landing pages and pop-ups in an "F" shape, starting at the upper left hand corner and ending at the lower right side.
The green Call-to-Action (CTA) button clearly stands out, and has a consistent font to the header.
The CTA copy is friendly and consumer-centric. It clearly shows the benefits of converting (getting free stuff) and uses the first person pronoun "me" (numerous CTA studies have shown using "me" instead of "you" increases conversion rates significantly).
Uses the TRUSTe certification symbol to increase trust without using negative words like "we won't spam you".
What I don't like about the timed pop-up:
The red box image does not relate to the offer. As most people tend to process images first (before words), the pop-up would be quicker to understand at a glance if the image was more aligned with the conversion incentive of getting free resources, downloads and tips.
There is a missed opportunity to add benefits for reader conversion – the subheader text repeats the header text. They could change the header to something like "Want free WordPress Tips & Resources?" and the subheader text could read "Sign up for our newsletter and get access to…"
Timed pop-up: Post Planner
---
Post Planner is an automated social media planner. The Post Planner blog is one of the more popular sites for online marketing tips.
Within 20 seconds of a visitor clicking on their blog they are shown this timed pop-up: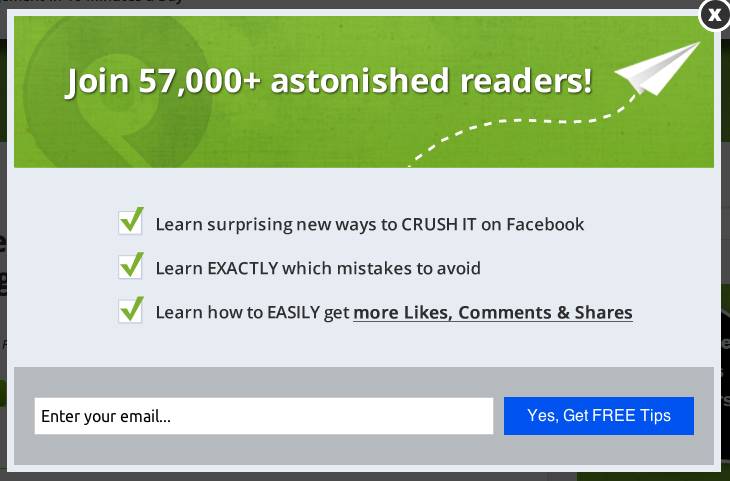 The ask is to submit your email in exchange for their daily articles and more.
What I like about the timed pop-up:
The header design is in their branded colour, and contrasts to stand out in the pop-up.
The header text is eye catching with the use of a specific number (57,000, not 60,000 for example) and the plus symbol.
The list of benefits are clearly listed and written in a colloquial tone that appeals to the social media/ content marketing niche.
The check boxes and check symbols in the contrasting green further emphasize the benefits and gives the reader a relatable feeling of achievement (by checking off the things on a list). Yeah, we're always trying to check off all the things on our infinite list, aren't we?
The blue CTA copy includes the word "yes" and capitalizes "Free" to emphasize this conversion feature. Getting your reader to say "yes" to a small ask starts the steps in getting a "yes" to a sale with you.
What I don't like about the timed pop-up:
While I like the idea of the directional cue of the paper airplane and dotted path, I would suggest they point the arrow towards their CTA or form field. This would increase conversions by subtly drawing attention to the ask, not the close button.
The hue of the blue CTA button seems a bit out of place and not cohesive with their branded blue hex code. They should A/B test a more branded CTA and monitor conversion rates.
Timed pop-up: Social Media Today
---
Social Media Today is one of the most popular online publications for marketing and PR professionals. The magazine covers all things social media and digital marketing.
After about 15 seconds on the homepage, visitors see this timed pop-up: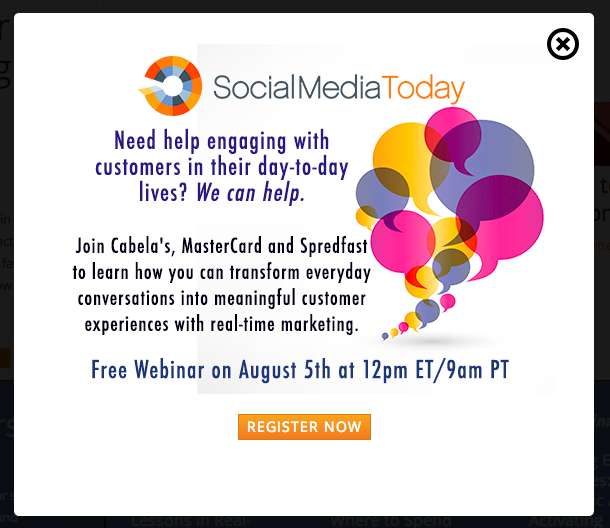 The offer is to sign up for a free webinar with a Fortune 500 company and other social savvy retailers.
What I like about the timed pop-up:
The pop-up is well branded. By including the logo and name, it makes it clear to readers that is is from the publication and not a third party.
The first subheader text includes a problem-solving question. Questions engage a reader and if your question can solve a common consumer problem, it will likely increase your conversion rate.
The design has a lot of whitespace, with the colourful contrasting speech bubbles draw attention to the offer (Free Webinar) and orange CTA button to register.
It clearly states what the offer is and when it takes place, including two North American time zones. (If you are hosting a live webinar, it's important to include a few time zones, as your attendees are likely living in many locations around the globe.)
They have a clear "x" button at the top right hand side, so readers can easily close the offer and continue reading the article they were scrolling through.
What I don't like about the timed pop-up:
The design is clunky and does not consider the natural way in which people read websites. The logo should be in the upper left hand side, the header could be more prominently placed at the top and the sub-header text could be left aligned with bullet points to make it easier to read at a glance.
The CTA could include a fillable form field so that people could register directly on the pop-up, without the need to be directed to registration landing page.
Timed pop-up: London Drugs
---
London Drugs is a socially savvy multi-store retailer, serving over 45 million customers a year.
When a visitor clicks on their site, this timed pop-up is shown after about 15 seconds: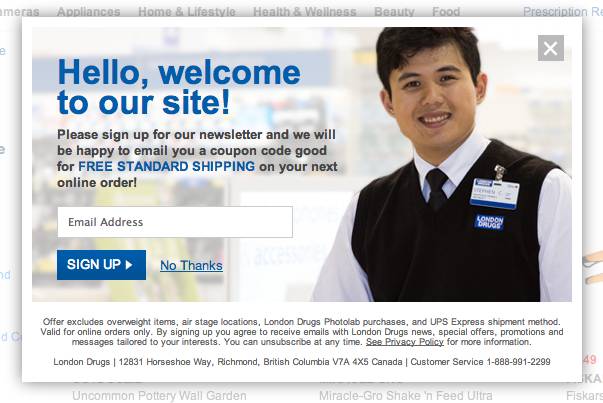 The pop-up is to sign up for their newsletter.
What I like about the timed pop-up:
The image is very friendly and authentic, with the smiling face of an a London Drugs employee being the first thing a viewer's eye is directed to. This instills a sense of trust in the visitor.
The copy is consumer friendly and literally welcomes people to their new online shopping site. They treat their online shoppers just as they would their in-store customers, which further gives a feeling of ease and safety.
The pop-up gives a great incentive for signing up for their newsletter by giving away free shipping for a subscriber's next online purchase. Studies have shown that free shipping is a top motivation for consumer to purchase via an online store.
The colour scheme includes their branded blue and is used to emphasize the welcoming header, the free shipping incentive and the CTA button to sign up.
The pop-up includes contact information such as their 1-888 phone number, making them look accessible and ready to help for any consumer issue. This makes them look very customer service oriented.
What I don't like about the timed pop-up:
It's a bit wordy, particularly with the three lines of fine print written at the bottom of the small pop-up. They could include a shortened version of the restrictions (such as some restrictions apply) and link it to their online shipping page.
They could include a more friendly form field filler. Instead of "email address", they could A/B test copy like "enter your email address…" to make to form more action oriented.
Timed pop-up: Dukeo
---
Dukeois an affiliate marketing site that makes money by blogging.
After about 20 seconds on any page on the site, a visitor gets this timed pop-up: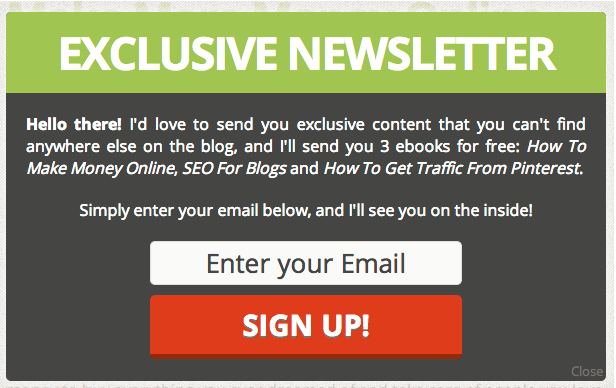 The pop-up is to generate emails for a newsletter list.
What I like about the timed pop-up:
It has a clean linear design which makes it easy to see right away what the ask is.
The header is bolded with a contrasting green colour and readers immediately understand the offer.
The copy is written in simple language and is friendly, making it both easy to skim and increases trustworthiness. Starting the subheader with a "hello there!" in bold makes the reader feel like the blogger is talking to them. Additionally, the copy uses "I" making another personal connection with viewers.
The offer is for an 'exclusive newsletter' (using the term 'exclusive' can make readers feel special, like they are part of that particular group), and also includes the addition of not one, but three free ebooks that are all relevant to an affiliate marketer want.
The form field and CTA button are large and prominent, making it easy for visitors to convert. The easier you make it to take an action, the more likely a person is going to take it.
What I don't like about the timed pop-up:
The font in the "enter your email" form field is too dark, and viewers may not initially realize that they need to enter their own email – they may instinctually mistake it for a button. Dukeo should A/B test a lighter hue to increase conversions.
The 'close' option is not prominent. While the idea is to get lots of emails, this conversion trick is actually kind of annoying and may actually deter site visitors to browse the site or continue to engage.
Conclusion
---
Timed pop-ups can generate leads from interested prospects. Integrate them into your online marketing strategies (with the smarts from this article) and you may just be amazed at how well they work.
For further reading about pop-ups, check out more Wishpond articles:
What do you think? Do you use timed pop-ups on your site? How have you increased your conversion rates?
Ready to start using popups? Check out Wishpond's drag and drop popup builder today!
Wishpond's Facebook Contest Apps make it easy to create sweepstakes, photo contests, Instagram hashtag contests & more.
wishpond