Popups.
They're quickly becoming one of the most popular methods of getting leads and building your email list with warm, qualified prospects.
But are you using any website popup effectively? Are your popups converting at the rate you need?
Here are seven elements of highly effective email building website popups that you need to be acting on right now.
1. Choose your Popup Type
---
The first step in starting to build your email list is to know that not all popups are the same.
There's actually five different types of popups you can use to generate leads. Each type can be used in different ways, depending on your marketing campaign needs and offers.
The five types of popups are: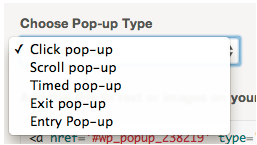 The better you understand the nuances of each pop-up type, the more successful you'll be in converting your web visitors into email prospects. Here's a brief rundown of what each one is and when to to best use them:
Exit PopUp – An exit popup shows up on your visitor's screen when they are about to bounce from your page. They are one of the most commonly used popups. They increase conversion rates as you're essentially giving your lost leads the opportunity to get something from you just after they were ready to leave. An exit pop-up forces your visitor to take an action with you – whether that is to convert or simply close your exit pop-up box.
Entry Pop-Up – An entry pop-up shows up when a visitor first arrives on your website's page. They can be a bit 'in your face' and are definitely controversial. Showing your visitor a pop-up increases the barrier to entry to the website landing page your viewer intended to click through to. For some businesses this results in amazing conversions while others lose a lot of traffic. Choosing to use an entry pop-up depends on your campaign, your business and your target market. If you're targeting people who are already familiar with your brand, and you're giving away an irresistible offer, you'll likely have a higher conversion rate, for example.
Timed Pop-Up – A timed pop-up shows after a visitor has been on your page for a specified amount of seconds. The benefit of timed popups is that you only show your offer to people who are interested enough to stay on your page for a while (if someone is bouncing at 5 seconds, they're likely not going to convert anyway). By showing your pop-up at a 30 second interval, for example, you're likely to get more qualified leads.
Scroll Pop-Up – A scroll pop-up is a bit similar to a timed pop-up in that your offer shows up after a visitor has been on your page for a while. The difference with a scroll pop-up is that it's based on how far (or where) your viewer scrolls on your page. For example, if your pop-up offer is for an ebook about best travel resorts, and you code it into your blog articles about travel resorts, you can likely generate more leads by only showing the pop-up to people who have scrolled 70% of your article – as they are likely the most interested in your stuff. (Of course, like any good online marketing campaign, you need to A/B test your popups to get the best results.)
Click Pop-Up – A click pop-up is a relatively new addition to the pop-up market. I personally love click popups as they're kind of a hybrid between a landing page and a more traditional pop-up. A click pop-up is one that shows to your visitor only after they've taken the action to click an image or text on your page. After they've taken that action with you, your offer shows up so they can act with you again.
Here's an example of a click pop-up from the Wishpond blog. In one week, we actually doubled our conversion rates by adding a simple click pop-up code and banner: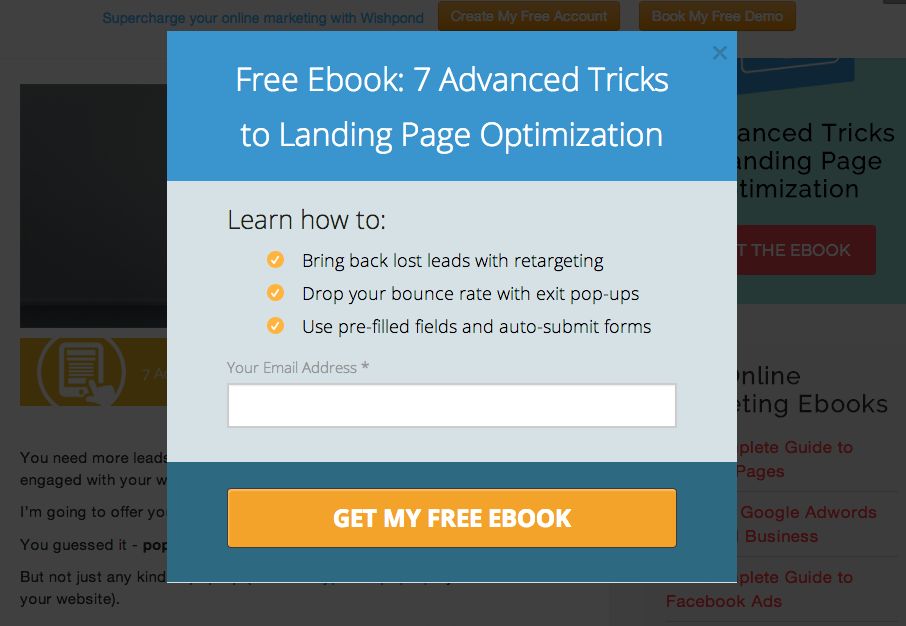 2. Make your Website Pop-Ups Relevant to Your Pages
---
As with any successful marketing campaign, the better you can match your offer to the needs and wants of your target market, the more conversions you're going to get.
With most pop-up providers, you can choose what pages your pop-up will be shown on:

Let's say you're in the business of online marketing tools, and you have a number of articles about landing pages on your blog. You can assume that anyone visiting your page has some interest in the subject and is only there because they want to learn more about the topic.
Now, you could use a pop-up to show your readers an email-gated guide to online marketing. But, if you had an ebook about the best tips to optimize your landing pages, don't you think they'd be more interested in that book?
Using relevant popups on the best pages is a perfect opportunity to gain those lucrative leads.
More sophisticated pop-up providers even allow you to automatically show your pop-up based on article or page keywords.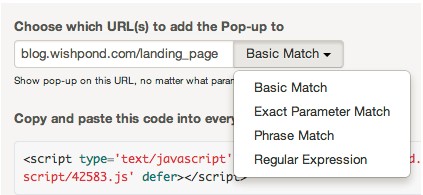 This enables you to show your highly relevant content based on your marketing objectives and campaigns.
3. Limit Your Pop-Up Views
---
When you're showing a pop-up you don't want to overuse it. Showing the same pop-up on each of your website pages, or even every time a visitor clicks back on to your pages…. well you can get a reputation pretty quickly of being a 'spammy' company.
In fact, a lot of businesses have been holding off on implementing a pop-up campaign for this exact reason. But you don't have to show your pop-up all the time.
Manage your view by limiting the impressions for each unique visitor.

This means that…
If someone searched for your article on landing pages and clicked on your blog article, they will see your landing page ebook pop-up on that article.
If they get interested and click through to more of your awesome content about landing pages, you don't have to interrupt their reading (and look spammy) with more of the same pop-up offers.
You can still entice them to download your relevant book with other online marketing tactics like sidebar CTAs that direct traffic to your ebook landing page or links directly in your article.
4. Present an Enticing Offer
---
Of course, even with the best type and placement of your website popup, you're not going to get optimal conversions if your offer isn't presented in a way that entices a transaction.
This is where your marketing smarts come in.
Your website pop-up offer needs to give away something of perceived value to your prospects. That perceived value needs to be far more beneficial than the perceived cost of an email or whatever other information you're asking for.
Check out this example from Duct Tape Marketing: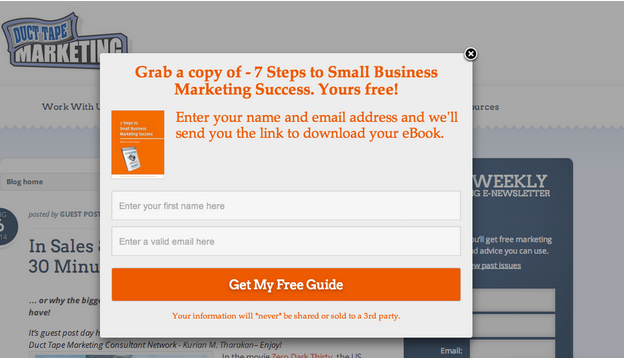 A website pop-up with an enticing offer includes:
An eye-catching headline that's toned for action with your particular demographic.
A consumer-centric list of benefits that shows how much your offer will improve your viewers lifestyle, work environment and so on.
A simple way to get your offer – without a lot of pain or effort from your potential prospect (in others words, few form fields such as just a name and an email).
5. Use Great Conversion Design
---
Successful website popups are also well designed. Now, that doesn't mean you need to go out right away and hire the best graphic designer you can find. There are a lot of simple tips you can use – and if you're using a pop-up template that's easy to customize (uh, like Wishpond) – you can design an appealing and high converting lead generation offer in just a few minutes.
Designing a successful pop-up is, in many ways, similar to designing a highly optimized landing page. Check out my article on 25 Tips to Optimize Landing Page Conversions for actionable tips that apply to any conversion page you design.
For a pop-up that appeals to your market and drives email leads:
Use white space – empty space, even on something as small as a website pop-up, draws attention to the pertinent information, images and your Call to Action (CTA).
Be smart with directional cues – help to guide your visitors' attention to your ask and your offer with directional cues like arrows or even eye direction of person's face.
Highlight your CTA button with contrasting colors – use colors to attract readers to the action you want them to take. A website popup with a blue background contrasts with an orange CTA – and can drive conversions.
Use images and don't be overly wordy – although it may pain me as a writer to say it, people generally 'read' online first through visuals. Use eye appealing images of your offer so that your viewers clearly understand what you're giving. Then use your words carefully to win them over as a prospect.
Pay attention to your copy – After your image(s), your headline and CTA need to grab your visitors attention and make them feel like your offer is needed – and needed right now. Use a vernacular and tone that's in keeping with your brand, your customer and your offer.
Example of a Wishpond pop-up that's converting at over 2%: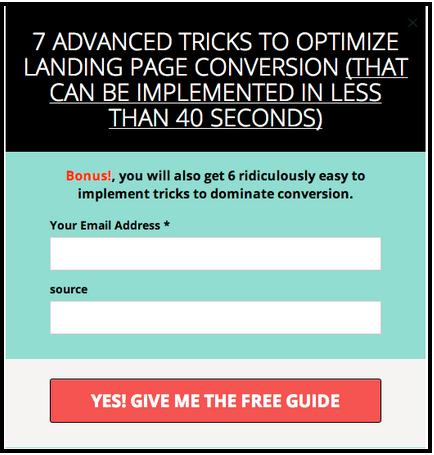 6. Make it Easy to Close Your Website Pop-Up
---
It may seem counterintuitive to make it easy to close your awesome offer. But popups are a unique lead generation tactic, and I really want to stress the importance of making your offer easy to close.
Why?
A website pop-up usually takes over the screen of your website visitor, blacking out the page they were viewing. Your visitor might be really engaged with your article, for example, and wants to continue to read it. Your pop-up breaks their attention (which is one reason why they work so well), but that reader might want to keep reading before they convert. Making it difficult to close your unsolicited offer could make your visitor bounce – and you've not only lost a lead, but you've lost an engaged one at that.
The more you let your customer have some control over what they read and how they interact with you, the more empowered they'll feel on your site. An empowered consumer is generally a happy one that's more likely to return and buy from your site.
---
You're a good online marketer, right? So you're already A/B testing pretty much every campaign you run – from A/B testing online advertising and landing pages to email marketing. A/B testing your website popups are no different.
Wishpond's tool (cough, cough) is one of the only pop-up providers to give you comprehensive yet simple A/B testing abilities for your website popups.
Use it to test:
Your copy – such as headline A vs. headline B, list of benefits A vs. benefits B, and CTA A vs. CTA B.
What Pages your popups get the highest conversions on – such as if your pop-up on Page A converts higher than on Page B.
Your offer and your ask – such as ebook A vs. guide B and email only vs. email & name.
Your website pop-up design – such as color scheme A vs. color scheme B.
Conclusion
---
You can use a website popup to build your email lists with people who are genuinely interested in your business and products. Use these seven steps to improve your conversion rates and become a highly effective online marketer.
Related Reading:
If you have Shopify or use WordPress, check out Wishpond's Free Shopify Popup Builder App and Free WordPress Popup Builder App.
wishpond