Are you generating and nurturing leads with an optimized sales funnel?
It's okay if you're not quite there yet, it's something that many businesses struggle with for a long time.
It's easier than you think, and this article will give you a look into a simple (but effective) 5 step sales funnel.
I'll also include three examples of how you can use popups using a popup builder in order to optimize for conversions and decrease bounce rates at every step.
Let's get rolling!
Sales Funnel Step #1: Blog
---
The first step of many sales funnel (these days) is a blog article. Someone types "Facebook Posting Best Practices" onto Google and your article pops up.
They click on it, and enter your business' sales funnel (did you forget that a blog article is as much a part of your sales funnel as a sales call?).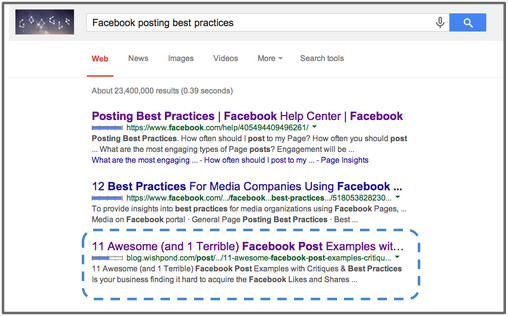 Now you (as a modern marketer) have optimized your blog site for conversions:
You have a "Subscribe to our Email List" CTA banner that travels at the top of the screen with your reader.
You have your most popular articles and ebooks on the side-bar, irresistibly clickable to your readers.
You have CTA banners at the bottom of your articles, promoting the download of an ebook relevant to the blog article.
You have a picture of a guest who's hosting an upcoming webinar, with the date and time and a "click for more info" CTA button.
All this, combined with the clear and awesome value of your insights and experience, gives your reader a great first impression of your business.
How to Optimize this Step: A Scroll Popup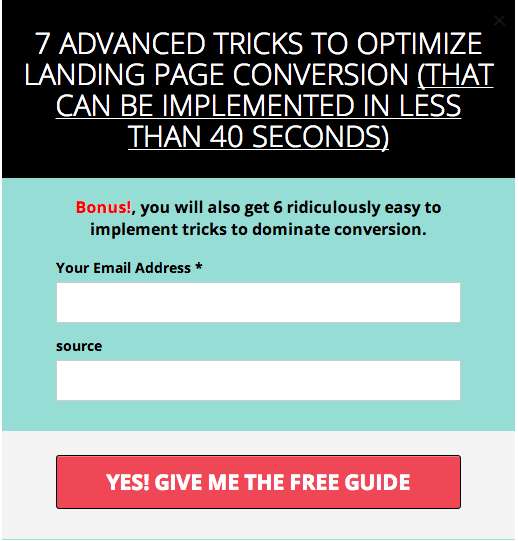 Why a scroll popup is good on your blog:
Scroll popups generate qualified leads better than any other pop-up (except perhaps click popups, but more on that later) because they ensure your readers are actually reading – and invested in – your content.
Provided your website popup isn't shown until 70% or so of the page has been seen, your readers are clearly interested in what they're reading.
Scroll popups mean that people who aren't interested in your content (and therefore won't be interested in your content-relevant ebook) won't even see your pop-up, thereby increasing the chance of them clicking on the pop-up or CTA that is relevant to them.
Sales Funnel Step #2: Lead Generation Landing Page
---
The second step of this simple sales funnel is an optimized landing page on your website. Your blog reader clicks on one of the CTA buttons most relevant to them and is sent to a page designed to elicit their lead information.
Something like this: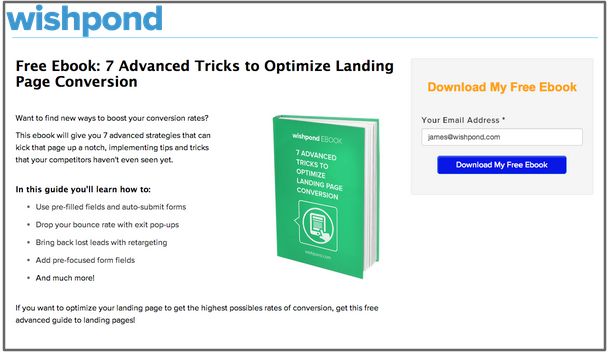 What makes this landing page good:
Short and to the point, doesn't distract with unnecessary links or overwhelming text
Clear value with words like "free", "advanced" and "optimize"
Single form field increases chance of conversion (great when eliciting a first conversion)
CTA button that contrasts visually with the rest of the page makes it easy-to-see and click
Benefit list of 3-5 points describes what you're going to get in return for your lead information
How to Optimize this Step: An Exit Popup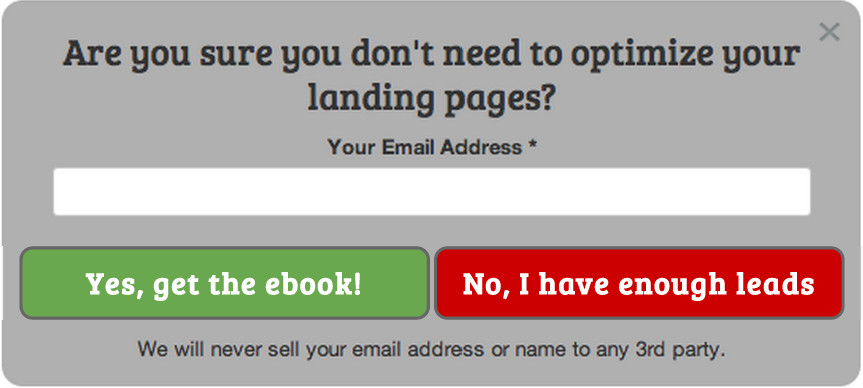 Why this is good:
Exit popups interrupt your landing page visitor's bounce by putting a yes or no question in front of them. Your existing landing page is quite easy to leave, as visitors simply have to hit the back button. Putting an exit popup forces them to say "no" to you (something far harder to do).
Remember though, exit popups (like all popups, really) need to be tested intensely. Be sure you're using the right language and tone to convince your target audience.
Something to remember:
You need to be segmenting your leads by lead source. Doing this ensures that you send relevant emails to relevant leads (and don't send an email about social media for autoshops when your lead downloaded a guide for spas).
It also increases the efficacy of your lead nurturing efforts by delivering personalized content to each of your lead segments.
For instance, someone who became a lead by downloading your Complete Guide to Landing Pages is far more likely to be interested in your Landing Page Conversion Optimization webinar than is someone who became a lead by downloading your Complete Guide to Facebook Ads.
It's common sense, but it's common sense I see neglected all the time.
Sales Funnel Step #3: Email Automation – Webinar
---
After your thank you email and a few more blog-centric emails (delivering more value and cementing your reputation with your lead) it's time for a webinar promotion.
At least once a month it's important that businesses focused on lead nurturing run a webinar.
Here are a few reasons why:
Webinars are the most personal form of content, allowing you to "meet" your leads face to face. This has a huge influence on how much they trust what you say and what you sell.
Live webinars are live (duh…). This means that the people that show up are genuinely interested in what you have to say (predominantly qualified, warm leads ripe for a sales promotion).
Live Q&A allows you to promote your business' products and speak one-on-one with interested leads.
Webinars are a very valuable form of content, meaning you can ask leads for more information, which means higher conversion rates down the line.
For more on nurturing your leads, check out my recent article "4 Things You Need to Do After a Lead is Generated."
Sales Funnel Step #4: Webinar Landing Page
---
Sending your email list to a landing page can be a difficult thing, as it's very much dependent on the quality of your emails. Remember to keep them short, optimize (and A/B test) your subject lines, include an image, and make them as personal as possible.
When they do get to your webinar landing page, I recommend you design it to look something like this: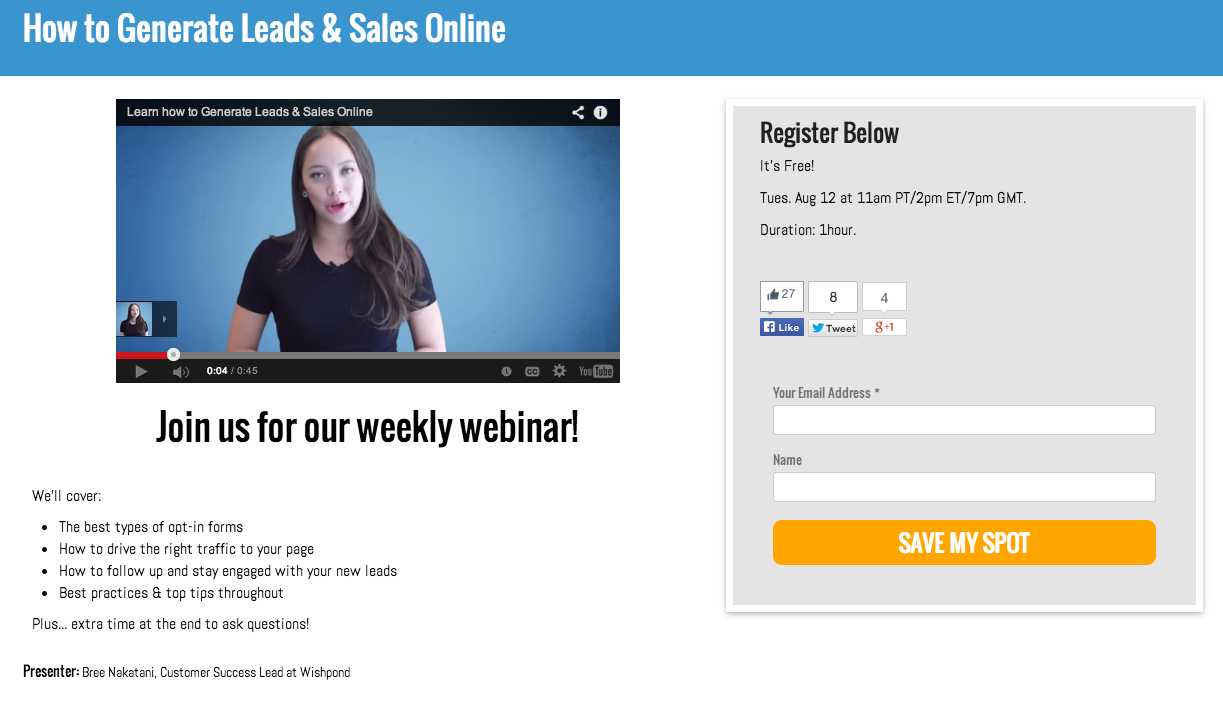 What makes this landing page good:
Reiterating what I said above about how webinars allow you to show your personality, this landing page features an autoplay 45 second video from the host detailing what she's going to cover (as well as showing off how friendly and personable she is).

The lead information required is very little, increasing conversion rates (though I'd be interested to see if more "asks" elicited higher conversions down the line).

The CTA button copy is different than the standard "submit" or "enter here".

The landing page as a whole is very simple, relying on the personality of its host to communicate value and elicit engagement.
How to Optimize this Step: A Click Popup
This is something I've been thinking about for a couple weeks, but have yet to implement myself. A click popup on your landing page is something different, and while I'm not sure if adding the second step would increase or decrease conversions, it's definitely something to test.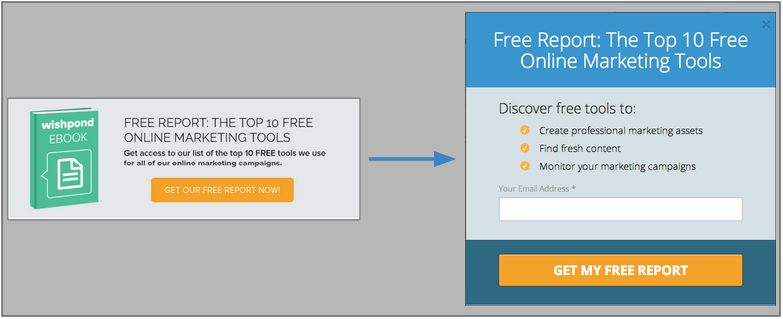 Why I think it might increase landing page conversion rates:
It means your landing page doesn't have any visible form fields, simply a headline, benefit list and CTA button.

It's more interactive than a simple lead-gen CTA button.

It makes your entry form more visually appealing.
That said (and as I mentioned above) it does add a second step into the conversion process, something which I've advised against in the past. It'd be interesting to test this out for yourselves to see if it does increase your landing page's conversion rates.
Sales Funnel Step #5: Email Automation – Sale
---
Many larger, more successful businesses integrate a "lead scoring" strategy throughout their sales funnel. This scoring system allows both marketers and sales associates to see when a lead is ripe for a sales promotion.
For example, a lead who entered with an ebook download, attended a webinar and opened 75% of all emails sent to them over the course of a 4-week period is a warm lead. They've shown serious interest in the product and content your business delivers, and a personal email (requesting a good time for a sales call) may be a solid option.
However, a lead who entered with an ebook download, registered for (but didn't attend) a webinar and opened only 3% of all emails sent to them will not be as warm, and time and energy may be wasted on them at this time. If, however, they suddenly watch a product-focused how-to webinar (on how your product works), their lead score will jump substantially and you should follow up as soon as possible.
Make sense?
Conclusion
---
Hopefully that's given you a solid understanding of how a simple sales funnel can work from beginning to end, as well as how a website popup can be integrated into many of the steps.
While this is a simplified version of a sales funnel, it wouldn't be hard to integrate both online advertising, retargeting, and social media into this funnel (and you should).
Retargeting, especially, is an exciting option for online marketers, as if your landing page and website popup fail, retargeting means you haven't necessarily lost your possible leads forever.
But in the mean time, here are a few relevant articles to read up on:
If you have Shopify or use WordPress, check out Wishpond's Free Shopify Popup Builder App and Free WordPress Popup Builder App.
wishpond