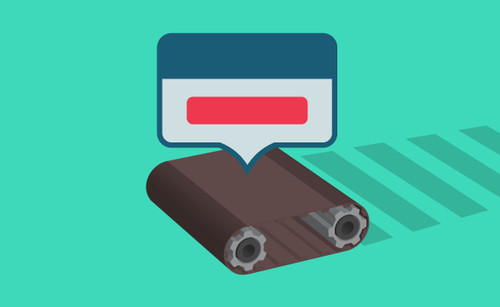 Are you looking for better ways to build your email list? Do you want to get your website visitors engaged with your brand?
Obviously, yes you do.
In this article, I will show you how three leading online marketing brands are expanding their reach by growing their leads. They all use some sort of popup built using a popup builder. And more specifically, they all use scroll popups.
Read on to get the best practices for scroll popups. Try out the tips to start building your email list today.

What is a scroll popup?
---
A scroll popup is a type of website popup that is shown to website traffic only after they've had some engagement (scrolling) with your page.
In other words, your conversion ask (your popup) is shown to visitors who have an interest in your page. This makes scroll popups more targeted than, for example, entry popups, exit popups and even timed popups, as that person on your blog, your pricing page, your 'more information' page (or wherever your website popup campaigns are coded to appear) has already taken action with your website by actually scrolling on it.
You can set a scroll popup to show based on percentage increments. Some common percentages are 30% and 70%.

For a marketer, it's pretty cool to have this flexibility. You can play around with the scroll percentages and create different campaigns based on how in-depth the reader has been with your site.
For example:
At a 30% scroll down, you could have a highly relevant but simple ask, such as an ebook download in exchange for an email.
At a 70% scroll down, you could have a more in-depth ask, such as an ebook and newsletter sign up, in exchange for names, company information and an email.
Let's take a look at some of the best scroll website popups being used right now, and how you can be building your email list with these best practices.
1. Scroll Popup: Social Media Examiner
---
Social Media Examiner is the world's largest online social media magazine. Founder Michael Stelzner is a pioneer in social media and podcast marketing, and articles on the site are written by leading social and online marketing experts.
When you've read about 30% of an article, you get the following offer: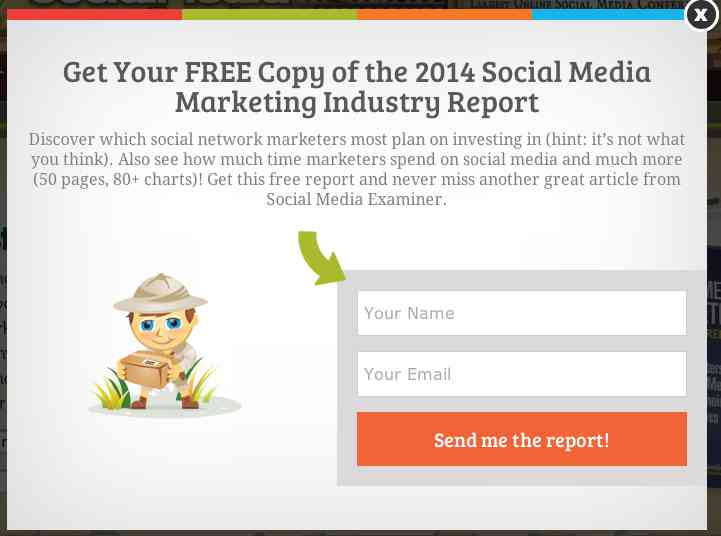 The scroll popup is for a free industry report, in exchange for your name and email.
What I like about the scroll popup:
The clean design has ample white space (or in this case, greyspace), making it easy to read and navigate.
The headline tells the reader exactly what the offer is.
The copy tells three enticing benefits for converting and downloading the free reports.
Good use of directional cues by incorporating a curved green arrow to highlight the actionable form fields.
It's well branded by using the familiar jungle explorer mascot as the focal image.
The red Call-to-Action (CTA) button stands out in contrast to the grey box.
The CTA is written in a consumer centric copy – using "me" (instead of a more business-centric copy of "get our free report", for example).
What I don't like about the scroll popup:
While the copy is enticing, it could be more readable by making the three statements into bullet points.
The branded image could include a report, to further clarify the offer and increase conversions.
The headline could be easier to scan by making it into three lines of


"Get Your FREE Copy of the"- 2014 Social Media Marketing- Industry Report

2. Scroll Popup: Visual.ly
---
Visual.ly is the largest marketplace for visual content, connecting content creators with business in a collaborative, cloud-based environment. Their resources include all things visual, content, design and online marketing related.
After a visitor scrolls about 30% of the Community page, you get this [website popup](//corp.wishpond.com/website-popups/):
[Visual.ly website popup](https://corp.wishpond.com/wp-content/uploads/2014/09/04-3-best-scroll-website-popups_6.jpg)
The [scroll popup](https://corp.wishpond.com/website-popups/) is for a marketer's guide to micro-content, in exchange for names and an email.
**What I like about the scroll popup:**
The headline tells exactly what the reader will get. The clearer your offer is, the higher conversions a website popup tends to get.
The clean design is easy on the eyes and keeps the friction rate low – so attention is driven to the headline, image and CTA.
The green image shows the cover of the free guide people will get in exchange for an email and information. The green stands out against the white background and black border.
The pinkish red CTA button is clear and simple, making it easy and appealing to convert.
The subheader gives readers three compelling reasons to convert, and reiterates the "Download" CTA (by restating the copy, a reader will subconsciously be more compelled to complete the obvious ask).
What I don't like about the scroll popup:
The green book cover could be more compelling by using a more book-friendly image – one that shows it's a book and includes visual of the pages, ready to be opened and devoured by the interested market.
There are too many mandatory form fields. I would suggest they only make a first name and email mandatory (as indicated by the asterisks), and still include a field for the last name (if they feel this brings value) but not make it essential to obtaining the free content. I would run an A/B test with this change to monitor conversion rate changes.
3. Scroll Popup: QuickSprout
---
QuickSprout is a leading online marketing company that helps businesses grow through increased website traffic and conversions. It's a Neil Patel company who you know is (if you've been reading my popup example articles), shall we say, passionate about popups.
When visitors to the QuickSprout blog scroll 30% down and 20% upwards, you're shown this scroll popup: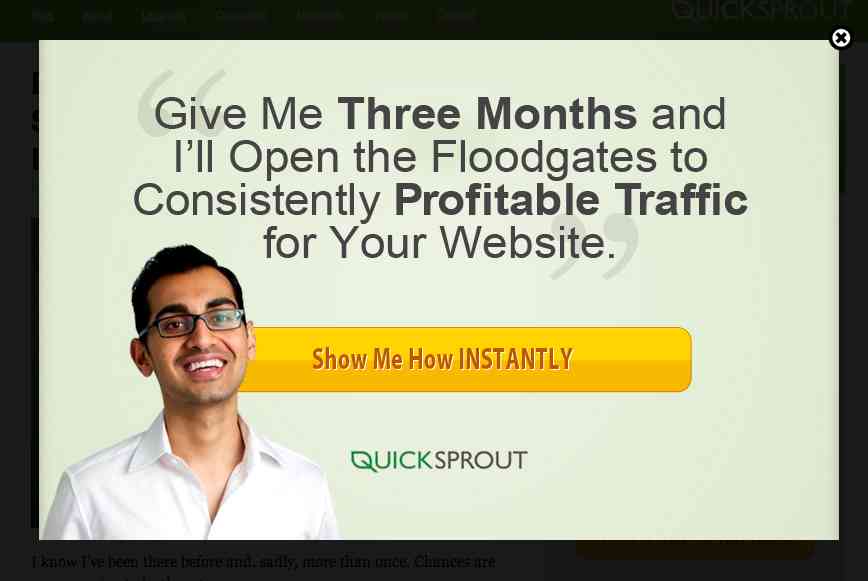 The offer is for instant information about what the company can do for your business.
What I like about the scroll popup:
It's very personable, with Neil's smiling face in the lower right quadrant, and a quote written in first person pronoun.
The key beneficial takeaways of "three months" and "profitable traffic" are bolded, making it easy to scan at a glance.
There are no form fields to enter. The pop-up CTA directs traffic to an information landing page specifically designed for this online marketing sales funnel.
The CTA is in a contrasting color, and invokes a sense of urgency by using the term "instantly".
A simple action is required, whether that's a click to go to the information sales landing page or a click to close the message.
What I don't like about the scroll popup:
Aside from driving traffic to the specific landing page, there is no longer term benefit (such as lead generation) from the message.
The popup to direct traffic elsewhere on the site is a distraction from the blog articles. Now I know the popup has been A/B tested to the nth degree, but I personally would prefer a lead generation pop-up that keeps me on the same page I was initially reading.
Conclusion
---
A scroll website popup is an impactful way of gaining email conversions from your targeted market. Use your new email to continue the lead nurturing process, and watch your business profits grow.
Check out more reading about website popups and how they can benefit your online marketing campaigns:
Ready to start using popups? Check out Wishpond's drag and drop popup builder today!
wishpond