Promotion for your webinar has been a hit.
Social, email, ads. You've covered every base and knocked it out of the park.
Tons of people have registered.
You're stoked. Even your favorite influencer Tweeted about it.
But then a nagging doubt creeps in…
What if nobody actually shows up?
The thought can paralyze even the most experienced marketers.
It's easy to get people to sign up, but having them actually attend is another matter.
Sometimes it may feel like an impossible task. How can we pull our audience in so that they'll sit and listen to us?
Well, it might be easier than you think…
Strategy Briefing
Every webinar experiences registrant drop off. You can't avoid it. But there is one way you can beat the 50 – 70% drop off that most see: Your "thank you" page.
A thank you page, or post-signup page, is the page people are sent to after they register for your webinar. Most just have a simple "thank you" message. But we can do better.
It's like the text you send someone the day before a blind date. What last impression do you want to make?
To find out what works best, we researched dozens of webinar thank you pages. We broke down the most important aspects into a simple 4-step formula. And we used that formula to create one of our most effective webinar thank you pages ever (see right). In this guide, 'll show you how to use it.
"If the only thing you do for a visitor after they submit a form is provide what they asked for, you're missing the opportunity to engage more deeply with that visitor and move them closer to becoming a customer."
The 4-Step Formula We Use:
---
1. Use video to create a relationship
people are less likely to stand up a friend
---
2. Make sure your registrants know, like, and respect you with credibility symbols
---
3. Get registrants invested in the success of the webinar with social plugins
---
4. Jog your registrant's memory with calendar reminders.
---
Get the worksheet to make your Thank You Page as you read


Use Video to create a Relationship with your Registrants
It's much easier to bail on a reservation at a restaurant than it is to bail on a friend who is waiting for you at a restaurant. A video introduces you to each registrant. And makes them realize that a real person will be there on the date of the webinar, waiting to present to them.
This decreases the chance you'll be stood up.
Think of the thank you video on your thank you page like a cover letter when you're applying for a job.
Without it, people may understand your qualifications and what you've done in the past, but they don't know who you are. They don't know why you (in particular) are right for the role or what makes you better than your competition.
A recent report from Insivia found that "90% of users say that seeing a video about a product is helpful in the decision process." When doing a webinar, YOU are the product.

"90% of users say that seeing a video about a product is helpful in the decision process."
Insivia
Video Formula Breakdown:
0-5 Seconds
Introduction
5-10 Seconds
Mention the date
10-20 Seconds
What the webinar's about and exclusive content
20-30 Seconds
What they need to do (bring something, share, comment, etc)
30-40 Seconds
When you'll send a reminder email
40-45 Seconds
How excited you are and telling people to come
Do's of a Thank You page video
Introduce Yourself (include expertise)
Like a handshake, introducing yourself in your video is your first personal interaction with your registrants. It's crucial to them feeling like they know and respect you.
Say what you're going to cover
Like a benefit list in your landing page, telling people what your webinar will cover in the Thank You page re-affirms their registration and prompts them to complete your Next Steps. See more on Next Steps in section 3 below.
Tell them when you'll be reminding them via email
A lot can go wrong with your email strategy, so be sure your registrants are waiting for your emails. This decreases the chance that a reminder email will be lost in a spam or promotions folder.
Tell them they'll learn one of your closely-guarded secrets
A Thank You Page is the best possible place for you to provide value you didn't include in your registration page. Use words and phrases like "exclusive," "secret," "never-before-seen" and "first access".
Don'ts of a Thank You page video
Forget to mention the date & time
People tend to remember facts presented as images far more than facts presented as words. This means that although you'll have it posted and remind registrants with email it's even more essential that you speak the words in a video.
Be afraid to ask for a social share
Sharing their registration publically increases the chance of someone following through (as they have an obligation to do so). See more on this in section 3.
Sound bored or monotone
Tone of voice (and a smile) is everything in a short video. You want to get your registrants as excited as you are, and communicating your excitement is a huge part of that.
Say that you can find the content of the webinar anywhere else.
Don't refer your registrants to another source of information (even if it's you). Try to communicate that your webinar s a fountain of information they can't find anywhere else, so there's no point looking.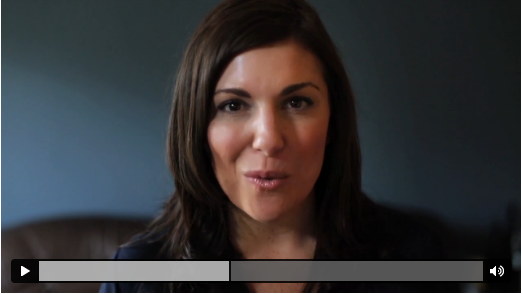 Top Strategy from an Influencer:
Be straightforward: Tell registrants that they should attend!
Here's what Amy Porterfield says in her Thank you Page video:
"Now, I've been doing webinars for a little over four years now, and what I know for sure is those who actually show up live get the most value. So I encourage you, I know you're busy, but I encourage you to show up live and really make the commitment to be present and engaged. I promise you, I will make it worth every minute of your time."
Download our comprehensive recipe for making a kickass video



Learning from Mistakes
A casual, personal video can be better than a professional one.
I spent a few days making my first video, perfecting it and editing for hours. I filmed my second video quickly and casually. Still scripted, but far less "perfect." Attendance rates were the same for both (but the ROI for the second was far higher). Test it yourself!

Time Saver Tips
Make your Thank You Page video useful for more than one webinar.
Use phrases like "this webinar" instead of the specific title. Create one video for each broad subject you might host a webinar on. And set your video to "Private" on Youtube so it can't be found by consumers.
Make sure your registrants respect you with proof of authority
A registrant who trusts you, likes you and respects your authority, is a registrant who will actually attend
Part of this relationship is built in the video: Showing your personality, enthusiasm and likeability.
But it can't end there.
Use a previous attendee testimonial to boost authority
People trust people like them far more than your business. Use this influence to your advantage by adding a testimonial from a previous attendee
Including a testimonial is like having a wingman at the bar. They're an objective source of information, and far more believable than your cliche pick-up lines.

Check out an ideal testimonial, showing the six best practices you need to have.
Reviews produce an average of 18% uplift in online sales.
Econsultancy found an 11% conversion uplift, a 5% visitor return rate increase, and an average order price increase of 2%

Testimonial Example:
"I got so much value out of this jam-packed hour. I've already re-designed my pages using your recommendations and I've increased my conversion rates by 40%!!"
How to ask for testimonials by email
Including a customer testimonial is like having a wing man at the bar.
They are (theoretically) an objective source of information, and far more believable than your own cliched pick-up lines.

Get the customer testimonial email template
1) If your customer reads your introduction completely they'll read the rest of the email. Be sure to mention who you are and provide a bit of context. Try to drop the name of someone they know.
---
2) Be sure to pose your testimonial request as a question: "would you mind" is good, as they have to respond with "Yes I would mind!" which is unlikely.
---
3) A simple bullet-point list of what you need or the questions you need answered communicates everything quickly. Avoid paragraphs if possible.
---
4) Including an example of a previous testimonial gives them context and (so long as your example is visually appealing) also increases the chance of them wanting to get involved
---
5) A photo is a necessity for your testimonial. Be sure you mention "recent, high-quality" as a 25k jpeg probably won't suffice and you don't want to chase them down with further emails.
---
6) Be sure you include a phrase like this one, in which you assure your customer that they will have final say on anything you're putting their name to. This increases trust and likelihood they'll follow through
---
Use Proof Statements to give Exclusive Value
Once your registrants have signed up for your webinar, you need to deliver even more value to ensure they attend.
To do this, use a statement of proof as your webinar thank you page's headline.

5 Proof Statement Headline Formulas
"Thanks for registering. This will be the only time I show you…"
"how I [did something awesome for your business] and took [a part of your business] from [low number] to [high number]."
"the marketing strategies [recognizable brand name] [hired/consulted/paid] me for."
"the tips (valued at [high dollar amount]) free!"
"how I [achieved a goal] with this strategy"
"exclusive [new statistics/case studies/sector report] before anyone else.
Get registrants invested in your webinar with social sharing
If your webinar registrants share on social that they're going to your webinar (rather than simply promote it) they have some skin in the game.
It's like hosting a potluck. True, the host (you) needs to provide the main course, but unless all of the invitees do their part, it won't be a success. If an attendee told someone they're bringing the salad, they no longer have a choice as to whether or not you'll come.
Push registrants to share with a "Share" step in the "What to do next" section.
Authority (or trust) symbols like this have been proven to increase landing page conversion rates by 42% or more in A/B tests.
Imagine how it works with a person's reputation!
Personalizing your Thank You Page's "click-to-tweets" with "I" subconsciously obligates your registrants. They've told their Followers that they're attending your webinar and can't back out. Check out the chart below to see the difference between Tweets that obligate a person to attend, and ones that just promote the webinar:
Tweets that Obligate Attendance
"I just signed up for [your webinar]"
"I'm excited for the upcoming webinar on [your subject] from [your company]!"
"I'm looking forward to hearing from [your webinar host or guest] this coming Friday at [your company's] webinar"
Tweets that Simply Promote
"Join [your webinar]!"
"Upcoming webinar on [your subject] from [your company]"
"[Your webinar] is coming up on Friday! Check it out."
link


See how to set up a Click-to-Tweet function in your Thank You Page.

Example from Jeff Bullas
An example of a personalized Tweet from Jeff Bullas' next webinar
Leading up to the webinar, make a Tweet each day asking people to Tweet a question they would like answered in the webinar. In these Tweets, @mention people who have Tweeted about the webinar. They will be the ones most likely to answer. And mentioning them will make sure they see the Tweet in their Notifications.
This provides the individual registrant with a personal reason to attend. Be sure you don't answer any questions until the webinar itself! Just reply to each Tweet with "Thanks for the question! We'll make sure to answer it in the webinar!
Add reminders to make sure registrants can't forget about the webinar
How to add a Google Calendar Reminder
Download


Get an example worksheet you can use as a template for your own webinar.
Download


To make sure your registrants don't forget, you could email them three times a day, every day, until you go live. Like a kid in the back seat of the car saying "are we there yet?" every 30 seconds.
Or, you could be more subtle (but achieve the same result) with these three strategies.
Add a Calendar Reminder
Most people live by their calendar. Make it easy for registrants to add a reminder with a one-click "Add to Calendar" call-to-action.
Provide a Worksheet for Registrants to Bring with them
A webinar worksheet is a simple, fill-in-the-blank document. It gives registrants a way to follow along and build a personalized strategy to take action after your webinar. It also gives them a teaser of the specifics that they'll learn. It shows them specific items and give them new, or better, reasons to attend the webinar.
Provide three CTAs for this
1. A download prompt within the "Next Steps" section
---
2. Another in the video that tells them to click the download link.
Include a reminder like, "Make sure you bring your worksheet to the webinar as it'll help you take notes and ensure you don't miss a single vital step."
A CTA box that corresponds to your "Next Steps" prompt beneath your social share icons.
---
3. A CTA button that corresponds to your "Next Steps" prompt beneath your social share icons.
---
How to add Facebook Comments
link


Download
Encourage Them to Comment with Embedded Facebook Comments
4. Plugin a Facebook comment section into your Thank You page.
---
5. Prompt a comment with a CTA in the "Next Steps" section that reads "Leave a Facebook comment below saying you've registered".
And be sure to reply to each. A personal reply further develops the strength of your relationship with your registrants. Again, this will decrease the chance of them standing you up.
Your reply will also be sent through as a Facebook notification, which serves as another subtle reminder (or even brings them back to your Thank You Page).
Also encourage people to leave questions in the comment section that they want answered during your webinar's Q&A. This increases the value of your webinar for each individual registrant. A registrant that's asked you a question is one who will attend to hear the answer.
CTA Example Formula Pack:
Get your webinar workbook today!
Be prepared! Get your webinar worksheet here
Download your webinar worksheet now!
Get more out of this webinar with this worksheet
Maximize the value with this worksheet
Get ahead of the game. Download your free webinar worksheet now.
Take Action

Now it's time to take action. Use this full stack of tutorials to walk you through creating your webinar thank you page. The necessary formulas and templates are below.
Videos/slideshows on:
Download the Formulas and Templates
Get rolling – and do everything in this entire article – with Wishpondtoday!
Thanks for reading the first post in our new content marketing strategy. I'd love to hear your thoughts in the comments below!
james-scherer-2