In 2014, Instagram exploded in popularity. It has become the go-to social network for people to post, view, share and hashtag their pictures. There are over 100 million active users who take over 40 million photos per day and post over 1000 comments per second.
Brands like Audi and Nike are already seeing a ton of engagement and user-generated content on Instagram.
And so can you.
In this article, I'm going to show how to get people posting photos of, and engaging with, your business and products on Instagram this holiday season, using an Instagram Hashtag Contest.
How does an Instagram Hashtag Contest Work?
---
In an Instagram Hashtag Contest, people enter by posting a picture on Instagram that's tagged with a specific hashtag that you choose. The pictures are automatically captured and displayed in a gallery page on your website or Facebook Page, where users can vote, share and like them.
This gets people sharing user-generated content about your brand and products across multiple channels, with minimal effort on your part.
You can also require people to follow you on Instagram to build your own following.
What should my Instagram holiday hashtag be?
---
You holiday hashtag is what Instagram users will use to find your contest. Hashtags help categorize images into the same feed on Instagram, so they can all be viewed in one place.
For example when I type in the hashtag #uglysweater I get the following results (see right). As you can see the pictures contain ugly sweaters and because it's that time of year they're also holiday themed.

Pro Tips
If you're looking to host an ugly sweater contest on Instagram you need to create an ugly sweater contest hashtag that is unique to your business. If you just use #UglySweater you'll be lumped in with every other user (and contest) that uses this hashtag. This will make it harder for people to find, and participate in, your contest.
Create a holiday hashtag of your own:
Now let's see how to create a holiday hashtag that's unique to your contest. This hashtag should reflect the holiday season, relate to your brand or products and be easy to understand. Remember your contest is meant to get people engaged with you over the holidays so make it memorable and fun.
You can check which holiday hashtags are already being used over at ritetag.com to reduce the chances of you using the same hashtag as someone else. This site also allows you to see which hashtags are trending the strongest, ensuring you tap into the largest target audience when promoting your holiday hashtag contest (we will get to this a bit later on).
Here's some ideas of holiday hashtags you could use for your Instagram holiday hashtag contest, for different types of industries:
Clothing store: #FindYourHolidayFit
Sporting goods: #HolidayGameFace
Travel agency: #FlyAwayHoliday
Cosmetics shop: #BeautifulHolidayFace
You can add in abbreviations of your business name before or after the hashtag to make it unique. If you want to have "UglySweater" as part of your hashtag add a few letters from your business name before or after the term. Say you were running a holiday hashtag contest for JCPenny. You could use #UglySweaterJCP so that it will be unique to JCPenny and not too long.
Choose a holiday theme for your hashtag contest
---
Once you've chosen your holiday hashtag, you'll need to tell Instagram users what type of photo they should upload. You can encourage people to upload photos that create joy and anticipation of the upcoming holidays by carefully choosing your theme.
What theme should you use?
Here are some photo ideas and the hashtag to go along with it:
What's your favorite holiday activity || #CherishMemories
Their favorite holiday recipe || #EatHome
A charitable act of the season || #GiveJoy
Their ugliest sweater || #Ugly Sweater
Their favorite winter activity || #FrostyHoliday
How they've decorated their home || #FestiveHome
Where they'll be spending their holiday vacation || #HolidayVacay
You can ask for additional requirements such as including a product from your business. Keep in mind that although this may reduce the number of people entering, it will increase the amount of customer showcasing how they use your products. You need to decide on the goals of your contest are in order to choose the best theme.
Creating your Instagram Holiday Hashtag Contest Page
---
Now that you've come up with a contest theme and applicable holiday hashtag it's time to create your contest. For this section I will be creating an Instagram hashtag contest around the theme "What's your favorite holiday activity" and the hashtag #CherishMemoriesABC.
To get some inspiration, here's a great real-world example from online language development center LittlePim. This example proves any business can find success over the holidays using an Instagram hashtag contest (see right).
The contest requires entrants "to snap a pic of the sweet treats [they] make with [their] little ones." This contest keeps Little Pim top of mind during the holidays as parents are seeking educational tools to put under the tree. This contest will mean more Instagram followers for Little Pim and increased awareness of their business by friends and family because of the like voting.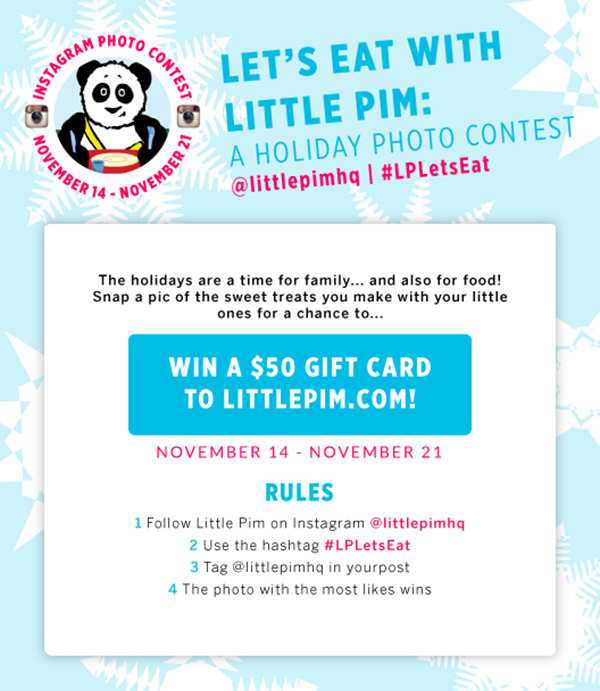 What should I use as my headline?
Your headline needs to get people excited about entering your contest. Grab their attention with a headline that includes the prize and type of contest.
Here are three examples of headlines that will entice people to click:
Enter our holiday hashtag contest now for your chance to win $100!
Get in the holiday spirit with our holiday hashtag contest: You can win $200!
Show us your best ugly sweater and tag it with #uglysweater for your chance to win 300!
Contest Details
You need to include the following items under your headline. It's important to be straightforward so people know exactly what they need to include.
How to Enter: Say if they need to follow your @username and which hashtag they will need to include to win.

–
Prize:Tell them what the exact prize will be if they win.
Winner Selection:Say how the winner will be selected.
Choosing a Prize
For your Instagram holiday hashtag contest give away a gift certificate that can be used at your business. This way the people who enter your contest will be people who genuinely want to use your products.

Pro Tips
Instead of giving away one grand prize you can give away weekly prizes to create momentum for your contest.
Promoting your contest on social media and through email
---
In order to have the most successful Instagram hashtag contest you need to promote it on and off of Instagram.
Promote your contest on Instagram:
Since you're hosting an Instagram hashtag contest post pictures with your contest hashtag in addition to common holiday tags. This will help people who aren't following your business to find your contest.
For this section we will use the hashtag contest created in the previous section to show you how to promote it. #CherishMemoriesABC
For example you could take a picture of what the holidays mean to your business, add the contest hashtag and some of the following holiday hashtags: #christmas #holiday #tistheseason #winter #wishlist #babyitscoldoutside #stockingstuffer #surpriseinside
Note that your photo will be shown in all of the feeds of hashtags you've included.
Don't forget to include your business' username to show that you are hosting the contest.
Your post could look like this:
@ABCinc is hosting a #holiday hashtag #contest: #CherishMemoriesABC. Share your holiday photos for a chance to win a$50 gift certificate. #christmas #tistheseason
Did you know: Having multiple hashtags to choose from is especially important for Instagram. The chart (see right) shows that engagement increases with every additional hashtag (up to 7). Engagement increased by 23% when 7 hashtags were used in comparison to no hashtags.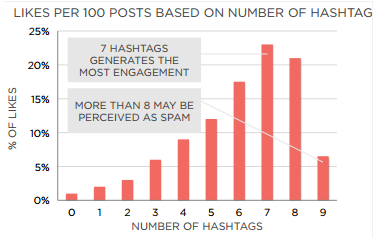 Use Facebook Ads to Reach your Ideal Target Audience
Facebook Ads' targeting capabilities allow you to specifically define the audience who sees your ad. Not only does this make each and every dollar you spend go farther, but it ensures you're reaching the right people (people you want in your contest and as customers down the line).
You can target your Facebook Ad by basic demographics, location, gender and age. Or you can go deeper, targeting things like if they're online spenders, which browser they use most and which stores they like.
Let's say you were running a contest for a childrens clothing store (Kidz Clothes) and your hashtag was #KidzChristmas.
Here is how I defined my audience:
As you can see I've targeted both genders between 18 and 45 who have children 12 and under.
People who've shown interest in Instagram and children's clothing since it's an Instagram hashtag contest for a clothing store.
The potential reach of my ad will be up to 2, 200, 000 people.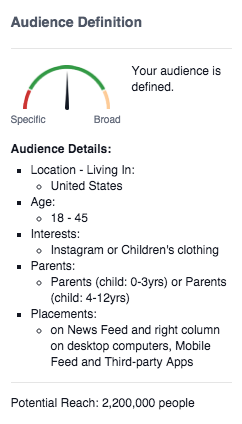 Create a Facebook Ad:
You need to have an eye-catching title that immediately attracts people to your contest. Something like "Hashtag Contest Win $50" so people have incentive to click your ad.
Show a picture that creates holiday joy and anticipation that is directed at the target audience. Happy children with their parents is best because it shows how fun the contest is going to be.

Send out an email to your list
Your email subscriber list is always a great audience to promote your contest to. Check out this example email template below that you can use to send to your own list.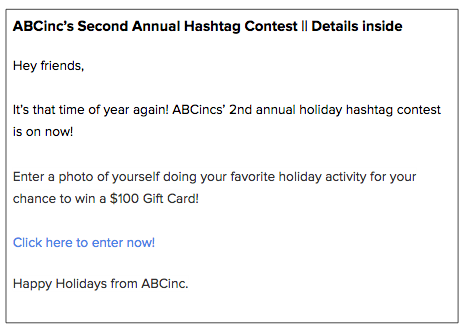 Announcing the winner (social post formula)
---
When your contest is over and you have a winner promote it on social media and email to engage with contestants further. Remember just because someone didn't win doesn't mean you can't use this as an opportunity to engage with them further.
Profile who has won your contest by grabbing their @username and the winning picture.
Across social media post a variation of this:
@username is week one's $50 gift card winner of the #CherishMemoriesABC contest. Upload your best holiday photos and next week the winner could be you!
Post-Contest Email Follow-up
---
Send a followup email to the winner(s) and non-winners and include a consolation prize like a coupon.
Conclusion
---
An Instagram holiday hashtag contest is a great way to get people excited about the holidays and your business.
Not only does it spread awareness of your business but it also spreads cheer. Run one once and the hardest part won't be the logistics but not running one immediately after the season is over.
Happy Holidays!
– Written by Samantha Mykyte
When Samantha isn't crushing content at Wishpond she performs with her burlesque troupe, casts spells in dungeons and dragons and enjoys baking and eating cookies.
wishpond