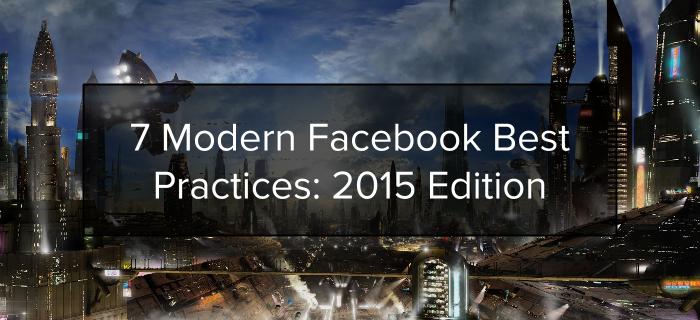 March 13th, 2015 by Samantha Mykyte
Facebook has changed – a lot.
It's no longer in its infancy. It has matured and is now in the teenage phase, constantly updating its look and its friend groups to maintain its popularity.
You, as a Facebook Marketer, need to be updating with it. When it dyes its hair purple or starts wearing nail polish on only one hand, you need to follow suit (because this cool kid is a powerful friend to have).
But how do you make sure you're as tight with Facebook as possible? How do you make sure Facebook will share your content, let you talk to your own Friends?
How do you make sure you're getting as much out of this relationship as Facebook is?
In this post I'm going to share with you 7 modern day best practices to ensure that you're still in the "in crowd" on Facebook.
Check it out!

---
1. Utilize Facebook Page Insights
---
Facebook Insights is an incredible tool that will help you gain valuable information about the people who Like your page. You're able to see the demographics of your fans by gender, location and age range.
Not only can you see the insights of your Fans but specifically you can look at those Fans who are most engaged with your page and your content. For Wishpond, for instance, you can see that the majority of our fans are in the age range 25-34. Knowing this will help you when you're targeting (see how to do this in the next section).

You're also able to see, from week to week, how you're doing in comparison to the previous one.

Another really cool feature of Insights is the ability to see how you're doing compared to you competition. This allows you to determine if you need to change your approach (if they're doing better than you) or pop champagne if you're kicking their ass.
2. Target the right audience on each post
---
With the information gathered on Facebook Insights you'll be able to target your posts and make sure they're shown to the people who want to see them.
Each Facebook post you share on your Facebook Page can be narrowed down by segment of your Fans.
Here's how I target posts on Facebook:
Gender, Relationship status, Education, Age: Our post engagement isn't affected by these targeting capabilities, though could be really effective for brick-and mortar or ecommerce businesses.
Location: The majority of people who're engaged with our page are from the US. India is third and Canada fourth.
Language: We have dedicated English, Spanish and Portuguese customer support specialists. Therefore I target the language to those three even though all of our posts are in English. Why? So that even if someone has their language setting to Spanish or Portuguese they'll potentially see my posts and traffic to a site that can work with them.

Interests: Your target Interests may vary based on the type of content you're sharing. For example, as a SaaS company that creates simple marketing tools, we will always want to target marketers. However, if I was sharing this article (for instance) I'd also want to target those who are interested in Facebook ads, Facebook marketing etc. It's important to note that it will target each interest individually. Therefore the more interests you pick the larger your target audience will be. Here's what my Interest targeting might look like for this article (you'll understand why by the end of it).
Post end date: Post end date is great if you're posting something like a webinar. If you post about your webinar on the Monday and the webinar is on the Wednesday you could set your post end date for when the webinar starts.

3. Incorporate videos into your posts
---
In case you didn't hear, video posts are getting way more organic reach (and engagement) than any other type of post on Facebook.
Why is this happening?
While I can't be 100% sure, I think it's a combination of two things: Firstly , Facebook will have done extensive customer feedback and questionnaires, determining that their users want to see videos more than they do images, links, or text posts (so they'll genuinely be rewarding Pages which post that content).
Secondly , Facebook favors posts that keep a Facebook user on Facebook rather than taking them to an external link. This just makes sense. Facebook want posts that ensure users remain on the platform (where they can see more ads, equalling more money in Facebook's pocket).
How does this work?
When you upload videos directly to Facebook (don't use Youtube – remember, that's an external link) they automatically start to play but without sound. I've seen our engagement double for video posts over any other type of post.
Best Practices for making a Facebook Video
Captivate your target audience within the first three seconds without sound: This means be as visually appealing as possible. Include things like: graphics, movement, colors, signs and anything that will make the video visually grab the attention of a Facebook user in their News Feed. It needs to be captivating enough to get someone to stop and press the volume button in the bottom right corner.
Include a call-to-action: Facebook allows you to create a call-to-action that will appear at the end of the video. You can insert any link, a landing page, your blog etc. Make sure it's directly related to the video. Keep in mind that your call-to-action will not appear until the end.
Your video should be able to speak for itself: Does the main message come across in the video or is audio necessary in order to get the gist of the message? Again, if possible use visuals to communicate your message.
For more on video posts on Facebook check out my article "How We're Using Video to Boost Engagement on Facebook".
4. Create a series of Facebook ads aimed at the same goal
---
Facebook recently ran an experiment which examined the difference between sequenced (what I'll be explaining in this section) and non-sequenced ads (one ad at a time):
"Among those who were exposed to the sequenced ads compared with those who were exposed to the non-sequenced ads, there was an 87% increase in people visiting the landing page."
Showing a series of ads around the same goal is essentially telling your target audience a story to pique their interest. They might not like the first ad but over the series of ads they'll be more likely to see an ad that resonates with them.
Best practices for creating an ad sequence:
Determine a single goal : The goal you choose can be anything from a specific product to a designated landing page. For this example we'll say that you're looking to drive traffic to a landing page that offers a free trial of your products.
Create a series of at least 3 ads. Depending on your target audience you would show different ads based on how far along they are in the sales funnel.
For example if they had no idea who your company was but they were interested in similar companies it would go like this: Ad #1 : Brand awareness, Ad #2 : Key benefit of your product, Ad #3 : An ask to start free trial. At any point they could click your ad and be directed to the same landing page but if you do it in three stages you're warming them up.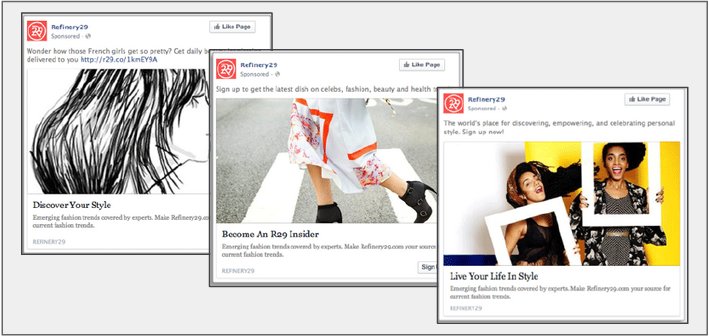 Source : https://www.facebook.com/business/news/Multi-Product-Ads-and-Enhanced-Custom-Audiences-from-your-Website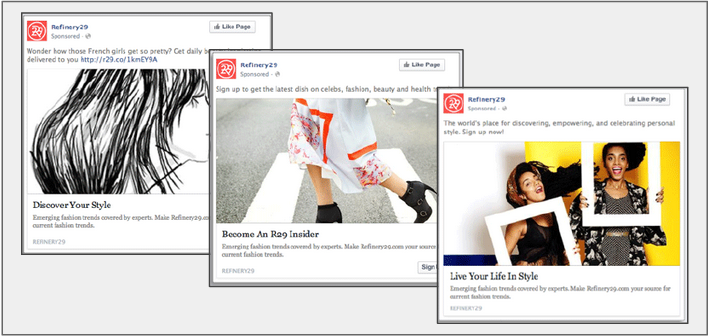 5. Use Facebook's Multi-Product Ads in your retargeting strategy
---
Facebook multi-product ads are like dynamic Google Ads but better. This is because the ads will look and feel the exact same as a Google Ad but because of the slew of information Facebook has on its users, the ads will allow for better targeting.
Facebook multi-ads allow you as an advertiser to show up to three products in a single ad on desktop or mobile.
How does this work?
You set up a bit of code on your website so you can track which pages a person went to on your website. A person comes to your website and they visit different pages but never purchase anything. Next time they go back to Facebook they'll be shown different items they viewed on your website in a carousel-style advertisement.
For example, let's say you have an online travel site and a person searched for three different destinations to visit but they never book a flight. You could set up a multi-product ad of the three destinations (with pricing) to remind them of the flights they looked at with the headline, "Last minute deals to your favorite destinations" and the CTA "Book While Prices Last."
6. Facebook content needs to be familiar, timely or novel if you want it to be shared
---
It doesn't matter if your post gets a ton of reach if you're not creating posts that people want to click. You need to create a variety of posts, with different lengths of headlines, pictures or videos that strike an emotional chords and links that are valuable to your target audience.
Not sure what to post? Here are some guidelines for creating the right type of post on Facebook:
Familiar content: This is catering to people's emotions. Humanize your posts so that people are able to relate. One post we recently used was a slideshare on Seinfeld quotes that related to online marketing. There has been a resurgence in the popularity of all things 90s recently (timely as well) and we used this to evoke nostalgia and familiarity with our Fans.
Timely content: Look at what's trending and use relevant hashtags so that when people search for something they'll find it on your Facebook Page. Just make sure that you know the full story before creating your posts in case you're not using the content in the right way.
Novel content: When you create original posts, Facebook users will feel more excited about clicking on your post and engaging with your business. Try using a new tone, format or something that is in stark contrast to your competitors to stand out.
7. Run a Facebook Contest with a specific goal in mind
---
Running a contest on Facebook is a great way to nurture existing relationships and get awareness of your business to spread like wildfire.
Here are some specific contests you can run for contest goals:
Get new emails and leads by running a sweepstakes contest : This is the lowest barrier to entry and therefore the quickest way to grow your list. Combine it with a prize that is relevant to your business and you'll get leads that like your products.
Grow brand awareness with a photo contest : A photo contest will encourage your entrants to share with their friends and family so that they'll win your contest. You'll also be getting extra leads.
Keep your fans engaged by running a vote contest : Take two or three of your most popular items and get people to vote on the one they like best. Award a winner by random.

Conclusion
---
There you have it, 7 new ways that you can utilize Facebook in your social media marketing strategy. Have you been keeping up-to-date with Facebook as it's changed over the years?
Are there any new Facebook best practices you've found work? Start the conversation below!
– Written by Samantha Mykyte
When Samantha isn't crushing content and social media at Wishpond she performs with her burlesque troupe, casts spells in dungeons and dragons and enjoys hitting the slopes on her skis. You can follow her on Twitter @SamanthaMykyte

wishpond