Ever heard of Brian Dean?
He's an online marketer, founder of BackLinko, and a top expert in his field (SEO) despite having written only 30 articles.
Within those 30 articles he has a few promising marketing strategies, from the Skyscraper Technique and guestographics to the one we'll be discussing today: content upgrades.
Content upgrades are a simple strategy which "instantly increased [Brian's blog] conversion rate from .54% to 4.82%."
Like with any of these huge improvement strategies, we were a bit skeptical.
Want to know the weirdest thing though?
It did the exact same thing for us.
Brian Dean improved his blog article conversion rates by 785%. We improved ours by 1,650%.
Yeah.
This article will…
Break down exactly how a content upgrade works
Show you the results we've been getting, and why
Give you a step-by-step guide into creating a content upgrade
Give you a simple blueprint for nurturing content-upgrade leads into customers.
Firstly, let's define a content upgrade…
A content upgrade is a lead generating incentive created to be given away on an individual blog post in return for a visitor's email address.
How is it different from what we've been doing?
For the past several years, we've been creating comprehensive ebooks on subjects related to our tools: online promotions, landing pages, website popups, etc.
We'd email gate these downloadable PDFs and create a linked banner image to send readers to the landing pages.
None of this should be surprising you. This was, for a long time, just how it was done.
So why exactly is this new strategy better than traditional opt-in CTA banners?
It's Hyper-Contextual: Embedded within the blog post, not at the bottom
It's Hyper-Relevant: It's related to the exact content at hand
It's Hyper-Valuable: It adds value to the existing content, and is exclusive to that content.
These elements combine to create a opt-in call-to-action which, for us, is converting well over 3x as well as subject-focused ebooks.
Within my massive article, "Complete Guide to the Psychology of Conversion Optimization," the content upgrade CTA looks like this (the yellow box):
Clicking the blue link brings up a click popup, which looks like this:
Why are we using a click popup instead of sending visitors to a separate landing page?
Popups are simpler and even more conversion-focused than a landing page.
Popups create a one-page conversion process, so no new tab is opened.
Popups keep the reader in the article, so they can convert and then keep getting value.
We've found that popups convert at about the same rate as landing pages do, if not a bit higher:
Our Numbers:
---
We've implemented content upgrades in a few of our longer-form articles.
Currently those pages are converting, on average, 3.57% of their visitors into blog subscribers.
Note: None of our numbers are statistically significant quite yet, but we're so confident they're going to be we couldn't wait to share.
Here's what we're seeing…
The content upgrade within "The Complete Guide to the Psychology of Conversion Optimization" is converting at 3.05%.
The content upgrade within "17 Knockout Growth Hacks to Nurture Leads into Customers" is converting at 6.19%.
Let's compare that to the rest of our blog:
If we average the conversion rates of our two content-upgraded articles, we're seeing a 1,650% increase over our norm.
However…
We have a number of articles on our blog that are not monetized as well as they could be. This is lowering our average post value pretty significantly and is something we're working to improve.
So let's be conservative (because honestly 1,650% is just ridiculous). Let's take a look at an article we published within the past year which we previously considered to be well-monetized.
Here's the existing opt-in incentive within the article, "5 Exit Popups You Need to Know About:"
This article's lead-gen device is a CTA banner for a relevant ebook at the bottom (traditional best-practice). It's currently converting at .62%.
Our content upgrade articles, though, are still converting visitors 575% better than an article we thought was doing really well for us.
How to Create a Content Upgrade
---
They say good artists copy and great artists cheat, so let's be great.
Honestly, cheating is how I, (as a non-designer/non-creative) make visual content that competes with the stuff pumped out by a 20-year design veteran with a waxed mustache and plaid pants.
Are there companies you recognize as being top of the visual content world? Companies who create beautiful designs again and again, seemingly effortlessly?
Awesome. Let's copy them.
This is a snapshot from Brian Dean's content upgrade from his article on using guestographics to generate links to your site:
It's good. It's simple, appealing and professional.
Let's steal it.
Now you have a couple options here: Canva or Google Drawing. Both will give you a great result and both are free.
How to create quality content upgrades with free platforms:
---
Screenshot your inspirational content upgrade and drop it into Google Drawing or Canva
Use that inspirational design as a template. Draw over each object and make it look as close to the original as possible. This gives you a solid foundation from which to develop your own creative spin.
If you can't find the icons you need in Canva (or if you're using Google Drawing), check out Flaticon.com
Once you've copied as well as you can, you'll have something like this (done in Google Drawing with the original on the left and my version on the right)…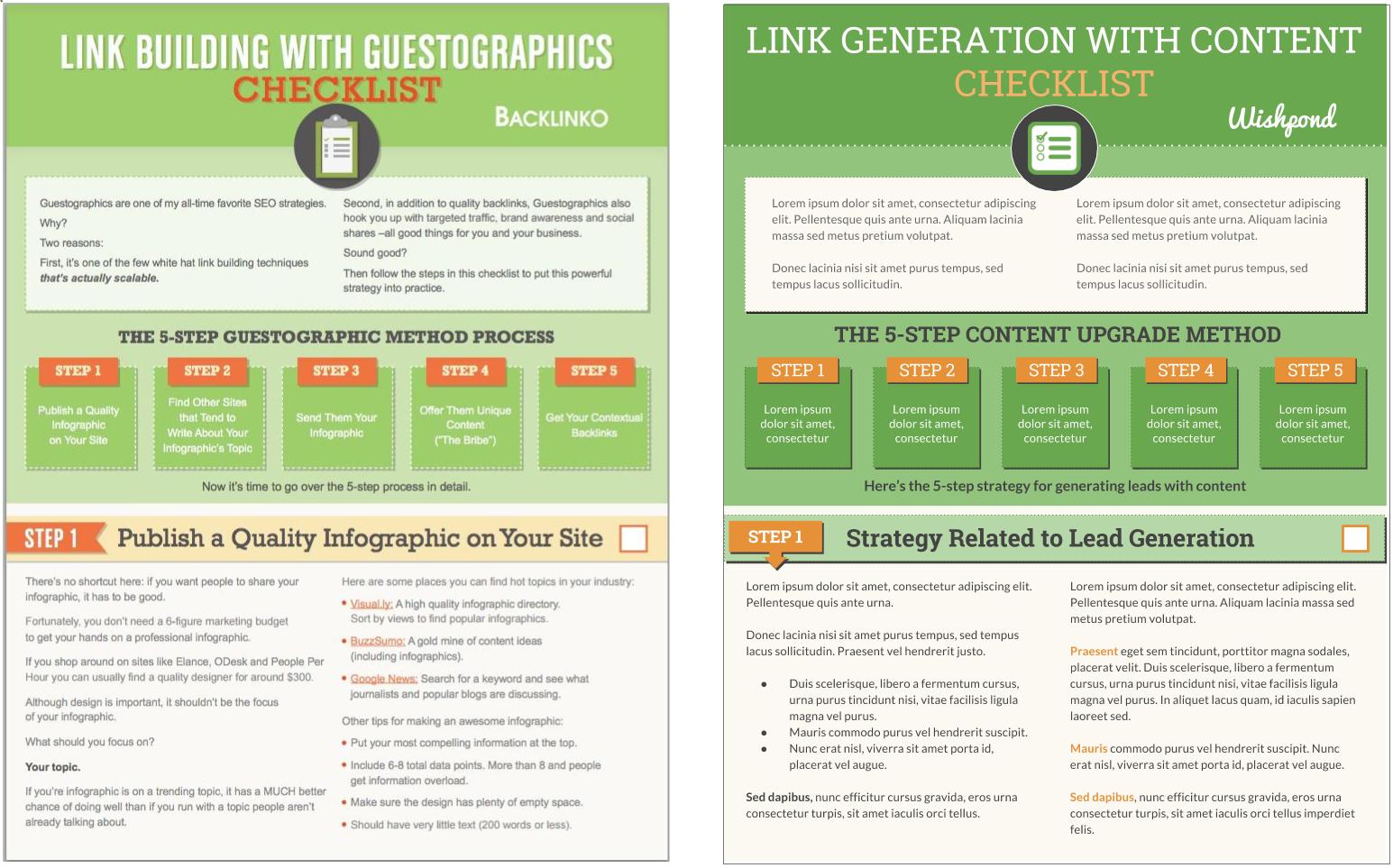 And then you can add your own flavor, like this (done in Canva)…
Next, simply upload your PDF into WordPress. You'll need the URL in a minute.
How to create your popup and gate your content:
---
Basically, I use Wishpond's popup builder. Even if I didn't work here I'd genuinely try it out at the very least.
Here's a step-by-step walkthrough of how you'd do it in the Wishpond dashboard:
Head to the Wishpond campaign's dashboard and select "popup" in the menu on the left:
Choose the popup template which looks most appealing to you. I've gone with Light Blue:
Write some simple copy which explains what the upgrade is and prompts your reader to download (they're already interested from your popup link within the article, but more on that in a moment):
Click on "post-entry" in the top right and write some brief copy to appear after a reader has converted.
Double-click the CTA button and paste in the URL of your content upgrade PDF.
Hit next in the bottom left to save your popup and then head to advanced settings
Title your popup so you'll recognize it in your dashboard and then copy the longer code into the page you want your popup to appear.
Copy the link code for your popup, and place it in your article as the builder suggests.
20 Content Upgrade Ideas:
---
A List of tools and resources related to your article

Free stock photos
Stock photo websites,
Mobile apps,
Browser plugins,
Free tools

Additional related content

How to create a survey or questionnaire
How to create a lead-generating piece of content
How to design infographics without design experience

Transcript of visual or audio content
A quick-start guide
A checklist
A downloadable asset

Email templates
"How to pitch this strategy" templates
Landing page templates

Hardcopy/PDF of the article
Access to a webinar or podcast related to the article
Bonus content not included in the original article
To Wrap Up
Content upgrades are working for us. They can do the same for you.
---
Yes, they're an investment of time beyond what you've been doing with email-gated content, but the return is worth it (about 600% better than average).
My advice to you would be to find your highest traffic article (Google Analytics will do this pretty easily under "Behavior" on the left side), create a content upgrade for it, and add it to the existing article.
There's no point in spending a bunch of time and energy creating a unique content upgrade if the article it's in isn't getting much traffic.
Do you think content upgrades would work within your content strategy? Get the conversation started below.
james-scherer-2