Nowadays, almost every business is on Instagram.
And they should be – it's a platform that's ripe for generating social engagement which, for some businesses, can be a road paved with boosted awareness and a bump in sales.
One mistake I've seen many businesses make is not keeping up with all of Instagram's many (constantly evolving) content forms. A savvy social media marketer should be comfortable with all of them to maximize the platform's potential.
So, this is my complete guide to Instagram ideas: all of the different types of content you can post to build your own empire on the visual media giant.
Instagram Ideas: Photos
The most popular type of content on Instagram remains a simple photo – the Instagram idea that first launched Instagram to fame several years ago. What makes photos so great is that they're easy for your business to create and easy for audiences to see, while still being powerful and engaging as a way to promote your business.
What I mean by this is that they don't take a huge time commitment from you or your social media manager; all you need to post a photo is a quick snap and maybe an edit or two – much less effort than a video. For a viewer, photos are easy to scroll through (and trust me, Instagram users scroll fast), making them easily digestible and very shareable.
Instagram Ideas: Photo Best Practices
Any photos you share on Instagram should be high-quality. This really should go without saying, but it's still an important point to address. If you're looking to build your business on Instagram, you need to understand that it's both a content strategy and a branding play. Much like your website or your storefront, your Instagram feed is a real representation of your business, meaning you want it to look as professional as possible.
To ensure this is the case, one of the easiest things you can do is make sure you take and post great-looking content. A couple rules of thumb:
Lighting is everything: Making sure you have adequate lighting can make a drastic difference in the way your photos look – and that's incredibly important, especially when you're showing off one of your products.
Focus your images: The age of artsy blurs on Instagram has passed – make sure you keep your photos focused to ensure you're presenting your subject in the best possible way.
Know basic composition: Though photo techniques are too numerous to include here, using things like the rule of thirds to compose your photos will give them a more professional quality. Look at other accounts you like for inspiration on how to frame your shots.
Use a decent camera A modern smartphone will do if you don't have a DSLR available to you.
Keep it simple: Edit well, but sparingly; long gone are the days of over-over-over-processed Instagram images, and you'll better show off your products and brand through more conservatively edited photos.
Instagram Ideas: Video
Instagram introduced videos soon after the platform's rise to prominence, allowing its users to post short 15-second clips, paving the way for more dynamic content (with sound!). Since then, Instagram has upped its video length limit to 1 minute, giving users the ability to be even more creative with the content they upload.
Though videos can take some additional effort, they don't necessarily have to (more on that in the best practices below). Videos are often more engaging than photos, though they're not as easy for users and potential customers to view if they're browsing quickly on the bus, in class, or at work (don't worry, I won't tell).
Instagram Ideas: Video Best Practices
Like your photos, you want your videos to look great. Though video is actually a good medium for more casual, less "polished" content, there's still a minimum quality standard you should try to uphold. Here's a few things that help:
Keep it steady: There are few worse things than shaky video. It's tough to watch and can even be nauseating at times. Though most smart phones (and pretty much all cameras) nowadays have a digital or optical stabilizer, using a tripod can help you make sure your videos don't come equipped with a roller coaster simulator.
Add subtitles: If your video has dialogue or a voiceover, add subtitles! It's the single best thing you can do to make sure people on the bus, in class or at work don't just scroll past your video.
Minimize length: Just because you now have 60 seconds of video on Instagram doesn't mean you need to use it. Minimizing the amount of time you take to deliver your message (whatever that happens to be) will keep more people watching until the end.
Add a call to action: There's a good chance a video you post highlights something you're trying to promote for your business. Adding a quick CTA at the bottom or end of your video can help push viewers into acting.
Instagram Ideas: Carousel
Instagram's newest content type is Carousel. It's a content type that allows you to combine multiple pieces of media (both photos and videos), which lets content creators share related images in a single post.
Though Carousel still isn't nearly as huge as photos or videos are in terms of popularity, being able to share more than one photo and video in a single post at a time is a feature that's just nice to have. We'll talk about some Carousel ideas below, which will show you some Instagram accounts who have been creative and found ways to make the most of Instagram's newest content type.
Instagram Ideas: Carousel Tips
Tell a story: Using Carousel's multiple panels allows you to share images and video in a narrative sequence that tells a story. You can do this in a creative manner (think comic book panels), or to highlight a specific event, like a product launch or a company gathering. Remember Carousel can include videos too, so you can add videos for some additional flavor.
Create a collage or panorama: One creative way I've seen brands use Carousel is to post super-mega-ultra-wide images. Split a single image (like a large collage or a panoramic photo) into pieces and post them sequentially, so users can explore the entire image in detail by swiping through your Carousel.
Include product photos: Though it's not the most inventive thing, Carousel introduces a new way to highlight your various products. I like Carousel as a way to show off different features of a single product, or to display different product colors. The possibilities are endless!
Instagram Ideas: General Best Practices
Instagram Ideas: Content Scheduling
Like any other marketing strategy, social media takes time. Unfortunately, not every business has that time, especially when you consider social media is the kind of thing you need to maintain and keep updated.
One way to circumvent this issue is to schedule content using a tool like Later or Buffer. This allows you to plan all of your posts (captions included) long in advance, meaning you can allot a bit of time once a week (or every couple weeks) to set up your posts for the next little while.
Instagram Ideas: Using Hashtags
Hashtags are one of the biggest ways to help your Instagram content reach new users and potential customers. They allow you to reach others who browse the platform using their explore feed, and to find similar accounts that will help you grow your own.
Find relevant hashtags specific to your business and your location, and you'll see the reach (and engagement) on your photos skyrocket. I'd recommend looking for relevant accounts that repost content their own hashtag and using them in your own posts, as this can give you the chance to be featured on their profiles, helping you reach new customers.
If you're really looking to drive massive growth with your Instagram account, contests are the best way to go. Why? They provide huge spikes in engagement, drastically increase the number of people who share your content, and simply get people excited about your brand. Let's look at a few ways you can run them: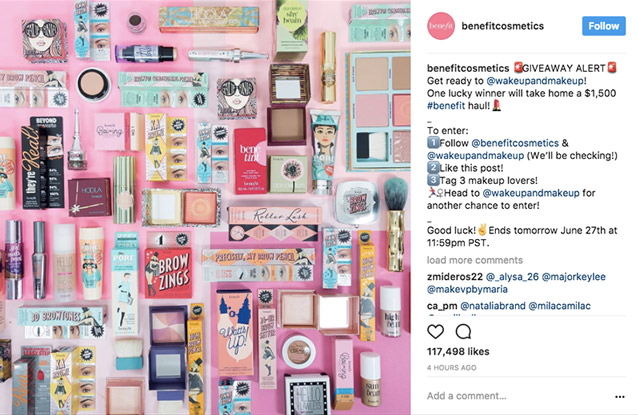 Tag/comment to enter: The simplest kind of contest is the kind you host on your Instagram profile. Simply post an image (or video) that explains your contest or highlights your prize, and tell entrants to comment on your photo tagging a friend to enter. You can also get entrants to follow your account, which will give you another opportunity to market to them in the future.
A hashtag/photo contest: I like these contests best, because they allow you to build up user-generated content from your fans that you can use in upcoming marketing campaigns. Use a tool like Wishpond to build a contest page with a photo gallery that highlights content from your entrants.
Instagram Ideas: Stories
Another dimension of Instagram's platform is its Stories feature, which, uh, looks a lot like Snapchat's Story function. To be frank, it's the same thing – but it's important to note your Instagram Story can be made public, meaning people who don't yet follow you can still find your Story and learn more about your business.
In my opinion, this makes Instagram Stories a much more powerful marketing tool than Snapchat, which has more privacy settings and isn't particularly effective to reach new potential customers.
If you want to go all-in on Instagram, you should look into using Stories extensively. Let's look at a few ways you can get the most out of this powerful tool.
Instagram Ideas: Stories Best Practices
Activate your Instagram for Business account: Having an Instagram for Business account is huge when you're updating your Story, because it allows you to add a "Swipe Up" action. This allows you to highlight products on your Story and then link Story viewers to your website or e-commerce site.
Update often: Instagram's algorithm (for both posts and Stories) is a little finnicky, but it tends to prioritize accounts you often interact with, or those that have updated recently. As a result, it's a good idea to update your Story relatively often, to maximize the reach you have with your followers.
Don't be too polished: Unlike your feed, your Story is the place where you can be a little less perfect. Showing behind-the-scenes content that's a little sillier can help people learn more about your business' culture.
Geotag your Stories: If you have a retail location, consistently updating your Story using geo-tags (it's in the stickers menu) can get you local viewers, who look at Stories based on their own location.
Give coupons!: In combination with your "Swipe Up" action, you can drive sales by giving out coupons on your Story. Add a CTA ("Swipe up to get 30% off!") and link to a product page. It's an awesome way to drive sales through social media.
Instagram Ideas: Photo Apps
To get you on your merry Instagram way, I'll introduce you to a few of my favorite Instagram apps. These are the tools I use to make the content I post on my feed look as awesome as possible (as well as a couple other neat tools, too).
Facetune
Facetune is one of my more recent discoveries – I found out tons of Instagram influencers use this app to edit their photos. Though it was built to edit photos of people and make them look a little more presentable, I've found it's actually an awesome app for editing photos of products and scenery as well.
The honorable mention feature for me is the "Whiten" function, which allows you to take focus away from certain parts of your photo to highlight your subject. Though the app isn't free, I'd recommend picking it up if you have a few bucks to spare.
Snapseed
Snapseed is my current "general" photo editing app of choice. If I want to make simple changes like brightness, contrast as well as color temperature, I go to Snapseed first. It features an awesome, intuitive interface, as well as some pretty powerful tools that take it a step above most other editing apps.
Often, I use Snapseed to make initial edits before pushing my images to Instagram (or through other apps), because it's quick, easy-to-use and has all of the features I need from an editing app. It's also totally free – so if you don't have it, you definitely should.
VSCO
VSCO is my go-to app when I'm looking for more stylish edits – filters in particular. It features a bunch of stock filters that can add a lot of character to any photo, and can also double as a general photo editing app if you're Snapseed-averse for some reason. The app also features a bunch of additional packs that you can add (for a couple bucks a pop)! Not too shabby.
Instagram Ideas: Conclusion
There you have it: my complete guide to Instagram photos and content. Hopefully, this gives you some ideas on how to make the most of your own Instagram marketing. As always, feel free to let me know if you have any questions in the comments below!
carlo