Thanksgiving is right around the corner. The leaves are falling and the nights are getting colder and colder.
It's the perfect time to get a hot cup of cocoa, some big wooly socks, and run a Fall marketing campaign.
This article will give you a step-by-step walkthrough for creating a successful Fall marketing campaign from beginning to end.
We'll break down…
Brainstorming your Fall campaign
Creating your Fall campaign page
How to drive traffic from your website and subscribers
How to drive traffic with referrals
How to drive traffic with online ads
How to turn campaign leads into customers with email
Let's get rolling!
Step 1: Brainstorm your Fall Campaign
---
The first thing you need to do is determine what kind of Fall marketing campaign you want to run – a simple sale, a photo contest, a giveaway, a discount, or whatever your creative mind can come up with.
This article will break down a simple Fall giveaway campaign I created for "Amanda Tiffle Photography" (a company I made up). Everything I'll show you is just as applicable for your business as it is for a hypothetical photography business.
But before we get into that, let's check out a few top ideas for Fall marketing campaigns:
Enter for a chance to win a $200 gift certificate for your Thanksgiving feast!
Submit your Fall photo. Whichever gets the most votes wins [your prize]
Enter for a chance to win a
Send us your best Halloween costume and win a Spooky Prize Package!
Fall family photo shoot
Now until November 31st, get 25%-off all waterproof boots!
Get 50% off a 6-month yoga subscription when you bring a friend!
Subscribe Here to Get Early Access to our Black Friday Deals!
The real limitations here are your creativity. Every industry (including B2B and SaaS) can find a way to work a seasonal promotion into their marketing strategy. If you're looking for ideas, reach out in the comment section and I'd be happy to brainstorm with you!
Step 2: Create a Fall Campaign Page
---
Once you know what Fall campaign you're going to run, you need to create a specific page within your website which is focused on that campaign.
Having a specific page for your campaign will result in better conversion rates (because your traffic is more focused on a single goal) make it easier to run ads, and make it easier for you to track the success of your campaign.
Here's a page I whipped up using one of Wishpond's ready-made Bonus Entry campaign templates in about 20 minutes:
The important parts of this Fall marketing campaign:
The dollar value of the promotion, front and center
The countdown timer, to create urgency in your campaign page visitors
"Enter for a change to win" – legally, this is important. You can't, technically, use "enter to win" in your contest copy
Limited form fields (name and email address, usually). Anything more will drop conversion rates, anything else and you won't know enough about your leads to contact them
A single call-to-action. Any links which drive your campaign page visitors off this page (such as a Nav bar or footer) will drop conversion rates. Your campaign page should have a single focus.
The "share to get bonus entry" fields (see more on that below).
Step 3: Drive Traffic from your Website and Subscribers
---
The easiest way to drive traffic to your most Fall marketing campaign is to notify your existing subscriber and contacts.
After all, these are people who you know are interested in your products or platform. Whether they're existing customers, previous customers or blog subscribers doesn't matter. They have already been convinced of some element of the value of your company.
Now, the goal of your Fall marketing campaign is probably to get new business leads or customers, not drive existing customers back to get more discounts (though retention is never a bad idea when it comes to digital marketing)…
But your existing customers have friends.
So, send an email to our existing customers anyway (Wishpond's newsletter tool makes this easy, by the way).
And then send an email to your previous campaign's entrants as well (because you know those people aren't just interested in your product, but also in winning that product):
Set your newsletter conditions:
Set your newsletter setup:
Then it's just a matter of writing your email (you can match your campaign page copy, by in large) and including a link to your campaign page.
But we're not done yet.
The second-easiest way to drive traffic to your campaign is to send it from your highest-traffic pages.
For instance, if your homepage, high-SEO article or product pages get the most website visitors, add a welcome mat to notify everyone who comes through about your campaign.
Here's a welcome mat I made in about 2 minutes with Wishpond's popup tool:
Head to the advanced options step and tell the system when, where, and how frequently you want your popup to show:
Okay, we're now driving all our existing traffic and current subscribers to our campaign. Let's move on to new people.
Step 4: Drive Traffic with Referrals
---
A great way for you to drive traffic to your campaign is with the bonus entry options within the fom there in the middle of the campaign.
How do bonus entries work?
It's relatively simple to drive your existing contacts to your campaign. And, as I said, your contacts have friends.
So, all we need to do is make it easy for our existing contacts to tell all their friends.
The bonus entry tool incentivizes your contest entrants (subscribers usually, at least at the beginning) to share with their friends in order to get additional chances to win. A Tweet will get you one additional entry, a Google+ share the same and (and this is the cool part) whatever your primary goal of the campaign (like submission of a phone number or a Follow on Instagram) can give 5 or 10 additional entries.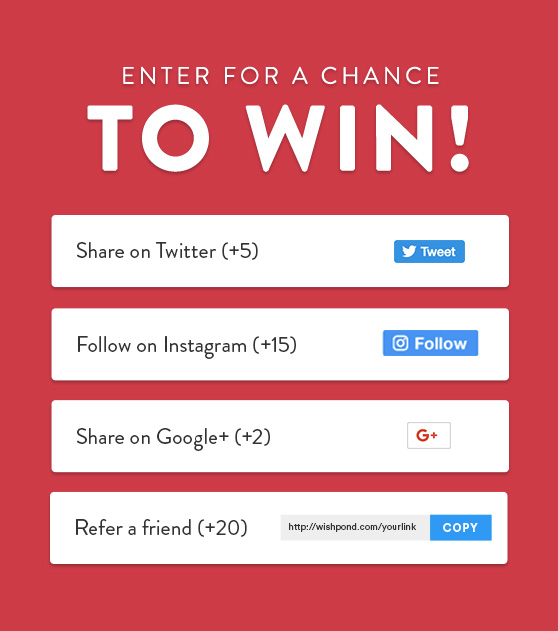 Of course the benefit of a bonus entry feature doesn't just end with your existing subscribers (though it does help your campaign get off the ground and grow organically). As every new person enters your campaign, they're given the same incentive to share.
Step 5: Drive Traffic through Online Advertising
---
Facebook Ads, dollar for dollar, can give you a better return on investment than trying to promote your Fall campaign organically.
You could spend every minute of every day trying to push people to your campaign and never reach even half the number you can with an affordable ad budget and half an hour of work.
Here's a step-by-step walkthrough for building the Facebook Ad campaign for our "Fall Photo-shoot" campaign (you'll need a Facebook Business Manager account, by the way):
Step 1: Choose your Facebook Ad goal:
My recommendation for this would be "Traffic," though if you have the technical savvy to install the Facebook conversion tracking pixel to your website, that's even better:
Step 2: Choose your Facebook Ad location targeting:
Step 3: Choose your Facebook Ad Demographic targeting:
Step 4: Choose your Budget:
Step 5 Adjust your Budget and Audience Targeting to Get the Right Estimated Clicks:
For a business with an average order value of $50, you'll be fine to set a budget of $20/day, as this will drive enough new leads through your campaign that it will be profitable. Remember the ol' ROI equation:
(Average Order Value x # of Converted Leads) – Campaign Spend / Campaign Spend = Return on Investment
Top Tip:

Google Drawing makes it really easy to create an optimized Facebook Ad image. Go to "File > Page Setup" to make your page size 1200 x 628, drag in the same image you used for your campaign background, add a semi-transparent black overlay and use the same headline and font you used on your campaign page. Go to "File > Download As" to export the drawing as a PNG. Easy as that!
Step 6: Turn your Thanksgiving Leads into Customers with Email
---
Once your campaign is over and you've announced your grand prize winner, you'll have a bunch of new business leads who are extremely warm and, with a well-placed push, likely to buy.
My recommendation is to create an email drip campaign to act as a net, ensuring you catch as many of your new leads as possible.
Here's how to do it…
Step 1: Write four emails:
You should be able to tell what each one of these emails is from the subject lines. If you want clarification, let me know in the comment section.
"Fall Photoshoot Winner Announced (With Commiseration Prize!)"

Notify all your contest entrants of a limited-time discount code or credit exclusively available to them.

"48 Hours Left to Take Advantage of Our [%-off] Discount!"
"24 Hours Left to Take Advantage of Our [%-off] Discount!"
"Special offer: Contact Me to Get an Exclusive Discount"
My recommendation is always to do two emails after the initial notice of the discount you're running, followed up by a "special offer email. Something like… "I got an email from Janice, in Toledo, who was out of town for the past week and missed out on the discount we gave to all our Fall photo shoot contest entrants. As a result, I'd be happy to offer any one of you the same discount for another week. Just email me for details!"
Step 2: Set your Automated Drip Campaign Conditions:
Step 3: Set your Automated Drip Campaign Actions (the Emails):
Step 4: Segment
Be sure to add all your Fall marketing campaign leads into a segmented list. This will make it far easier to send them follow-up emails down the line.
This is especially valuable if you're running a campaign which gives away a specific product. the next time you're running a promotion on that product (or something related to it), be sure to notify your contest entrants specifically, as you know they're interested in it.
Final Thoughts
---
Hopefully this article has given you a better idea of how to start with a Fall marketing campaign. It's a great time of year for a promotion, and it shouldn't take you more than an afternoon to get one launched.
Have any questions? Don't hesitate to reach out in the comment section or, if you want to talk about how you can use Wishpond's tool to make it all easier, book a time with a marketing consultant today.
Related Reading:
james-scherer-2