5 Ways to Improve Your Site Traffic with Facebook
Traffic on your website is crucial to the success of your business.
Search engines like Google act as an important bridge to connect your target audience with your content.
But if you're looking for more ways to increase traffic on your website, Facebook offers you a great opportunity.
Facebook is one of the most popular social media networks. It is a great platform to build trust and establish your brand in the market.
According to Statista, Facebook has shown a remarkable increase in the number of active users since 2008. The first quarter of 2018 saw 2.19 billion monthly active users on Facebook.
Let's take a look at five key strategies to drive more Facebook visitors to your website:
Post Useful, Engaging, and Shareable Content
Content is the driving force behind every marketing strategy today. Your Facebook audience is also looking for fresh content every time they visit your profile.
In order to keep them engaged, you should plan and create a pool of shareable content on your website. After all, you don't want to annoy them by sharing the same old blog links. Isn't it?
The key to directing your Facebook followers to your website is to give them something interesting to see. Keep them hooked with a consistent flow of valuable content on your website, such as blog posts, infographics, ebooks, tutorials, and promotional videos.
Promoting such content on your Facebook page can drive greater engagement on your posts and encourage users to visit your website. It will make them want more.
Besides improving Facebook engagement and website traffic, creating fresh website content can also help you improve your site's rankings. You can use tools like Pro Rank Tracker and Tiny Ranker to track and analyze your rankings.
Tracking your content's performance can help you figure out which type of content works well with your audience. Focus on providing more of the best-performing content to your Facebook followers.
Use Large Images in Your Posts
The images in your Facebook posts are the first things that attract an audience. Images receive more engagement in terms of likes, shares, and comments.
Find out what your audience likes. Use high-quality inspiring images that will hold your audience's attention when they scroll through their Facebook newsfeed.
Use large images to make them stand out. Whether you are trying to sell shoes, nuts, cosmetics, etc., or whether you're a niche blogger, large pictures are what pulls in your audience.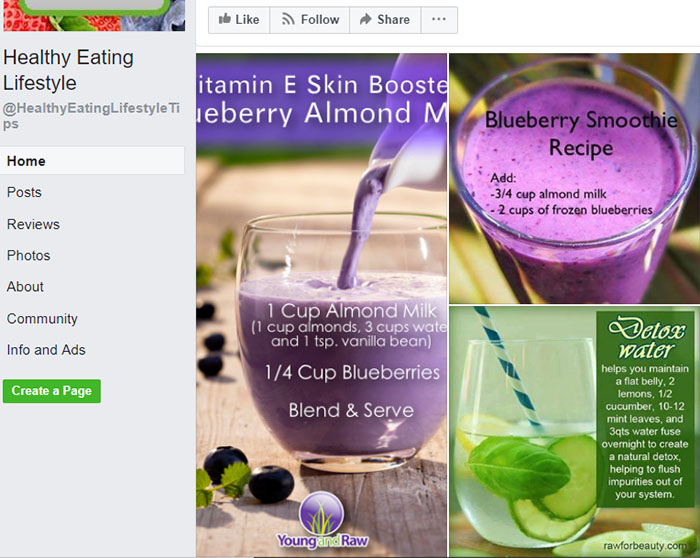 Image Via Facebook
The Healthy Eating Lifestyle page uses appealing colors in the photos they post on Facebook. The large sizes of the image makes it impossible for their audience to ignore them and move on.
Get creative with the title and body of your content to make it more enticing. And add links with these pictures to a relevant page on your website.
These images don't need to only be about your products. You can show related pictures or pictures that connect with your brand in some way.
Use your imagination. You can also use the various photo editing tools available online. Add inspirational messages to your pictures if you cater to an audience that would like such messages.
Also consider using memes. Memes with familiar faces are very trendy nowadays. They invoke humor that a lot of people find entertaining and relatable. Also, regular social media users are familiar with memes and will immediately understand what you're trying to convey.
Use Videos
Videos are the best way to grab people's attention. A video is much more effective at sharing the different features of your product or letting people know you better.
According to Wyzowl statistics gathered in December 2017, 97% of marketers find videos more helpful in understanding product and services. 76% admit that videos result in increased traffic.
For more real insights into the latest video trends, check out this Wishpond post.
You can create a professional video like the one from Nike below. Share the advertising video on your Facebook page to engage your audience.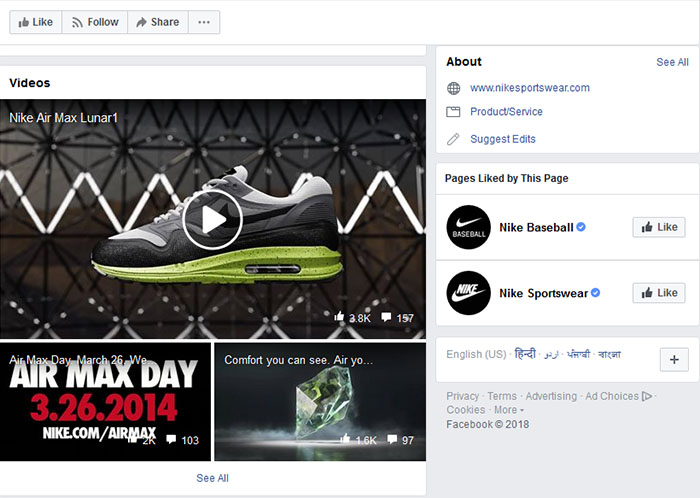 Image source Facebook
You can create your own videos using a range of video creation tools. There are tools like Vyond and Adobe Premiere Pro CC that can help you to produce compelling videos.
Your uploaded video will play automatically on Facebook when in view.
You can create a vertical or square video to make it more engaging on mobile devices. Short videos of around 15 seconds are ideal to attract viewers and convey your message effectively.
Add a short explanatory text with the video and link it to your website.
Use a Call-to-Action (CTA)
You want your audience to view, click, like, and share your posts. More shares and likes will mean more traffic on your website.
Always use a CTA in your posts. Tell your audience exactly what you want them to do so they have a sense of direction after viewing your post.
For example - you can add a CTA in your post like, "What do you think of my collection? Tell me in the comments section below." This could encourage them to leave a comment in the post, driving engagement for the post.
Though comments can be great for you, they may be a lot of work for many people. Try getting a like where you think getting comments is difficult.
Getting a like for your post is easier than getting a comment. Besides, you can almost always compel them to act with statements (with related content) like, "Hit like if you agree that helping an orphan is a noble cause."
Advertise
Advertising on social media channels like Facebook is the easiest way to gain traffic on your website. Facebook offers multiple ways for targeting your ads to the right audience.
Start by creating a Facebook Business Page.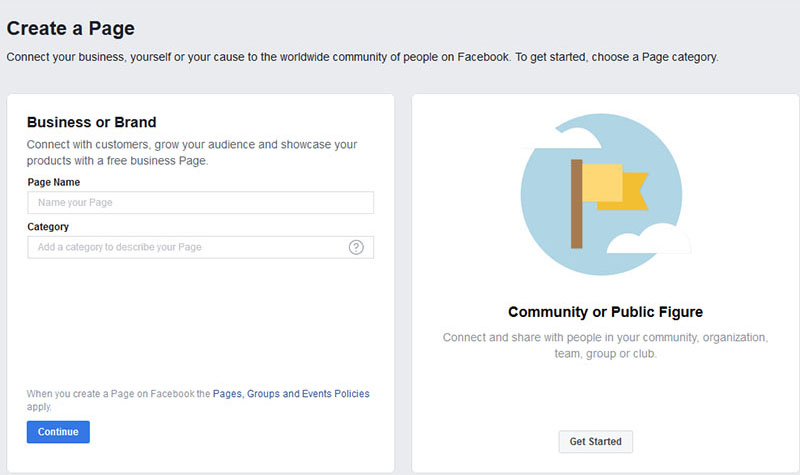 Image via Facebook
Choose "Get more website visitors" as your business goal.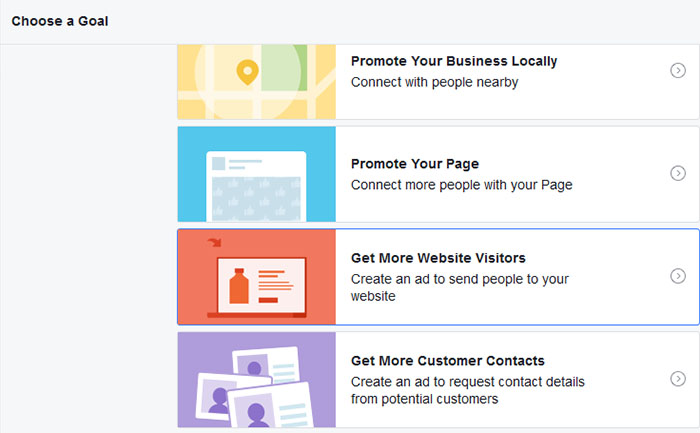 Facebook offers various options to target different audiences. You can choose:
The audience based on location, age, or gender.
People who are either connected to or not connected to your Facebook page.
Audiences similar to your existing audience base.
Or you can build your own custom audience.
You can mix and match the above types of audiences. For example - you can choose only females from your existing audience base as your target audience.
Depending on your budget, you can choose to schedule your ad. You can select a daily plan or a longer plan. Advanced budget options offer more detailed ways to spend your advertising money.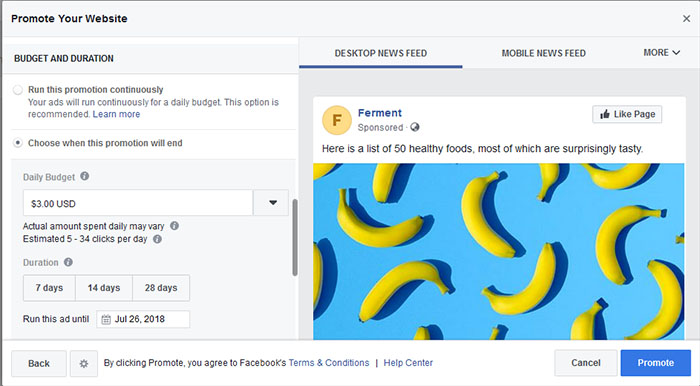 Image Via Facebook
You can promote your existing ad or create a new one using various options like slideshows, videos, images, or carousel. See that you know all the rules to be followed while creating a Facebook ad.
Test your Facebook ad performance. Experiment and adjust your ads and audiences to drive the best ROI.
You can use tools like Hootsuite Ads, which helps you create and test hundreds of ads on Facebook in minutes.
Qwaya is another tool that can help you find the most effective Facebook audiences by testing every available variable. You can learn what is performing best at all the times.
Conclusion
Many brands use Facebook to reach their target customers. The trick is to use it effectively to compel people to click your content and learn more about you.
You can also try combining Facebook with other forms of marketing like video marketing and email campaigns to drive traffic to your website.
If you have any tips to add to the above points, or if you have any questions, let us know in the comments section below.
About the Author: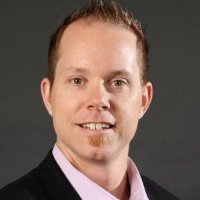 Shane Barker is a digital marketing consultant who specializes in sales funnels, targeted traffic, and website conversions. He has consulted with Fortune 500 companies, influencers with digital products, and a number of A-List celebrities. Connect with Shane on Linkedin and Twitter.