4 Pinterest Marketing Features You Should Know in 2021
Pinterest has been around for ages. But, despite this, it still feels like this social network is being slightly underrated, especially by marketers and businesses.
With over 400 million monthly active users, this platform can be a reliable marketing tool, no less powerful than, let's say Instagram. You only need to know how to use it right.
In this article, we are going to break down the four most exciting Pinterest marketing features:
Story Pins
Try On
Pinterest Predicts
Advertising
Even if your niche has nothing to do with the visual content and imagery, you can still leverage the opportunities offered by this platform to your benefit. Businesses of all shapes and sizes have long learned how to tailor their products and market them via Pinterest.
With the right strategy and the right features, you can turn any Pinterest page into a powerful marketing tool for increasing brand awareness, attracting new customers, generating leads, and driving more sales.
Want to know how to use this social network for marketing purposes? In the list below, you will find the most effective and workable features, along with some handy tips and tricks. Let's dive in!
1. Story Pins
Recently, the social network has introduced a brand new content format - Story Pins. Unlike other formats, this one allows you to add even more depth to your content by incorporating multiple pages of images, text, videos, and links into a single post.* It works similarly to Instagram and Facebook stories. However, unlike them, Story Pins don't expire and disappear after a certain time.*
Currently, this feature is only available in beta mode to account in the US. But, we expect it to be introduced very soon and, once it is here, it can become a powerful marketing tool on this social network!
Here is an example of the use of this new format for a product review: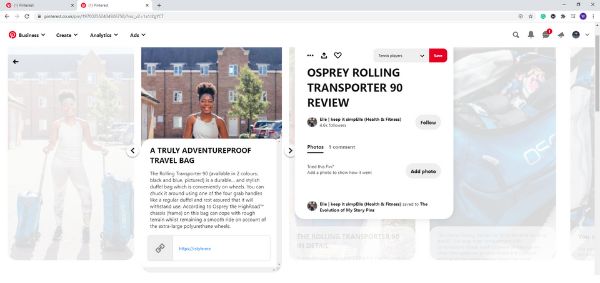 Why does it work? In terms of business and marketing, this new feature will help you showcase expertise. Also, it will help to engage the audience even more with more images, videos, text, and links, and encourage users to take action (e.g. go to your website).
*Tips for using: *As we already said, this is a new feature that is currently being tested, which means it is not yet available for everyone to use. However, if you are a creator who wants to be among the first to try it, here is what you should do:
Go to help.pinterest.com
Switch to the Business tab
Go to Create content → Pin Formats → Create Story Pins
On this page, you can fill out a short request form and submit it
If you are eligible, you will be granted early access to test the new feature during 5-7 days.
If you get access, you will be able to understand how it works and start shaping your strategy to use it to the fullest when it finally launches.
2. Try On
One of the most exciting (and newest) marketing features introduced by Pinterest really has the potential to turn the users' shopping experience on this platform upside down. On January 28th 2020, the platform has officially launched an AR-powered feature called "Try On". In short, it does just that. It lets users try on certain products to find what fits them best.
Try On is provided with the help of Pinterest's Lens. To use this option, users should open the camera in search and click the "Try On" button to apply different shades of beauty products such as lipstick or eye shadows.
Currently, this new feature only supports cosmetic products. Some of the first brands to adopt it were Urban Decay, YSL Beauté, Estée Lauder, NYX Professional Makeup, Sephora, and some others.
How can marketers benefit from it? At this point, the "Try On" button only appears on select items and during the search that includes related keywords (e.g. red lipstick, matte lipstick, etc.). If you work in the beauty industry, you can try to get your products into the list of select items. As for other niches that could also use this feature, they are currently not supported. But, we hope that Pinterest will expand their Try On option to other industries soon.
Here is an example of how Urban Decay is already using this tool on their products: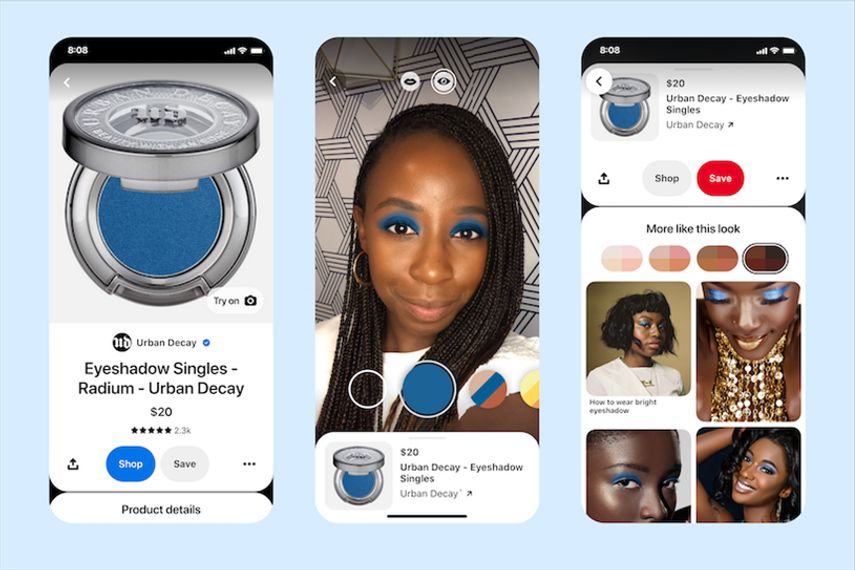 Why does it work? When someone looks up a specific beauty product, let's say red lipstick, that person is already interested in making a purchase by default. But, we all know how hard it can be to pick the right shade without trying it on. This new feature solves this problem, making shopping for beauty products easy. Look at the example above - not only can the customers try on different eyeshadows to find the perfect fit, but they also see the price and a link to make a purchase right underneath. This takes hesitation out of the equation and encourages users to make faster buying decisions.
*Tips for using: *Access to this tool is also limited at this point. However, you can also request to try it if you are offering beauty products:
Go to help.pinterest.com
Switch to the Business tab
Go to Create content → Pin Formats → Create Try on Product Pins
Submit a request.
3. Pinterest Predicts
This is not really a feature, but rather a handy resource offered by the Pinterest team. However, this does not make it less helpful.
In a nutshell, Pinterest Predicts is almost like a trend report. What makes it different from other trend reports out there is that it focuses on what is yet to be trending rather than what is already a known trend. So, the name of this resource speaks for itself - Pinterest takes a shot and tries to predict what is going to be trending soon. And we have to admit that they are doing great at it. Just as an example, 8 out of 10 of their predictions for 2020 came true.
The report can be found on Pinterest's site for businesses. It is publicly available, so anyone can check it out. It is also pretty easy to navigate. The trends are always divided into audience categories. Thus, everyone can find something handy here. And the report for 2021 is already there, so be sure to take a look at it!
Just to give you an example here, one of the predictions for 2021 is that "custom clothing" and "jeans painting" will be among the top searched terms in the fashion field. Here is how Levi's used this insight in a recent publication.
Why does it work? First of all, Levi's covered several trending topics including clothing customization, jeans painting, and also the fight for black and gay rights. By doing this, they drive more attention and engage users even more. And, thanks for trending search requests, their publication will appear in search results more often.
*Tips for using: *Pinterest Predicts is a fun and easy way to keep up with trends. Here is how to make the most of it:
Go to business.pinterest.com → Pinterest Predicts
Choose a suitable audience category (e.g. fashion, travel, beauty, home, food and beverage, etc.)
Study what's trending, including top search terms
Check out the provided stats
See some content examples
Having all this data, create content that fits into current trends to get more engagement.
If you keep an eye on this helpful resource, you get a chance to be the first one to benefit from the newest trends before they are everywhere.
Advertising on Pinterest
Paid advertising is by far the most effective marketing tool available on social media and Pinterest is not an exception. The platform offers businesses and marketers a range of simple advertising solutions that can help you get your content in front of a larger number of prospects.
Advertising on pinterest is available for all content types, including:
Standard. The platform lets users promote their standard Pins (images that come in a simple vertical or square format).
Video. A more advanced advertising option lets you create fascinating video ads and make sure they reach the right audience.
Shopping. Product Pins are rather new to this platform. This form of content allows you to display the products you sell and provide users with the basic information about each product, such as availability, purchase locations, and pricing. You can turn your product Pins into ads as well.
Carousel. Carousel ads allow prospects to look through several images in a single ad. This feature can help you boost conversion as you display multiple products in one ad or show a single product in more detail.
*Collections. *The last ad format is called Collections. It lets you create and promote small groups of related images (the main one + three additional images).
How can you adopt this feature to enhance your marketing efforts on Pinterest? Compared to many other social media channels, Pinterest offers very straightforward and intuitive advertising options. Business accounts can turn any of their organic pins into an ad in just a few simple clicks. This can be done straight from the mobile app, which is extremely convenient.
Also, the platform has an accessible Ads Manager tool that lets users create and adjust custom campaigns, and set up targeting quickly and easily. As for the payments, there are two ways to pay for your ads - you can either use an automatic bidding tool or decide how much to spend yourself.
Here is an example of one of the paid Pins by the apparel brand Scotch & Soda: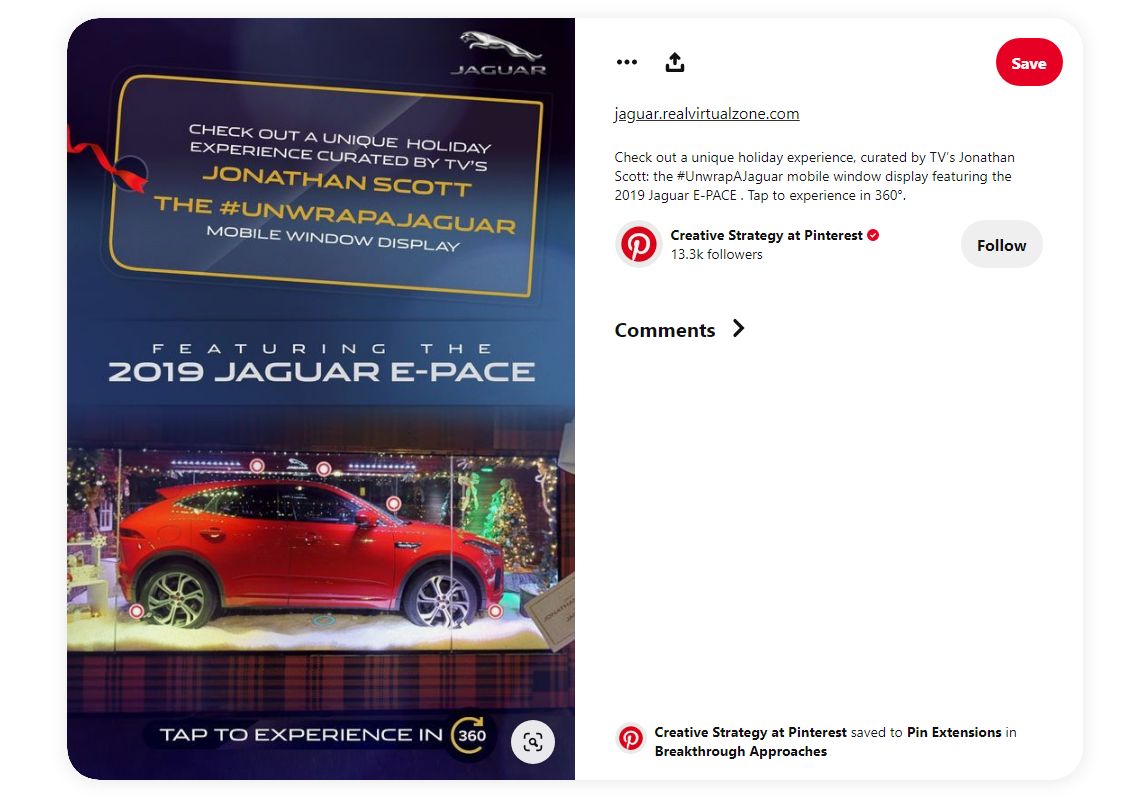 Why does it work? This brand was featured in Pinterest's success stories for creating shopping ads that deliver a 7x higher return on ad spend. There are a few elements of success. First of all, it is high-quality and eye-catching visual content. And secondly, it is the right setup of the ad.
*Tips for using: *Here is how to set up an ad on Pinterest step by step:
Create a business account or convert your current account to a business account
Install the Pinterest Tag
Select the objective of your campaign (e.g. build awareness, drive traffic, etc.)
Set your budget for the campaign - you can specify both daily spend limit and lifetime spend limit
Create an ad group
Select your target audience
Choose the preferred placement - you can choose to show your ads in Search, Browse, or both
Add relevant keywords and interests to improve reach and click rates
Set the preferred start and end date
Choose a max bid for your ads
Pick a pacing option (either standard or accelerated)
Add pins you'd like to promote - there are a few rules here, the content must be saved to your profile (but not featured in secret boards, it should not include any third-party materials, and it must have a destination URL.
Once the ad is all set up, all you need to do is monitor performance and adjust settings for better results.
Summary
Pinterest offers plenty of opportunities for marketing and even more opportunities are yet to come. Thus, it is vital to know how to use every feature of this social network to your benefit.
In this article, we've taken you through the four most exciting tools to use in 2021, as well as examples and tips for each. In the conclusion, let's quickly recap what are these tools that can take your marketing on Pinterest to the next level this year:
Story Pins
Try On
Pinterest Predicts
Advertising
But don't stop there! These are just a few of the many exciting features available on this platform. To make the most of Pinterest as a marketing channel, you should give them all a try and choose what suits your needs most!
---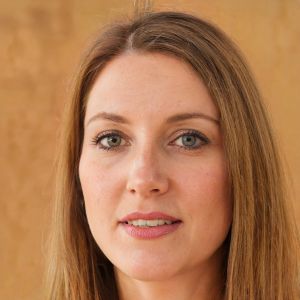 Written by our guest writer Jennifer J. Cherry, skillhub.com
Jennifer J. Cherry is a professional resume editor and an experienced marketing specialist. In her career in marketing, Jennifer always strives to keep up with the hottest trends, innovations, and new marketing channels. In this article, she tells about the best Pinterest features that can turn this social network into your powerful marketing tool.