As soon as November arrives, people become aware of the shopping season that is upon us. The cold weather hits, and the last thing on our minds is to go shopping. All we want to do is curl up on the couch and watch a movie.
Consumers have discovered they can do both at the same time. Within the last few years,  online shopping has become increasingly more popular and it looks like it will continue to grow throughout the rest of 2012. Social commerce sites such as Pinterest make it easy to browse for gift ideas. This is the time to have your business's Pinterest account active and effective.
1. Add a  Pinterest bookmarklet.
The only problem I've had with the bookmarklet is that sometimes I would forget it's there. This tends to get better with time and practice. If you can remember that you have a bookmarklet, it will make your online social life easier.
All you have to do to install it is drag it from the page and drop it in your bookmarks on your browser. You don't have to set time aside every day to pin, you can conveniently pin while you're browsing the internet.

2. Download a Pinterest app.
It's convenient. Just like Twitter and Facebook, you can put a Pinterest app on your iPhone, iPod, iPad or Android. It's a perfect way to kill time, because you're adding to your online presence as a business. You can even upload photos you take directly to Pinterest from the app!
3. Easy to Share Content.
The "Pin It" button is different than the "Pin it" bookmarklet. The button allows viewers of your content and products to pin them from your website. Whether it's a blog post, picture, product or infographic, the button makes it simple for people browsing your website or blog to share your content. The easier it is, the more likely they will be to share.
If you don't already have a " follow button" on your site I also suggest getting one. It's the third item down under " Goodies." There are several different sizes and styles to choose from, and the HTML is provided so you can easily copy and paste the code wherever you like on your website.

4. Contribute to a board/invite others to contribute.
Contributing to boards with others is beneficial for all parties involved. When you're part of a contribution board, it is shared on your Pinterest profile, as well as all the other members involved. So really, the more the merrier! The best part is, it's a group effort so you don't have to put in as much work as a regular board. Although, this is not a valid excuse to let your group do all the pinning. You're still trying to build your presence on Pinterest.
Both hosting the board people contribute to or contributing are great. Personally, I recommend doing both for maximum exposure.
5. Tag fans and businesses in your pins.
Like Twitter, all you have to do is put an "@" in front of the member's username.
Tagging others in your pins can result in higher engagement. People will be notified that someone has tagged them in a pin and often they will respond back. Technically, it's networking. Feel free to comment on other member's pins as well. Get the conversations going!
6. Use hashtags.
Using hashtags in the description of your pin can be helpful for people searching for certain pins. It's different than Twitter because it's more about the search and popularity factors as opposed to just making up your own hashtags. They should be used on Pinterest for search value purposes.
Just be careful to use them in moderation. Try to stick to a maximum of three per pin.
7. Infographics.
Information graphics contain knowledge and are visually appealing. They're a simplistic and pleasing way to process statistics and other facts. Infographics are great because it's an easy way to bring value to your followers.
For  Wishpond, infographics get the most engagement out of any other pin.. Our "Social Commerce Infographics" board has the most followers of all our boards, and our infographics get the most repins and comments.
8. Follow gurus in your niche.
The gurus know what's up. Now, not all gurus have Pinterest accounts (yet). There's bound to be a few in whatever industries are applicable to your business. Who thought  General Electric  would have an engaging and successful Pinterest account? It's not a bakery or a fashion retailer, yet it still has over 12,000 followers at this time.
We followed  Jeff Bullas because he's a master in social media marketing.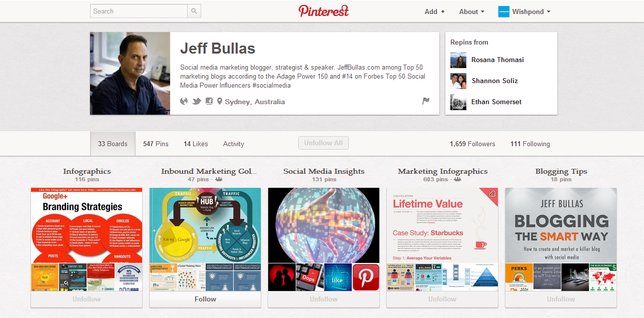 9. Post frequently but don't flood Pinterest.
Pinterest is a little different from other social sharing sites, people tend to go on "Pinterest binge" and post dozens of pins in one sitting.
This is not recommended in the reason that you will crowd your follower's feeds. People will generally be turned off with you crowding their news feeds and might even feel compelled to unfollow you, or worse report you for spammy behavior.
10. Be original.
Are you repinning dozens of photos a day and you're not getting any engagements or likes?
Maybe you're just not producing enough of your own content. It's important to find balance between repinning and creating your own pins.
Whether it's a photo of your product or something interesting you found on another website, it's crucial to generate your own content to present yourself as an individual. You won't appear that way if you're only posting pins that are all over Pinterest already.
11. Create board(s) exclusive to your business.
Making boards with content relevant to your business that have a personal touch to your pinterest as well. You could even use a board to advertise events your company organizes.
For example if you're a clothing retailer, you could create a Board like  Topshop did called,  "Girls at Topshop HQ" which features the employees of the company wearing their clothes. It's a great way to show how how customers can pair outfits together.
Lululemon is another great example. They do a great job of having a variety of different types of boards. They're sorted them into 5 different categories: yoga, run, store, lululemon, and people.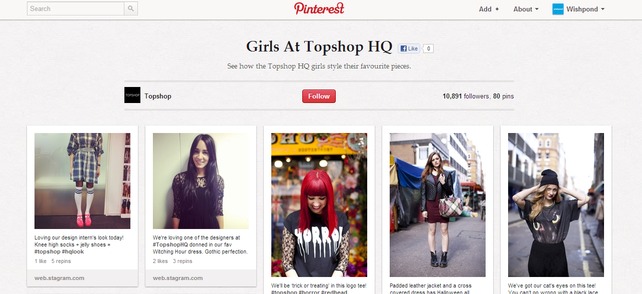 12. Share pins on social platforms.
Chances are you have more followers on your Facebook and Twitter pages, so why not remind your fans that you're active on Pinterest?
Your fans follow you for a reason, so redirect them to your Pinterest to get some traffic and potential followers.
13. Add a watermark to your photos.
If you're pinning content that you've created, consider putting a watermark on your photos. A watermark is a subtle logo or design that you put onto an image to identify it as your content.
This way, if your pin circulates Pinterest so will your name. It is important to find balance between making the watermark too visible and invisible – you'll have to play around with it.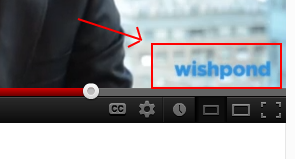 14. Use Pinterest tools.
Tools for Pinterest can boost your efficiency, measure your success, help you manage your account, and more. There are many Pinterest tools that exist, but here are a few of the top Pinterest tools briefly explained below:
Repinly: Finds the most popular pins, pinners, and boards on Pinterest. It shows statistics and charts on the trending topics and categories. It also calculates your "Pinterest Score" which is similar to  Klout scores for Twitter.

Reachli (former Pinerly): Helps you branch out and "reach" people visually. It used to be specific to Pinterest, but now works on other social platforms such as Facebook, Twitter, Tumblr and Instagram. It allows you to create a "campaign" around a pin to track its success with analytics as well as tips to optimize your time spent on Pinterest.
Pinstamatic: Have you ever had the urge to add something other than a photo to Pinterest but you couldn't make it work? Pinstamatic lets you add different types of content (other than photos) to Pinterest. Ex: quotes, notes, websites, music.
What are some other tips to drive traffic to your Pinterest account?
Wishpond contest apps are one of the easiest ways to generate buzz around your brand on social as well as generate valuable, quality leads. Sign up today!
wishpond