Third Party Video Game Developers: Market Apps Using Social Promotions
You are a small independent third party developer.
Your first project is 3 months away from launch and you have just enough left in the budget for a humble marketing effort to spread the word.
As a third party video game developer, the proper use of social media is critical to the success of your company. For many first time developers, ensuring that your first game is a success is incredibly important - it must satisfy investors and get people talking about your game. That's where social media comes in. By connecting virtually everybody to a social network, there is incredible potential for the reach of your product and your brand.
The video game market is swamped with huge studios and independent developers alike, all vying for the same market. This summarized guide teaches you how Wishpond can provide the social media apps your company needs to maximize the reach of your game.
What ROIs can I achieve by using Wishpond?
Increase engagement with your fans.
Reach new customers through their own networks.
Obtain a deeper understanding of your audience through Wishpond's analytics.
Increase the level of buzz and hype surrounding your game before its release.
Drive up sales and traffic for your business.
We'll focus on the following three types of contests to promote your business:
There are many different types of contests available for your company on Wishpond, but these three below are particularly effective for a small video game developer.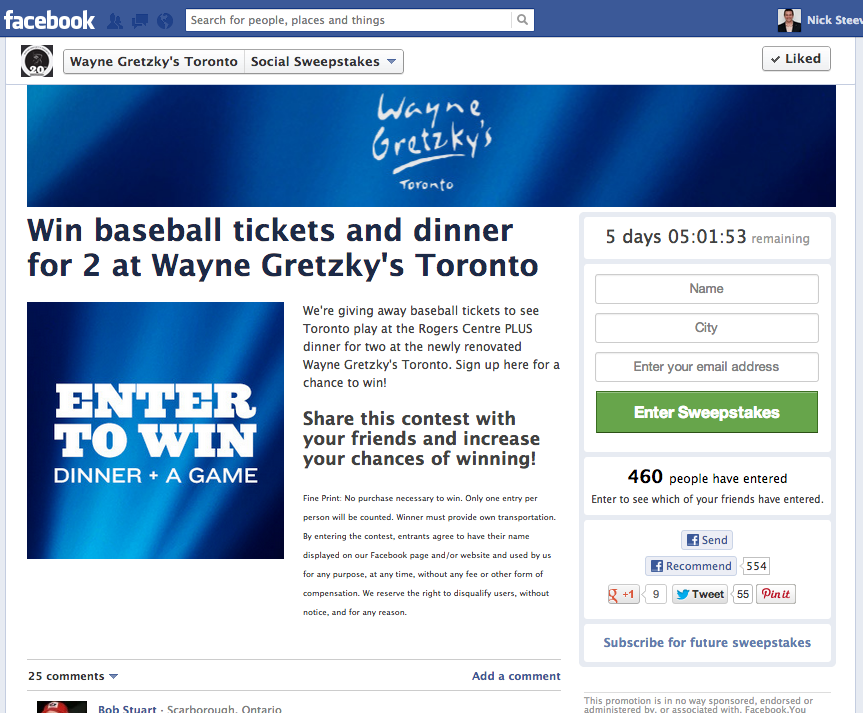 A Sweepstakes is a tried-and-true contest. Using Wishpond, you establish the parameters of the contest - such as a prize, an associated photo, and when your Sweepstakes will run. To enter, applicants need to enter some basic contact information and they will be entered into a random draw.
While not very risky, people may not be very willing to give up their contact information. This drop off rate is ~10% and should not be a concern with the invaluable information you will gain about your consumers. With the information, your business has access to the emails of entrants as well as personal details. You can view the extent of the information your business will collect here. Wishpond will also continually track the effectiveness of your Sweepstakes.
Once signed up, entrants will automatically share a post on their Facebook profile, encourages others to join and adds an element of buzz to your campaign.
How can you level up your sweepstakes?
Make sure the prize at the end of your sweepstakes is something worth the time of the participants. While they don't actually have to pay anything, even the act of asking for contact information may turn off a lot of players if they do not think the prize is worth it. Also try to make the prize relevant to your company and your game. People who sign up for a sweepstakes for a free iPad are only in it for the iPad. They don't care about your game and will none of them will be receptive to future marketing efforts. Some potential prizes might be:
An artbook with concept art. This may cost some money to get the books printed, but all the art should already be presented as part of the game creation process.
Adding the winner into the game as a minor non-playable character. Many games have done this as a way to give the player some fame and recognition, while still remaining relatively cost effective.
If there is little money left in the budget, just allowing the winner to get the game free and a week before the official release date can be effective.
Also take a look at "How to Run a Successful Sweepstakes or Contest (and why they work)" for more tips on running a successful promotion.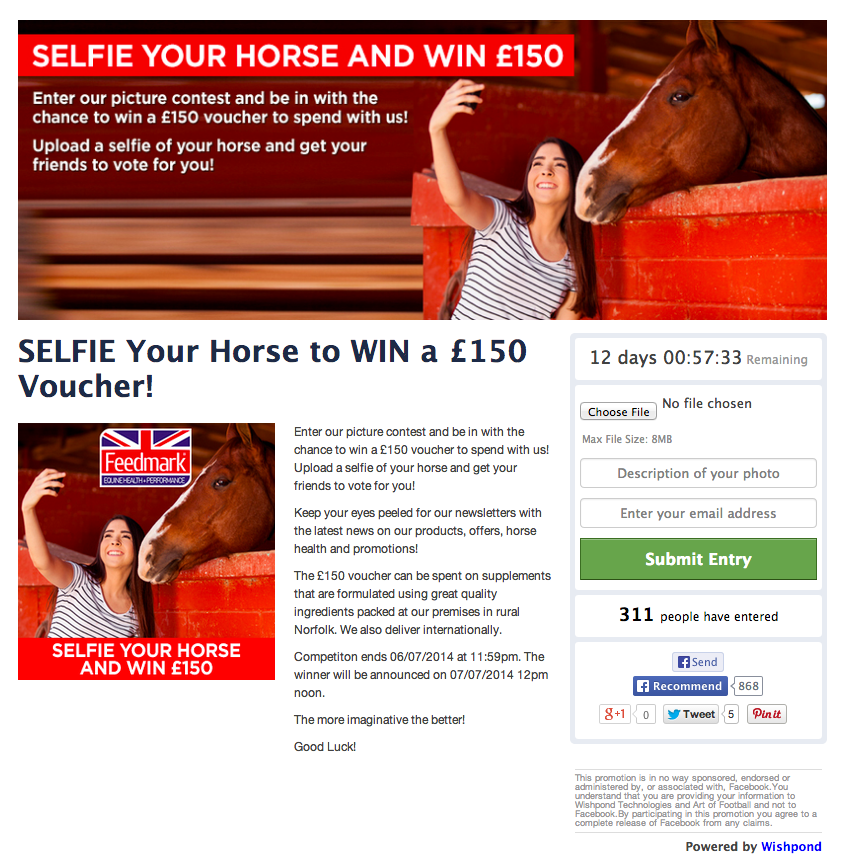 Photo contests are incredibly simple to set up on Wishpond, and yet are very effective. To put it in short - participants are given a photo theme, and then they upload a photo of that theme to your Facebook Page (or other social media vehicle of choice), and a winner is chosen. This encourages people to create relevant content, has a chance of becoming viral, and builds brand loyalty for all participants.
Of course, this requires more effort from participants than a Sweepstakes, so the turnout will undoubtedly be relatively lower. Keep in mind that those who enter will have a stronger attachment with your company.
To select a winner, you can manually choose the contest winner, or allow followers to vote on their favourite entry. You can even choose to have multiple winners!
How do I level up my photo contest?
When setting up a photo contest, make sure the theme has something to do with your game. If your game heavily features a cooking mechanic, ask for some interesting food or cooking photos.
Try to put a unique spin on your photo contest to make sure it stands out from others. However, while it is important to be unique with your contests, doing a photo of something that is very specific or difficult may result in a lower turnout. Find a nice balance between ease-of-use and creativity.
Check out "7 Great Photo Contest Examples" for more inspiration.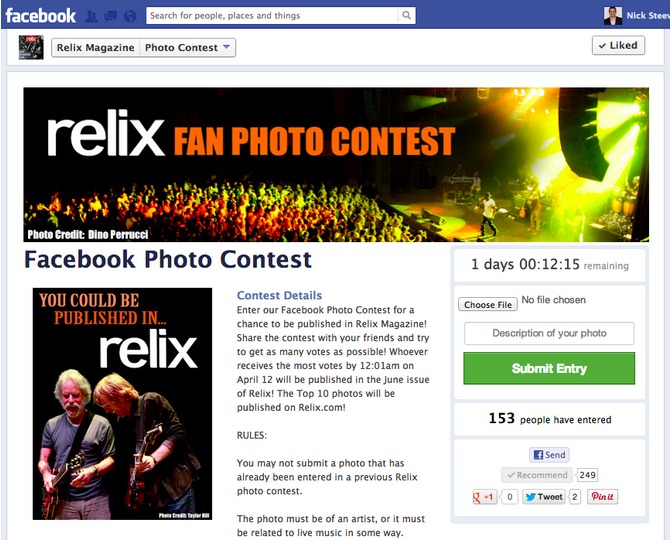 Photo Captions are similar to photo contests, but require even less commitment and effort from the participant The barriers of entry are still more pronounced than with sweepstakes.
An interesting picture (and please try to make it interesting) is posted with little context for the situation. Users will then submit a humorous or entertaining caption that they think best fits the photo, and then the entry with the most votes becomes the winner. Photo caption contests are a simple way to increase engagement with your target audience.
The important thing to consider in these types of contests is the photo itself. Make sure that it has something to do with your product or your brand so that the contest is both unique and relevant.
How do I level up my photo caption contest?
There is a valuable opportunity here as an independent video game developer. Photos that you use for this contest can be screenshots of the upcoming game itself. By promoting this contest, viewers can get a sneak peek of the game. Of course, this only really works if the game is suited for such a measure.
If your game has multiple characters with facial expressions and the potential for an interesting situation, a photo caption contest will work brilliantly. If your game is a single-player retro style dungeon crawler, it may be more difficult to find a good situation. Try and make it as easy as possible for your viewers to think of something interesting.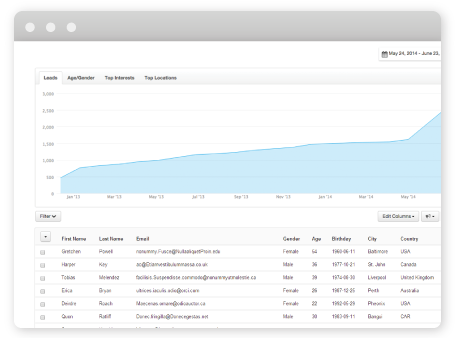 With Wishpond, tracking the effectiveness of your campaign is incredibly simple. Most of the work is done for you and condensed into an intuitive dashboard. All the contact information collected (if any) is also available for your company databases and mailing lists.
Setting up a comprehensive social media promotions campaign has never been easier. This guide is by no means exhaustive of Wishpond's many features and analytics. Take a look at Wishpond's Marketing Software and see it for yourself!