Photography services are in an increasingly competitive market. At the same time, the demand for great photography has increased. Photographs have become an essential part of any good social media marketing campaign.
With cameras on every phone, and more photography studio sites online popping up regularly, how can you get your photography business to stand out?
Use social marketing tools like social contests, sweepstakes and group deals.
What ROIs can you achieve by using Social Promotions?
Reach new customers, through friends, family and followers
Create buzz about your services to new markets
Increase engagement to develop longer lasting relationships with your clients
Obtain a deeper understanding of your audience through Wishpond's Analytics
And ultimately, generate more leads and sales
5 Ways to use Social Promotions to Achieve your Social Media Marketing ROI's:
Vote contest
Photo caption contest
Photo contest
Facebook store
Vote Contest:
A vote contest is one of the easiest promotions. They can be set up in minutes and, like all of our apps, are automatically optimized for mobile.
With a low barrier to entry, they are easy for users, which maximizes engagement. Users simply submit their email, vote, and they're in.
Because it's easy to vote, it has the potential to attract droves of entrants. Once a participant votes, it shows up in their Twitter or Facebook feed, inviting their followers to vote too. This generates buzz for your campaign and creates a potentially viral campaign for your business.
Vote contests are also a great way to understand your followers. After all, voting is asking your clients for their opinions.
Tip: Make your vote contest something that resonates with your target market. The more your contest connects, the more people will want to vote!
Example:
We made up the company "I Love Photos". They are a photography service specializing in web-ready photos. To increase awareness of their product to small to medium businesses, they chose a Wishpond Vote contest to begin generating buzz.
In this example, they are asking their Twitter followers to vote on their favourite photo. This creates engagement, and shows off their available products.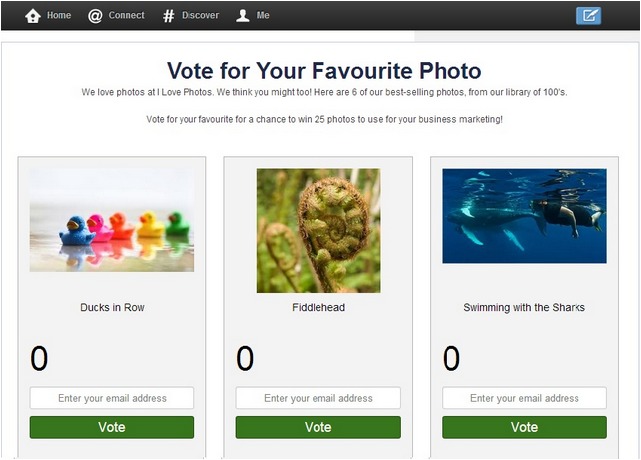 Sweepstakes
Sweepstakes are another simple promotion. They can be set up in minutes and also work on Facebook, Twitter and websites.
With a low barrier to entry, they are easy for users, which maximizes engagement. Users simply click the 'Enter Sweepstakes' button, submit their email, and they're in.
You get to collect entrants' emails can track results in real-time to monitor your campaign performance through our social marketing suite.
Tip: The right prize is key in sweepstakes. Make it enticing to get more entrants.
Example:
"I Love Photos" also specializes in business headshots. To generate buzz for their services, they set up a Facebook sweepstakes. The prize for entrants is a free one hour photo shoot.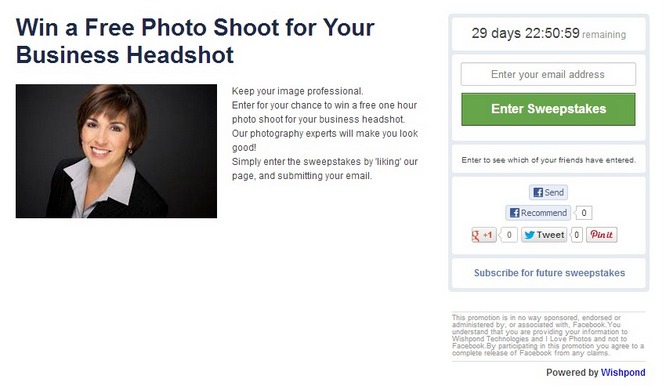 Photo Caption Contest
A photo caption contest is easy to set up. For users, it takes a bit more effort, as you are asking them to create a written caption for your photo.
With more user engagement however, the entrant may develop a closer connection with your brand – or at least your photos.
Tip: Make your photo caption contest relevant to the products and services you offer. This will get your entrants more interested in what you do.
Example:
"I Love Photos" also specializes in pet photography. They set up a Wishpond photo caption contest, asking entrants to make a caption for one of their pet photographs. They are giving away a prize of a free half hour pet photography session.
This contest was set up on their website, and they promoted it through their Facebook, Twitter and Pinterest sites.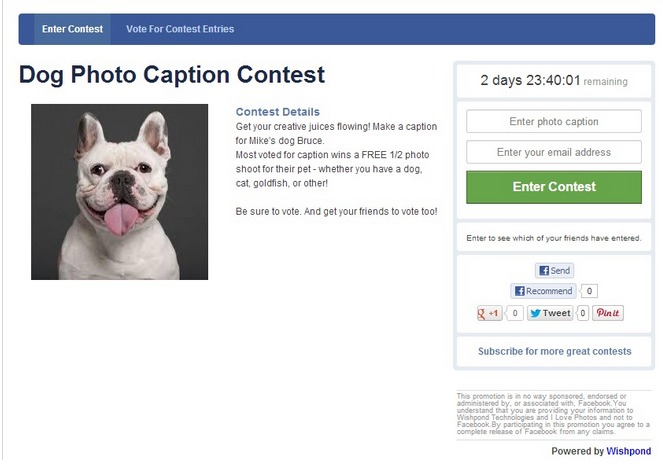 Photo Contest
A photo contest requires even more engagement with your potential customer. In a photo contest, entrants upload their own photo. This user-generated content can then be voted on, to select the winner.
Tip: Create a theme for your photo contest. Make the theme fairly easy to photograph. This will increase the number of entrants you will get.
Example:
"I Love Photos" has a family portrait studio. They often have a lull period in their business during certain months. To generate buzz about their service and get new customers in the door, they hosted a family photo contest on their Facebook Page.
They asked entrants to upload their favourite family portraits -whether it was taken by "I Love Photos", another studio, or their own.
The winners received a free family photo shoot.
In addition to the buzz this generated, I Love Photos collected all entrants' emails. They sent follow-ups to let entrants know about the quality work they do and gave each entrant a 10% discount on their next family portrait.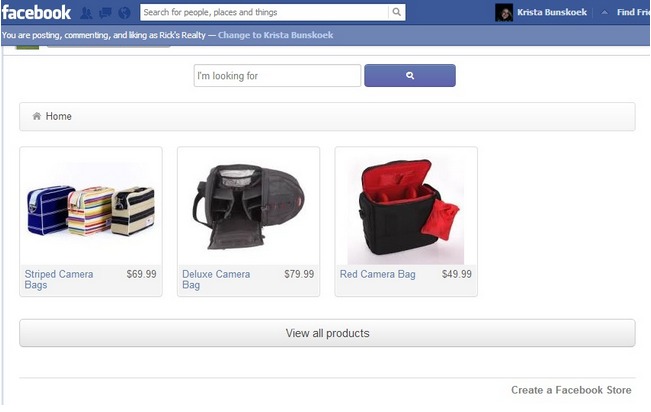 Facebook Store
Wishpond's Social Marketing Suite allows retailers to easily set up a store with links to their products on their Facebook Page.
This is an easy way to showcase your goods, and makes it very easy for your fans to purchase items. Both you and your fans can promote your products to your Facebook wall, and fans can too.
Additionally, you can "like-gate" your store. This means that in order for someone to purchase from your Facebook Store, they must "like" your store first.
Tip: Don't over complicate your Facebook Store; make it simple to see your products. Put only your best-selling items on your Facebook Store or items you are offering at a discount.
Example:
I Love Photos sells digital SLR cameras and accessories. They set up a Facebook store to promote their best-selling items.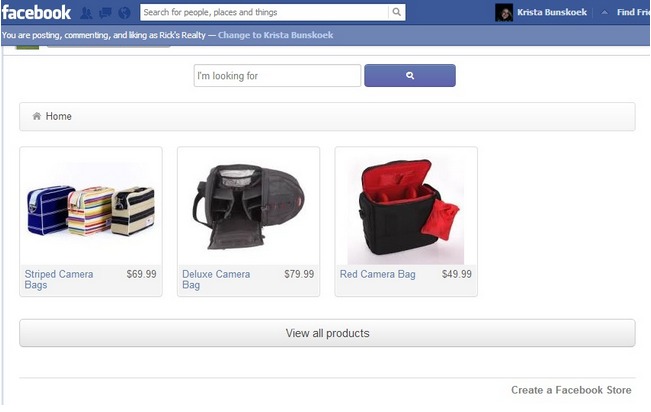 At Wishpond, we want you to be the best marketer you can be. That's why we've created a whole range of social promotion apps – making your successes a little easier.
Our Social Marketing Suite gives you a range of easy to use social promotion apps, provides exclusive analytics for you to track and measure all of your achievements, and enables you to export, import and send targeted, direct emails. All of our marketing apps work on Twitter, Facebook and websites.
Related Reading:
wishpond