6 Ecommerce Popup Templates You Can Use Today to Drive Reliable Sales
Are you struggling to drive sales with your ecommerce business?
You're putting in serious time, energy and resources driving the few visitors you do get, so when 90% of them don't buy, it can be seriously depressing.
You need to be doing everything you possibly can, and implementing the most cutting-edge strategies, to drive reliable sales with your ecommerce business.
That's where ecommerce popups come into play - a new strategy to turn visitors into leads and customers effectively.
This article will show you six of the most impactful ecommerce popups - six easy-to-add strategies to drive reliable sales.
#1. Direct Traffic with a "Browse New Arrivals" Popup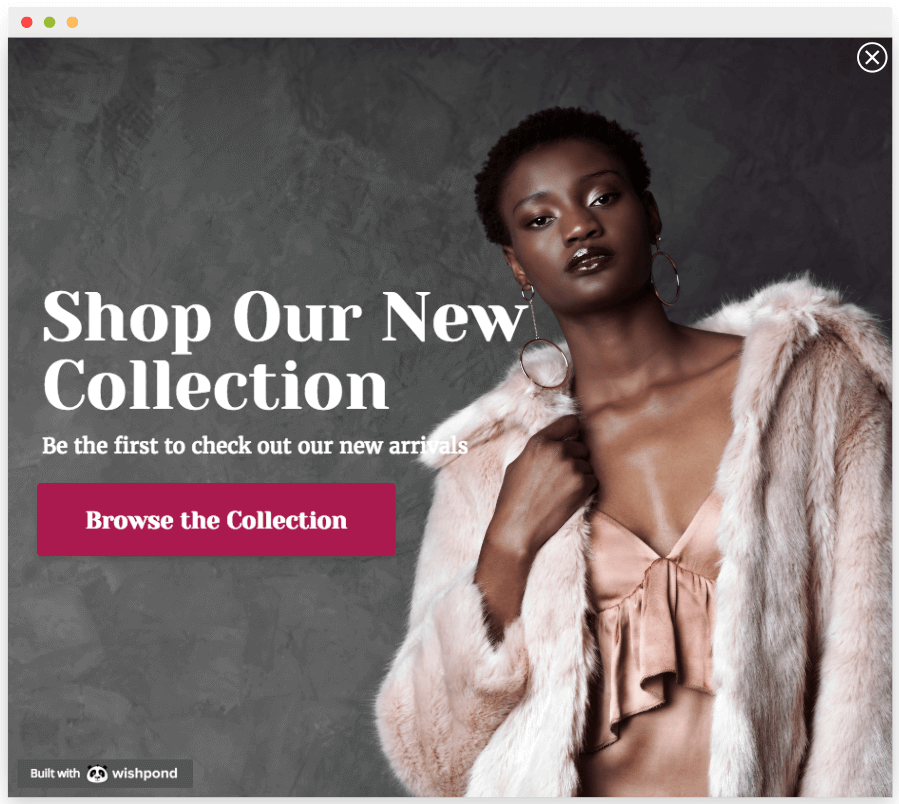 How This Popup Works to Drive Sales
This popup directs visitors to your new collection or products, and (once there) the "newness" and exclusivity increases sales.
The idea of something being "new" inherently improves its subjective value. People ascribe more worth to something which is new (even if there's no real difference between the previous model). That's why people buy new cars, even when the 2015 model is just as good.
Being "first," also increases the feeling of exclusivity. Everybody likes being first.
"A region in the midbrain (substantia nigra/ventral tegmental), which is responsible for regulating our motivation and reward-processing, responds better to novelty than to the familiar." - Source
In other words, people are excited and motivated to act when exposed to novelty.
Driving your website visitors to your new products will result in more sales than your older lines (provided the new stuff is relevant to them, but more on that later).
#2. Direct Traffic with a "View Daily Deals" Popup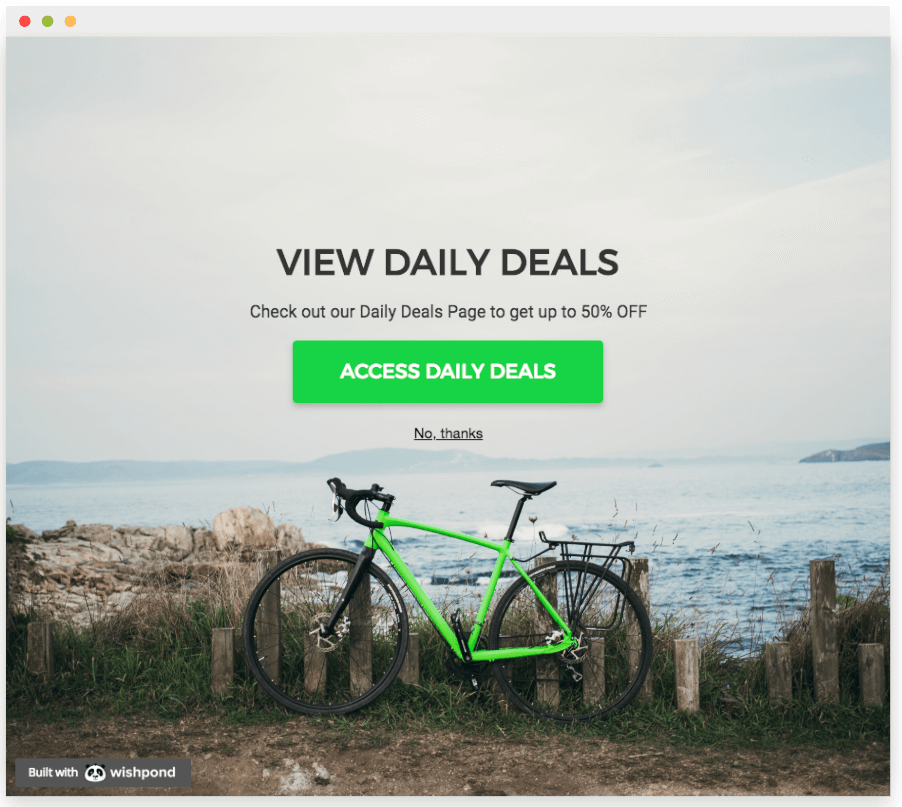 How This Popup Works to Drive Sales
Offering a promotion with a deadline has shown to increase conversion rates by almost 1000%.
So directing your website visitors to a daily (or weekly) deals page, with promotions that will expire soon, is a fantastic way to to increase sales.
My recommendation would be to take few minutes a few times a week to update a promotion landing page on your website with a few discounted items.
You can pause and publish the same entry popup or welcome overlay to show only when you have a live "daily deal" page. And you can edit and re-publish the same promotion page whenever you need to update it.
3. Redirect Visitors with an Exit-Intent Popup
How This Popup Works to Drive Sales
This popup will only show when someone moves their cursor outside their browser window, meaning it will only show when someone is looking to exit or go back to a different page.
It's a pretty aggressive strategy, don't get me wrong, but you have to remember…
Your exit-intent popups are only showing when your sales funnel has already failed.
If you're segmenting your website visitors correctly - driving them to relevant products with a clearly-communicated reason to buy. If your products look great and your checkout process is simple and easy-to-complete, nobody will ever see this exit-intent popup.
But even so, let's make sure you follow a few simple guidelines to avoid annoying people with your exit popups:
Only show when someone has shown clear interest. The popup above only shows when someone has already put an item in their ecommerce shopping cart. This is something they do want to buy, but (more often than not) they're leaving because of unexpected costs.
Clearly communicate value. The popup template shown above offers 15% off the price they've seen in their shopping cart.
Give a clear option to exit. WIshpond's popup templates, for instance, all have a visible "x" in the top right corner. You can also choose to have a popup close when someone clicks on the background behind the popup. This is an easy to way to reduce the annoyance people experience (and increase the chance they'll come back).
#4. Direct Visitors to a Sales Page with an Entry Popup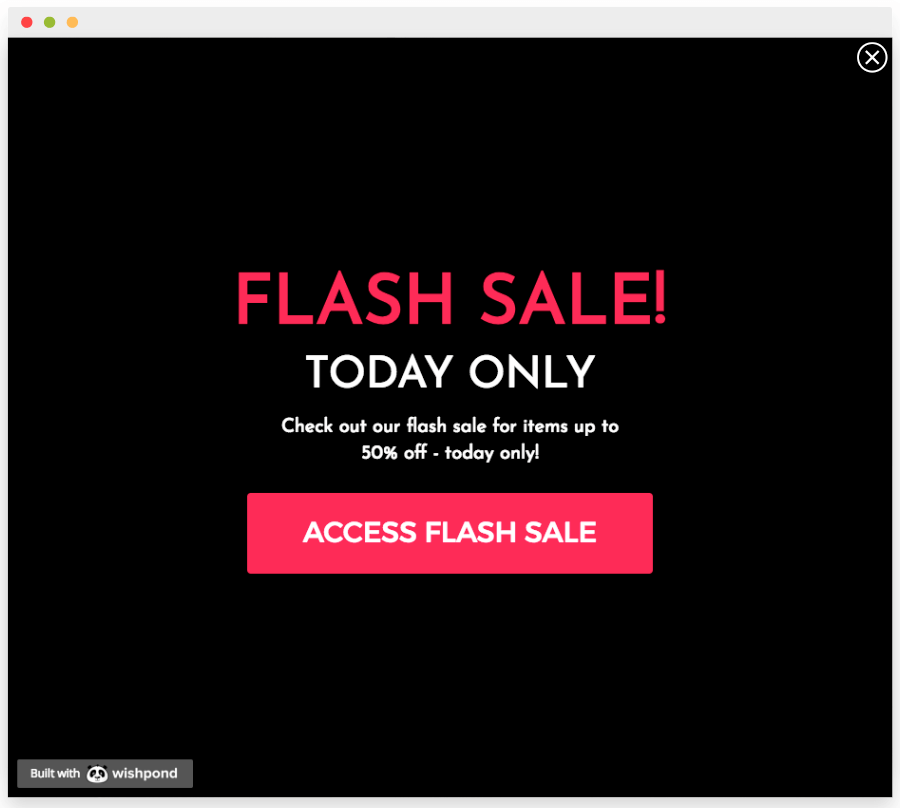 How This Popup Works to Drive Sales
The primary reason that your ecommerce website visitors end up leaving is price.
Think about it, they clicked on a link to get here - a link for a product they were interested in or searching for. They want to buy that thing, so why don't they?
Now there are a dozen reasons (site complexity, checkout complications, etc) which you should address. But first and foremost? Its price. Who are we kidding?
A "Flash Sale" - a limited time promotion offering a significant percentage-off your products, is the best strategy to address your visitors' pain points and get around them.
A popup like this one, shown as soon as someone arrives, changes that voice in the back of their head which says "You shouldn't spend this much on that thing you want" to "You want this thing and you might not get it at this price again if you don't buy today."
#5. Get Newsletter Subscribers with a Timed Popup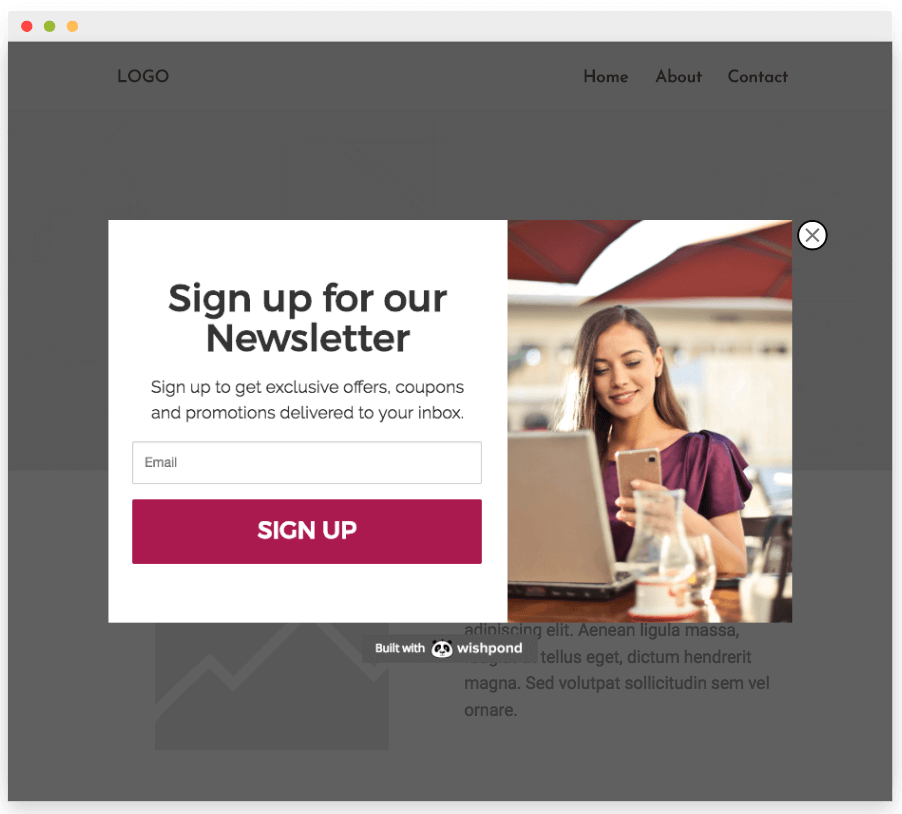 How This Popup Works to Drive Sales
The fact of the matter is that, no matter what you do, the mass majority of your ecommerce website traffic is going to leave without buying.
However, that doesn't have to be the end of the story. If you have that person's email address (generated through a popup like the one above) you can send them targeted emails which drive them back to your website to complete a purchase.
An email address + website tracking (which enables you to see what pages your visitors go to) can be used to effectively send emails.
For instance…
In Wishpond's email automation tool that last one would look something like this: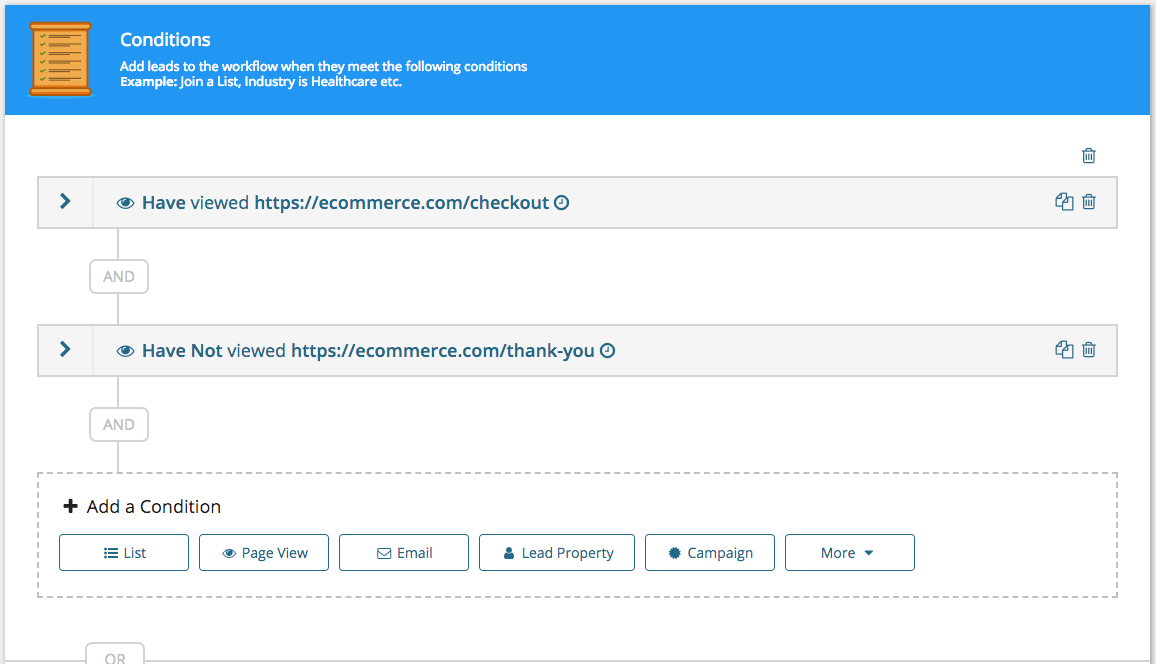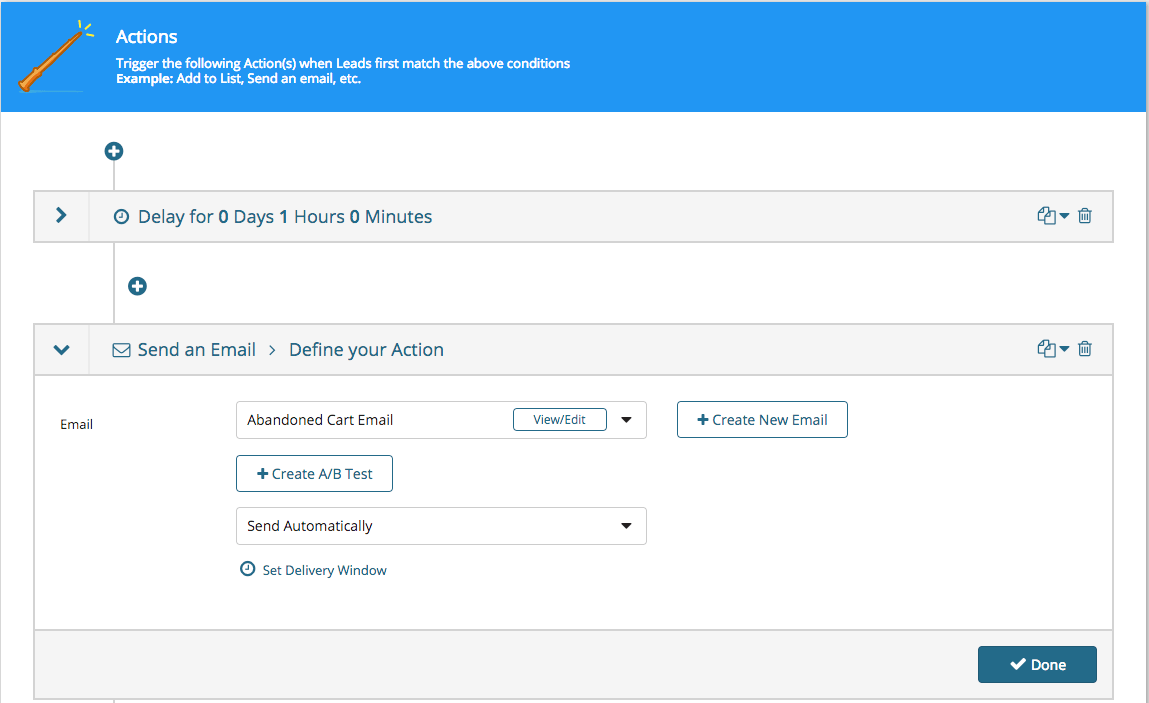 #6. Segment your Website Visitors with a Welcome Mat Popup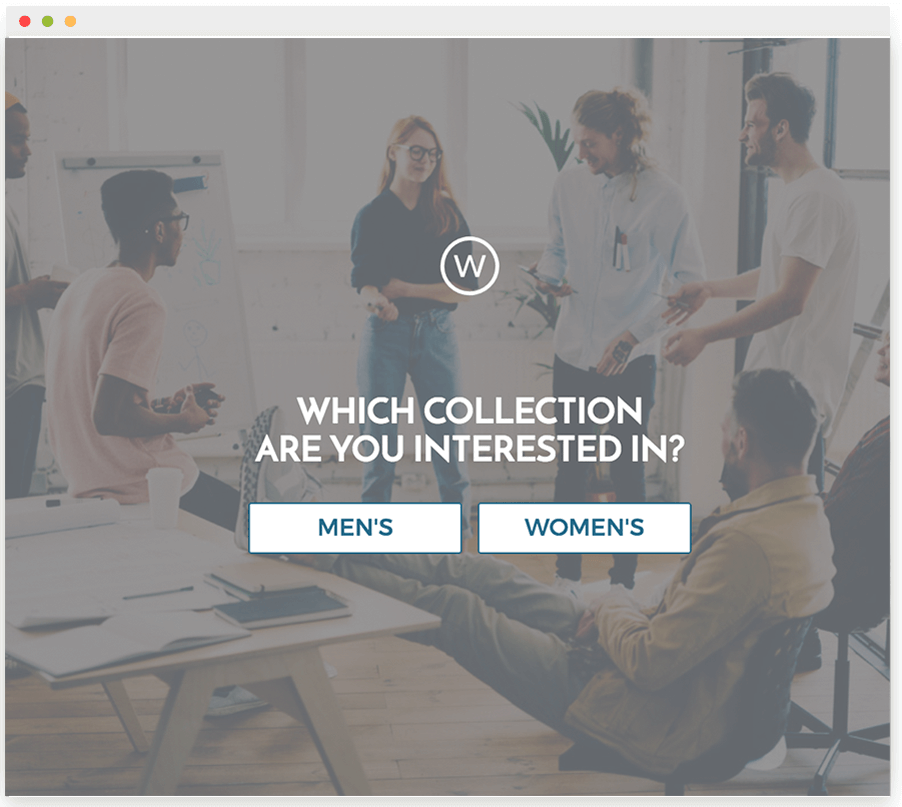 How This Popup Works to Drive Sales
When Mailchimp tested segmented email campaigns vs non-segmented, they found a 14.3% higher open rate and 100.95% higher click-through rate. This is because when you deliver information which is relevant to your audience, they're more likely to engage with it. Your ecommerce website is no different.
Use a popup like this one to send your traffic, right off the bat, to products which are relevant to them. Once there, the standard strategies of promotions, limited-time deals and all the rest will apply far more effectively - because those strategies are being applied to products they actually care about.
Final Thoughts
Hopefully this article has given you a better understanding of how popups can be used to improve your ecommerce website's sales.
The templates are all there, ready to go. You could be seeing improved conversion rates on your website by tomorrow morning.
If you have any questions or need a hand getting started, don't hesitate to reach out in the comment section below.
Related Reading: