Marketing Tools We Can't Live Without
Whenever I speak to other marketers or owners at conferences or meetups, their 2nd question (after "Where do you work?") is a simple one:
So, what's in your stack?
What they mean by this is pretty straightforward: What tools do you guys use to grow online?
It's an important question.
The right tools mean your business grows. The wrong ones and you're flailing in the dark, throwing money at shadows.
In no particular order (except #1), here are the marketing tools we at Wishpond can't live without and use to grow our business.
Woopra - Analytics
Woopra is first because analytics are the most important. Normally I'd beat around the bush with that statement, but serious marketers know I'm right.
Analytics justify the use of every other tool on this list. Without a good platform to determine your return on investment, you're just stabbing blindly in the dark.
We use Woopra because it's excellent. We've used them since 2014, and (so long as their prices remain where they are), we'll stick with them.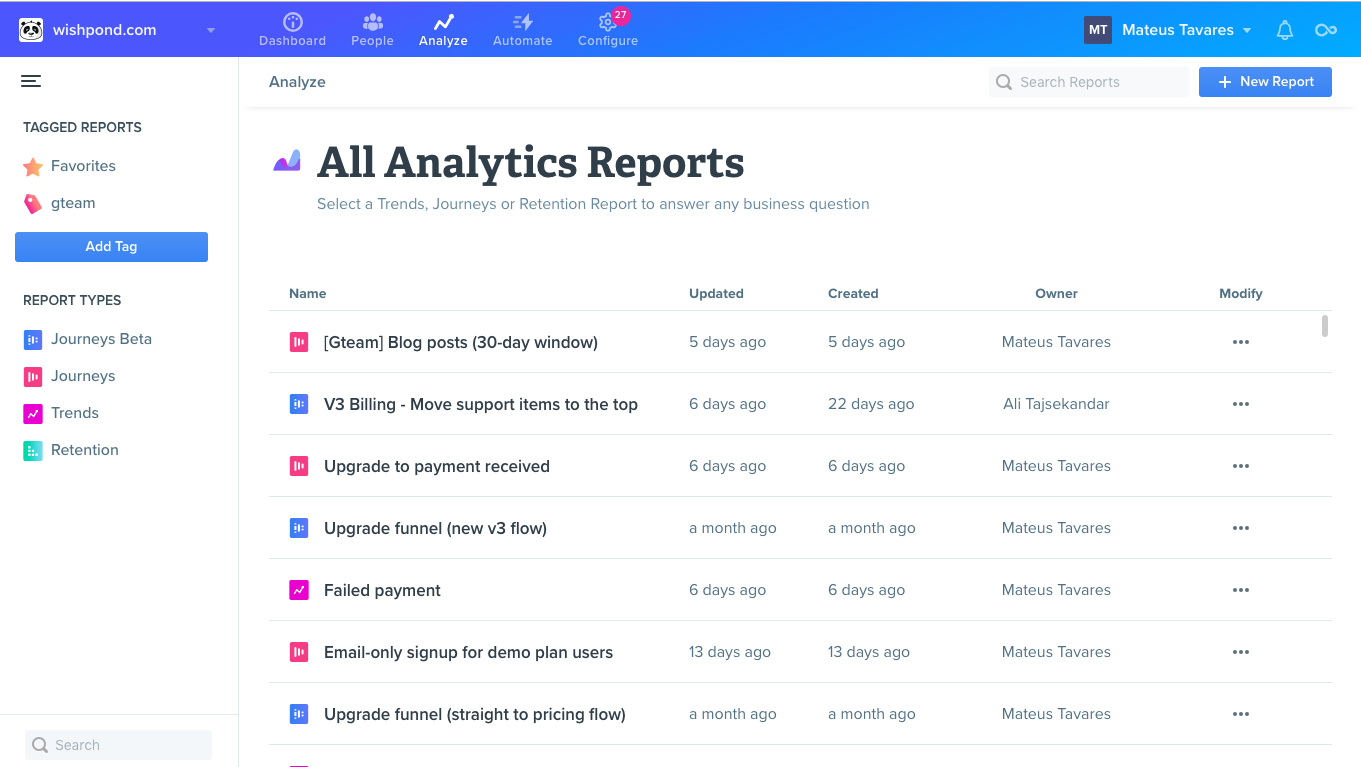 Fully understanding your analytics - the capability to manipulate and measure funnels, A/B tests, traffic sources, and 100 other elements - is everything.
Wishpond - Lead Generation and Email
Wishpond is not just the marketing tool we market, it's also one of the primary tools we use to grow.
Wishpond is the platform upon which our entire lead generation, funnel creation, email marketing and marketing automation is built.
Having used similar tools in the past, and with the desire to be as transparent and non-biased as I can be (which, I admit, is next to impossible), it doesn't suck.
I'll try to keep this as honest as I can:
The landing page editor is very easy to use, especially after a bit of experience.
The popup creation and implementation is super quick, and the load times are lightning quick.
The lead management system can be a bit slow (we have 469,676 contacts which make it labor a bit), but for smaller businesses it's perfectly fine, and the data is super valuable.
The analytics could be more comprehensive, but we're working on that, and we use Woopra for most of that anyway
The email and automation platform is simple but powerful. We use it to send both newsletters and drip campaigns to our leads.
The integration system is strong, as (before we decided we were going to have our own email and automation systems) we were focused on lead generation alongside great integrations with other tools.
For a snapshot of Wishpond, click any of the images below:
To learn more about Wishpond…
Honestly, the easiest way is to talk to someone. A Wishpond rep can walk you through what we do, answer questions you have about pricing, and still have you back in time for dinner. Click here to book a 15-minute, no-obligation chat with someone at Wishpond.
G Suite - Content Creation
In one of the Facebook marketing groups I'm a part of, marketer Danil Kopilevych asked the members "Imagine you can't use your favorite B2B SaaS products anymore. Which ones would you regret losing access to the most?"
Michael Hauptman, Founder & CEO of marketing agency AdLib, summed it up for all of us:
"Assuming we would no longer have access to our accounts, I can't see how anything would come close to G Suite. I have anxiety just thinking about it."
We're talking about that essential family of apps which keep many businesses from going mad:
I'm writing this article in Google Docs. My other open tabs are, currently, Gmail, Google Drive, Google Drawing (for quick-and-easy photo editing), Google Calendar (we use it at the office, and my wife and I have a shared calendar so I know where I'm supposed to be and when). I also have Google Keep for note-taking in case something pops into my head while writing.
As a full-time content creator, I (like Michael above) get anxiety thinking about the possibility of G Suite going away. I don't know what I'd do. Does Microsoft Word even exist any more?
Asana - Project Management
Over the years, I've gone through a half dozen project management tools.
My team needs a tool which gives us a shared content calendar. We need to manage social media, case study creation, webinars and design work.
Our account managers need their own, substantially more complicated, system.
Designers need to keep track of the requests from clients, mark deadlines, and determine who's doing what.
Developers need to track bug tickets, assign branches at different stages of development, and 100 other things which only developers understand.
It's a lot to ask of a single tool.
Enter Asana: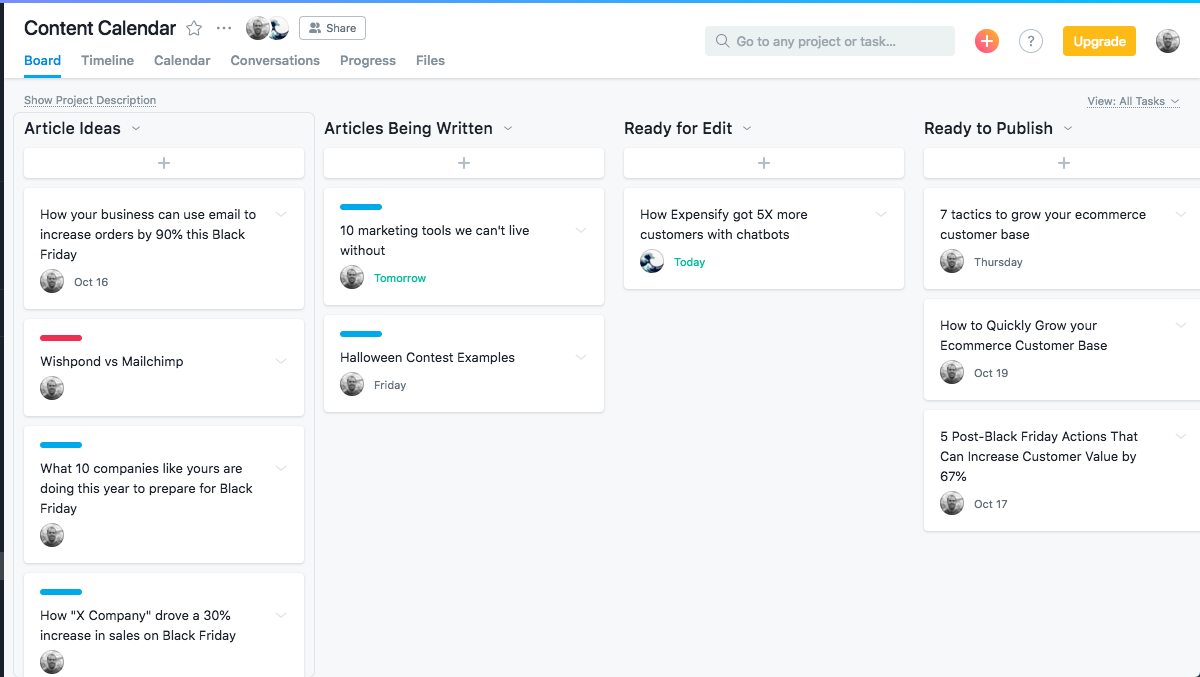 The use-cases are pretty self-explanatory (after the list I gave above). But, especially for an international team or a large one, a tool like Asana is essential.
Zoom - Remote Team Communication
Wishpond is an international company. Not in the way that we have multiple offices all around the world and avoid taxes by being, officially, based out of a small island in the middle of the Pacific.
No. We're an international company in the way that I'm writing this article from a cafe in Cardiff, UK, while my team is sleeping in Vancouver.
In the way that, when our whole company meets on Fridays, we do so from 14 different countries and 9 timezones.
And Zoom enables us to do it smoothly and without the oh-so-typical stress of video conferencing. Zoom is just one of the many video conferencing tools you can use.
Nextiva - Business Phone System
Business Phone System is another most used communication channel that is being used by remote teams. The benefit of using a personalized VoIP system is its flexibility. It grows with the business and provides a robust communication medium.
Nextiva's Small Business Phone System
provides everything a remote team needs to grow. So, it suits well to global companies with various offices around the globe. It comes with app, voice call, video call and chat messaging features. Moreover, it helps you strengthen your customer support with call queuing features. With unlimited calling, you can discuss everything you need to grow with your team and partners and help your customers to make them feel valued.
Webinar caveat
In the interest of full transparency, we don't use Zoom for everything, though I've heard nothing bad about them. We use Demio for marketing webinars and Join.me for demos. Those last two sentences shows the full extent of how essential it is for your business to have the best tools out there. And it's rare than an "all-in-one" will give you the best of all.
Slack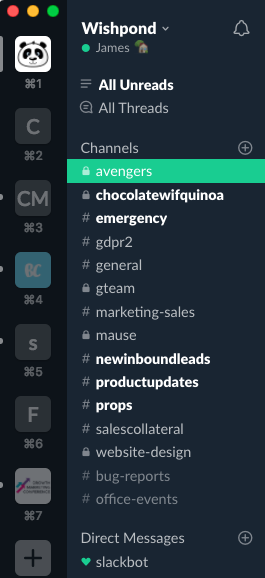 We use Slack constantly, almost embarrassingly.
The number of times I've Slacked my colleague when I could literally reach out and touch their desk is shameful. But it happens.
By the way, can we pause for a second and notice that the fact that "Slacked" has become a verb within the tech industry says it all...
Slack is the #1 inter-office communication platform, enabling your team to communicate, share files, and engage with each other throughout the day.
Their ever-growing number of integrations and apps enable you to (among 100 other things) type /hangout into any channel, and immediately start a face-to-face meeting.
But it's also "inter-office" in the way that the internet is "inter-office."
Slack is slowly growing to become one of the best platforms for networking out there. You can see on the left side of the screenshot on the right all of the "Workplaces" I'm a member of.
That list encompasses everything from "Content Marketers YVR" - a group for content marketers in Vancouver, to "BoostChat" - an invite-only group where digital marketers and influencers ask questions of other experts, share content, participate in roundups, and more.
In its enabling of communication with your own team and the knowledge within your industry, there's an argument to be made that Slack may actually be one of the most valuable marketing tools out there.
Venngage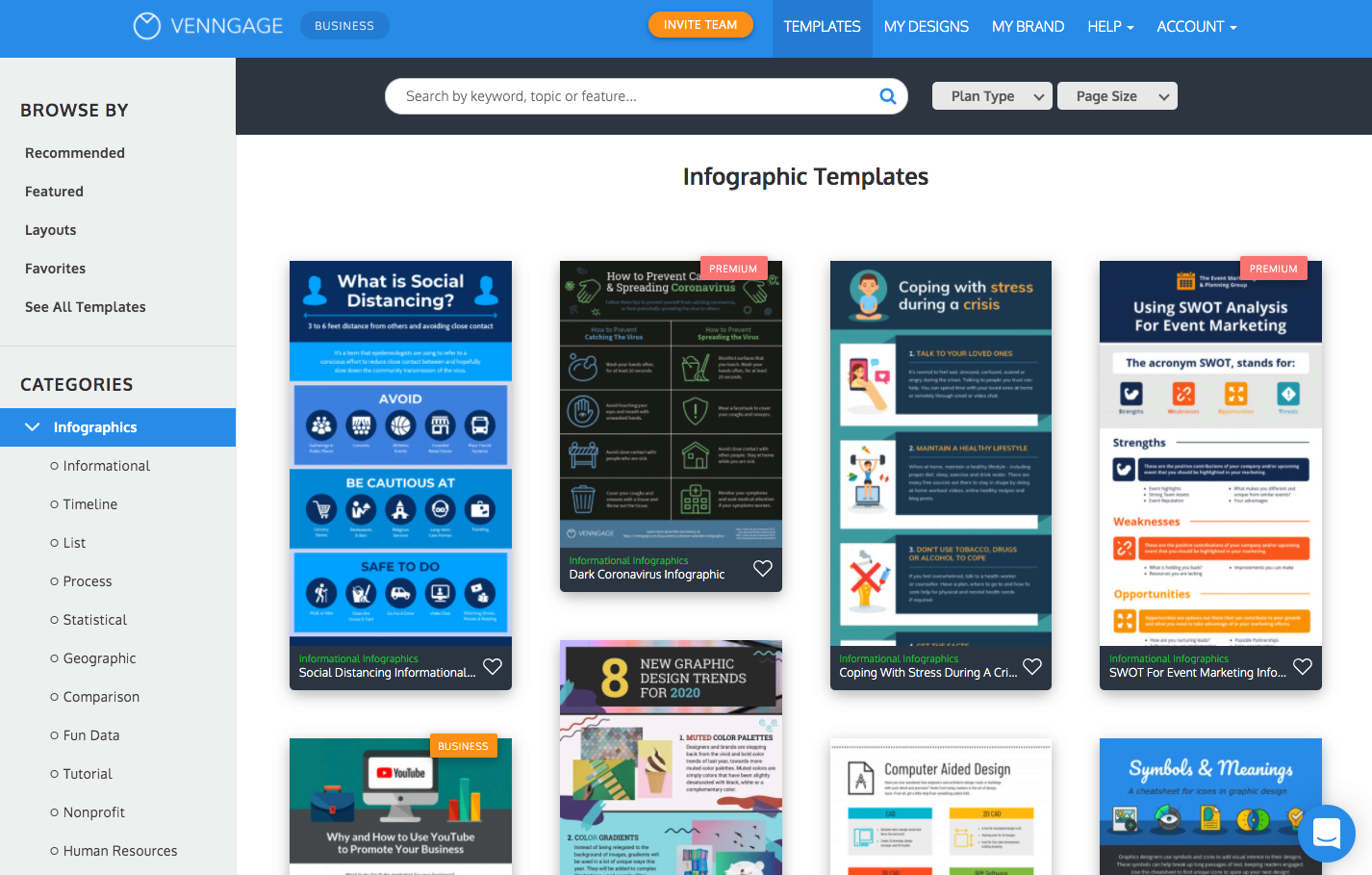 When it comes to creating visuals for blog posts, webinars, elearning, lead gen, and more, Venngage has got you covered. Venngage is an online design software that makes it easy for people who aren't designers (like myself) to create professional, quality designs on a fraction of the budget that it would cost to hire a freelance designer.
Venngage offers an extensive library of ready-made templates for all of your visual content needs, including:
Infographics
Presentations
Visual reports
Mind maps
Newsletters
Final Thoughts
Honestly, the list of tools used by our team is never-ending and always expanding. As we grow and develop new strategies and new processes, our "marketing stack" grows with us.
What about you? Which tools do you rely on to grow your business?
Get the conversation started in the comment section!
Related Reading: